Autism Trial Results a Major Boost for NTI's Proprietary Tech & Children with Autism
Hey! Looks like you have stumbled on the section of our website where we have archived articles from our old business model.
In 2019 the original founding team returned to run Next Investors, we changed our business model to only write about stocks we carefully research and are invested in for the long term.
The below articles were written under our previous business model. We have kept these articles online here for your reference.
Our new mission is to build a high performing ASX micro cap investment portfolio and share our research, analysis and investment strategy with our readers.
Click Here to View Latest Articles
Leading medical device company Neurotech International (ASX:NTI) this week reported highly promising results from US clinical trials of its Mente autism device.
Neurotech, through its wholly owned subsidiary AAT Research, has developed the first and only regulated medical device for the management of autism in a home setting.
These US clinical trials tested the efficacy of its proprietary Mente device, a headband developed for children with autism that plays music and sounds to relax the mind via neurofeedback technology.
The results have now been published and NTI surely couldn't have hoped for a better outcome.
The results, published by leading medical journal Frontiers in Neurology, show that use of the Mente Autism device produced "significant positive changes for children with autism spectrum disorder (ASD) with an improvement towards normalisation".
Use of the device also led to a reduction in autistic behaviours as well as improved social and communication skills; in addition, changes in participants' brain activity showed "expected reduction in the frequency bands of interest".
With the latter, frequency bands of interest is referring to certain brain waves which play a crucial part in autism. People on the autism spectrum have abnormally high Delta and Theta brainwaves, which peak constantly, even when they are awake.
The US clinical trial results also validate Mente Autism as a complementary home-based device for children with ASD.
The results are so positive that NTI is now working hard to complete its preparations for an FDA submission for the Mente Autism device.
Before this, NTI could already cite a long list of testimonials and anecdotal evidence to say that its device had very real potential as a game-changing treatment option for autism.
It should be noted, however, that this is an early stage tech company and success is no guarantee. Investors should seek professional financial advice before making an investment.
In the months leading up to the trial results, the A$16.8 million capped play has been busy securing distribution partners and readying its sales channels in anticipation of the final results.
It has slowly but surely been honing in on its target market across multiple continents, having already signed distribution partners across Germany, Switzerland, Austria, Greece, Australia, India and the Middle East since late 2016.
And it's a big market we are talking about here.
Autism, or autism spectrum disorder (ASD), is a developmental disorder that affects around 1 in 160 people worldwide — or, more than 40 million people across the globe.
Not only are NTI presenting a solution that has been shown to be very effective, it also offers a range of advantages like cost savings and ease of accessibility that position the product in an even more attractive light.
The main two are accessibility — parents and their children can use this product at home, rather than needing to physically attend a clinic, or spend hours at a neurofeedback provider — and cost.
What does anyone want when they're looking for a product to solve a problem? Convenience and affordability, of course. For those dealing with the particular challenges of raising an autistic child, these benefits become even more crucial.
On that note, let's check in on our favourite neuro-tech play and learn more about its major news out this week:

Last month we introduced you to Neurotech International (ASX:NTI) with the article, Revolutionary MedTech Device: a New Frontier in Autism Treatment.
And now the big news for NTI is of course the freshly released US clinical trial results, published in Frontiers in Neurology.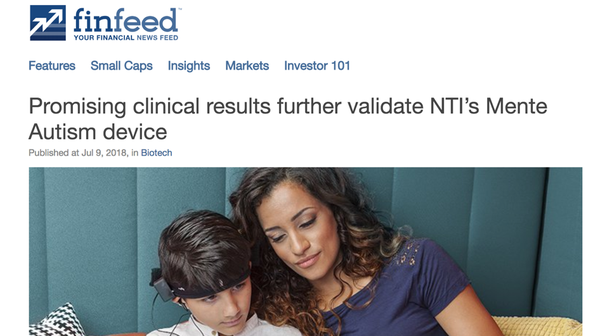 US clinical trial in more detail
Given the growing awareness and high-profile nature of Autism Spectrum Disorder (ASD) in the last decade or so, it's no surprise that NTI's Mente device study attracted interest from over 700 potential subjects.
The study was administered by Carrick Institute, and was a randomised-controlled, double-blind investigation that compared Mente Autism with a control (or sham) device over a 12-week period.
The Carrick Institute recruited 83 participants, after determining that at least 32 participants were required and allowing for a reasonable level of drop-outs. At the trial's conclusion 34 participants (17 Active, 17 Control/placebo) remained, ranging in age from five to 17 years old.
Notably, while some subjects were ultimately not included (for example, due to inability or unwillingness to return for the post trial evaluations), there were no drop outs due to problems of tolerance with the Mente device or treatment.
The study provided a number of positive results which the company can now leverage in its marketing and promotions, including the following impacts coinciding with the use of the Mente device:
Significant positive changes for children with autism spectrum disorder (ASD) "...with an improvement towards normalisation".
Reduction in autistic behaviours across a number of questionnaires that are used globally as validated tools in clinical applications.
Parents indicating significant improvements in social skills and communication of their children, with the control group not reporting much change in these skills.
Improved balance with eyes open rather than with their eyes closed, which is the opposite effect experienced by autistic children.
Changes in brain activity showed expected reduction in the frequency bands of interest — specifically, significant reductions in the brain wave frequency bands delta, beta and high beta, which are typically abnormally high in children with autism.
However it is an early stage of this company's development and if considering this stock for your portfolio you should take all public information into account and seek professional financial advice.
The connection between brain waves and ASD has been well established in recent years, and given its fair share of coverage by the media: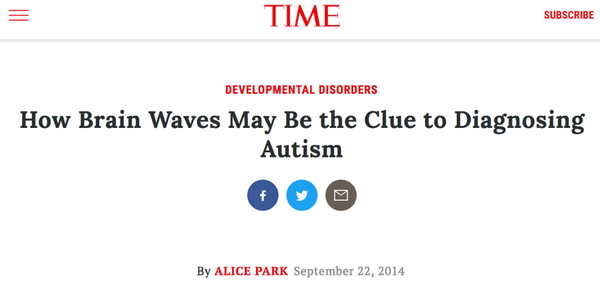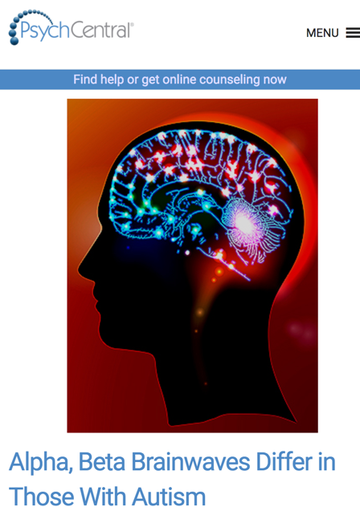 In a nutshell, the results provide further validation for the Mente device as a complementary home-based device for children with ASD — exactly what NTI needed to further prove up its unique home-based treatment option.
In terms of post-therapy changes, the significant positive changes in the Active group across all three areas assessed (brain activity, balance and behaviour) were, crucially, not observed in the control group.
Comprehensive evaluations, including analysis of brain activity, balance and behaviour, were conducted at enrolment and again after the conclusion of the 12-week home-based therapy.
The full clinical trial article, "The Treatment of Autism Spectrum Disorder with Auditory Neurofeedback: A Randomized Placebo Controlled Trial Using the MENTE Autism Device", is available as an attachment to NTI's announcement this week.
Simple, home-based neurofeedback — accessibility
Given the limitations of typical neurofeedback, including considerable cost, time and effort from parents and their children to attend sessions in clinical environments, the outcomes of the study show just how uniquely placed the Mente Autism device is to attract its target market.
The device is an easy-to-use neurofeedback system for safe home use by children with autism... while there were no drop outs during the course of the trial due to problems relating to tolerance.
This is a key finding of the trial for obvious reasons; it's pretty crucial that the receiver of an effective treatment doesn't encounter major problems from its use.
In the case of a medication-based treatment, there are almost always tolerance issues, or what we might commonly refer to as side effects. An intolerance towards a particular side effect of a medication, for example fatigue or weight gain, can be a real deal-breaker.
Fortunately, NTI's Mente solution is extremely non-invasive, and those kinds of side effects are not an issue since nothing is being ingested.
The device consists of a headband, an app and a cloud component, providing a "tailor-made" sonified neurofeedback for the user. After each 40-minute morning therapy session, the user uploads the data from the session to the cloud service by synchronising the Mente Autism App (via an internet connection).
The child's progress is measured and recorded, and each session report can be viewed online or within the app.
While the emotional and financial benefits are material for parents of children suffering from autism, from a clinical perspective there are also the considerable benefits in terms of reducing the strain on government health systems.
NTI buoyed by validation from parents, experts in the field
The company is understandably pleased with the outcomes of the independent trial, and the publication by Frontiers.
It has also relayed the feedback from parents of the children in the trial, many reporting that their social interaction and communication has improved post therapy — being the key outcome that the device was targeting from day one.
It also received some very handy backing from Professor Frederick Carrick, lead author of the Frontiers in Neurology who highlighted the positive feedback and gratitude received from parents in the active group, who noticed improvements in communication and social skills in their child.
Professor Carrick also said, "When we first designed the study, Mente Autism was of interest as it is a novel tool that takes clinical neurofeedback, an established non-invasive biofeedback approach for the treatment of autism, and makes this really accessible as a treatment option for parents of children with autism."
Where to from here?
Having received the corroborating results it was expecting from the US trial, NTI are now looking to complete preparations for an FDA submission for Mente Autism, pegged for the current quarter.
NTI expects to market Mente Autism as a Class II regulated device in the US, supported by this clinical data.
At the same time, manufacturing for the next batch of Mente devices is well underway, with the first devices expected to be ready by the end of July, and initial shipments recommencing in August.
As an aside, the company's management also hope that the clinical trial results will raise a real awareness of neurofeedback as one of the tools to help parents of children with autism that is non-invasive and doesn't involve the use of drugs or medication, which can be problematic.
Making an effective neurofeedback tool available for at-home use is a win on several counts. Not only does this simply make it easier and more accessible, it also cuts on costs as well as the time and effort needed to physically attend a clinic.
An independent report estimated the annual economic cost of ASD of between A$8.1 billion and A$11.26 billion in 2011, in Australia alone, highlighting the critical need for new treatment methods and solutions.
However, how much of the market NTI is able to corner is speculative at this stage and therefore investors shouldn't act on this fact alone, but should take all publicly available information into account and seek professional financial advice.
The key takeaway in NTI's story so far is the fact the clinical trial found statistically significant results across a wide range of functional areas (related to autism) in the active group, and markedly not in the control group.
With the clarity of such positive results, could NTI have a solution that's just what its target market is after?
With the convincing combination of positive clinical trial results plus a growing stockpile of positive testimonials from parents, NTI has a lot to back up its claims — and little in the way of obstacles now holding it back.
---