Revolutionary MedTech Device: a New Frontier in Autism Treatment
Hey! Looks like you have stumbled on the section of our website where we have archived articles from our old business model.
In 2019 the original founding team returned to run Next Investors, we changed our business model to only write about stocks we carefully research and are invested in for the long term.
The below articles were written under our previous business model. We have kept these articles online here for your reference.
Our new mission is to build a high performing ASX micro cap investment portfolio and share our research, analysis and investment strategy with our readers.
Click Here to View Latest Articles
Autism, or autism spectrum disorder (ASD), is a developmental disorder that affects approximately 1 in 160 people worldwide, which equates to more than 40 million people globally.
Symptoms typically start in early childhood, and can include difficulties socialising, repetitive or limited patterns of behaviour, and general trouble communicating and they range from mild to extreme.
They can make growing up, and everyday life, particularly challenging for anyone with autism and for kids in particular, as autism can hinder their ability to learn.
A child with ASD may not smile at caregivers, respond to his/her name when called, or make eye contact with other people unless explicitly told to. Using eye contact or gestures to share experiences is called 'shared attention' and is an important aspect of learning.
For children with autism, the inability to tune into this experience can set them back and delay their learning. What's more, problems engaging in 'shared attention' can lead to an inability to take turns talking, not being able to interpret another child's emotions or not being able to 'stay on topic'. All of which mean that for a child with ASD, a traditional schooling environment can be problematic.
In Australia alone, in 2011 an independent report estimated the annual economic cost of ASD of between $8.1 billion to $11.26 billion highlighting the critical need for new treatment methods and solutions
Which brings us to today's company that has created the first and only regulated medical device for the management of autism in a home setting which yesterday received some incredible results from its US Clinical trial.
While there's a long list of testimonials and anecdotal evidence collected by the company, the big fish to catch is a successful fully independent, double blind US based clinical trial and the company yesterday announced that the results from its US clinical trial have been provisionally accepted by leading medical journal, Frontiers in Neurology. Whilst the full article is not yet available, it is expected to be published soon and a full copy of the abstract is available online.
The abstract states:
"Our results show that a short 12 week course of NFB [neurofeedback] using the Mente Autism device can lead to significant changes in brain activity (qEEG), sensorimotor behaviour (posturography), and behaviour (standardized questionnaires) in ASD children... Similar changes were not detected in the Control group." (Carrick et al. 2018[1])
These very exciting results noted in the abstract follow the very positive preliminary findings released in September last year, describing the changes observed in autistic children after a 12-week clinical trial as 'outstanding' with 'many of the children scoring in a normal range after the treatment'.
Publication of the full article, including supporting analysis, will be a game changing near term catalyst for NTI which will be immediately followed by a US FDA submission.
The Treatment of Autism Spectrum Disorder with Neurofeedback: A Randomized Placebo Controlled Trial Using the MENTE Autism Device. Frontiers of Neurology. Provisionally accepted as at June 2018.
Although, we can't predict what the results will be, so investors should seek professional financial advice for further information if considering this stock for their portfolio.
Meanwhile this $19.6 million capped play has been busy securing distribution partners and readying its sales channels in anticipation of the final results.
Since listing in late 2016, the company has signed distribution partners across Germany, Switzerland, Austria, Greece, Australia, India and the Middle East.

These partnerships are all the more valuable since the company received the required certifications to legitimise the device, and put it on health professionals' radars. This included the CE Mark in Europe for its latest device which was received in early June 2018, TGA approval in Australia and ISO certification. The missing piece of this puzzle is the full data from the clinical results which has been provisionally accepted by a leading medical journal and now awaiting publication...
With all that in mind, it's time to formally introduce you to:

Neurotech International (ASX:NTI) is a leading edge medical device company that through its wholly owned subsidiary, AAT Research Limited, has developed the first and only regulated medical device for the management of autism in a home setting.
Mente is a headband developed for children with autism that plays music and sounds to relax the mind via neurofeedback technology.
With its highly marketable Mente device, NTI has positioned itself at the intersection of neurology/neurofeedback, the growing adoption of home-based treatment options, and the increasing diagnoses of neurological conditions, including autism.
Mente is groundbreaking in the field of autism. The device which has EEG sensors on the forehead and back of the head, is used for 40 minutes each morning and measures the child's alpha, beta, delta and theta brain waves.
The data is converted into a responsive and personalised auditory stimulation delivered through the earphones. It works to reduce the abnormally high delta and theta brain-waves typically observed in children with autism.
The result is a more calm and relaxed child, who is better able to concentrate and engage with others, including teachers and parents.
For a more in-depth explanation, there are plenty of resources on the product website, including this straight-forward 'how it works' video:
This revolutionary technology is unlike anything else available and has been getting excellent feedback from the families of users.
Via a combination of certification, clinical trials, and gaining exposure to GPs and specialists that work with children on the autism spectrum and their families, NTI is taking the right steps to fully legitimise the product in the eyes of the medical community.
The Mente device is not only designed to help in real time, its data collection and analysis means it can be used for long-term monitoring of the child. Parents can choose to share the daily generated reports (or indeed the raw EEG data) with medical professionals via remote access.
This means that while the product is aimed at self-care in the home, it still keeps the doctor in the loop. In fact NTI's ideal model of use is for the family to work alongside medical professionals to both treat the disorder, and record its progress.
NTI is all about the broader aim of developing and commercialising tech solutions for the diagnosis and/or treatment of brain related conditions, and their Mente for Autism product is simply the first in a series of revolutionary products it hopes to bring to the market.
Clinical trial abstract paint a pretty picture
Yesterday NTI announced that the abstract of the US clinical trial results had been published by Frontiers in Neurology, one of the world's leading and most cited medical journals.
Frontiers in Neurology has advised that it has provisionally accepted the clinical trial article, "The Treatment of Autism Spectrum Disorder with Auditory Neurofeedback: A randomized Placebo Controlled Trial Using the MENTE Autism Device", for publication.
Publication of the abstract follows the very encouraging preliminary results released last year from the independent clinical trial of the Mente device undertaken by the US-based Carrick Institute...
The principal trial investigator is Professor Fredrick Carrick who is also a Senior Research Fellow of BCMHR in association with the University of Cambridge, UK and a Faculty Scholar at Harvard Medical School's Harvard Macy Institute.
For the study, children with a documented diagnosis of ASD were divided into two groups. One group received treatment via the Mente device, while the other group received a placebo.
It was designed as a double-blind study that let the professors running the trial to conclude that:
"Our results show that a short 12 week course of NFB [neurofeedback] using the Mente Autism device can lead to significant changes in brain activity (qEEG), sensorimotor behaviour (posturography), and behaviour (standardized questionnaires) in ASD children... Similar changes were not detected in the Control group." (Carrick et al. 2018[1])
NTI noted that the Carrick Institute chose Frontiers of Neurology for publication of the results – this journal is considered one of the most respected and often cited scientific journals for neurology, as shown below. The calibre of the study and extent of international collaboration is evident in the preparation of the article for publication, involving academic authors from institutions such as the Carrick Institute, the University of Cambridge, the Harvard Macy Institute, the University of Wyoming, the Dubai Medical College, as well as government and private sector organisations such as the Leeds and York Partnership NHS Foundation Trust (UK), the Dubai Health Authority and Plasticity Brain Centers (US).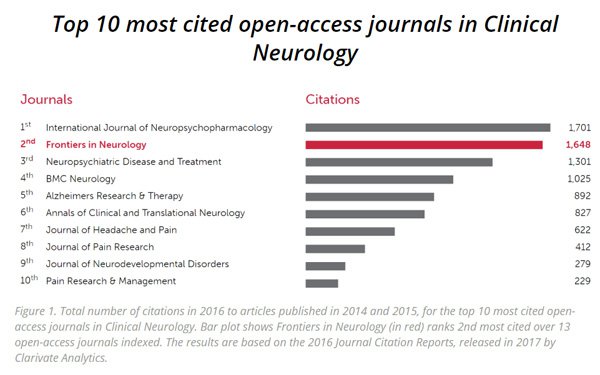 Considering how non-invasive and easy to use the device is, not relying on drugs or surgery, Mente has the potential to dramatically change the market for autism treatment options. Mente is the only regulated medical device available for the management of autism in a home setting.
The full data from the clinical results has been provisionally accepted by Frontiers of Neurology and is now awaiting publication ...
Next generation Mente autism device due out soon
Whilst Neurotech is awaiting the full data from the clinical trial, it has been undertaking design improvements to the next batch of Mente Autism devices. This includes improvements to wi-fi connectivity, synchronisation and usability improvements linked to the firmware and the Mente Autism application. In early June 2018 the Company received CE approval for this new batch with production now underway. The updated iteration of the device is expected to be available to ship to customers in early H2 CY2018.
The Biotech/Medtech sectors continue to grow
There has been significant inbound merger and acquisition momentum in the biotech and medtech sectors in Australia within the first half of 2018, including:
A$1.6 billion takeover of Sirtex, interventional oncology therapy company, by Varian Medical Systems followed by a $1.9b counter bid from CDH Investments
A$500 million takeover of Viralytics, an oncolytic immunotherapy developer, by Merck
A$25 million takeover of RHS, single cell genomics company, by PerkinElmer
A look at worldwide growth in Medtech is also promising, particular for a company with an offering in non-traditional care.
Here's a look at the forecasted growth in Medtech sectors from 2016-2022: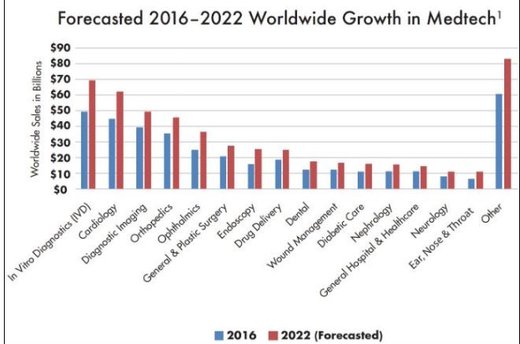 Given the size of the addressable market and the uniqueness of the Mente Autism product, independent validation from the US based clinical trial could attract a lot of interest within the sector for NTI.
It is also helped by the fact that patients are seeing real gains with one father of a patient in Germany commenting: "Since he started using Mente Autism, Mert is talking a lot more, his reactions to conversations have got better and his behaviour in kindergarten has improved. He also likes puzzles, numbers and his concentration has got better ..."
From an investor's point of view, NTI and its unique device is already attracting attention. The West Australian highlighted the company in February as being one of five tech stocks to watch for 2018...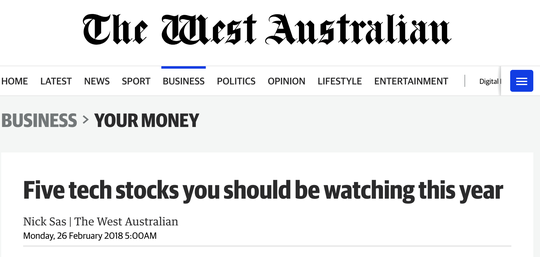 Of course, the stock remains speculative and investors should seek out all publicly available information before making an investment decision with regard to this stock.
In October 2017, NTI raised $4 million via a placement to institutional and sophisticated investors, issuing 20 million ordinary new shares at $0.20 a pop.
The funds were earmarked for the ongoing commercialisation of the Mente device.
The final word
This is a pivotal time for NTI and the Mente Autism device. And things are about to be taken up a notch on the back of its revolutionary Mente device.
With a market cap of just $18 million, there's plenty of blue sky ahead for this cutting edge neuroscience play with major catalysts expected in the near term.
---