ASX Stock Delivering the World's First "Zero Carbon" Lithium Project
The perceived environmental benefits of driving electric vehicles are well broadcast, but there's a dirty little secret that Electric Vehicle (EV) makers gloss over when promoting the absence of carbon emissions in their EVs.
It's something lithium producers the world over skirt around too, and it may come as a surprise to you.
EVs — and their raw material supply chains — have a serious carbon footprint problem.
The process of extracting lithium from hard rock sources, processing it, then shipping it across the world until it gets inside an EV, generates significantly more CO2 emissions compared to building vehicles with an internal combustion engines.
Nor, is it a small amount of CO2,...
CO2 emissions in the manufacture of EV vehicles are around 150% greater than combustion engines — a figure at extreme odds with the green image the industry projects.
This 'dirty secret' is slowly making its way into mainstream consciousness, forcing vehicle manufacturers to act, and innovative ASX companies to pounce on opportunities when they see them.
Volkswagen, for one, is placing great importance on having a CO2 neutral production supply chain for its new EV line-up and is sourcing batteries made from carbon neutral lithium, aka 'zero carbon' lithium.
Current carbon-intensive lithium battery production involves hard rock mining, or the extraction of lithium from salar brines, which have a large carbon footprint.
In contrast, geothermal brines can deliver lithium at a much lower carbon cost, with a reduced carbon footprint and significantly less water consumption when compared to extraction from brines.
If you haven't heard of geothermal brines don't worry — I'll be going into more detail about getting lithium from this source in this article.
It's not something that's commonly seen on the ASX, as lithium companies are generally either trying to develop a hard rock lithium resource or get it from brine evaporation projects.
Today's ASX junior has just acquired a project that comprises one of the only geothermal brines globally that is uniquely enriched in lithium.
The company plans to produce battery-grade lithium hydroxide from geothermal brines with a renewable electricity by-product from its newly acquired project — in an entirely zero carbon operation.
In the process of extracting the brines, the project is anticipated to generate surplus energy to its production and processing requirements, meaning it can sell this energy into the electricity grid.
This is a world first for lithium processing, and this company is unlike any ASX lithium junior we've seen before.
This lithium project is located in Germany's Upper Rhine Valley, where the company plans to produce battery-grade lithium hydroxide.
The region can be compared to Salton Sea, in California — home to Controlled Thermal Resources' $1.8 billion Hell's Kitchen lithium geothermal brines project, which exhibits comparable lithium concentrations to today's company.
The is an area that is uniquely endowed with lithium-rich geothermal brines. It is also well positioned to deliver a secure, local lithium supply to serve major manufacturer, Volkswagen and the wider burgeoning European EV market.
Surprisingly, Europe is the world's second largest EV market, however it currently has zero domestic supply of battery grade lithium from within its borders.
Looking at its just released Exploration Target, assuming its converted into an Inferred Resources, this project is by far the largest lithium resource in Europe.
By way of comparison, the largest current European lithium resources are European Metals' (ASX: EMH) Cinovec, at 7.17Mt Lithium Carbonate Equivalent (LCE), and Rio Tinto's Jadar, at 6.24Mt LCE.
Compare that to the conceptual exploration target for this project of 10.73 million tonnes (Mt) to 36.20Mt of contained LCE and you get an idea of how big and important this project could be, not only for the company, but also for global sustainability.
We are very bullish about this stock, and have taken a large position in the company. This article will explain why.
Introducing,
Vulcan Energy Resources
ASX:VUL, FWB:6KO
Market Capitalisation: $0.18
Share Price: $7.23 million
Here's why I like this stock: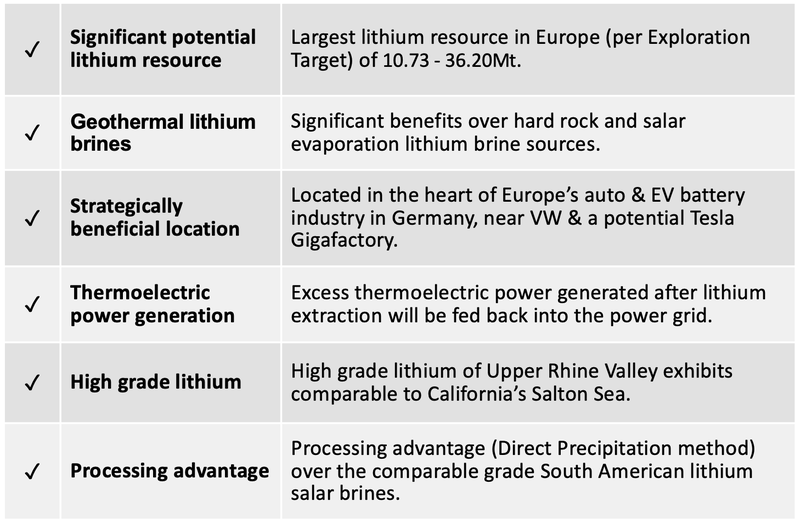 Kopper Resources looks to live long and prosper
Koppar Resources (ASX:KRX) entered into a binding agreement in June to acquire Vulcan Energy Resources Pty Ltd., the owner of the Vulcan Lithium Project in Germany's Upper Rhine Valley.
The project brings huge opportunity, not just for the company and its shareholders, but as a leader in supplying a source of zero carbon lithium to Europe's booming battery and electric vehicle market.
In fact, KRX plan to provide the only zero carbon lithium product to the burgeoning European EV market, at a time when manufacturers are dealing with global trade insecurities in a Chinese controlled market.
KRX's quick processing time using Direct Precipitation methods, means it can be responsive to market needs.
KRX plan to use a direct precipitation process for lithium processing: a quicker and less water and carbon-intensive method compared to the evaporative method used in South American salars.
The temperature of the brines is anticipated to be an advantage in the development of the processing method.
As a by-product of the production process, renewable geothermal energy could be generated from dual-purpose wells that fully offset energy consumed in lithium production and processing. This would provide a premium, 'Zero Carbon Lithium' product for the EV market.
The following video helps explain the zero carbon lithium extraction and processing:
And here is KRX's visual explanation of the production of zero carbon lithium from Vulcan.
It should be noted here, however, that...
Not all lithium is equal
Current leading methods of extracting lithium require immense amounts of energy and leaves a massive carbon footprint. For the most part, that energy comes from power grids run by coal, gas, or nuclear as part of the local area's power supply.
But not all lithium is equal and it's not all mined the same way.
Most lithium is sourced from closed-basin brines (58%) and hard rock deposits (26%). Geothermal brines are one of the rarer sources that also include lithium clays, oilfield brines, and zeolites.
Lithium brine evaporation and salars operations in some of the driest places on earth require large amounts of water to be drawn from water tables, plus the residual salt waste can be toxic. They also use large quantities of soda ash mined in the USA that needs to be transported to remote locations, resulting in a substantial carbon footprint.
Another issue with this method of production is its long production lead times — the salar evaporation process takes up to 12 months and is vulnerable to weather events.
Hard-rock lithium operations generally have high operating costs and a high carbon footprint from processing methods and distance to markets. Like closed basin brines, hard rock lithium production also has long production lead times and a large physical footprint. It also creates permanent environmental effects and generates large amounts of tailings.
Geothermal brines on the other hand have only a small physical footprint, are entirely powered by renewable energy, and involve no open-pit mining or evaporation ponds. Plus production of LCE takes less than one hour.
This is what makes KRX's Vulcan project so unique.
The Vulcan Lithium Project: Unique Lithium Grade Potential
The Vulcan Lithium Project is in the Upper Rhine Valley geothermal field in Germany, an area uniquely endowed with lithium-rich, hot sub-surface brines.
It is also endowed with a number of major lithium users in the heart of the EU's battery and cathode mega and giga factories as seen below:
KRX is certainly in the right place, with the right product at the right time.
The company plans to utilise dual-purpose geothermal energy and lithium-production wells to produce battery-grade lithium hydroxide in this heartland of Europe's battery EV manufacture.
Secondly, it aims to produce more renewable energy than it consumes during lithium processing — effectively rendering it the first zero-carbon lithium project in the world.
This is not an unreasonable expectation. The Upper Rhine Valley brine field has been extensively studied due to its geological and geothermal characteristics, including exploration for oil and gas.
Situated in a geothermal field of operational geothermal plants that currently produce stable baseload renewable energy, the field is one of the only heated brines globally that is uniquely enriched in lithium.
As a consequence, KRX has a project in a very well understood brine field with considerable amounts of existing seismic and drilling data potentially available for exploration and resource evaluation.
The project covers a total area of approximately 78,600 Ha of which over 51,000 Ha is already granted. It comprises two 100%-owned granted licenses (Mannheim and Ortenau) and three license applications (Taro, Ludeig and Rheinaue) as can be seen mapped out below.
These brines have been sampled extensively at multiple locations throughout the Upper Rhine Valley field, with lithium grades often above 150 mg/l Li and up to 210 mg/l Li.
While areas with heated brines are common, the fluids are rarely lithium rich with typical geothermal brine fields have lithium values in the order of 1-10mg/l Li.
The Upper Rhine Valley geothermal brine field exhibits lithium values one to two orders of magnitude greater — of up to 210mg/l lithium, and averaging 161mg/l lithium.
Same order of magnitude of Li grade as South American Li salar brines, but with processing advantage of being already heated.
Vulcan exploration target established
Demonstrating the potential world-class scale of the project, KRX today announced that Independent geological consultants have identified a substantial lithium brine exploration target at the Vulcan Lithium Project.
The total exploration target (the sum of exploration targets from all 5 licence fields) is between 2.015 to 6.800Mt of elemental lithium, amounting to between 10.725 and 36.195Mt of LCE.
The company established a conceptual exploration target for the project of 10.73 million tonnes (Mt) to 36.20Mt of contained Lithium Carbonate Equivalent (LCE).
Essentially, on conversion to an Inferred Resource, Vulcan would become by far and away the largest lithium resource in Europe, much larger than any of the hard rock deposits there.
For comparison, the largest current lithium resources (contained LCE) in Europe include:
- European Metals' Cinovec, at 7.17 Mt LCE
- Rio Tinto's Jadar, at 6.24 Mt LCE
- Infinity Lithium's San Jose, at 1.68 Mt LCE
- Deutsche Lithium's Zinnwald, at 0.75 Mt LCE
- Savannah Resources' Barroso, at 0.52 Mt LCE
Most of the above are hard rock sources, while most come with metallurgy issues. Cinovec, for example, is a lithium mica deposit, which are very hard to process, while Jadar contains jadarite – a new lithium sodium borosilicate mineral — that is also very hard to process.
As you can see, each of these projects' contained lithium resources are significantly below the 10.7-36.20Mt LCE as defined in the exploration target for the Vulcan Lithium Project. Plus, each of these are hard rock projects meaning it will also be very difficult, from both a social and an environment perspective to permit them in Europe.
Additionally, the Vulcan Project is potentially world-class in size compared with major lithium brine producers globally. Take Orocobre's flagship Salar de Olaroz lithium facility in Argentina, which has a measured and indicated resource of 6.4 Mt LCE, compared to Vulcan's potential resource of 10.725 and 36.195Mt LCE.
Vulcan's lithium is slightly lower grade, but it wins on the processing, as the brine comes up pre-heated — a major cost advantage for the Direct Lithium Extraction processing techniques.
In good company
Vulcan's concentrations, above 150 mg/l Li and up to 210 mg/l Li, are similar to that of Controlled Thermal Resources' $1.8 billion Hell's Kitchen lithium project in Salton Sea, California.
That project is now advancing to production.
Notably, Hell's Kitchen is the only other geothermal brines worldwide — and zero carbon geothermal lithium project — with grades similar to that of the Upper Rhine Valley field and the Vulcan Project.
The chart below outlines Lithium Concentrations in heated brines worldwide and highlights the high grade of the Upper Rhine Valley field, home to the Vulcan Project, which is right up there in grade with Salton Sea in California – host to the Hell's Kitchen project.
Interestingly, Hell's Kitchen was previously held by Simbol Materials, a company that a Jefferies,
New York-based global investment bank, estimated to have been worth US$2.5 billion, who
rejected a US$325 million takeover offer from Tesla.
Also in Salton Sea, Berkshire Hathaway Energy is seeking to produce battery-grade lithium, where it has $91 billion in assets.
In the Upper Rhine Valley field, EuGeLi Consortium (including BASF, PSA Group/PeugeotCitroen, EDF and Eramet) recently secured funding for a project, a strong sign of support for the field's viability.
Remember right now as KRX begins its journey with the Vulcan Lithium Project, its capped at less than $10 million...
Lithium: that's so 2017
Is lithium back?
It's no secret that lithium has been a bit on the nose for ASX investors.
While it was the hot commodity of 2017 and hit an all-time high in early-2018 on the back of electric vehicle (EV) fever, the past 18 months has seen the price of the battery metal take a battering — and it dragged lithium stocks down with it.
Lithium stocks soared as producers rushed to meet demand from battery and EV manufacturers on the one hand, while frenzied speculators pushed prices up further on forecasts that EVs would imminently dominate the roads.
New supply quickly came online to meet that demand, and prices have fallen back accordingly.
For now, there does remain a large amount of lithium supply in the pipeline. However, a battery-grade lithium supply shortfall is forecast to arrive within five years.
Imagine what a supplier could do in this market, if it had a leaner, meaner, lower cost, low carbon footprint lithium to supply to market.
That's exactly what KRX could have on its hands.
Driven primarily by growth in lithium-ion battery manufacture and usage in vehicles and stationary storage, global lithium demand is set to increase to 1.85Mt LCE by 2028 — up from around 0.3Mt today. Considering that new lithium processing supply capacity is will be around 1.7Mt by 2028 it's clear that there will be a significant shortage.
This also assumes that current stated plans for increased capacity will progress on track without technical ramp-up issues, an optimistic view and something that hasn't occurred to date.
A longer-term view suggests that a considerable supply gap will emerge once EV demand ramps up and supply won't be able to keep pace.
While demand for electric cars has grown slowly, it's set for an explosion that will see sales of electric vehicles outpace traditional internal combustion engine vehicles by 2040.
As explained in detail in the CNN Business article below, "The great electric car race is just beginning".
KRX, with its German home ground advantage, is perfectly placed to meet European demand.
Car makers target a net zero carbon footprint
Europe currently produces no battery-grade lithium hydroxide or lithium carbonate. That's a problem because by 2023 the EU will require 150 kt per annum of LCE, and by 2028 that figure will jump to 290 kt.
Not only is there no battery-grade lithium being produced in Europe, but the global market is very tightly controlled by just five companies — SQM, Albemarle, Livent, Tianqi, and Ganfeng.
However, in order to meet the coming demand, European auto-makers need a local ready supply of lithium to cope with the widespread transition to EVs, rather than having to rely on South American and Chinese production.
Situated in a geothermal field of operational geothermal plants currently producing stable baseload renewable energy, the Upper Rhine Valley field — that includes the Vulcan Lithium Project — is one of the only heated brines globally that is uniquely enriched in lithium.
Here you can see the project situated right in the heart of the Europe's auto and EV battery industries:
Volkswagen, the owner of Lamborghini, Porsche, Bugatti, and Skoda, is undertaking a radical transformation in developing the first carbon neutral vehicles.
Over the coming five years, it is spending €30 billion (A$49 billion) to make an electric or hybrid version of every one of its vehicles and has plans to launch 70 new electric models by 2028. It anticipates that by 2030 four out of every 10 cars it sells will be electric, delivering EVs to the masses.
The car maker has committed to 100% green power in battery cell production along with 100% green power all the way through a vehicle's life.
VW has given its suppliers an ultimatum on emissions, asking that they work with the company to cut carbon emissions.
This new line of carbon neutral vehicles is called the ID. VW pledge that an ID. vehicle will be carbon neutral through its entire lifecycle if recharged with renewable energy.
The energy used to produce the batteries and parts will come from green power sources. Its factory in Zwickau, Germany, is already being supplied by renewables and where unavoidable, emissions in the manufacturing process are offset by investments in certified climate projects.
Currently, this still includes the battery cells, but with the potential for zero carbon lithium from the nearby Vulcan Lithium Project, VW has scope to further cut emissions.
Volkswagen Board Member Thomas Ulbrich stated the company's position, "Climate change is the greatest challenge of our times.
"As the world's largest car manufacturer, Volkswagen is assuming responsibility: The new ID. will be the Group's first climate-neutrally produced electric car."
A final word
Now that the Exploration Target has arrived, investors are able to evaluate the size of the prize KRX is chasing.
The company is looking ahead to rapidly advance the Vulcan Lithium Project to a Scoping Study over the next 12 months.
Work programmes will commence with acquisition of all available seismic and geochemical data from the region. The company will also commence processing test work on brine samples taken from existing wells within the Upper Rhine Valley.
Here's the company's planned work program, pending exploration success at each stage:
The company is targeting a 2023 production start-up of zero carbon lithium from the Vulcan Lithium Project.
This should come at a time when new demand/supply metrics are in play and EV manufacturers are looking for cleaner lithium to not only boost their own bottom lines (as well as help the environment), but to also make more efficient vehicles.
---