ASX Listed Tech Stock's Health App Can Help Fight Obesity and COVID-19
PUBLISHED: 20-04-2020 10:03 a.m.
COVID-19 has presented the biggest health and economic challenges the world has faced since the Great Depression of the 1930s.
One of the problems in trying to curb this pandemic is the inability to determine why some people contract the disease – with the most severe cases leading to coma and death, while others present little or no symptoms at all.
Data from China and Italy initially indicated the elderly to be the most susceptible.
However, while the elderly still make up the majority of severe cases, symptoms are now evident in a broad demographic of people including those with underlying health conditions such as heart disease, lung disease, and diabetes as well children and the overweight.
France's chief epidemiologist has said the disease could be particularly dangerous to young people with obesity issues.
So not only do we have a fight against COVID-19 on our hands, but the continued fight to stem the effects of obesity just became even more serious. The Obesity Society went even further and call it a dual pandemic!
One ASX listed tech company that had already been on a strong monetisation path for its fitness and health app, is knee deep in this fight.
This company, which boasts strong technology commercialisation skills, has developed a patented mobile application that allows users to track body shapes and dimensions while performing everyday activities.
The application measures body fat indirectly through machine learning and body shape analysis.
It also utilises surrogate measures of a person's total body fat mass, such as BMI, waist circumference, waist to hip ratio and waist to height ratio. These surrogate methods have been significantly associated with non-communicable diseases directly correlated with obesity.
The company is focused on delivering its app to several key verticals worth collectively trillions of dollars including health and fitness, medical and insurance, corporate wellness, apparel, telehealth and mobile health.
To put that into perspective, the company has announced that its 50% owned joint venture partner Body Composition Technologies (BCT), has today launched its first consumer-facing insurance application with The CareVoice in Hong Kong. The CareVoice is a leading China-based health insurtech company dedicated to transforming the healthcare experience in Greater China.
BCT is working to help insurers in China make better, more informed decisions through data. It can help to check abdominal obesity and diabetics and pre-diabetics and help prevent deaths from chronic disease which is 79% of deaths is China.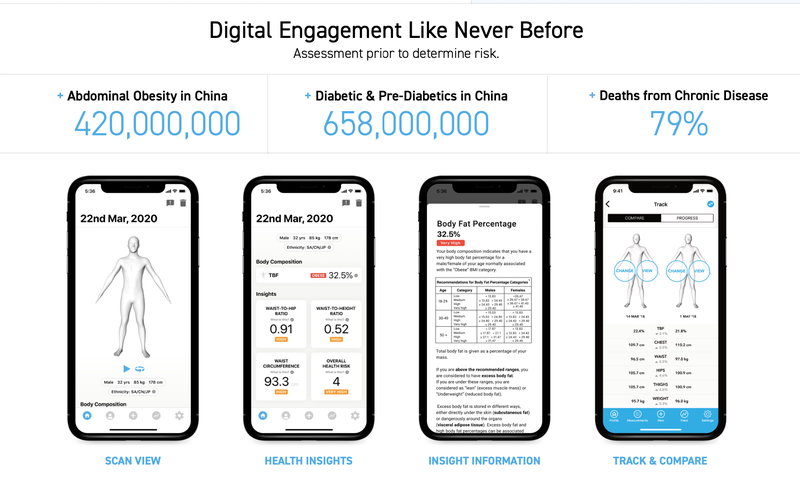 The CareVoice is currently used by 15 insurance providers in China and Hong Kong, so the roll out here could be invaluable in curbing health issues, especially as China Healthcare expenditures are set to hit US$1 trillion in 2020. When looking at The CareVoice website, the company has some of the world's largest insurers working with them. Such as PingAn, AXA, Chubb and Munich RE. These relationships alone expose BCT to hundreds of millions of policy holders.
Importantly, this marks the first reoccurring insurance revenue to commence for the Joint Venture with MyFiziq.
However, even before the pandemic hit this ASX listed health-tech company was already making a global impact having signed over a dozen partnership agreements with major players within its targeted verticals. These include partnerships with Toll Logistics, Evolt, BodiTrax and Mayweather Boxing & Fitness, which provides a digital coaching experience designed by founder Floyd Mayweather who won 15 major world boxing titles.
Agreements with WellKom, Evolt, TicTrac, Boditrax and WeSure were inked last year, illustrating the momentum the company is building and continues to build.
One of the company's most recent agreements also opened up Brazilian markets.
Last week the company signed a Binding Letter of Intent (LOI) with the Serfaty Clinic to commence testing and to adapt its measurement application in readiness to enter the Brazilian market for the identification of the obese and overweight population in Brazil.
The high prevalence of overweight and obese people among Brazil's population of 209 million is a growing health concern, with 57.5% of men and 48.2% of women in Brazil overweight.
Today's company is well placed to have a lasting impact in the fight against obesity, whilst continuing to influence the broader fitness market.
With plenty of news flow to come, 2020 could be the company's breakout year.
Who is this fast moving Australian tech company?
Introducing ...

Advanced Human Imaging LTD
ASX:AHI
The MyFiziq investment case ...
Market Capitalisation: A$12.2 million
Share Price: A$0.115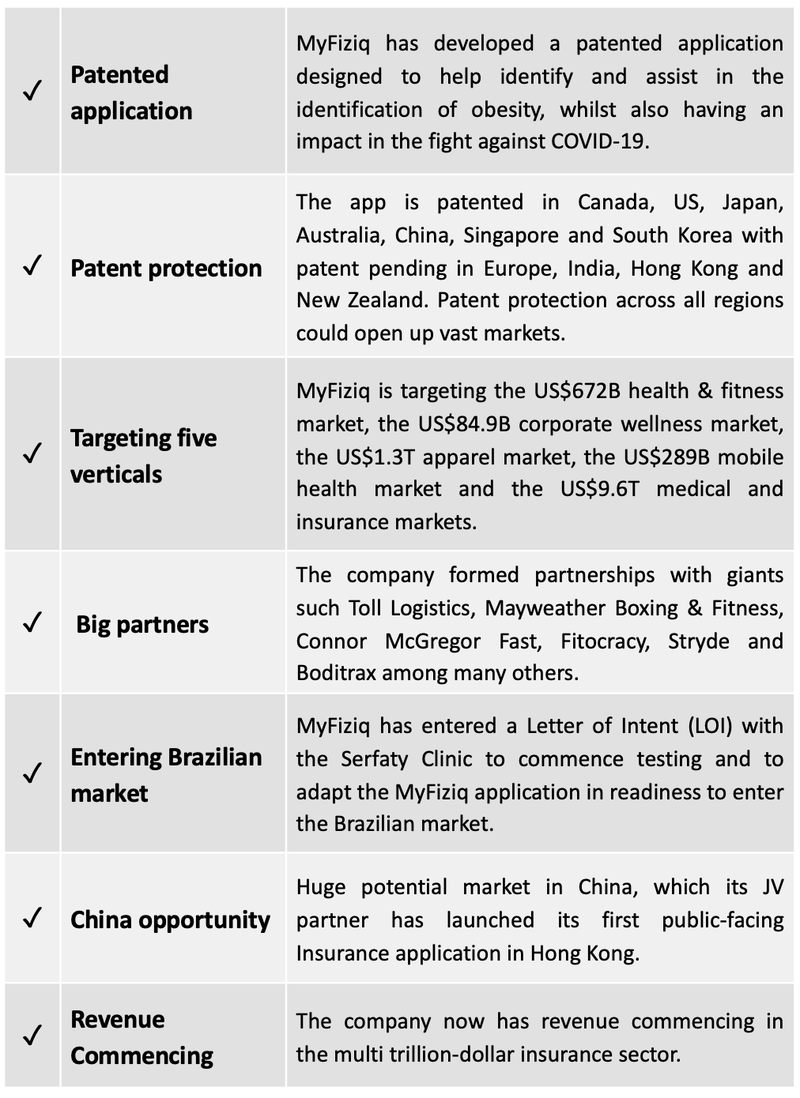 The MyFiziq story
MyFiziq Limited (ASX: MYQ) has developed and patented technology with a proprietary image capturing system within a consumer's smartphone.
The technology empowers consumers to create a representation of their body structure in the form of a 3D avatar with accurate circumference measurements and total body fat assessment.
It's a SaaS based offering that offers flexibility and pricing scale reductions for its partners that put the app in the palms of consumers hands.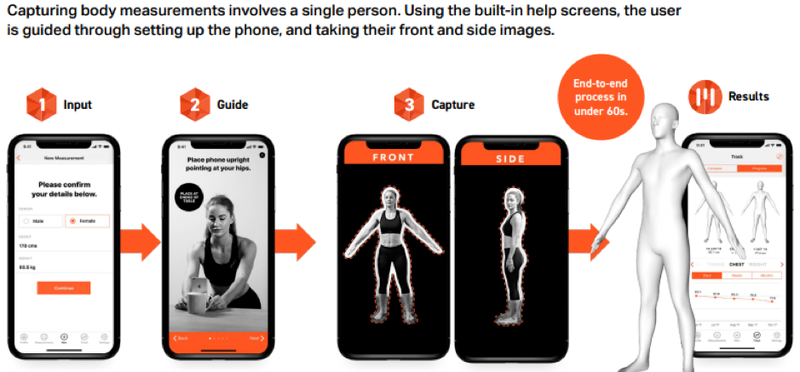 Body measurements and fat mass calculations provide more useful information about physical changes than simply blindly measuring weight. MyFiziq simplifies the collection of these measurements and removes the margin of human error present in traditional methods.
The gyroscope, front camera, camera burst mode, speaker, screen and light sensors in a smart phone are all used in conjunction with each other to obtain a set of multiple front and side pictures in a single user experience, privately in your own home.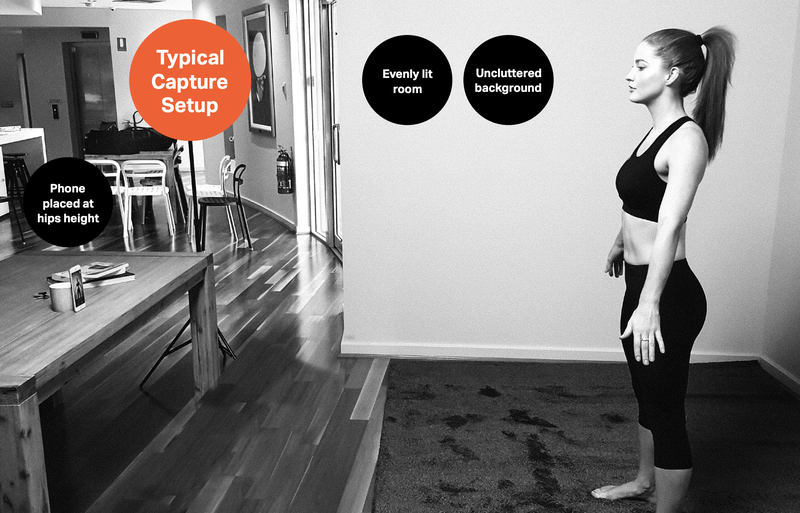 Here is founder Vlado Bosanac explaining how the tech works at the 2019 TechKnow conference:
The app delivers 97+% accurate body measurements, with a repeatability of 98% and has been designed to fit snugly into a partner's third party technology.
Part of the growing adoption of the app Bosanac told Next Tech Stock is because, "People genuinely want to know more about themselves, we empower them to understand themselves at a granular level. Dimension is so much more than just a measurement. Knowing your waistline tells you a lot about your risk of chronic disease, which correlates to 70% of deaths each year. People are always judging themselves, and we give them a real-time way to assess where they are at any one point in time without the inaccuracy of the scale or human measure. People want to know if their hard work is paying off, we help them see if it is.
"We empower the medical profession with data they have needed but had to inconvenience their patients for, over the years. We perform an ideal first scan which allows a Doctor to make an initial assessment of your overall condition. This can be in any of our partners applications, either a gym app, health app, weight loss app or with your insurance application. Simply share it with your GP. People with time will understand the value they have delivered and the accelerated care they will be able to receive. At the end of the day, people really have a need to have a personalised digital and private way to check on themselves in their day-to-day lives."
As MyFiziq looks to globalise its technology and assist individuals, communities and populations to live better healthier lives, several partners in varying industries have adopted the technology.
Players in billion and trillion dollar industries are cottoning on
MyFiziq works with white label and business-to-business partners to provide them an SDK (Software Development Kit). Partners embed the MyFiziq software into their new or existing apps, and then customise the experience to satisfy their branding requirements. Importantly for the partners, it keeps their customers in their ecosystem, and it looks and feels like them.
The MyFiziq technology opens new markets for partners, allowing the easy collection and comparison of measurements for clothing, weight management, athletic goals, and the medical field treating illnesses such as diabetes.
MyFiziq partners with highly scaled or scalable new and existing applications and provides them with a deeper insight into the data they wish to retrieve from their users to empower them in their journeys.
Significantly, this software as a service solution (SAAS) allows MyFiziq's partners flexibility and pricing scale reductions.
MyFiziq can help the different verticals it services in several different ways.
Health & Fitness
MyFiziq is well entrenched in the health and fitness industry. Current partners include:

They have some big names sports partners as well, including UFC champion Conor McGregor and world champion boxer Floyd Mayweather.
"I first met Conor McGregor's manager back in 2018," Bosanac says. "He was super keen on our technology at the time for Conor. He had a couple of guys that were his go-to guys for anything apps related. Those guys were Mike Melby (now MYQ Board member) and Brian Kirkbride (MYQ advisor) and the rest is history.
"Mike and Brian were sceptical that you could do what the MYQ technology does, but once we demonstrated it, we got on with business. Mike was incredibly well known in the US and very respected in the world of private equity, sport and fitness. We got on well and I asked him if he would consider a board roll. At the same time Brian came on as an advisor and we signed more deals with them and the relationships they have. Mayweather, Fitocracy, and McGregor to start. I really rate them both, their personal history and successes are a great asset to our company."
Partners charge from US$4.99 per user, per month for the app, which not only acts as a value-add for partners' customers, but can also help partners boost member engagement and retention by enabling them to access biometric data to refine coaching, nutrition and fitness goals/plans and unlock primary health markers allowing for full access to a customer's true health profile.
Health and fitness is certainly a lucrative industry. The market size is estimated to be US$672 billion, with the health club sector alone estimated to be worth US$94 billion.
There has been plenty of activity in this sector as well in the last six months. Fitness giant Peloton IPO'd in September last year to the value of US$8.1 billion. This month the workout app made itself available on Android TV, no doubt to capitalise on the global COVID-19 induced lockdown.
As for the corporate wellness industry, MyFiziq helps employers protect and engage employees via gamification and digital health tracking, resulting in retention, less sick leave and better ROI.
Wellness partners include:

Also in this mix is Perth-based WellTeq, which is creating the future of precision wellness through a digital wellbeing ecosystem taking users from point of prevention through to point of care.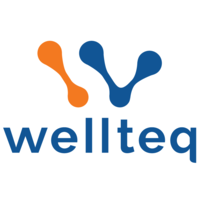 It is delivered into the corporate health and insurance sector to drive user engagement through a personalised wellness journey, so it matches MYQ's goals perfectly.
While we won't go into every industry and partner MyFiziq is engaged with, here is a look at its recent contracts: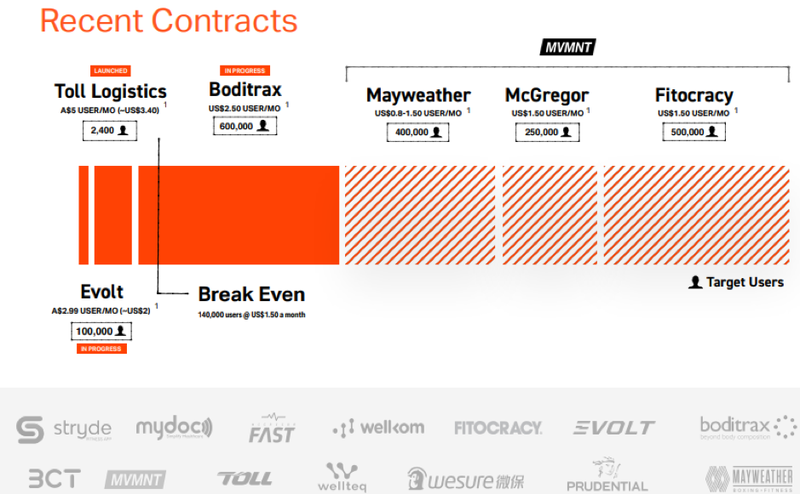 Attracting partners has been easy
Bosanac says attracting partnerships has been relatively easy.
"When we show our functionality organisations are very excited to be able to get such depth of real-time information on their users."
When looking at specific industries, Bosanac lays it out as per below:
"Apparel. There is a gaping hole in all online apparel companies balance sheets. Up to 40% of all clothing purchased online is returned due to the wrong size or fit. MyFiziq can accurately measure an individual and assist them in making the correct decision when buying online. This not only assists the company but equally removes the frustration and risk around having to go through the torment of returning an item someone is unhappy with.
"Insurance. Insurers have used BMI for over 50 years and they know it is inaccurate. Until now they have increase policies according to the inaccuracy, they discover from one year to the next due to the increase in claims with the incorrect data they get from BMI. Now they have a digital easy to use application with us that allows them to remotely understand the consumer and give them the appropriate policy and cover. In addition to this, the insurer is looking for ways to retain and better understand their policyholders. With an application like MyFiziq, they can keep an eye on their health and change over time. With this, they are then able to work with you on helping you be healthier and in return, they have fewer claims and can reduce policies over time. Due to the better health outcome.
"Fitness. This is right in my wheelhouse, as I was a competitive athlete. I would have used an application like this to track my training and my results. As we are so accurate, we are able to show the smallest of changes that you may not see in the mirror or on the scale. Our technology is better than a scale as it tells you what is changing and if it is in the right places.
"Telehealth. COVID-19 has shown the world the reason Telehealth is such a good thing. Being able to remotely have a consultation with a doctor or even a pharmacist and not expose yourself to these contagions is demonstrating the extreme need for Telehealth, but I think this will become a way of life after this pandemic is gone.
"People will like the ability to assess themselves for their doctor via an application. Giving the doctor all the data we can provide, so they can make a better more informed approach to your health and assessment. Having discussed this with many GPs around the world, the common stance from them is: if I could understand my patients' waistline and risk ratios before they video call me or come in for a consultation, it would save me considerable time on getting them on to the right treatments and medications. The way the world is now, the patient goes to see the doctor then they are sent for scans, having to then return for a prognosis and medical advice.
"Why not do it from home and share it with your GP or health provider."
Fixing the China 'Syndrome'
As well as sharing data with GPs and health providers, this could prove to be an invaluable tool for health insurers.
China provides an excellent test case for the value it can provide to this industry.
As mentioned earlier, MyFiziq's 50% owned joint venture partner, has today launched the company's first consumer-facing insurance application with The CareVoice in Hong Kong.
The CareVoice is a leading China-based health insurtech company dedicated to transforming the healthcare experience in Greater China. The jointly launched application will be used on an insurance product that CareVoice is collaboratively launching with an insurance provider in Hong Kong.
CareVoice will be furthering its position in the region by using this mobile and data-driven solution to digitalise healthcare services and enhance the insurance journey for many of China's largest insurance companies.
MyFiziq's technology, through BCT, is now embedded into the tech stack and we will work with CareVoice to accelerate distribution throughout the region. Under the agreement with The CareVoice, BCT will be paid a fee for all policyholders that buy the SportCare policy and activate the application. The BCT technology has a unique billing SDK, which identifies each new user as they enter the application. The Hong Kong launch marks the commencement of first revenues in the insurance sector for BCT.
About the SportCare application, SportCare is an innovative health insurance plan designed for sports enthusiasts, where CareVoice provides the digital platform for the entire customer experience. SportsCare aims to attract people from non-traditional insurance channels, by utilising gyms and other sporting channels as a way to encourage earlier adoption of insurance.
Here's a look at what the tech does: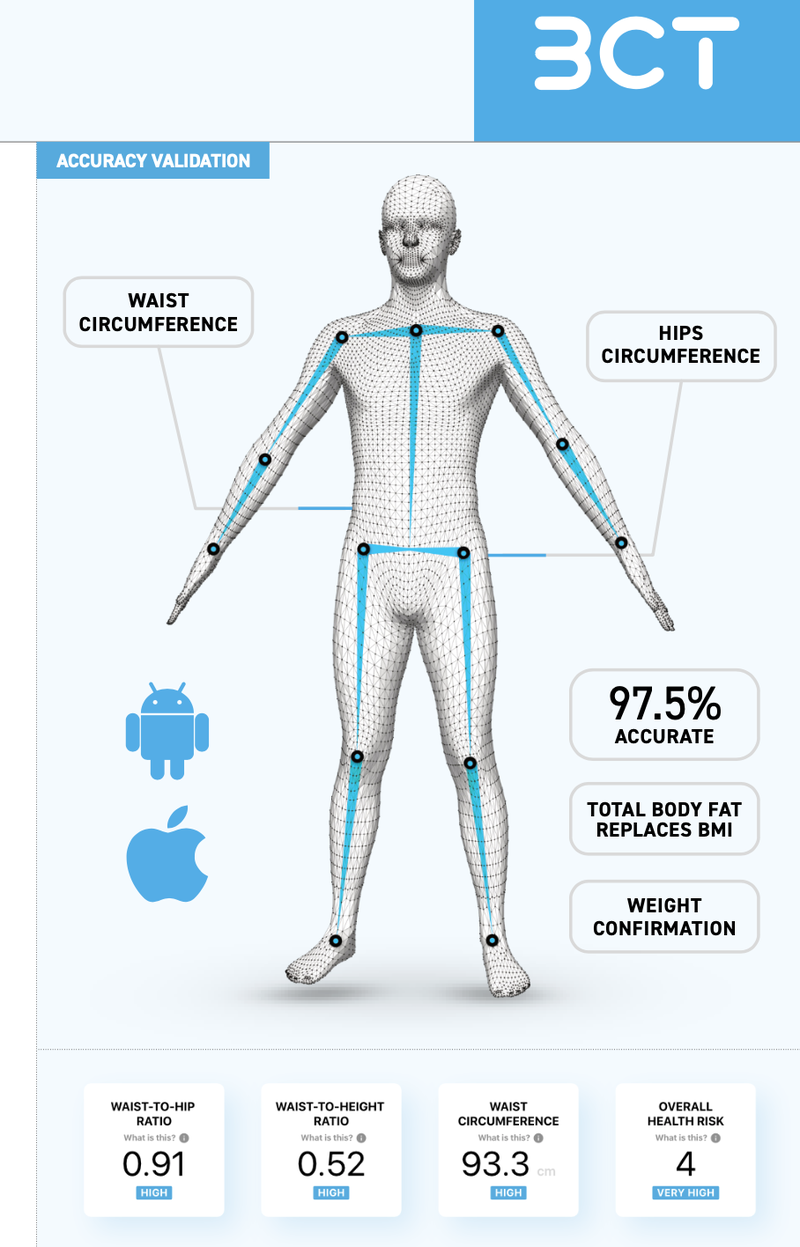 The CareVoice is currently used by 15 insurance providers in China and Hong Kong; it also works with over 100 healthcare service providers, which opens up an enormous market for MyFiziq as it looks to expand throughout China and the broader Asia region.
China's health-care sector spending is projected to reach US$1 trillion in 2020, according to McKinsey & Company, just a small slice of this pie could prove lucrative for MyFiziq.
"The CareVoice has not only moved rapidly to complete the integration of our first public-facing release in the insurance sector but more importantly the beginning of revenue for the company in this multi-trillion-dollar global market. The company is a well-established and rapidly growing insurtech platform that is driving innovation in the region, representing one of the largest and most rapidly growing healthcare and insurance markets in the world with a population of over 1.4 billion people. Hong Kong is a great first step for us to work together and get quality feedback on combined offerings.
"We will work together to deliver the best possible experience for both the consumer and the insurer. We look forward to serving the rest of the 15 insurers and over 100 healthcare service providers CareVoice currently works with."
This solution will enable The CareVoice to rapidly and accurately assess risk and guide its users towards improved outcomes through early screening and monitoring of the metabolic risk factors that our technology is able to capture. With diabetes on the rise in China, this capability is essential to reduce healthcare costs and improve population health.
The latest partnership
MyFiziq has entered a Binding Letter of Intent (LOI) with the Serfaty Clinic to commence testing and to adapt the MyFiziq application in readiness to enter the Brazilian market.
The Serfaty Clinic is led by Dr Alberto Serfaty, a specialist in endocrinology and internal medicine. He was the first medical doctor in South America to work with ketogenic diets, bringing it to Brazil in the 1970s.
The clinic is the biggest in Brazil for the treatment of obesity, diabetes and preventive health, working with ketogenic diets and reversing a wide range of chronic diseases.
Bosanac was introduced to Dr Serfaty by one of MyFiziq's US partners, which gave them a huge wrap on their clinics and credibility.
"Dr Serfaty Senior and Junior are very well respected and sort after medical-based obesity experts. The Government in Brazil uses Dr Serfaty for advice and how to approach the obesity epidemic currently consuming Brazil. Dr Serfaty is not only the leader in his field but also the best possible pathway we could have hoped for to be trusted and listened to in Brazil," Bosanac says.
MyFiziq is working with Dr Serfaty to deliver the MyFiziq technology, along with the new obesity calculator recently developed for his patients and potential users across Brazil.
MyFiziq and Dr Serfaty have agreed the commercial terms of the partnership which will form part of the formal agreements, which will be concluded in the next 90 days.
This is an important partnership because obesity amongst Brazil's population of 209 million is a growing health concern: 57.5% of men and 48.2% of women in Brazil are overweight, which means it is crying out for help to manage the issue.
You can read more about this agreement in the following Finfeed article: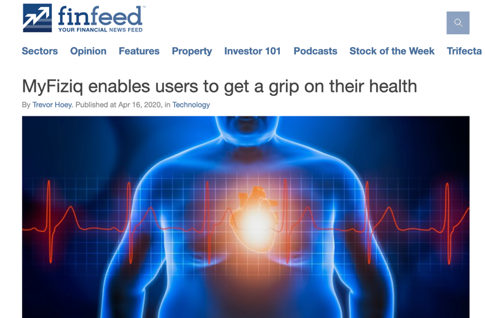 "Obesity has a roll-on effect in relation to so many chronic diseases that are directly now being correlated to the mortality rate of COVID-19.
"I want to bring this technology to Brazil and encourage our government to make it available to our population.''
The health issues begging to be solved
"I think the recent pandemic has highlighted even more the global need to identify and treat the overweight and obese: the problems they face and the unequivocal reduction in their life span they are subjecting themselves to," Bosanac told Next Tech Stock.
"We have developed an application that can identify the markers for these conditions."
Of course obesity and other diseases feeding into COVID-19 extend globally.
Comorbidities (associations) between obesity and the disease implications of coronary heart disease, diabetes, respiratory illness (asthma) and cancers are shown to have a direct correlation to the higher mortality rates being experienced throughout the world at this time with the COVID-19 pandemic.
This is the issue:
This month the US Centres for Disease Control and Prevention released a report that found that 48.3% of all patients admitted to the hospitals in 99 counties across the US were obese: 59% of the 18- to 49-year-olds who were hospitalised were obese.
Compare that to 40% of 20- to 39-year-olds in the general population who have obesity and the numbers are extreme.
Meanwhile, Lancet reported that in China people who were overweight had an 86% higher likelihood of developing severe pneumonia than those of a weight considered to be normal.
The Centres for Disease Control and Prevention suggests "severe" obesity, or a body mass index of 40 or over, as high-risk condition for COVID-19.
In the US, which has been hit hardest with 641,919 confirmed cases, experts fear its obesity rate of 42%, could provide further challenges.
"I worry that we are going to see a major increase in case fatality rates here in this country compared to what's been seen in some other countries in the world just because of that somewhat unique risk factor to us in the US," University of Minnesota infectious disease expert Dr Michael Osterholm said in a 30 March interview with WCCO, a local radio station.
Overweight is a complicated issue, at times driven by social issues, so this is not to lay blame or to stigmatise. However, it is an issue that needs to be discussed in terms of possible solutions because heart disease and diabetes – conditions linked to obesity – appear to increase the risk of death from COVID-19.
In current times, people need as much help as they can to look after themselves, whether it is with regards to diet, exercise or body weight management.
MyFiziq has developed an application that can identify the makers for these conditions.
The app can be implemented easily and used by the consumer in their own home with absolute privacy.
Bosanac says, "The first step in dealing with these conditions is identifying you have them in the first place. These conditions can be screened at many levels of risk using our technology."
By using the application once a quarter, even if you are healthy, you can keep a track of your progress over time. The important thing to remember is early intervention through knowledge is key to maintaining a healthy lifestyle and maximizing your own lifespan.
"If you are healthy but gain weight or increased waistline over time, check yourself and see if you are moving toward the risk categories we identify. The science behind what we track has been around for generations. It has been published by the best researchers and globally respected organisations such as the World Health Organisation.
"What we have done is brought the ability to identify these predetermined markers into your mobile phone allowing self-assessment."
By doing so, MyFiziq has developed a tool that could help to combat obesity and the spread of COVID-19.
People have a propensity to say, "that's not me". The truth is when is comes to obesity, diabetes and type 2 diabetes. It is up to 40% of all populations. Don't be the one that finds out too late.
---