$12M ASX Lithium Stock Exploring Next Door to $600M Producer
PUBLISHED: 14-03-2017 11:11 a.m.
Brushing shoulders with lithium heavyweights such as the $11.8 billion Albemarle; SQM, the world's largest lithium producer; and the $589 million Orocobre Limited in the lithium abundant land of Argentina seems a very good place for a $12M capped ASX junior to be.
For today's company, which has three prospective lithium brine projects nestled among tenements belonging to some of the biggest lithium plays making the news at the moment, the goal is closer to reality.
In addition to brine exploration, this tiny ASX stock has an option over a significant holding in a prospective pegmatite belt in the Catamarca province of Argentina, and is taking a very strategic approach to its exploration amongst a raft of large and mid-cap lithium producers who are currently hogging the light on the lithium stage.
Essentially this stock is exploring for lithium in both brine and hard rock – which is a nice diversifier for investors.
However, this company is still in its early stages and has some way to go to achieve its aims, so seek professional financial advice if considering this stock for your portfolio.
The fact that lithium is being mined right now in the same area this company is exploring, could be a lightbulb moment for investors.
Lithium in the form of brine is cheaper to extract and easier to get into a market-ready form than lithium-bearing pegmatites – that's why 49% of the world's lithium production is from brines.
However pegmatites have their own advantages too – pegmatites tend to have a wider geographic distribution and thus a lower susceptibility to supply disruptions... they also tend to comprise of a higher percentage of lithium, compared to brine. So both forms of lithium come with distinct benefits.
A quick note here. If you're wondering if it's good to be three quarters focused on lithium brine exploration... well, brine deposits represent about 66% of global lithium resources and are found mainly in the salt flats of Chile, Argentina, China and Tibet.
So if you strike a lithium brine resource in South America, you're onto a good thing.
The theme for this small cap – worth just $12.2 million currently with plenty of upside – is to 'go for gold' on lithium. It is throwing its hat in the main ring, side by side with the heavyweights in South America's 'lithium triangle'.
To get to this point, the company completed an acquisition of a strategic land package of ~90,000 Ha... representing one of the largest lithium tenement packages in the country.
Since then, the company has entered into an option agreement over lithium pegmatites covering a belt of 75,000 Ha in the Catamarca Province which will increase the lease holdings and applications to ~165,000 Ha if the option is exercised.
A key project for the company is its Kachi Brine Project, almost 50,000 Ha of leases and lease applications around a salt lake in a basin almost 100km long.
Initial results have shown up to 322 mg/L Li at surface and more results are expected, followed by geophysics and drilling...
Another of these brine deposits is adjacent to Orocobre, and SQM at Olaroz and Cauchari...
With that being the case, news flow from those bigger companies relating to the area could provide plenty of catalysts for share price momentum.
Combine that with some significant corporate transactions happening not too far from this company's tenements, including the development of Lithium Americas' Olaroz/Cauchari project with a 36% equity and debt investment to the tune of US$286 million.
The company recently completed a successful capital raise, that brought in AU$1,200,000, which will be deployed on upcoming drilling of the Kachi project.
With all that in mind, it's about time we bit the bullet and introduced you to:

Lake Resources
ASX:LKE
It may be only a matter of time before the dam gates of Lake Resources (ASX:LKE) really opens up.
The quickest way to get you initially acquainted with LKE and what they're all about is by watching this interview with company MD Stephen Promnitz:
There has clearly been a proactive search by management to respond to society's changing tides, which are inevitably carrying us towards a clean energy future, reliant on lithium.
LKE could be a tall drink of water in a desert land of fossil fuel producers... salty lithium-rich water, that is!
Here is another lithium brine play we wrote about recently – is LKE next?
Regular readers of the Next Small Cap may have caught the Red Mountain Mining (ASX: RMX) lithium brine exploration story when we brought it to readers back in November last year in the article Geologic Twin to $8.5BN Titan's Lithium Mine? RMX About to Find Out .
With swathes of high potential lithium brine landholdings in the lithium hot spot of Nevada;
Since our article was released – RMX has been up over 270%: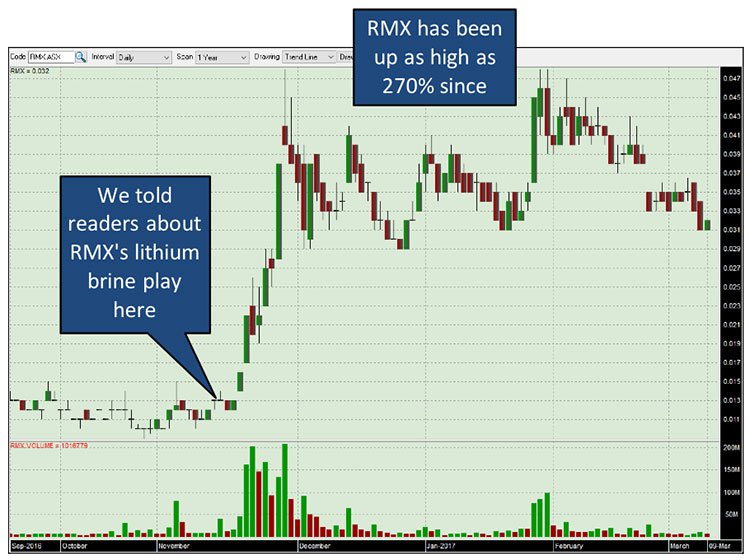 The past performance of this product is not and should not be taken as an indication of future performance. Caution should be exercised in assessing past performance. This product, like all other financial products, is subject to market forces and unpredictable events that may adversely affect future performance.
We are hoping for a similar result for LKE – given its exploring for both brine AND hard rock resources, in a famed lithium hot spot, just like Nevada is...
Argentinian lithium brine play – some context
If you've been around the traps and have some knowledge of the world of lithium mining, you would know that lithium brine's major selling point is its cost-efficient extraction.
As the lithium is not bound inside rock (like lithium-bearing pegmatites) there's no need for the costly roasting process to separate it out.
And it's possible to get very good grades of lithium from brine. South America happens to be the perfect place to find abundant sources of the high-grade brine, particularly in Chile and South America which are part of the renowned 'lithium triangle'. This triangle is where about two thirds of the world's current lithium supply comes from.
Here's a bird's eye view of that lithium triangle – just to bring home what a set of strategic and coordinated placements LKE has secured for itself. You can see the company's projects in red: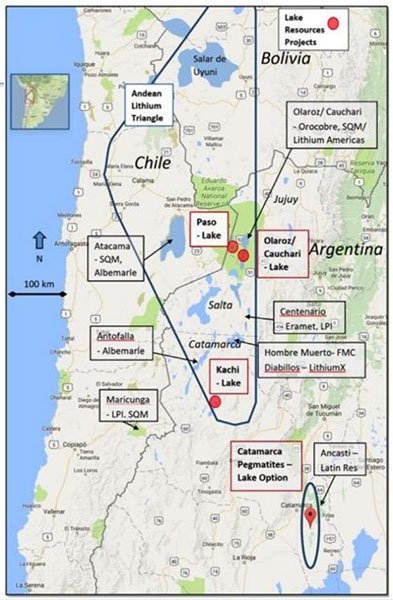 Overall, mining progress in the area has been somewhat slow, but now that is all set to change.
The newly installed Argentinian government has chosen to focus on the nation's mining sector. With the backing of President Mauricio Macri, it has revoked a 5% tax imposed on mining and energy companies – a policy of the preceding administration – and removed currency restrictions and capital equipment import penalties.
This, with other efforts to increase mining investment in the country, has resulted in unifying mining regulations to permit open-pit mines to operate there.
And this has had a big impact, as you can see from the headline below from a Reuters article last month: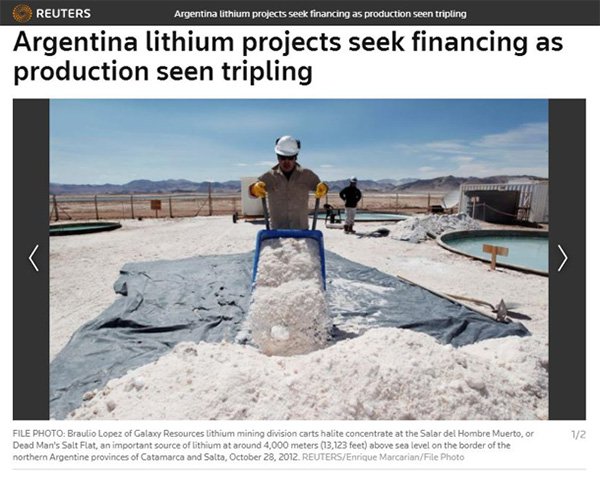 This change could well see Argentina catching up to its lithium-loving neighbours Chile who, by the way, together with Peru, are expecting between $30-$50 billion in mining investment over the next five years.
The huge opportunity has by no means gone unnoticed by Argentina's new government, who would clearly be very keen to bring in that level of investment.
Some analysts even predict there is $400 billion of undiscovered resources in Argentina – that's why we've got some big names, as well as some up-and-comers staking their claims there.
But as of yet, a hard rock lithium resource is yet to be properly defined in the area.
That's despite the Catamarca area — where Latin Resources (ASX: LRS) has also set up shop — having geology very similar to that in the Pilbara of WA, where the $690 million capped Pilbara Minerals (ASX:PLS) has a considerable hard rock lithium deposit.
So there's big opportunity, plus a hungry global market, for lithium plays in Argentina right now.
Other large players in the Catamarca district are FMC, Galaxy Resources, Lithium X and Albemarle.
Time now to take a more in-depth look at the recent news from LKE.
Capital raised, land expansion and sample results
The most recent message to hit shareholders' ears was that LKE had significantly increased its size in Argentina by signing an option to acquire ~70,000 hectares of leases.
The optioned leases cover a sizeable part of a newly recognised 100km long belt of pegmatite swarms – and includes both exploration and mining leases and applications – in Ancasti, Catamarca province.
In December, LKE announced the expansion of its brine leases at the Kachi project by 3,900 Ha – the extra land is contiguous to its existing areas of exploration for lithium brine in the Catamarca province.
This is the same lease application area the company recently commenced an aggressive exploration programme over. It increases the now consolidated lease area (either granted or under application) to almost 50,000 Ha in the Kachi Lithium Brine Project area...
But that's not all – a series of adjoining leases under LKE's subsidiaries are expected to be granted in the near-term, extending the prospective brine basin exposure for the small cap.
What this means for LKE in the long term remains to be seen, so investors should take a cautious approach and take into account all publicly available information when considering this stock for their portfolio.
Now, let's delve more into the company's key Kachi project.
Kachi brine project – lithium brine in Catamarca
The Kachi Project is located in Catamarca province, approximately 100km south of FMC's Hombre Muerto lithium brine operation in production.
It overlies an area of almost 50,000 Ha centred around a salt lake within a large basin almost 100km long.
LKE is undertaking an exploration programme involving grid sampling, with geophysics and drilling to follow soon – which could prove to be a major catalyst for this stock.
The recent near-surface systematic brine sampling work , consisting of 40 samples, returned elevated results of up to 322 mg/litre lithium, and other results at 209 mg/litre lithium.
The company is expecting even better results as the sampling continues towards the centre of the lake...
Here's a photo of an LKE worker at the Kachi project site – check out the expansive brine land mass that LKE are about to drill into...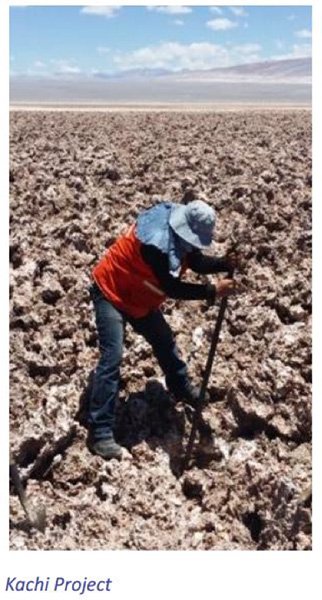 A look at LKE's other projects
The map below highlights in red where LKE's holdings are located across in Argentina. It shows the Kachi project in Catamarca, the Olaroz project and the Cauchari project – the latter two collectively comprising ~19,000 Ha in the province of Jujuy and adjacent to Orocobre production and SQM and Lithium Americas' development to production.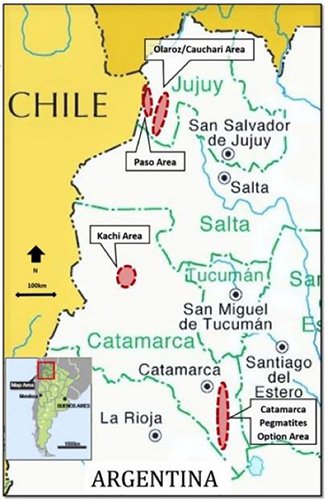 Below, LKE's holdings are in purple, Orocobre in green and SQM/ Lithium Americas in light blue. As you can see...
Orocobre is mining for litihum as you read this, in ground right next door to LKE...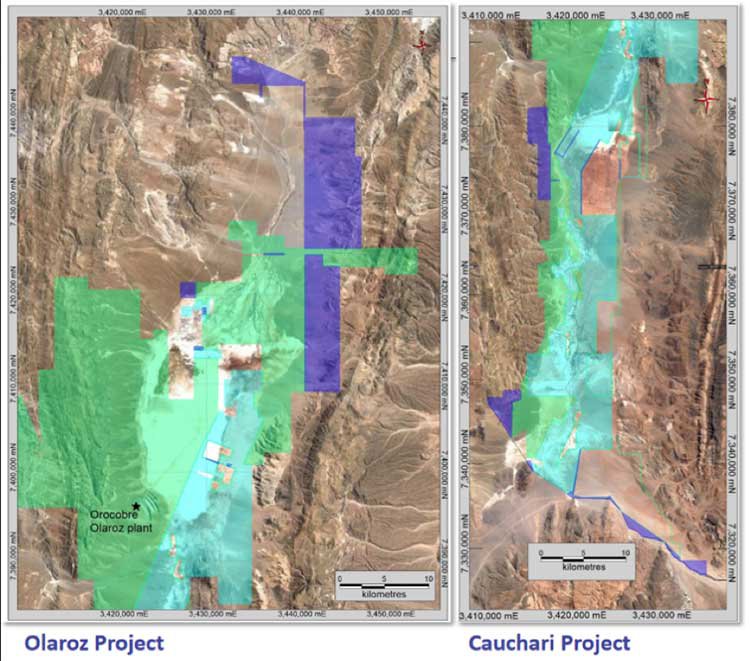 Plus, a recent investment in Lithium Americas by Gangfeng & Bangchak (US$286 million with US$205 million debt facility) was provided to develop Lithium Americas' Cauchari project.
That's the kind of value placed on the ground LKE is exploring...
LKE was actually an early mover in the area and since it secured its applications there has been a rush towards major land-grabs by some large players. That should tell you that LKE could really be onto something.
Pegging potentially lithium-bearing pegmatites
The company has decided that, while lithium brine plays are an excellent choice, there's no harm dipping its toe in the pegmatite pond, too.
It has entered into a number of option agreements on what's known as the Ancasti Pegmatites in Catamarca Province... an area containing large unexplored areas, good outcrop and ease of access with roads and tracks at low altitude (300-900m).
Just recently, a 100km belt of pegmatite swarms was identified – with samples showing up to 7.1% LiO 2 in adjoining leases – and it's over this belt that LKE has its option to own ~70,000 Ha.
Here's where the Ancasti pegmatites are located in Argentina: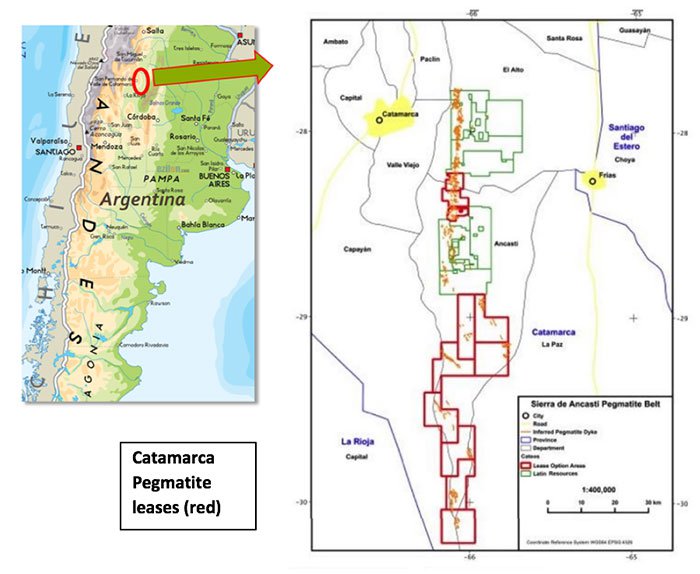 And here's a few photos specifically of the Ancasti project area LKE has under option: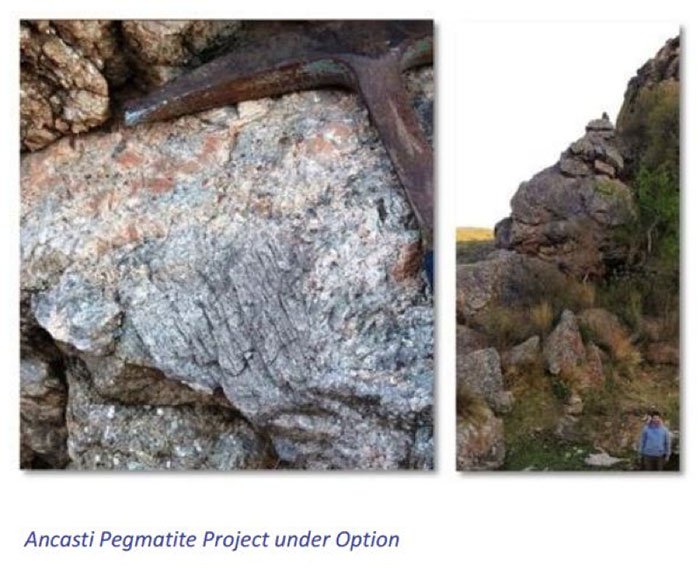 A quick look at the balance sheet
LKE held $1.2 million in cash as at December 31, 2016 and since then it has successfully completed an oversubscribed capital raise via private placement , raking in another $1.2 million of convenient capital for moving its aggressive exploration programme forward.
The offer was increased due to the demand from sophisticated, professional and institutional investors. It was completed as follows:
24,000,000 fully paid LKE ordinary shares at $0.05 per share; and
12,000,000 options exercisable at $0.10 each and expiring 18 months after date of issue.
To hear more from LKE about the success of the cap raise, here's a podcast on the topic where MD Stephen Promnitz discusses its significance .
In terms of forecasting the potential for profit down the track for this early mover, you only need to look at the lithium deals that have gone on right around where LKE are in Argentina:

When looking at the value of other lithium peers, it seems LKE is on the start of its journey, and there may well be a bit of catching up to do over the coming weeks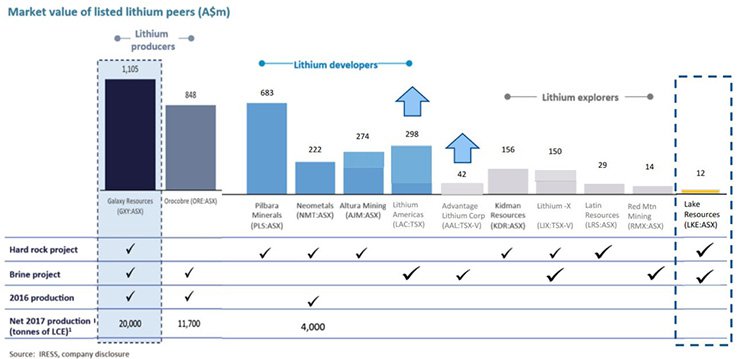 LKE hope to follow in a similar fashion to its peers above and it's going to start with a drill program at its Kachi Project in the near-term.
LKE has a comprehensive portfolio of lithium brine as well as pegmatite assets in a prime lithium-mining location – the 'lithium triangle' of South America.
What it now needs to do is maximise value from this portfolio... and with the recent capital raise, LKE can fund itself through an initial drilling programme at Catamarca – and potentially beyond to accelerate its other lithium plays.
What's a near-certainty at this stage, considering where LKE is positioned, and the nature of its holdings, is that we're likely to see no shortage of news catalysts the foreseeable future for the company as exploration results come through and a drill program progresses.
Not to mention news of major players developing assets very close by, which will very likely have an impact on LKE's own share price.
Of course any impact on LKE's performance is speculative at this stage and investors should seek professional financial advice for further information if considering this stock for their portfolio.
To picture what this lithium-loaded country looks like, with its salt and brine bases... here's a photo from LKE's archives: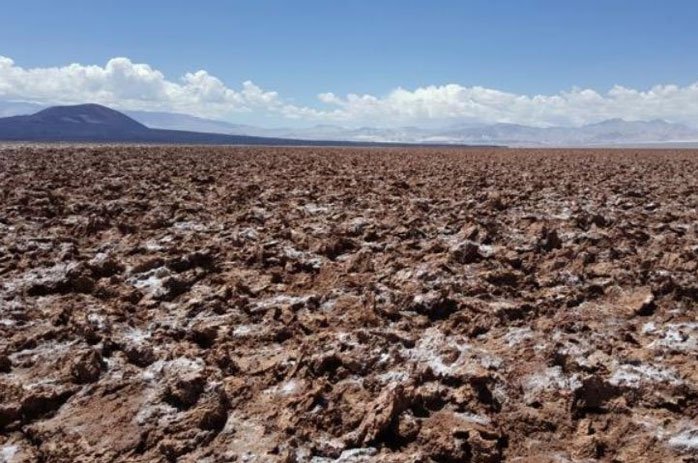 We don't have x-ray vision but when you think about the arid areas where plenty of lithium has been discovered before – Nevada, Chile, Peru... it's not hard to imagine some stretches of lithium in among that desert land.
A recap of this David among Goliaths
LKE currently has a market cap of just $12.2 million, and has managed to stay relatively unknown up until now.
Compare that to its peers with market caps many multiples of where LKE is today and you can follow why we think this could have a lot of upside, particularly with significant news flow coming...
Currently around half of all global lithium production comes from lithium brine lakes. And this lithium-triangle we've mentioned a few times, an area with major companies developing world class projects, plus listed juniors like Lithium Americas, LPI, and LithiumX...
...all add up to being a good place for LKE to be located.
With an enterprise value $10.8 million, and a lot of room to grow, we'll be keeping an eye on this play – especially with one ear waiting eagerly for the sound of drill-bits spinning.
---