DXB completes Phase III patient recruitment for crucial interim analysis
Disclosure: S3 Consortium Pty Ltd (the Company) and Associated Entities own 2,525,000 DXB shares and 625,000 DXB options at the time of publication. The Company has been engaged by DXB to share our commentary on the progress of our Investment in DXB over time.
It's taken seven months - which is actually very quick relative to other trials in the kidney space.
Today, our 2021 Biotech Pick of the Year Dimerix (ASX:DXB) announced it had reached the 72 patient recruitment milestone for the Phase III interim analysis data for its FSGS clinical trial (a rare kidney disease).
These results will tell us if there is enough evidence to continue with the trial, and if positive, a big big de-risking milestone for the company.
Now that the 72nd patient is recruited, we expect DXB to announce the interim analysis results sometime in the latter half of 2023 (in around 41 weeks).

These results are assessed by an Independent Data Safety Monitoring Board (DSMB) who will decide if there is sufficient evidence to continue the trial.
This is a binary result for DXB and as such we only have a bull and a bear case:
Bull Case: Enough evidence to continue the trial
Bear Case: Trial paused or stopped
Importantly, the DSMB knows which patients are on the placebo vs DXB's treatment, allowing it to judge whether there is enough evidence for the trial to go ahead.
When we Invested in DXB in August 2021 and named it as our Biotech Pick of the Year, the interim analysis results was the big catalyst we were waiting for.
We expect the shareprice to significantly re-rate if there is sufficient evidence for DXB to continue the trial as this will be a big de-risking factor for the company.
However, if the trial is prematurely stopped at this point, we expect the shareprice to take a significant hit.
No matter the outcome (and we have a feeling it will be positive given DXB's performance in its Phase 2 trial for FSGS), it's going to be an exciting period for DXB shareholders.
There are significant rewards on offer too.
Travere Therapeutics, who is working on a complementary FSGS treatment to DXB, was able to secure a long term licensing deal with Vifor Pharma with a value of up to $845M.
Driven by premium orphan drug pricing, the total global market for FSGS was recently valued at US$12.6BN.
Which is part of the reason why over the past 24 months there has been big interest in later stage licensing opportunities for treatments in the kidney space.
In particular from Australian biotech supermajor CSL Limited, who acquired the above-mentioned Vifor Pharma for $18.8Bn earlier this year.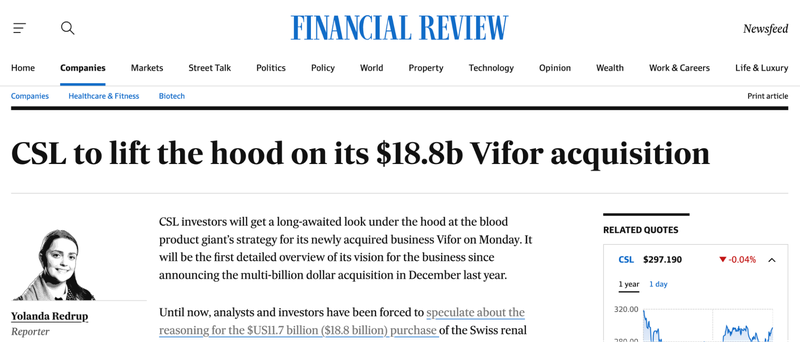 Along with Vifor's in-market products, CSL was particularly interested in its R&D pipeline of renal treatments undergoing clinical trials.
According to biotech specialist investment bank Jeffriess, "Vifor is a relatively high-growth, high-barrier-to-entry business with few competitors."
From the perspective of the pharmaceutical majors there are a limited number of late stage products in the renal space, which we think gives DXB a fantastic opportunity if it can conclusively prove that its treatment works in a clinical setting.
This brings us to our big bet for DXB.
Our Big Bet
DXB re-rates 10x by successfully commercialising its drug through Phase-III clinical trials
NOTE: our "Big Bet" is what we HOPE the ultimate success scenario looks like for this particular Investment over the long term (3+ years). There is a lot of work to be done, many risks involved - just some of which we list in our DXB Investment Memo. Success will require a significant amount of luck. There is no guarantee that our Big Bet will ever come true.
We've been following DXB's progress towards this Big Bet in our DXB Progress Tracker: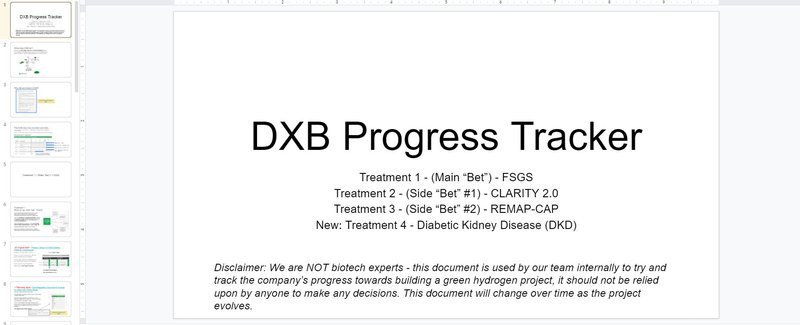 More on the Clinical Trial Progress
Today, DXB announced that it has completed recruitment for the first 72 patients. This is an important number as it will now be roughly 41 weeks (so, almost a year) before we get the interim trial results.
We would expect market interest in these results to steadily increase over 2023 ahead of these interim trial results.
Given that FSGS is a rare disease, patient recruitment is one of the biggest delay risks for the company.
We think it is a testament to the hard work of the recruitment team that DXB will be on track to deliver the interim trial results in the second half of 2023.
DXB has moved quite fast with recruitment relative to other kidney drug trials - notably for example the DUPLEX study run by Travere Therapeutics.
That trial (also for an FSGS treatment) started in 2018 and is scheduled to reach its primary completion date scheduled in February of next year.
Travere's treatment works on a different part of the kidney destruction feedback loop that is caused by FSGS, this means that there is the option to use there is the option to use it together with DXB's treatment for optimal kidney function.
Again, Travere Therapeutics was able to secure a licensing deal with Vifor Pharma (the specialty drugs arm of ASX giant, CSL - capped at $144BN) with a total deal value that could reach ~$845M (if sales milestones are hit).
Given that Travere Therapeutics got this licensing deal shortly after the DUPLEX trial released positive interim results, and the scope of the total deal value, this gives us high hopes of major value uplift for DXB - IF the interim analysis results come back positive.
From now until these results are released, DXB will continue to recruit patients, with the next key milestone being 144 patients which will take the companies through to the "accelerated approvals endpoint".
This means patients will still be recruited ahead of the interim analysis - however we expect the ongoing costs to remain stable while the clinical trial is running.
This is because after today's announcement, we do not expect DXB to open new sites for recruitment, which means DXB will avoid the large upfront start-up costs DXB had to deal with previously.
In other words, DXB has put in the leg work to set up the 70 sites across 11 different countries, and should be able to utilise these sites to recruit the next 72 patients for the 144 total needed for the accelerated approvals endpoint.
DXB Funding
DXB recently received a $6M R&D tax rebate bringing its pro-forma cash balance of $12M at 30 September.
We expect this to fund DXB through to the interim trial results.
With all of the sites set up and actively recruiting, we expect DXB's cash burn to slow in the coming quarters.
As most of DXB's expenditure is on research and development, DXB will be able to claim back up to 43.5% of its cost of the clinical trial under the Australian Government's R&D Tax Scheme.
In order to fund the next phase of the clinical trial DXB also has ~70M million placement options at an exercise price of 40c that expire 20 business days after the interim trial analysis result is announced (source).
If the results are positive (and the market re-rates significantly above 40c on the news) then there will be up to ~$28M of in-the-money options that could potentially fund the next part of the trial.
We like how DXB has structured this option arrangement as it provides investors with full transparency over the funding pathway for the next phase, and sets a watermark 2.6x times above the current share price.
Big deals in the renal space
Until now, we'd been working on the assumption that the FSGS market was worth roughly $1BN - but new numbers out of a market research firm show that FSGS treatments are worth around $12BN now - and growing at a rapid clip.
And more generally, over the past 24 months there has been a big interest in later stage licensing opportunities for treatments in the kidney space.
As we noted above, the biggest acquisition came from Australian biotech supermajor CSL Limited, who acquired Vifor Pharma for $18.8BN.
Vifor had previously secured two big deals in the kidney space - a $1.9BN licensing deal with Angion Biomedica and the previously mentioned Travere Therapeutics deal.
CSL would have had a good look at Vifor's portfolio of treatments before acquiring the company - and it's not unreasonable to expect CSL to continue to drive deals in the kidney space going forward.
In this chart you can see the deals done in the renal space from major companies looking to enter the lucrative market.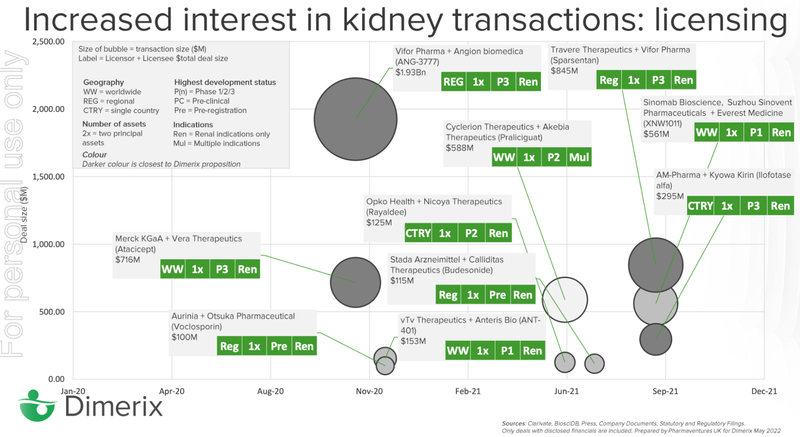 As this slide demonstrates, there has been more action in the renal space in the last 24 months than in the last 24 years.
But why is this?
Well, it all boils down to the historic lack of incentives and public policy surrounding clinical trials in the renal space.
It's been a "squeaky wheel waiting for grease", and in 2019 the US Federal Government adopted policies to support research in the renal space.
Historically, clinical trials in the space ran to hard endpoints, like dialysis or death. This meant that drug developers could wait decades before knowing the outcome of their clinical trial.
This protracted timeframe meant that the cost of R&D was prohibitive and unattractive to investors.
But the US government woke up to the fact that kidney failure (and dialysis) costs upwards of ~$35BN a year - a huge toll on health coffers.
So, in order to spur investment in the industry, and provide better outcomes for patients, the government enabled the use of surrogate endpoints for clinical trials (protein in the urine or eGFR as a measure of kidney function).
These are the endpoints that DXB is using for its Phase III clinical trial.
These legislative changes have brought on a wave of interest from Big Pharma in the space, particularly with later stage drugs like DXB's treatment.
With this in mind, we think that this is an excellent time for DXB to start engaging potential marketing partners for the drug, especially given the spotlight on the renal space since the Vifor acquisition in June.
DXB's commercialisation aspirations are all predicated on the drug working, which we will get a better indiciator from interim trial results in the second half of 2023.
Our DXB Investment Memo
In our DXB Investment Memo you'll find:
Key objectives for DXB in 2022
Why we invested in DXB
What the key risks to our investment thesis are
Our investment plan

---