PUR research report with a 6.1c price target
Shares Held: 51,165,999
Options Held: 0
---
PUR research report with a 6.1c price target
Today Resolve Research put a price target of 6.1c per share on our Argentinian lithium Investment Pursuit Minerals (ASX: PUR).
The report cited four key reasons for its 6.1c price target:
Maiden JORC resource expected to be announced before the end of 2023 - after the company's first drill program later this year.
Lithium production is much closer than the market appreciates - PUR's pilot plant acquisition puts it closer to producing battery grade carbonates a lot quicker than the market may expect.
Comparisons with Argosy's peak market cap of $1.1BN - the report cites the re-rates brine companies have as they move into production and makes specific mention of Argosy Minerals $1.1BN valuation earlier this year.
PUR trailing its peers in terms of valuation - The report cites a potential $196M valuation if PUR is able to establish a JORC resource >250kt lithium carbonate equivalent.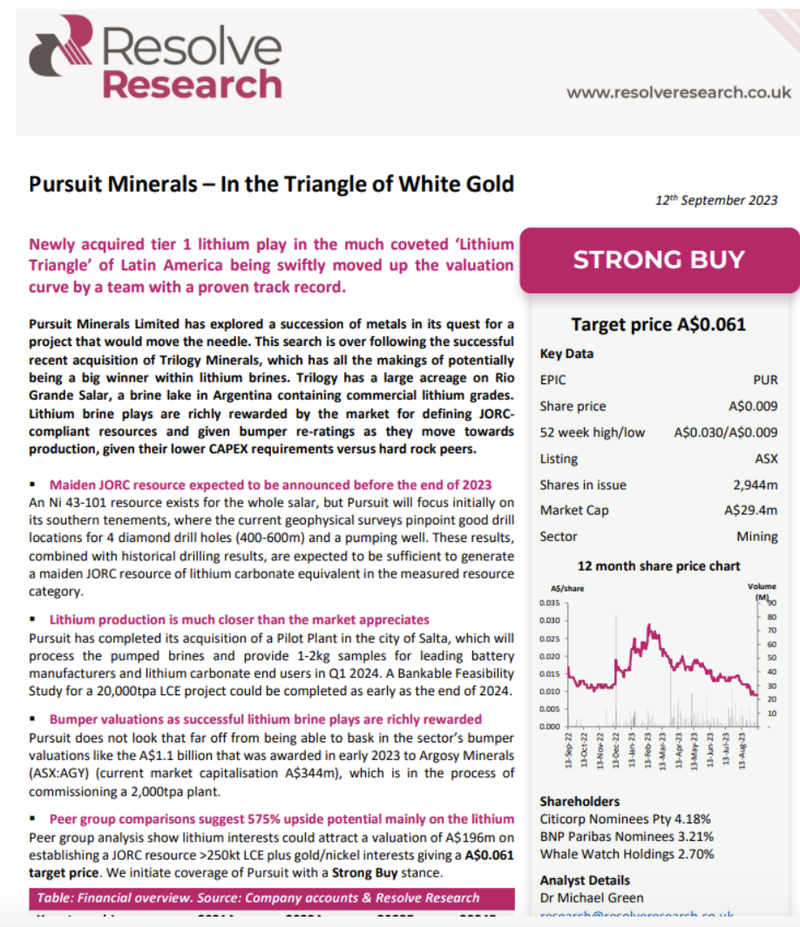 Please note that analyst price targets are based on a number of assumptions that may not prove to be accurate. All investors should do their own research, and never invest off a single price target alone.