MEG firming up lithium targets before drilling in James Bay
Shares Held: 9,740,545
Options Held: 350,000
---
Our US critical minerals Investment, Megado Minerals (ASX:MEG) released a promising follow up to their latest exploration update on the company's James Bay lithium project.
MEG has found ~272 areas where the company expects to find pegmatites - the typical host rock for lithium bearing spodumene.
It's a good result which should improve MEG's chances as it moves towards drilling "later this year."
After today's announcement, we expect the next major piece of news will likely be centred on where the company intends to drill.
A lot of work has gone into getting MEG to this stage, and we think there are some strong early signs that MEG's ground in James Bay will throw up good targets.
First MEG did some hyperspectral analysis (analysis based on satellite imagery) and now has done structural analysis.
MEG's structural analysis has identified ~272 areas where the company expects to find pegmatites.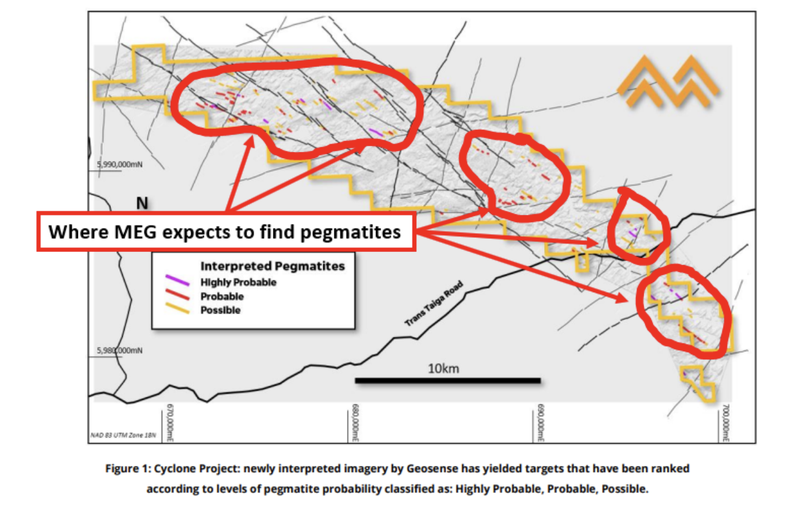 We like that MEG is instead choosing to start from the air and work its way onto the ground.
When it comes time to walk the ground and look for the pegmatites, the company will at least know where to start looking.
MEG will be following the same tried and tested playbook that has led to the discoveries of some of the world's biggest lithium deposits that have become company making projects, creating hundreds of millions of dollars in value.
What's next for MEG?
Fieldwork at James Bay lithium project 🔲
The next step for MEG will be to pick out the best parts of its project to go and sample.
Ultimately all of the work done to date will help define where the company focuses when it gets on the ground and starts looking for lithium bearing pegmatites.
MEG expects to be on the ground in Canada after the snow season is finished with drilling planned for after this.
Typically the Canadian winters run through to the end of March/early April so we shouldn't have to wait too long for on-ground exploration to start.
Fieldwork at US rare earths project 🔲
Similar to its Canadian project, MEG is waiting for the US winter months to end so that on ground exploration can start.
We expect MEG to be active over the next ~6-9 months, noting that the US/Canadian winters tend to start towards the end of every year.
MEG also noted in its most recent announcement that it is currently working toward permitting for a maiden drill program - hopefully this means MEG will get out and drill the project this year.
MEG has previously guided that a drill program on its rare earths project would begin in mid to late 2023.