Drilling at NSW gold project set for Q2-2023
Shares Held: 2,331,081
Options Held: 0
---
Our junior exploration Investment TechGen Metals (ASX: TG1) is preparing for a phase 2 drill program at its NSW gold project.
TG1 plans to follow up its gold discovery from last year with phase 2 drilling which will incorporate both an RC and a diamond drill rig.
TG1 expects to be drilling in Q2-2023 pending drill permits being approved.
While permitting is ongoing, TG1 is running a step-out soil and rock chip sampling program to the north.
With its next round of drilling, we expect TG1 might look to test for extensions to its discovery hole from last year to the north and south, below are those areas shown in red: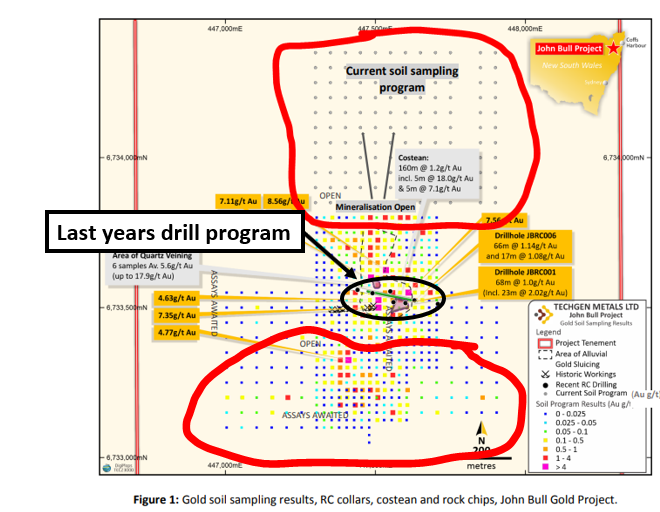 What's next for TG1?
At this stage, our focus is on TG1's gold project in NSW (John Bull) and its WA Copper projects (Station Creek and Mt Boggola), all of which the company drilled late last year.
Once drill permits for the John Bull project come in and the drill program date is lined up, we will update our TG1 Investment Memo.
In that Memo we will detail what we want to see the company achieve next, why we continue to hold TG1 in our Portfolio and the key risks to our Investment Thesis.