Iron Ore
---
Our Iron Ore Portfolio
Stocks
Date of Initial Coverage
Initial Entry Price
Highest Point
Performance from Initial Entry
IRD

1616850000

28-Mar-2021

$0.215
-2%
-66%
Stocks
Date of Initial Coverage
Initial Entry Price
Highest Point
Performance from Initial Entry
IRD

1616850000

28-Mar-2021

$0.215
-2%
-66%
Macro Outlook Iron Ore - 2023
Iron ore is primarily used to produce steel which is the world's most important construction material - without steel we couldn't build homes, cars, windfarms, bridges, etc…
Iron ore is therefore the single most mined material in the world.
The iron ore price has bounced up and down over the last five years, and has started to come back from its 2022 weakness as China re-opens from its COVID lockdowns, and hence construction activity increases.
This means a lot more demand for construction materials and of course more demand for iron ore products.
Our view is that the world is entering a major CAPEX cycle and demand for construction materials is set to increase.
Increases in construction activity will mean the world needs more steel and in turn needs more iron ore - we think this supports a higher iron ore price for a longer period of time.
What the analysts say
Founder and CEO of US based private equity firm Quantaum Energy Partners, Wil VanLoh comments on the outlook for commodity markets.
While most of the following discussion is broad based talking about a shortage of raw materials Will specifically mentions the following - "Over the next 30 years, the world has got to increase its production capacity for concrete and steel by 20-30-fold."
See the short clip in full here: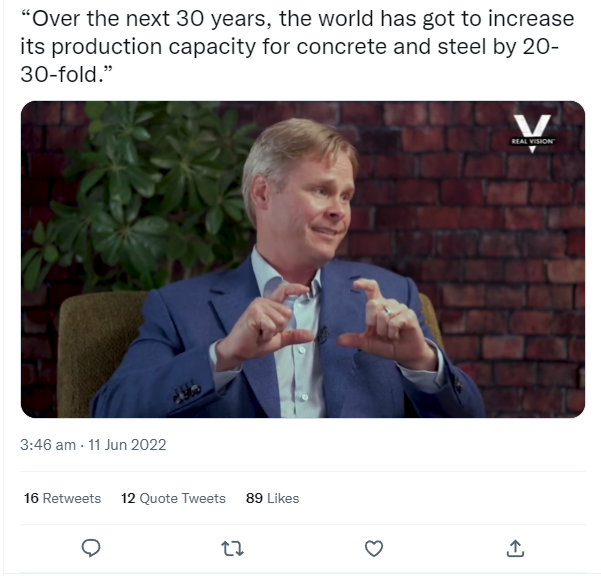 What about the bear case?
The bear case for iron ore prices is a worldwide global recession.
In a worse than expected global recession we would expect to see construction activity slow, leading to reduced steel demand.
In recessions companies typically move into cash preservation mode deferring any major CAPEX decisions to reduce cash burn rates.
With interest rates increasing at the fastest pace in decades all around the world there is a risk that a recession scenario plays out in 2023.
If this were to happen we expect to see the share prices of iron ore explorers/developers and producers fall.
We will be looking at this as an opportunity to make new Investments in the sector.