Investing in Graphite Stocks
Published 21-APR-2023 10:01 A.M.
Why invest in graphite stocks?
Traditionally used in steel, automotive parts, and lubricants, graphite has emerging uses in the nuclear industry but most importantly it is a key raw material in electric vehicle batteries.
Investing in graphite stocks allows us to capture exposure to fast growing demand from the EV battery industry.
What is graphite?
Graphite is a naturally occurring crystal form of carbon. It's a mineral with some unique properties — it's very soft, falls apart easily, is extremely resistant to heat, and barely reacts with other materials.
With high electrical and thermal conductivity, graphite makes for a great battery material. Its unique properties mean there is no substitute material for graphite in an EV battery.
Graphite can be made synthetically, but it has its downsides: it's expensive to produce, energy-intensive, and environmentally harmful.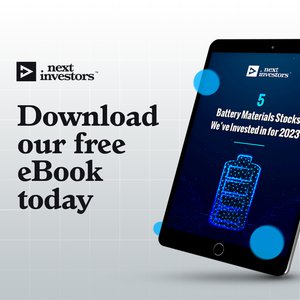 What are graphite's uses in electrification and batteries?
Graphite is a critical material in the rapidly growing electric vehicle battery market — a vital ingredient in the manufacture of battery anodes.
An anode is the part of a battery that receives the electrical current of a device. Think of the anode as where the charge goes "in". A cathode, on the other hand, is where the charge goes "out."
Graphite is the dominant material across all lithium-ion batteries – half of every lithium-ion battery is graphite and 95% of every battery anode is graphite.
So far, graphite has proved to be non-substitutable across every type of rechargeable battery chemistry.
Graphite supply and demand
Graphite supply-demand dynamics are being driven by the rapid push towards electrification and a lack of mature graphite projects to respond to this rapid push.
By weight, graphite is the most used raw material in an EV: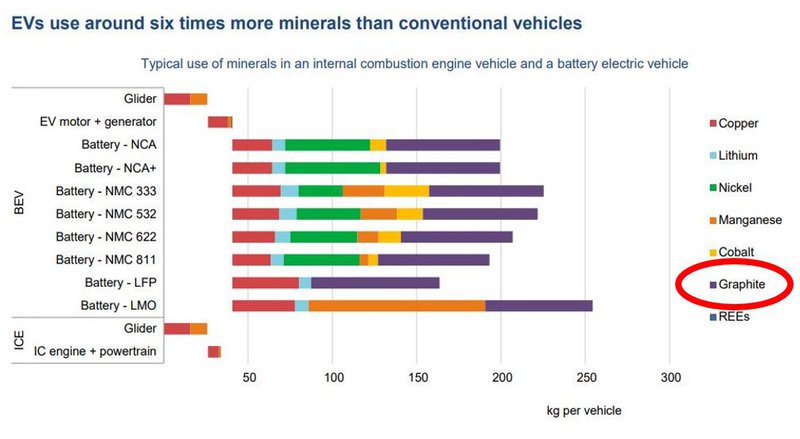 That purple bar is graphite — the dominant material across a range of battery chemistries. The average EV contains some 70kgs of graphite.
Currently only around 10% of graphite produced goes into batteries, but with forecast rapid uptake of EVs globally over the coming decades, projected graphite demand is exponential:
Add to that a severe lack of graphite supply. Benchmark Minerals predicts that to meet the coming demand, 97 new graphite mines are needed over the next 13 years, that's assuming an average 56,000t/year mine capacity.
And that's just for the very specific type of graphite that's used in battery anodes, which attracts a premium price.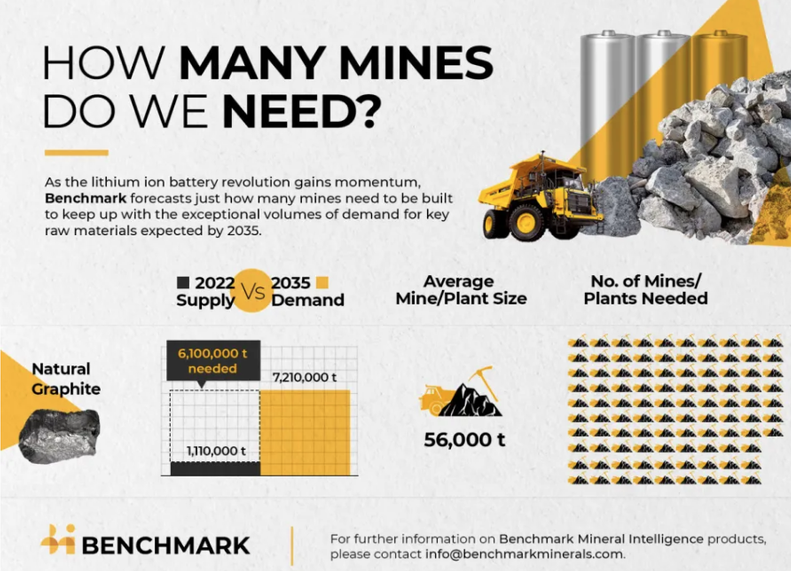 Source: Benchmark Mineral Intelligence (image edited to include only graphite demand)
Furthermore, the International Energy Agency expects graphite demand to increase by 8-25 fold by the year 2040.
The graphite market was only slightly in surplus in 2022, however it could be in a supply deficit by as early as this year: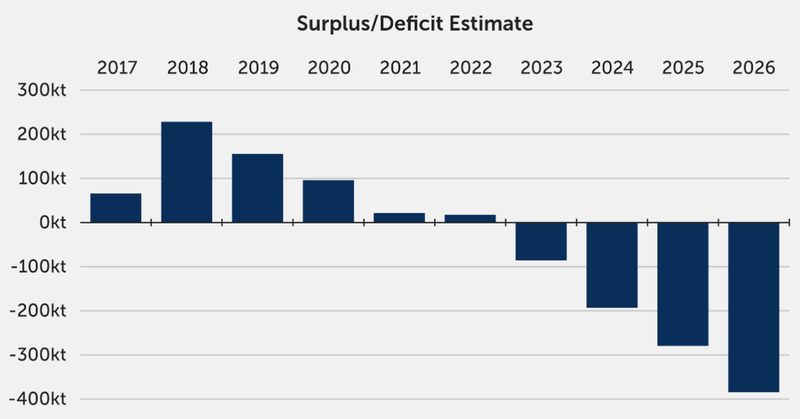 ...and it's tipped to worsen as the decade progresses with new demand set to far outstrip production.
As you can see, there was an oversupply of graphite in 2018 which hurt prices, and thus the bottom lines of graphite miners.
But we think the graphite "winter" is well and truly over with the graphite market, from 2023, to be increasingly driven by geopolitical considerations.
Graphite geopolitics
Given its crucial role in the EV supply chain, graphite is increasingly being tagged by governments as a critical raw material.
Take the European Union as an example, it currently imports 98% of its natural graphite consumption.
Much of that would come from China, which in 2021 was the world's leading graphite producer responsible for almost 80% of all graphite produced, according to the US Geological Survey.
BUT...
However, China is switching from being a net exporter to a net importer of the battery anode material, which will only heighted the forecast supply-demand imbalance.
The historical benefits of sourcing graphite from China are being outweighed by supply and price instability.
As demand for EVs continue to rise over the years ahead, more graphite and and a greater proportion of the graphite produced will go to making EV battery anodes. With not enough new mines planned to keep up with the anticipated coming demand, this should lift graphite prices and benefit companies that can supply new sources of graphite.
Graphite in the news
This pending structural supply-demand imbalance made headlines early on in 2022:
And this was a major reason behind Tesla signing a binding offtake deal with an ASX graphite producer in late 2021:
Syrah later signed another forward supply deal (MoU) with Ford.
Graphite's status as a critical mineral is increasingly being recognised as well:
More on which Graphite Stocks we've Invested in
Want to know more?
Claim your free copy of our ebook '5 Battery Materials Stocks We've Invested in for 2023' right now.
Our Next Graphite Stock Investment?
Recognising the huge (and growing) potential on offer for investors in the electric vehicle and battery metals space, here at Next Investors we are searching for additional ASX-listed companies with exposure to the sector.
We are currently undertaking due diligence on a number of potential Portfolio additions.
By claiming your free ebook and subscribing to our (free) mailing list you'll be the first to hear which ASX-listed companies make the cut.
We'll also alert you to any other small cap additions to our portfolio, along with updates on those companies that have already been added to our long term portfolio, including those listed in this document.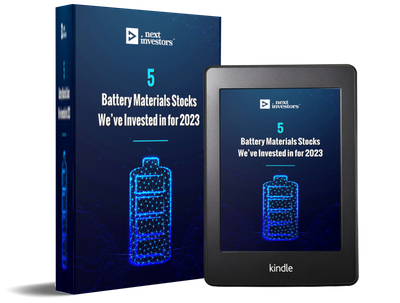 Download the Next Investors "5 Battery Materials Stocks We've Invested in for 2023" ebook and you will:
DISCOVER our best ever Investment which grew 8,225% from our Initial Entry Price. Nestled in the heart of Europe, this company is aiming to become the world's first Zero Carbon Lithium producer. Five offtake deals with major car companies like Stellantis and Volkswagen + a $250M war chest, can you guess who it is?
EXPLORE how this advanced stage project in the Czech Republic could be at the forefront of an Electric Vehicle (EV) battery revolution. Next-gen batteries need this metal. The company is strategically located in Europe in very close proximity to where over 25 EV plants and 30 battery plants will soon be operating.
LEARN how one junior mining company is expanding its discovery of a rare metal in Norway - the majority of the metal comes from a single African country and processing is dominated by China.

---