Zero Carbon Ammonia? What happened last night?
Published 28-APR-2021 10:02 A.M.
Minbos Resources (ASX:MNB) is developing a large phosphate resource in Angola that has the potential to dramatically transform the country's food security and crop yields.
...and now Zero Carbon Ammonia?
Last night MNB delivered its quarterly update with no real surprises... except for one buried towards the end that we found pretty interesting...
Having a casual read of the quarterly was a nice stroll down memory lane of what MNB achieved over the last few months - execution of license with Angolan Government.. $7.3M now in the bank... fully funded to DFS on its US$159-260M (After Tax NPV) phosphate project that will cost between $22M to $28M to develop...
All this is already known information until we get to the second last page and see this, which is new:

Interesting... here is a summary we found of what Green Ammonia is (thanks Argus) - and a handy picture from their article: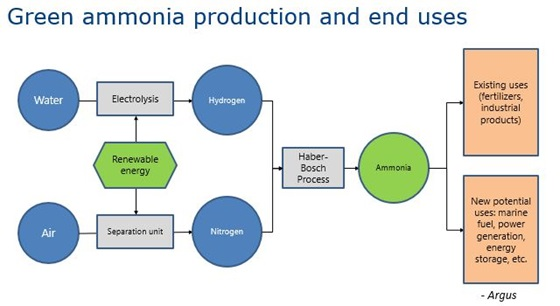 We are watching with interest with MNB potentially jumping on the "ZERO CARBON" bandwagon after the success of Vulcan's Zero Carbon Lithium (20c to now $8.20) and Province's Zero Carbon Green Hydrogen (1.3c to now 21c).
Obviously it's very early days and we don't know what MNB is cooking up here but it certainly made us do a double take when reading the quarterly - we are invested in MNB for the original phosphate project but see the potential Zero Carbon Ammonia as a bonus.
As always we will keep providing our comments when more is revealed by MNB.
Here is all our past commentary on MNB
In other news... what's happening with CPH?
As mentioned yesterday, we stayed up last night to watch Creso Pharma (ASX:CPH)'s "bigger brother" MindMed list on the NASDAQ.
MindMed and CPH are both in the psychedelics space, and share some of the same team - Dr Miri Wernli founded CPH and remains a significant CPH shareholder - she is now an Exec President and MindMed board member. Bruce Linton is a strategic advisor to CPH, and is on the board of MindMed.
MindMed is capped at over $2BN AUD right now, almost 10x bigger than CPH...
We think MindMed's bigger valuation might be due to its significant North American presence and now multiple stock listings over there.
American investors' have a voracious appetite for psychedelic and marijuana investments that helps MindMed's cause (and hopefully CPH's when it lists there soon).
MindMed's day one on NASDAQ saw it pop on open at $US 5.65 and close 30% lower at $US 4.02, back up to $US 4.35 in aftermarket trade.
MindMed is still up over 100% in the last 3 days - and up 1,000% over the last eight months.
MindMed has huge online support so we think it will continue to perform well, and we will bring you a further update on its NASDAQ performance over the coming weeks.
We are hoping that CPH and its similarly interesting story of cannabis and psychedelics will resonate well with the huge investor pool in the USA who are following MindMed.
We continue to be in awe at just how big the pool of investors is in the USA and Canada is - it's always interesting when companies can get a following over there (we all saw what happened with 88E).
Here are a couple of links if you want to follow MindMeds trailblazing journey into the US Psychedelics investor community:
This video also outlines the MindMed opportunity from the Psychedelic Investor Youtube channel.
---