XTE Set For A Sharp Rally? Now Preferred Tenderer For A Multi-million Dollar Government Contract
PUBLISHED: 29-04-2016 10:29 a.m.
Homeland security technology company XTEK (ASX:XTE) is poised for a sharp market re-rating as the market minnow has been selected as the preferred tenderer for small surveillance drones by the Australian Defence Force (ADF).
We first looked XTE as the next potential market superstar late last year and took an in depth look at their product offering and business model. This time around we analyse what is on the horizon and how big the opportunity has become.
The ADF is seeking to purchase new, non-developmental Small Unmanned Aerial Systems (SUAS) for use by the Australian Army under project Land 129 Phase 4.
The successful Contractor will be required to deliver both the physical SUAS, associated items and support services. While there is no word yet on the actual dollar value of the contract, it is safe to assume it is likely to be multiple times the $8m market cap of XTE.
What this means is that XTE isn't likely to remain at its current market size for much longer.
Remember, however, that this is still an early stage play and any price movement is speculative. Caution is advised if considering this stock for your portfolio.
With XTE announced as the preferred tenderer, and having previously supplied the ADF with the same SUAS, XTE is in the box seat for this contract – which would be a game changer for this micro-cap company...
Back in June last year XTE completed delivery of SUAS to the ADF worth $7.7MN. This was for a small number of drones. Since the ADF picked XTE as the preferred tenderer, it clearly shows that the Australian military must have been very happy with the first batch of SUAS.
The global market for Unmanned Aircraft Systems (UAS) – the technical term for drones – is estimated to grow from US$6.76BN in 2014 to US$10.57BN by 2020.
What's more, drones are only the tip of the iceberg for XTEK.
There are two other key catalysts for the stock. XTE is well advanced with enhancing its ballistic armour composites technology, which could be used to potentially manufacture lighter body armour for the US military; and the company is close to commercialising its unique real-time contextual mapping system for aerial vehicles.
The size of the addressable market for both technologies is worth tens of millions, if not more...
Just as importantly, XTE is not a typical emerging tech company with no cash flow or revenue. The company has been selling equipment to the ADF and security services for a number of years and has recently delivered an advanced bomb disposal robot to an Australian law enforcement agency.
Further, XTE was recently selected as preferred tenderer for the supply of a quantity of ADF Explosive Ordnance Disposal (EOD) and tactical equipment. While final numbers are yet to be confirmed, revenue for these products is expected to exceed $1m.
The prospects of winning the significant Land 129 tender and having two industry changing technologies that are close to being commercialised, underpinned by an existing operating business, make XTE a stock worth keeping a close eye on.
Read on for more details.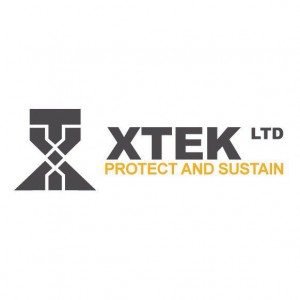 XTEK Ltd (XTE) is finally getting much needed traction with a variety of customers that could facilitate a sharp increase in sales moving forward.
In FY 2015, XTE's financial metrics moved in the right direction with revenues climbing sharply on the back of contracts with the ADF, police and other law enforcement agencies.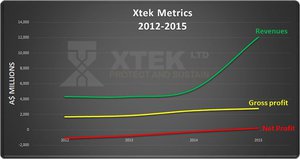 XTEK manufactures and brokers the sale of dozens of various gadgets and gizmos that are used by military service personnel around the globe.

XTE has a strong range of products, generating over $12m in revenue last year and has government contracts coming in – but the company is currently only capped at around AU$8m?!
We think that discount may be unjustified considering XTE is a fully-fledged supplier that has been trending up over the past few years.
You shouldn't be too concerned that the company's FY 2016 revenue is forecast to be lower than last year, with a yearly loss expected, as the outlook from FY 2017 and onwards is very promising.
This is because of three key factors at play for XTE:
The company has been named as the preferred tenderer for the ADF multi-million dollar Land 129 Phase 4 project,
The near-term commercialisation of its real-time contextual mapping solution (XTatlas), and
The prospect of the US military potentially wanting to benefit from its ballistic armour composite manufacturing technology (XTclave).
The multi-million dollar Land 129 Phase 4 opportunity
Land 129 Phase 4 is the Australian government's scheme for boosting its small tactical UAV/UAS capabilities that are currently needed to support land force operations.

XTE submitted a tender for consideration to the Department of Defence in February 2016, with a view of winning the contract to supply small unmanned aircraft systems for the Australian Army.
What gives us confidence that XTEK is in the box seat for the contract is that it supplied a small number of SUAS to the ADF and has now been selected as the preferred tenderer for more systems.
They're not the new kids on the block anymore.
If XTE enters into a contract, it would be a huge catalyst for this micro-capped stock.
And if we look at XTE's addressable market from a bigger picture perspective, there are indications that it could become a dominant supplier and maintainer of small UAS within Australia.
It's clear that Australia's defences, both foreign and domestic, will likely be utilising unmanned drones for both reconnaissance and combat.
The recently published Defence White Paper confirmed the need for small tactical short range unmanned aircraft for Army and Navy to improve situational awareness of land and maritime forces on operations. These systems will provide enhanced battlefield intelligence, surveillance and reconnaissance capability for deployed troops and ships.
Given that the expected life of military UAS can be many years, Land 129, and other potential UAS sales, could provide XTE with millions of dollars in annual revenue for a number of years, just from the maintenance of these systems.
In the Defence White Paper the Government advised that it would spend approximately $195bn over ten years; and that it will harness the leading-edge Australian innovation and technology expertise that can provide unique capability advantages for the Australian Defence Force.
XTE is ready to step up in this regard, with innovation and technology that will provide capability advantages.
Again this is an early stage play, so seek professional advice for further clarification or information with regard to this stock.
XTatlas – drone contextual video and mapping technology
Considering that drones are being sold to both retail consumers as well as military units and law enforcement agencies, we may just start to see signs like this popping up all over the place: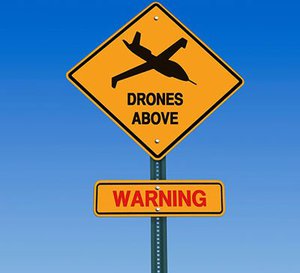 That's just great news for XTE, who have a market-leading contextual video and mapping technology waiting in the wings.
Just late last year, XTE acquired Simmersion Holdings – a company specialising in 3D modelling focused on urban planning. XTE has also recently applied for a commercial license to operate UAS in Australia .
This tie-up means XTE can further develop its technology with urban applications, therefore making its XTatlas product all the more attractive for police forces as well as companies looking to deploy drones in urban areas for asset inspections, mapping and reconnaissance.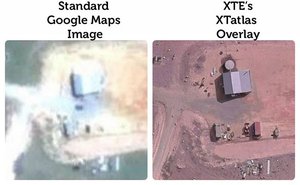 XTE's XTatlas allows the user to overlay live video footage taken from a drone onto an existing map – in real-time.
Examples here could include retailers, property developers and architects.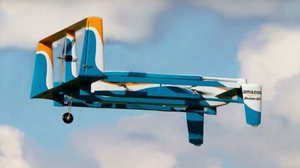 Amazon Prime Air delivery drone
XTE's tech doesn't necessarily discriminate between military and civilian applications; it's just that the military has more need for drones than shoppers or property developers do – for now.
But that will likely change over time as drones become increasingly cheaper and popular for retail uses. Another key aspect is that XTE's commerciality is not only in hardware but software, which could mean tie ups with other manufacturers that could use XTE's software.
This is speculation on our part but it certainly gels with current trends in the industry.
The thing that sees XTatlas stand out from a commercial point of view is that the technology can be on-boarded to any drone, manufactured by any drone manufacturer.
Taking a look at some of the applications for XTEK's live-mapping technology, it's clear that there are dozens with many more still to come out of the woodwork.
As an example, fire-fighters could use thermal imaging drones to locate 'hot' spots. Drones could be used to scour entire buildings, being able to see through smoke for survivors and so on. They could also be used to provide awareness and mapping for bush fire fighting .
Farmers could use drones to create imagery that would enable them to go and dust huge areas of farmland with seeds, fertiliser, etc., based on the real-time mapping information they receive. Some analysts have predicted that drones could be as common as tractors if and when the technology becomes ubiquitous enough for mass consumption.
Drones are also being used for mapping and asset inspections in the utilities and mining sectors
It is companies like XTEK that will be catalysts for this type of change, thereby using first mover advantage that could generate strong profit margins.
And what about shark alerts? Despite shark attacks remaining few and far between, the average holidaymaker prefers peace of mind over statistics any day...
...which is what drones provide.
And then there's XTclaveTM...
XTclave is the company's patented manufacturing technology to create lighter and stronger ballistic resistant composites.
XTE's unique liquid-moulding technique for body armour manufacture is more effective than traditional high air pressure methods, which gives XTE an edge.
XTclave is a process to create advanced ballistic protection laminates and lightweight structural composites. In other words, armour that is potentially lighter and stronger than anything else currently available.
The US currently accounts for 50% of the globe's total body armour sales totalling around $US7bn. XTE's personal protection hard-amour niche could potentially satisfy a portion of this US2.2bn market (between 2017-2022).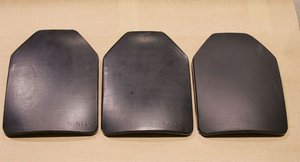 The improved manufacturing process allows XTE to produce a variety of shapes therefore expanding the range of applications its products have from standard body armour to weapon components and aerospace parts.
In effect, this means the application for XTclave is likely to expand into other areas and that means the addressable market for the technology is likely to increase significantly!
XTclave technology is currently being evaluated by the US Department of Defence (DoD)
In 2013 XTE signed a US$1.5m agreement with the US DoD , and were given a great opportunity to show XTclave's potential.
The testing and evaluation continues and XTEK is at a cross-road. Our research suggests XTEK is in with a great chance of the US DoD supporting XTclave technology if they confirm the following: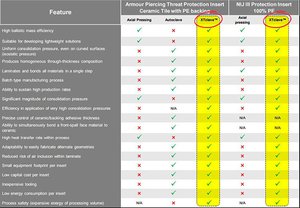 If the US DoD gives XTE it's tick of approval, the company (with a US partner) could potentially have a multi-million dollar defence contract on its hands. We don't need to tell you what that will mean for XTE's share price given its tiny A$8m market cap.
When looking at the body armour industry in isolation, it's already a large market with excellent commercial potential assuming you have the technology to break into it.
XTE's liquid moulding technique gives the company the capability to produce armour for a wide range of applications.
One such potential application is bomb disposal robots. The sad reality is that bomb disposal is becoming an increasing concern for both armies serving abroad and domestic bomb disposal teams on edge about potential acts of terrorism.
Talking about bomb disposal robots, XTE is serving this market niche also through agency agreements with leading EOD robotic suppliers from Germany, Canada and the United States. XTE announced the recent sale of the ICOR Caliber MK4 EOD robot to an Australian law enforcement agency and there could be more to come.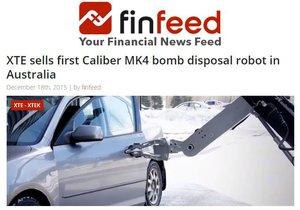 Here's a video showing what the Caliber MK4 can do:
Robots are likely to be adopted en masse by border control agencies, police forces and military units fighting with daily cases of improvised explosive devices in battle theatres such as Iraq and Afghanistan.
Having secured this order, XTE has just recently announced that it has been selected "as the preferred tenderer" for the supply of further tactical bomb response equipment to another Government client.
Contracts potentially over $1m could be secured, subject to Government approval, according to XTE.
This is still speculation as there is no confirmation from XTE. You should not base any investment decision on this fact alone. Consider all facts before making an investment decision and seek professional advice.
It's still early days, but with sales coming in, XTE's technology could well become standard issue for Aussie service personnel abroad, and domestic law enforcement on bomb disposal duty.
To the victor go the spoils
Already, over US$2.1 trillion is spent every year around the world just on military operations not including domestic security and law enforcement.
Whether we like it or not, geopolitical factors create wars and conflicts that typically involve a lot of spending on armaments, specialised equipment and machinery.
Meanwhile, domestic strife in the form of civil unrest, serious crime and terrorism continue to rear their ugly heads all too often.
It seems that regardless of how many peace treaties and ceasefires that are agreed, conflict remains a staple part of today's world.
Biggest shield counters the biggest stick
XTE's close quarters work with both the US DoD and the Australian DoD, indicates that despite XTE's small size, it's a BIG innovator in its industry.
This is the type of scenario we like to see at The Next Tech Stock . Companies that have something about them but are undervalued. One of the most compelling things about XTE is that it is focusing on developing cutting-edge technology for defensive security purposes.
Considering that both wars and internal conflicts are becoming increasingly reliant on automated machinery in order to preserve human lives, XTE's product line up fits into that trend rather well.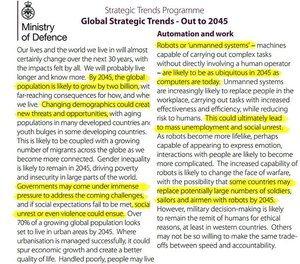 According to a report published by the UK Ministry of Defence, by the year 2045, the world will have two billion more people, which will bring significant threats (and opportunities).
If you have the time, the lengthy 200 page report is a highly recommended read for anyone thinking of investing in the Defence sector – but you can get the main points from the image above.
For decades, defence contractors have been focused on developing the biggest stick to win wars and reconcile internal conflicts. But with conflict zones becoming a lot more dynamic and complicated, nowadays, it's a far better bet to develop the biggest shield.
The final word
XTE is a junior ASX company with ambitions that outsize many other Australian Defence supply companies, including helping to build Australia's defence capabilities and improve life of type support for DoD equipment – something that more Australian companies should become involved with.
With million dollar tenders in play and two key technologies with global applications, XTE is quietly going about its business shoring up its technology and waiting for the dominoes to fall.
What's more, XTE is unlike most other emerging tech innovators because its business is underpinned by an operating business that is moving from strength to strength.
XTE is in the process of changing from a company making one off sales to a company that is going to have regular substantial income from maintenance and royalties.
While XTE has been listed for a number of years, 2016/17 is shaping up to be an inflection year for the company – so it's well worth the effort to keep a close eye on this stock!
---