'Superior' Small-Cap Gets Set to Cash in on Hot Zinc Market
Hey! Looks like you have stumbled on the section of our website where we have archived articles from our old business model.
In 2019 the original founding team returned to run Next Investors, we changed our business model to only write about stocks we carefully research and are invested in for the long term.
The below articles were written under our previous business model. We have kept these articles online here for your reference.
Our new mission is to build a high performing ASX micro cap investment portfolio and share our research, analysis and investment strategy with our readers.
Click Here to View Latest Articles
A junior explorer has just landed a historic Canadian zinc project that contains the highest-grade zinc in the country, right as the zinc price rallies to five-year highs.
The acquisition of this impressive Canadian project also delivers copper, gold and silver to boot.
Having adopted a new name to incorporate its new project, this ASX junior plans to commence mining, while simultaneously undertaking more exploration activities to expand the remarkable Resources it already has its hands on.
This $40 million-capped play could be on the verge of something big.
The acquisition comes as zinc supply is tightening across North America creating a growing hunger for more zinc production.
Its newest asset, the Pick Lake Zinc Project, has been a focus for decades. It was previously mined, yet was dropped 20 years ago by its then owner at a time when the price of zinc dwindled to just 50 cents per pound, or around US$1102/t.
But now the zinc price is back. Having recovered in recent years, the zinc price now sits around US$3400/t — things have certainly changed.
At the Pick Lake project, the remaining in-situ mineralisation is 1.46Mt at 15.06% zinc, 0.84% copper, 36.8 g/t silver and 0.49 g/t gold.
The region has seen renewed exploration of late, thanks to the existence of modern mining techniques and today's company is looking to fully exploit the fact that no modern exploration has been conducted in the area despite the historical upside.
Although, it is early stages for this company and investors should seek professional financial advice if considering this stock for their portfolio.
Keep in mind – and it bears repeating – that the region today's company finds itself in has the highest-grade zinc deposits in Canada.
It also has top-level grid power, modern transport, local workforce, a friendly legislative environment, access to rail and port, and basically all the necessary infrastructure in place for a junior explorer to take full advantage of the conditions.
This is a highly promising project that could revitalise the area as well as put this ASX junior on the map.
Introducing: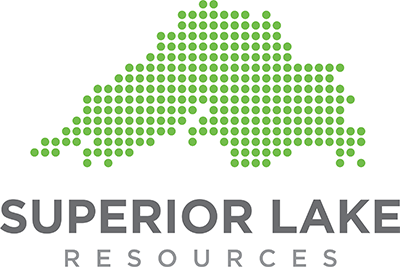 Superior Lake Resources
ASX:SUP
On 23 February, Superior Lake Resources (ASX:SUP) , still named Ishine International Resources (ASX:ISH) at the time, finalised the acquisition of Superior Mining Pty Ltd, thereby acquiring its 70% stake in Ophiolite Holdings Pty Ltd.
Ophiolite is a proprietary exploration company which owns the zinc-copper prospective Pick Lake Project in Ontario, Canada.
The decision to acquire this high grade Ontario zinc project was celebrated by investors — as evidenced by the December share price rally after the company announced that it entered into an option agreement to acquire the project.
After entering a trading halt at request of the company on November 24, the stock opened on December 6 and ended the day at 3.5 cents, up 72%. It has since continued to rise hitting 5.9 cents per share on 1 March.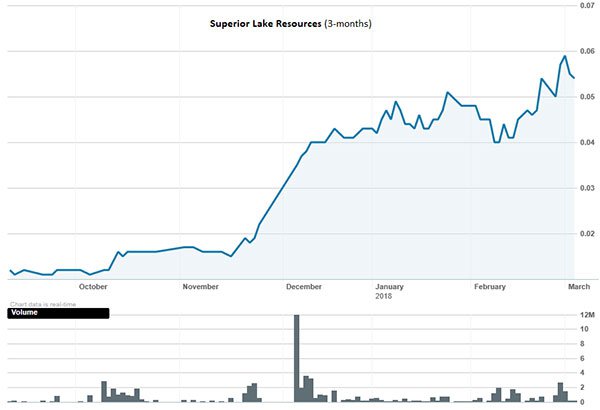 The past performance of this product is not and should not be taken as an indication of future performance. Caution should be exercised in assessing past performance. This product, like all other financial products, is subject to market forces and unpredictable events that may adversely affect future performance.
To clarify the importance of this acquisition, and why shareholders were so impressed, let's take a more in-depth look at the project's potential.
Pick Lake — the pick of the zinc litter?
Base metals were identified by prospectors at the project site as far as back as 1882...
Between 1899-1901 hand mining at the Zenith Deposit produced high grade zinc ore averaging 45% zinc at surface.
In 1951 there was a rush to stake claims around the Zenith deposit. That was a year before the Korean War in combination with US zinc stockpiling saw the zinc price rise to an unprecedented price of US18c/lb.
The project owners at the time undertook shallow drilling at sulphide occurrences, and the Anderson occurrence was discovered — the surface expression of what is now the key mineralisation within the Pick Lake project.
The zinc price subsequently took a nosedive, down to US10.5c/lb.
Just over a decade later, Zenmax Mining committed to developing the Zenith deposit... which was then mined in 1966-1970, producing over 100 tons a day at 16.5% zinc for total production of 165,000t. Fast forward another nine years to 1979 and explorer/producer Falconbridge claimed a stake at the Anderson occurrence and followed up with a JV with Zenmac for the Zenith Deposit claim area. In 1982 Winston Lake deposit was discovered, and the following year saw the birth of the Pick Lake project.
In 1988 Winston Lake was brought into production, producing the highest grade zinc deposit in Canada. Eight years later in 1996 the Pick Lake Upper Zone was mined, followed by the development of the Pick Lake Lower Zone. However mining operations at the Winston Lake project were suspended, with zinc prices at ~US4c/lb.
In 2007, Inmet let its unpatented mining claims lapse at Pick Lake, prompting another rush to claim them. Eventually the project became the subject of a JV agreement, which fell through, with Pick Lake rights reverting to Orebot Inc.
Finally, in 2016, Ophiolite purchased Pick Lake along with other claims in the area. This leads us to SUP taking control of an evidently interest-attracting project.
It's a good time to mention again that Pick Lake lies within the Winston Lake Greenstone Belt, which hosts the highest grade zinc deposits in Canada.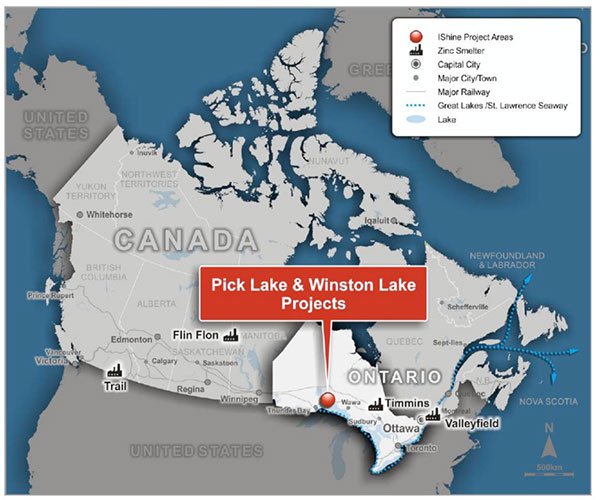 The map below shows the proximity of Pick Lake to airports, ports, towns and power sources, as well as zinc smelters... and it's also not that far from the crucial Thunder Bay hub: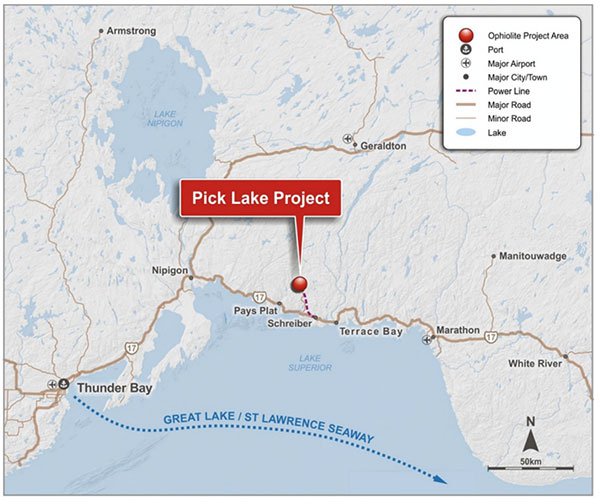 Pick Lake has remaining in-situ mineralisation of 1.46Mt at 15.06% zinc, 0.84% copper, 36.8 g/t silver and 0.49 g/t gold.
It is a good place to be looking into, due to what's in the ground but also what's above the surface where there's also plenty to be pleased about.
Of course it is all speculative at this stage and SUP has a lot of work to do in the area, so investors should consider all publicly available information and take a cautious approach to any investment decision made with regard to this stock.
The project boasts access to grid power, modern transport infrastructure, a stable local workforce, a provincial government keen for development via the Ministry of Northern Development and Mines, and the ability to export ore...with previous mining operations trucking ore and concentrate to nearby Schreiber or Selim Siding, and transporting mineral concentrate to Schreiber by rail.
Ore from Pick Lake was also sent to Thunder Bay and exported from there via St Lawrence seaway to the US and Europe. There's also the attractive option for SUP to rail ore to Vancouver and ship directly to zinc-hungry China.
Positive results from Pick Lake Lower Zone
Results from prior drilling at the Pick Lake Lower Zone produced the following results:
WL67C – 3.6m at 34.4% Zinc, 1.2% copper, 56.9 g/t silver

WL32A – 3.5m at 17.8% Zinc, 0.71% copper, 59.5 g/t silver

WL67 – 13.4m at 25.1% Zinc, 2.6% copper, 106.4 g/t silver

Prior exploration shows that mineralisation is narrow and high-grade, with contacts between ore and footwall/hanging wall being described as 'knife edge'.
SUP has the option to use newer technologies than previous prospectors, with the availability of underground optical and density ore-sorters.
Currently the underground drive at Pick Lake Lower Zone is flooded with hydraulic seal in order to restrict the flow of water from the Winston Lake deposit.
Below is the current state of the Lower Zone's underground development: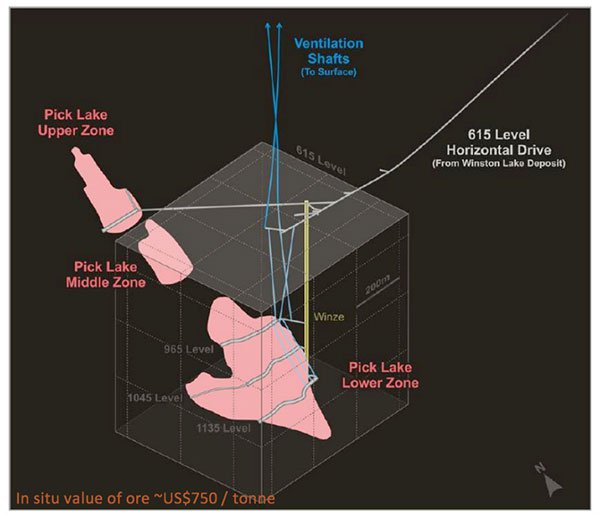 In fact, the underground development of the Pick Lake Lower Zone was complete when the Winston Lake mine shut down in 1998.
By 1997, Pick Lake had invested C$8.77 (AU$8.71) million in the project — cash that SUP won't need to spend on the project now.
On the below map, you can see the targets and trends that SUP has set its sights on for the range of exploration and drilling campaigns it has planned across the landholding: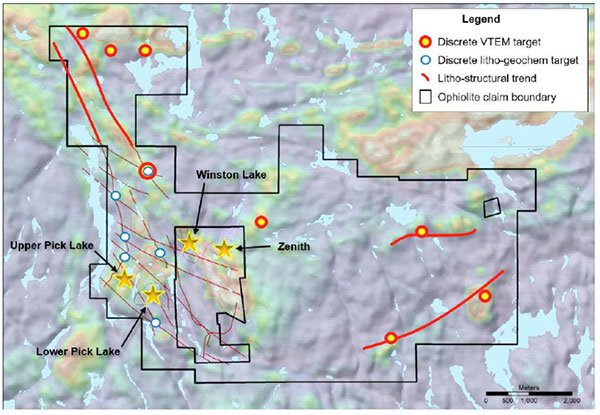 The company has high hopes for the brownfields and greenfields potential at Pick Lake Lower Zone, where it's hoping to discover evidence of deposits down strike from VMS mineralisation.
As shown above, the company also has hopes of identifying a significant package of greenfield potential in the zinc-rich ground through its Winston Lake extensions.
Is SUP a small cap ready to catch a big fish at Pick Lake?
There's really only one way small-cap hopefuls end up catching the big fish... and it's all about good timing.
The nearby Winston Lake mine was mined out and closed in 1998, and Pick Lake was mined following that. But that was almost exclusively the top and middle zones, with minimal mining done in the lower zone.
That leaves the zinc-prospective lower zone ripe for the picking for this very enthusiastic mining hopeful.
And with zinc prices through the roof, now is an excellent time to be looking at the under-done Pick Lake's lower zone.
Increased demand & tightening supply sees zinc prices soar
Worldwide stockpiles of zinc are hovering at near-decade lows, translating to the near-decade high price of US$3400/t.
It's hard not to get on board the zinc story at the moment. And industry experts don't see this trend changing anytime soon.
Of course commodities do fluctuate and caution should be applied to any investment decision here and not be based on commodity rises alone. Seek professional financial advice before choosing to invest.
As we know, zinc is a stable, industrial metal. It is most commonly used in steel to galvanise it and provide a protective coating that prevents rusting. It's ideal for this given its anti-corrosive characteristics.
China is consuming so much zinc that despite being the world's biggest producer of the metal, it has become a net importer of zinc.
At the same time, the world's other major zinc mines are declining in terms of output, with leading producers having closed down historic zinc mines across the globe in recent times: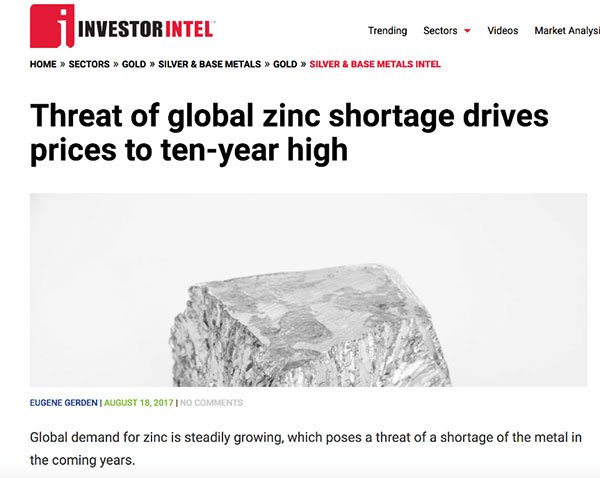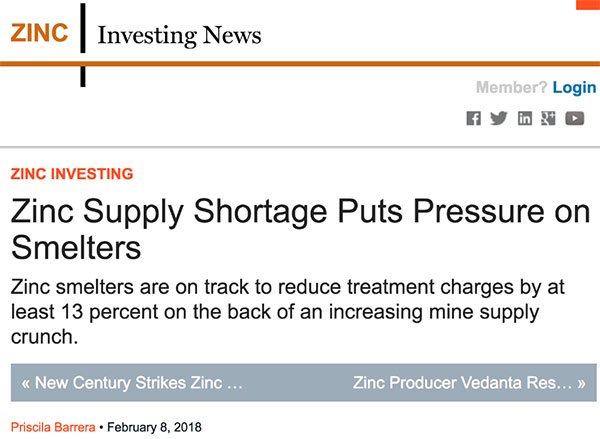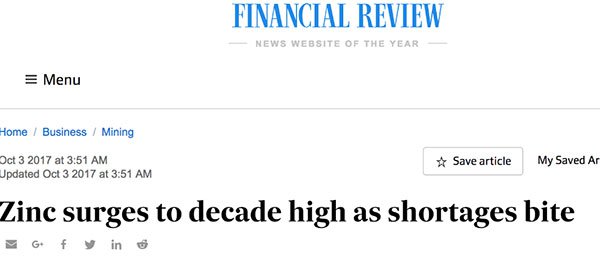 The below graph shows the inverse correlation between zinc's price and the world's zinc stockpiles from December 2016 to now: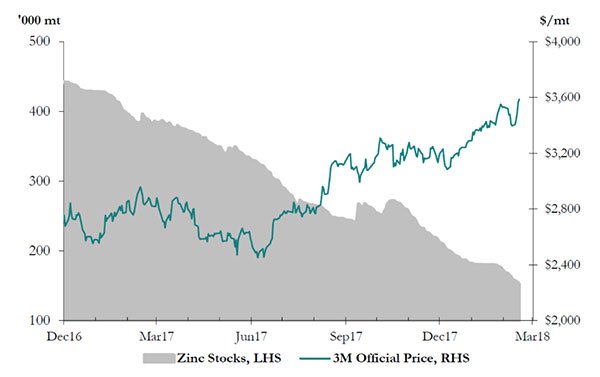 As you can see here, the LME' zinc price has more than doubled since falling below $1500/t in late 2015: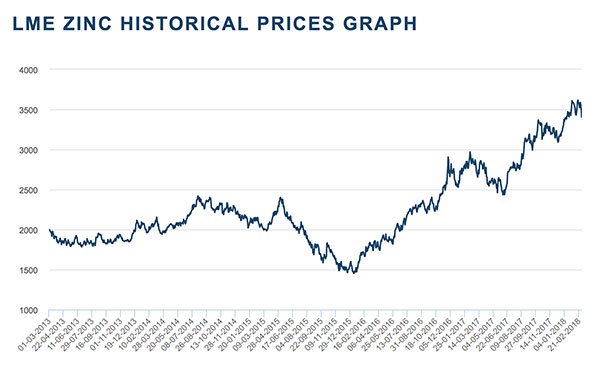 With such a dynamic and opportunity-rich landscape for the metal, we couldn't think of a better time for SUP to enter into a high-potential zinc project like Pick Lake.
SUP looking well-positioned
Before its clouds found a zinc-lining, SUP was focused primarily on its Australian minerals/metals projects prospective for nickel, cobalt and gold.
It has several projects including its 100%-owned Leonara nickel-coablt-gold project in the Eastern Goldfields Province of the Archaean-aged Yilgarn Craton of Western Australia, and its 100%-owned Mt Morley project about 130 kilometres north of Kalgoorlie, also in WA.
The Leonora Project contains rocks that are some of the most ancient on earth, the type which commonly form the core of the world's major continents. It also contains large nickel laterite deposits on mining leases situated to the west of the project, which is prospective for nickel, cobalt and gold — being the basis of its appeal for SUP.
The Mt Morley Project has one tenement totalling an area of 50 square kilometres. It covers small portions of the Mt Ida greenstone belt comprising mainly tholeiitic mafic rocks and minor intercalated ultramafic rocks and larger areas of granitoid rocks. Unsurprisingly, the project area is situated on the largescale Mt Ida Fault.
While these tenements represent metals potential, and form a good foundation of backburner projects for a polymetallic small-cap, SUP's focus is now well and truly on its newest stake in zinc-rich Ontario.
What lies ahead for the company is a planned drilling campaign, and analysis of historic findings, which will both (all going as planned) pave the path to a JORC Resource.
Considering so many factors are lined up for success here, we will be watching SUP closely and keeping a look out for more market-moving news as it ramps things up at Pick Lake.
---