RMX Lithium Brine Drilling Right Now: Adds African Cobalt Upside
PUBLISHED: 24-05-2017 10:00 a.m.
The Next Mining Boom presents this information for the use of readers in their decision to engage with this product. Please be aware that this is a very high risk product. We stress that this article should only be used as one part of this decision making process. You need to fully inform yourself of all factors and information relating to this product before engaging with it.
Rechargeable lithium ion batteries ­are revolutionising the way the world is powered.
$11.3M capped explorer Red Mountain Mining (ASX:RMX) is one company intent on taking advantage of the potential of the energy power revolution via the growing markets that look to be opening up in the form of lithium and cobalt – two essential materials required for lithium ion batteries.
With $2.5M in the bank at end of last quarter, the company has an active exploration campaign ongoing on both its lithium brine project in Utah, and its cobalt project in Africa.
When we last updated you on RMX it was gearing up to begin its drilling at Red Valley.
That drill programme is now well underway with the first hole completed and the company is expecting to have the second hole, of the initial three-hole programme, completed any day now.
But RMX isn't rolling all its marbles into Red Valley.
It's also attacking the renewable energy revolution via a well-considered venture into cobalt.
Headlines such as this tell the current cobalt story:
It is no wonder then that RMX has entered the cobalt scene as it looks to shore up its assets for the growing future clean energy storage demand.
In its latest move, RMX has signed a term sheet to take a closer look at a high-grade cobalt copper project located in the world-renowned cobalt region of Lualaba Province, Democratic Republic of Congo (DRC).
The Mukabe-Kasari Cobalt-Copper Project offers significant potential and has artisanal mining that has already demonstrated mineralisation at the location.
At the same time, given RMX is operating in Africa on this project, this is a very high risk stock for political and social reasons. Getting mining projects up and running in countries such as the DRC is no simple feat, and there may be challenges ahead.
Rock chip samples from the project indicate a greater lateral spread and consistent high-grades within the project area and show promising high grade cobalt samples grading 1.1% and 1.5%.
There were also some good copper-cobalt combinations, including 2.7% copper with the 1.1% cobalt sample... and there are further samples to follow still.
But while cobalt is next in the project pipeline, it is the immediate drilling in Red Valley that could really elevate this company in the near term.
Following up with ...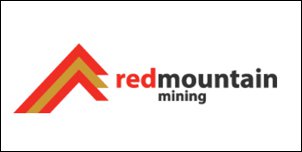 Red Mountain Mining
ASX:RMX
Red Mountain Mining's (ASX:RMX) Red Valley Lithium Brines Project is located in western Utah, a region that bears all the geologic hallmarks of the Clayton Valley in Nevada, where the $12.2 billion capped Albemarle (NYSE: ALB) holds the USA's only producing lithium mine.
RMX entered into an earn-in agreement in respect to the project in late October last year. The try-before-you-buy agreement gave the company the choice to earn an interest in the project joint venture by funding project expenditures.
We first alerted readers to RMX's lithium brine aspirations in the article Geologic Twin to $8.5BN Titan's Lithium Mine? RMX About to Find Out in November 2016.
Since our article was released, RMX has been up as high as 270%: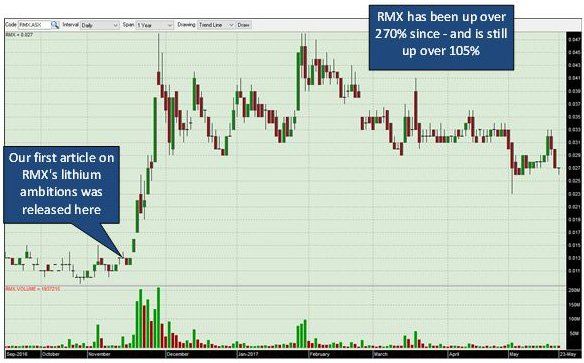 The past performance of this product is not and should not be taken as an indication of future performance. Caution should be exercised in assessing past performance. This product, like all other financial products, is subject to market forces and unpredictable events that may adversely affect future performance.
And now, RMX's three well drill programme is underway at Red Valley – could results be the next springboard for this stock?
This drill programme commenced in early April, with 3 x 1,000 feet wells planned testing for commercial levels of lithium enrichment in local brines across the 6,000 acre project area.
Drill hole 1 has reached the target depth of 1,000 feet, and the drill rig is now being mobilised to drill hole 2.
The drill hole locations can be seen below, as can the drill rig:
The announcement is discussed in the following article from finfeed.com:
The article suggests that a successful drilling campaign could potentially result in RMX controlling a Clayton Valley style, ultra-long life low-cost lithium brines operation in western USA.
Samples from drill hole 1 are now undergoing laboratory analysis.
We are looking forward to the results come through for drill hole 1 – and hopefully providing a share price catalyst for the stock.
Following the completion of drilling at Hole 1, the drill rig was mobilised to the location of the second drill hole.
News that drilling has begun at this second hole is anticipated anytime now.
The precise timing is dependent on the weather, and on the quality of access to the other two drill locations.
Conditions do continue to improve, however Utah has experienced an unusually high rainfall and late snowfall which has impacted some areas in terms of access for heavy equipment.
Here is the drill rig at Hole 2:
As you can see the drill rig is at the ready...
With one eye on how its lithium ambitions could play a significant role in a new energy future, RMX has doubled down on its energy metal ambitions with a new cobalt project.
The Mokabe-Kasari Cobalt Copper Project
Located in the Lualaba Province of the Democratic Republic of Congo (DRC) the Mukabe-Kasari Cobalt-Copper Project is located in a renowned cobalt mining district, supplied by good infrastructure including roads, power and water.
The project has displayed high grade mineralisation in the past and is situated just 50 kilometres north of the world famous Tenke Fungurume copper-cobalt (Cu-Co) mine and around 110 kilometres north-east of the Kulwezi Cu-Co mining district.
Overall, however, this is an early stage project for RMX and as such any investment decision should be made with caution and professional advice sought.
RMX has reviewed its strategy and is taking a more targeted approach to the Mukabe-Kasari Project, having outlined changes to the project's tenure, with the area of focus now comprising a total contiguous land package of 116 square kilometres.
Here's the Mukabe-Kasari Project area and nearby mining interests:
On May 22, RMX provided an update on its progress at the Mukabe-Kasari Cobalt-Copper Project .
The update included highly encouraging trenching and sampling results from reconnaissance exploration work at the project.
Rock chip samples continue to show high grade cobalt
The results can be seen here:
These sampling results indicate a greater lateral spread and consistent high-grades within the project area and include samples grading 1.1% and 1.5% cobalt.
There were also some good copper cobalt combinations including copper grading 2.7% with the 1.1% cobalt sample. Five samples featured copper grades between 2.5% and 7.6%.
This follows earlier local artisanal mining at the project demonstrating mineralisation, and the identification of high cobalt and copper grades from reconnaissance grab samples. Lab results provided an impressive average grade of cobalt of 1.6% to 2.9% and of copper of 1.3% to 9.2%.
Further trenching and sampling results are expected in June as part of final due diligence work that the company is undertaking before it decides to proceed further with the earn-in agreement that is in place with CoCu Metals Ltd...
RMX along with mining consultancy group, CSA Global Ltd — which is very familiar with the region — is performing due diligence prior to the option to earn-in.
All costs incurred during the initial due diligence period will count against the first earn-in expenditure requirement.
The parties have agreed to extend RMX's exclusivity period over the period to June 30, 2017 to finalise due diligence and obtain final sample results, complete tenure paperwork and conduct a thorough site visit with CSA Global to assist and complete the project assessment.
Following key initial due diligence and negotiations, RMX amended its agreement in respect of the term sheet in place with CoCu Metals Ltd relating to the Mukabe-Kasari Cobalt-Copper Project.
The revised agreement gives RMX the option to proceed to earn-in by way of incurring expenditures as follows:
A $250,000 investment in exploration will see RMX and CoCu have an equal 50-50 interest in the project. Investment of a further $250,000 by RMX will increase its interest to 70%, while a further $250,000 will boost its ownership stake to 80%.
Upon RMX exercising its right to earn into the project and entering into formal joint-venture documentation, it will issue CoCu Metals with two million shares.
A further one million shares will be issued if RMX decides to raise its interest in the project to 70%, and then again to 80%. If RMX do decide to earn an 80% interest in the project, the joint venture will be a customary pro-rata contributing arrangement, giving RMX the right to acquire the remaining interest in the project for $3.5 million in cash and shares, and a 1% NSR over the project.
Once its due diligence is completed, if RMX is satisfied it can decide to go ahead with the project, commencing with the Phase 1 earn-in later this year.
In the meantime, RMX is well underway in attempting to prove up the next lithium producing region in the USA.
Full results are due later in the quarter, with upcoming results from this drilling to form the basis of RMX's decision to acquire a majority interest in the Mukabe-Kasari Project.
Why cobalt?
It's more a question of "why not" at the moment.
Cobalt is one of the 'it' commodities currently and is one that is driving the new energy boom and like lithium has won a good deal of speculative investor support.
With lithium and a potential cobalt asset in its bag, it looks then that RMX may have made a very clever strategic move to grab two of the best performing metals on the market today.
The reason for the surge in cobalt pricing can be put down to several key factors including the rise of electric vehicle being built. According to the OECD, in 2015 the manufacture of electric cars rose from several hundred to 1.2 million.
The supranational Electric Vehicles Initiative has called for an electric car fleet of 20 million by 2020 . Meanwhile amongst the large populace of China, 170,000 electric buses are in circulation and the demand from China is only increasing.
One further reason for the rise in the cobalt price is the supply crunch that has come about as decreases in production from Australia, Russia and Zambia has left a gap in output, with few projects to fill that gap.
The fact is, right at this point in time, the DRC is the largest known source of cobalt in the world, which in part has attracted RMX to the region.
Interestingly, spot prices for cobalt have risen 117% year on year and as of March this year 55% percent since January 1. As such it is currently outpacing lithium, which is still substantial.
Of course, commodity prices do fluctuate and caution should be applied to any investment decision here and not be based on spot prices alone. Seek professional financial advice before choosing to invest.
So, if RMX can get both these projects producing in the long-term, then it will certainly be in a strong position to attack the battery market head on.
Follow the news
With lithium brine drilling ongoing in Utah, and results from the first hole due shortly, we would expect an increasing number of eyeballs to be on this stock.
Beyond the lithium drilling, RMX has plenty of additional upside potential in the form of its DRC cobalt play in the Mukabe-Kasari Project.
News flow should come thick and fast with updates, including assays, to be submitted to independent laboratories and delivered shortly.
These developments support RMX's ambitions of continuing to identify and review additional opportunities in the gold, energy metals and base metals space.
Yet, its focus is squarely on a Clayton Valley-like lithium discovery and a cobalt play that could have very real effects on the future of energy storage.
Time will tell, what impact this will be.
---