PTX Breast Cancer Trial Results Exceed Industry Expectations
PUBLISHED: 17-05-2018 10:00 a.m.
Globally, nearly one in six deaths is due to cancer. That means over 48,000 Australians will die of cancer this year, while in the US the figure will be more like 600,000.
Chemotherapy has been one of the most common treatment options in the battle against cancer.
However, toxic by design and employing a shotgun approach, chemotherapies are known for their unpleasant and often serious side-effects, as damage is inflicted indiscriminately upon both cancerous and vulnerable healthy cells. Added to this, chemotherapy resistance remains a major factor in the overall effectiveness of drug therapies.
Now the therapeutic treatment of cancer has started to change. Research is increasingly being directed at novel therapies, which may be capable of a more specifically targeted attack upon cancer cells. Greater efficacy with less collateral damage — this is the contemporary frontier of the battle against cancer.
And this is where Prescient Therapeutics (ASX:PTX) lives.
PTX has not one, but two novel therapies currently, putting it ahead of the field in areas of high unmet need.
Diversification here is extremely important for PTX and a key plank in its business plan. Not only because it gives the company different pathways to market, but it also mitigates the risk involved in this highly competitive, but difficult to pierce area of medical research.
In an important recent development, PTX released an excellent set of results from ten patients in the Phase 1b trial of its PTX-200 drug in HER2-negative breast cancer.
PTX's trial delivered an impressive Overall Response Rate (ORR) of 50%, or twice the expected industry average rate of 25%.
Even more remarkable was the ORR for the subset of patients having ER+ (estrogen receptor) breast cancer. This segment delivered an exceptional ORR of 75%, including complete eradication of cancer in two of the four patients in the segment.
It is still a speculative stock, however, so investors should seek professional financial advice if considering this stock for their portfolio.
This breakthrough result for one of PTX's clinical development milestones augurs well for the junior biotech which impresses with a diversified portfolio of candidate drugs in clinical stage.
Three ongoing separately targeted trials, with a fourth due to commence this year, involving the two PTX drugs are well underway. Apart from the breast cancer trial, the company is evaluating the therapies separately for the treatment of cancers ranging from ovarian cancer to blood cancers, including Acute Myeloid Leukemia (AML).
In a space which has attracted the attention of therapeutics giants including US$4.03 billion capped (A$5.18B) Loxo Oncology Inc (NASDAQ:LOXO) and US$3.79 billion capped (A$4.87B) Blueprint Medicines Corp (NASDAQ:BPMC), PTX is clearly punching above its weight with these impressive results.
It is time to bring you up to date with: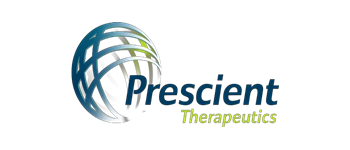 Prescient Therapeutics
ASX:PTX
Prescient Therapeutics (ASX:PTX) is a clinical stage oncology company developing targeted therapies for a range of challenging cancers with significant unmet need.
To recap, Prescient's flagship novel drugs PTX-200 and PTX-100 work by inhibiting the survival pathways of growth molecules AKT (targeted by PTX-200) and Ras (targeted by PTX-100) which play a key role in the development and evolution of cancerous cells.
The result is a turning off of the aberrant "grow" instruction typical of cancer cells.
Pictorially: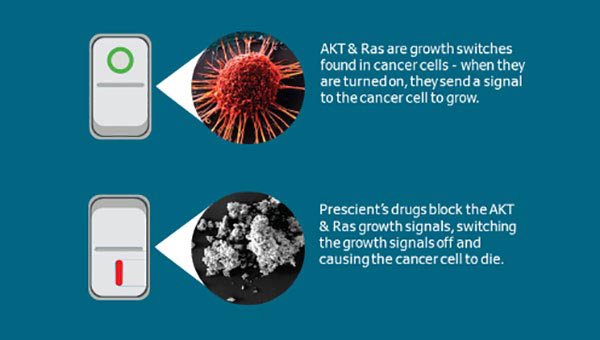 The PTX drugs have an impeccable scientific pedigree from highly regarded US institutions such as Yale University; the H. Lee Moffitt Cancer Center in Tampa, Florida; the prestigious Montefiore Cancer Center / Albert Einstein College of Medicine, New York, and the Kansas University Medical Center.
Underpinned by a vast body of published research, and with compelling proof of concept and safety data established, PTX is forging ahead with clinical trials in breast cancer, ovarian cancer and AML for PTX-200.
A transformative trial in several cancers is also planned for PTX-100.
Blitzing the field – PTX-200 breast cancer efficacy results are in
When we checked in with PTX last time, it was expecting the final data from its PTX-200 Phase 1b breast cancer trial, with healthy expectations that this would yield a sound result.
Last month PTX was delighted to announce that set of results.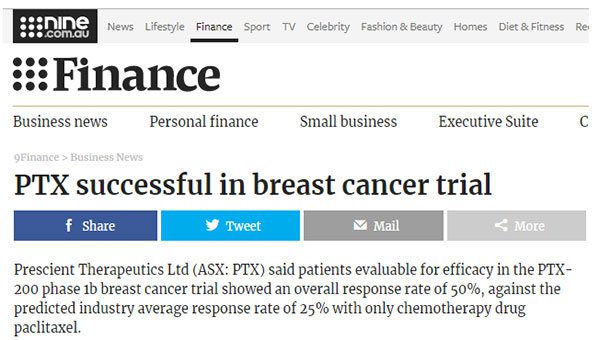 The Phase 1b trial was conducted under the leadership of renowned breast cancer specialist Professor Joseph Sparano, MD, at the respected Montefiore Cancer Center / Albert Einstein College of Medicine in New York, as well as at the H. Lee Moffitt Cancer Center in Tampa, Florida.
The trial evaluated PTX-200 in combination with paclitaxel in patients with HER2-negative breast cancer, including ER-/PR- (triple negative; that is, not having any of the three receptors commonly found on breast cancer cells: estrogen, progesterone or HER2), and ER+ (having estrogen receptors) breast cancer.
As reported by FinFeed.com (a related entity of S3 Consortium), the impressive results included an ORR of 50%, doubling the response rate expectations of the paclitaxel drug alone. More remarkably, in locally advanced disease, there was an ORR of 100%.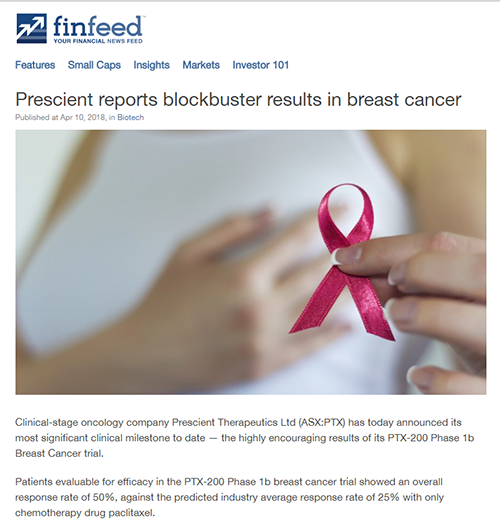 The Phase 1b trial dosed an expansion cohort of 12 patients having locally advanced or metastatic HER2-negative breast cancer, 10 of whom were identified as evaluable for clinical response. Of these 10 patients, five had locally advanced disease, while five had metastatic disease.
Efficacy results across all 10 patients are shown below: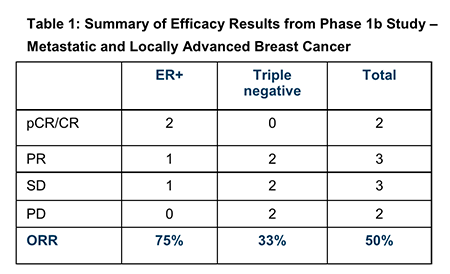 Where:
pCR/CR indicates (pathological) Complete Response – that is, complete eradication of cancer.

PR indicates Partial Response – partial but not complete eradication of cancer.

SD indicates Stable Disease – cancer has not progressed, but neither has it diminished.

PD indicates Progressive Disease – cancer has progressed.

Positive as the PTX-200 results were overall, the most encouraging result was for the sub-group of patients with ER+ breast cancer.
ER+ is a notoriously difficult disease to treat, with poor expected outcomes from traditional chemotherapy regimes. By contrast, the PTX-200 trial has registered a massive 75% ORR for this group, including the eradication of cancer in two patients.
Here is a visual representation of the full set of results by breast cancer receptor and disease status: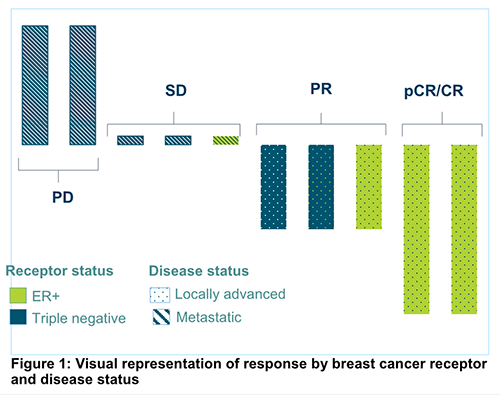 Phase 2 focus area scores a ton
Isolating the results for the five patients with locally advanced disease (the focus of the Phase 2 study) delivers the following efficacy results: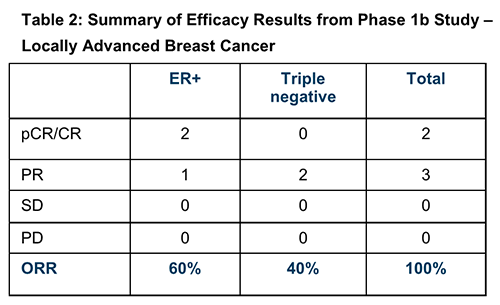 Industry expectations for patients with locally advanced ER+ HER2-negative breast cancer are typically pCR/CR rates of between 11% and 22%, and ORR of 25%.
The PTX-200 trial delivered two pCR/CRs and one PR for this challenging group, for a ORR of 100%.
With the triple negative patients thrown into the mix, the overall percentages were 40% pCR/CR and 60% PR, combining for the total 100% ORR. Note, the number of patients is small, however despite the small number the results are promising.
These five HER2-negative locally advanced breast cancer patients now qualify for assessment in Phase 2, and the upside doesn't end there.
The PTX-200 Phase 2 trial will be in 26 patients using a two-stage Simon MiniMax Design. In this design, at least three pCRs are required in the first 11 patients, in order to expand the trial to a further 15 patients.
With two pCRs already observed in the first five patients, PTX appears to be in an excellent position to eventually expand the Phase 2 trial to its full complement of 26 patients.
It is an early stage for the company with regard to this Phase 2 play, so investors should take all publicly available information into account and a cautious approach to any investment decision made with regard to this stock.
What does the HER2-negative breast cancer market look like?
In 2015, the HER2-negative breast cancer market was worth US$5.4 billion and is predicted to grow to US$10.6 billion over the decade to 2025. Particularly strong growth is expected in China.
Generic chemotherapy has previously dominated the market (41%), however the entry of new therapies, such as the PTX asset, is expected to become a major driver for the future.
Particular opportunities exist for novel therapies to treat patients who are resistant to endocrine therapy, and to complement chemotherapy. In this segment the relative sparsity of novel offerings from pharmaceutical and biotechnology companies has resulted in an area of poorly met need.
With PTX-200, Prescient is positioning itself well to address this area of need.
The pipeline runs deep
While the PTX-200 breast cancer trial has taken centre stage with its spectacular efficacy results, it is not the only string to Prescient's bow.
With one of the deepest clinical pipelines on the ASX, and a quality scientific and clinical team with runs on the board, you can expect more upcoming milestone announcements from this biotech.
PTX has several clinical trials currently underway in the US, at world renowned cancer centres. With all programs clinical stage, PTX has moved well beyond the risk and timeline pressures typical of pre-clinical programs.
The current pipeline looks like this: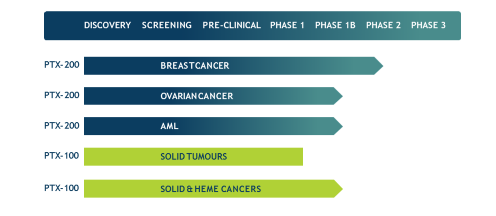 Ovarian cancer
One of the most common cancers affecting women. While initially responsive to chemotherapy, most patients relapse and become resistant. PTX-200 is currently in a Phase 1b trial for relapsed and chemo-resistant patients.
AML
The incidence of this blood and bone marrow cancer has increased by 50% since 2013 in the US alone, and yet treatment has barely advanced – especially in relapsed and resistant patients.
A successful Phase 1 trial of PTX-200 has been completed and a Phase 1b trial is currently underway, headed by world-leading authority in AML, Professor Jeff Lancet (who headed Celator's transformative AML trial that led to its US$1.5 billion acquisition by Jazz Pharmaceuticals).
Orphan Drug status for PTX-200 has been granted by the FDA, with valuable attendant benefits including market exclusivity rights, tax credit on trial expenses, and the potential for accelerated review down the track.
Solid Tumours
Phase 1 trial of PTX-100 previously completed, demonstrating safety and disease stabilisation at Penn and Indiana Universities.
Rare Haematological Cancers
Recent discovery of the role of certain mutations in the Ras pathway has opened the door for PTX-100 (which has a novel way of disrupting the Ras pathway) to assume a strong competitive advantage as the first drug candidate in the clinic addressing this mutation. Potentially a major opportunity for PTX.
Success in any one of these programs could be a company maker, although there is much work to do. However, PTX is in the enviable position of naming all of them in its pipeline reiterating its diversification strategy.
Room to grow
PTX is operating in a space which has already attracted the attention of billion dollar companies including US$4.03 billion capped (A$5.18B) Loxo Oncology Inc (NASDAQ:LOXO) and the US$3.79 billion capped (A$4.87B) Blueprint Medicines Corp (NASDAQ:BPMC).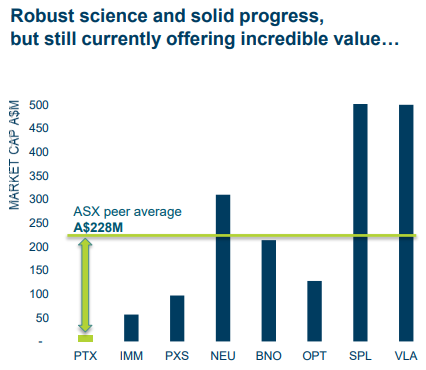 Comparing the market capitalisations of the ~US$18 million capped PTX against its peers suggests some significant mispricing.
Although PTX does have a long way to go before it matches its peers' capitalisations, so seek professional financial advice for further information when considering this stock for your portfolio.
The final word
Last month we were expecting healthy news flow for PTX, and it has not disappointed. With the posting of the overwhelmingly positive PTX-200 Phase 1b breast cancer trial results, PTX has now blitzed the first of its identified milestones.
This is significant for a company with a diversified basket of assets which also acts to mitigate risk.
And it is reasonable to expect more will follow, with PTX identifying several more transformative milestones coming up, any of which could also have a significant market impact.
At this point it may be worth reviewing Prescient's program of clinical development against a reasonable checklist for those looking to invest in a biotech ...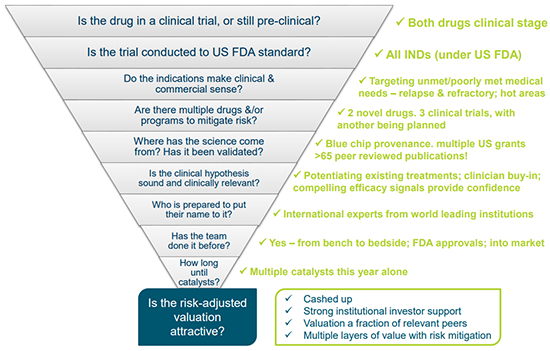 However with a quality team at the helm and some very fine runs on the board, as well as further milestones tantalisingly within reach, there is an unmistakeable air of anticipation surrounding this cutting edge biotech whose webpage banner probably says it all:

---