NHE Awards 3D Seismic Contract - Helium Shortage Persists
Disclosure: S3 Consortium Pty Ltd (The Company) and Associated Entities own 3,925,926 NHE shares and 1,851,852 options, The Company's staff own 40,000 NHE shares at the time of publishing this article. The Company has been engaged by NHE to share our commentary on the progress of our Investment in NHE over time.
"Helium Shortage 4.0" continues.
A powerful combination of supply shocks caused by helium operation shutdowns and geopolitical tension threaten to run straight into demand from high tech industries.
In this context, we want to check in on our helium Investment, Noble Helium (ASX:NHE), which is going after a mammoth prospective helium resource in Tanzania.
Earlier in the week, NHE announced that it had awarded the contract for the 3D seismic survey - a core component of its push to identify two drill targets ahead of the company's maiden drilling campaign.
It's hard to understate the size of the prize on offer if NHE can successfully find helium in Tanzania.
NHE has a certified Mean Unrisked Prospective helium volume of 175.5 billion cubic feet (bcf) across nine geological structures.
That's equivalent to ~ 30 years of annual global helium demand.
A scale of multiple 'US Federal Reserves' in just one of four basins.
NHE's ground is on potentially the best untested helium geology on earth, the same geology that has given rise to billions of barrels of oil discoveries in recent years in the East African Rift System.
NHE is going for big targets here, with correspondingly big rewards on offer if successful.
It's the kind of high risk, high reward Investment that suits our investment strategy - but it might not suit yours.
Operating in the same area as NHE in the Rukwa Basin is Helium One, a London Stock Exchange listed company.
Together, NHE and Helium One's prospective helium resources in the Rukwa Basin (and of course, if proven out) are enough to comfortably put the Rukwa Basin in the top three helium resources globally.
More than Algeria, more than Russia.
NHE's peer Helium One is scheduled to drill its Tai prospect in Q3/Q4 - more on that later in this note.
Simply put, we think NHE's maiden drilling campaign which is slated to occur in Q3 2023 will be a big deal for the global helium market - and for investors too.
That's why we Invested early, long before drilling, and plan to patiently hold as the company works its way up to its first drilling events. We are betting that market interest in the stock will increase as drilling draws closer.
Since listing in April 2022, we're pleased to say NHE has done everything they said they would in the prospectus - including yesterday's 3D seismic award.
Here's how we'll breakdown today's note:
More on the 3D seismic contract
Helium macro news
Helium One's drilling
What we want to see next from NHE
Risks
Our NHE 2022 Investment Memo
The NHE IPO was completed at 20c per share, with the stock opening above 40c on day one of trading in April this year. Since then it's been a rough ride (along with global markets) with the stock now trading at 15c.
NHE started life on the ASX with ~$10M in cash and is currently capped around $29M. We are long term holders, having not sold a share since our Investment. Below is our Investment plan for NHE:
More on the 3D seismic contract
The contractor for NHE's 3D Seismic contract will be BGP Tanzania.
BGP is a large geophysics company with over 300 oil and gas companies as customers - and now NHE.
The 3D seismic survey will follow up every one of NHE's leads in the Rukwa Basin, after which NHE will select the two best targets from this data set.
This directly advances NHE's Objective #1 from our NHE Investment Memo: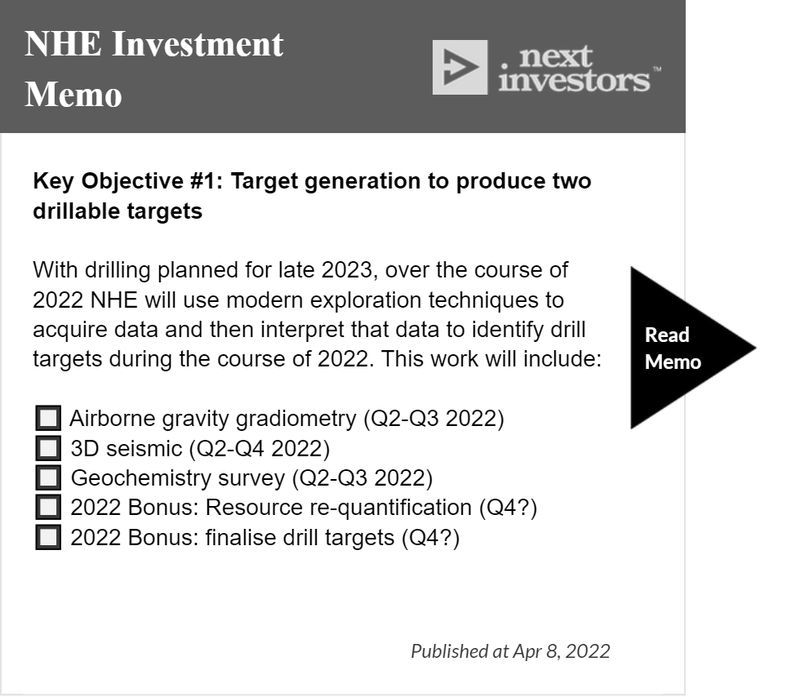 The survey is scheduled to happen between September and October before the wet season in Tanzania kicks in. NHE will use that period to refine its targets and plan for drilling mobilisation.
A 3D seismic survey is a way of seeing structures beneath the land's surface by running a vibration through the ground and collecting data from these vibrations using a microphone (geophone).
NHE already has 2D seismic data (a less accurate survey) available to them from the 1980s, but a 3D seismic survey will have big de-risking advantages over the old school 2D seismic survey.
The upshot is that NHE can be far more precise in selecting its two targets for the Q3 2023 drilling campaign i.e. it won't be drilling blind.
NHE will combine this 3D seismic survey with an airborne gradiometry survey and soil geochemistry to get a cohesive picture of the best targets.
While the gradiometry survey has been pushed back to mid-July, the exploration timeline or drilling won't be impacted.
Soil geochemistry will be important too - NHE has previously found up to 10% helium in surface samples:
We take that as a good sign.
If NHE can prove out this helium occurrence in Tanzania via drilling we expect a large re-rate because it will likely have a globally significant resource on its hands.
We base this expectation on previous "basin opening" oil discoveries in the East African Rift System. NHE is exploring for helium in this very same system.
This is the "string of pearls" analogy we advanced in our NHE coverage initiation note.
The idea here is that if NHE drills the first "pearl" and it turns out successful, it implies all the other leads (pearls) could be successful too.
The East African Rift System is home to some of the largest, most consistently successful onshore African oil and gas discoveries - a very impressive 80% success rate from 30 wells between 2006 and 2018.
Many years ago, one of our top investment picks was Africa Oil Corp. on the TSX. Its "string of pearls" discovery in Kenya in 2012 saw it surge 1,200% on a successful result from its first lead in a string of leads on the East African Rift System.
There are also uncanny visual similarities in form between Africa Oil Corp.'s East African Rift System "string of pearls" discovery in Kenya's Lokichar Basin and what NHE is working with in Tanzania:
Another company involved in that basin opening exploration was Hardman Resources.
On a successful drill result Hardman Resources moved from $0.02 to $2.50.
When Hardman made the first East African Rift basin discovery in Uganda, NHE founder/CEO Justyn Wood was the Exploration Geophysicist for that discovery.
As a result, we think Justyn is the ideal leader for NHE and expect him to be deeply involved in the interpretation of the 3D seismic, and the accompanying gradiometry and soil sampling.
He is certainly aligned with shareholders, maintaining a stake of over 30% in NHE on an undiluted basis following the company's ASX listing.
But despite all of this, we must stress that NHE has no guarantees of making a helium discovery. Exploration risk forms a key part of our risks section.
Another risk for NHE is that the helium market cools. But for now we're bullish on helium and expect there to be structural supply problems well into the future.
Here's why.
Helium macro news
The "Helium Shortage 4.0" that we mentioned at the start of this note refers to a specific set of supply disruptions that have worked to push up the helium price.
Here is a list of mainstream articles that cover this development and our key takeaways:
Key takeaways:
Russian helium from Amur plant experienced a fire in October and then a second fire/explosion in January that takes its helium supply offline until Q3 or even 2023.
Reduced production from Qatar during February and March due to planned maintenance has resulted in several of the helium majors declaring Force Majeure.
Prices are so high that they are in demand destruction territory.
Kornbluth has called 2024 as the year helium supply is ample (assuming Amur plant can contribute to supply).
Key takeaways:
Russia began restricting exports of inert, or "noble" gases, including neon, argon and helium to "unfriendly" countries at the end of May.
Even if chipmakers can replace lost supply from the region, they are likely to end up paying much more for the vital gases.
The world's demand for noble gases will likely concentrate on China.

Key takeaways:
ExxonMobil cancelled a planned maintenance outage at its Shute Creek, Wyoming plant which is the largest US source of helium and accounts for greater than 20% of global supply.
One of the reasons behind Helium Shortage 4.0 has been the outage of the US Bureau of Land Management's (BLM) Crude Helium Enrichment Unit (CHEU).
CHEU could be back in operation sometime within the next month or two and would increase the world's helium supply by greater than 10% compared to recent levels.
Helium One's drilling - here's why NHE investors are paying attention
As before, Helium One is slated to drill their Tai prospect in Q3/Q4 this year.
The Tai prospect is the most advanced of all Helium One's leads. The company is going off new data taken from a 2D Seismic campaign from November and December last year and processed early this year.
While Helium One may not have the benefit of a 3D seismic survey's accuracy, here's how we look at its drilling campaign:
If Helium One hits a commercial helium concentration it benefits NHE because it shows there's helium in the Rukwa Basin, AND
Even if Helium One doesn't hit commercial helium, there are few negative implications for NHE, as it is working with what we think is better data, and a geophysicist that has more extensive East African Rift System experience.
We don't view Helium One as a competitor. In fact we believe that both NHE and Helium One can win together.
But even if Helium One's Tai prospect drilling doesn't go well, this wouldn't be a critical blow for NHE.
You can see the proximity of NHE and Helium One's Tai prospect on the map below:
Helium One is sandwiched between two NHE tenements and is capped at ~£53M ($90M).
We think NHE has a better shot at a helium discovery and NHE is currently capped at ~$29M - which we think is paltry in comparison to Helium One.
While this may be down to the fact that Helium One is more advanced in terms of drilling, we still hope Helium One hits helium at its Tai prospect as it could have a positive impact on investor sentiment towards helium companies in Tanzania as a cohesive whole.
What we want to see next from NHE
Our milestones form the basis for what we want to see next from NHE:
The next two quarters are all about target generation: we want to see the gravity gradiometry survey and geochemical survey completed, then the all important 3D seismic survey.
All of this will help NHE firm up which two targets it intends to drill in Q3 2023.
Risks
We've identified the below risks for our NHE Investment - note this is simply a guide and is by no means an exhaustive list. Like all investments, there are dozens of risks out there that no one can even anticipate.
We see this country risk gradually reducing as NHE engages with Tanzanian stakeholders.
It also helps that sentiment is improving towards the extractive industries in Tanzania with one ESG expert saying,
"The clear communication from the President of Tanzania about the government's willingness to attract foreign investors in the mining sector has sent a strong signal. Tanzania is in fact a very good destination for investment, despite minor administrative hurdles."
NHE recently sponsored a training course on geophysical exploration techniques at the University of Dar es Salaam:
And NHE is busy building relationships with members of local communities who were kind enough to share a few photos with us from this work.
Below is the proposed 3D seismic camp area:
A shot from a meeting with Matema Ward Development Committee members: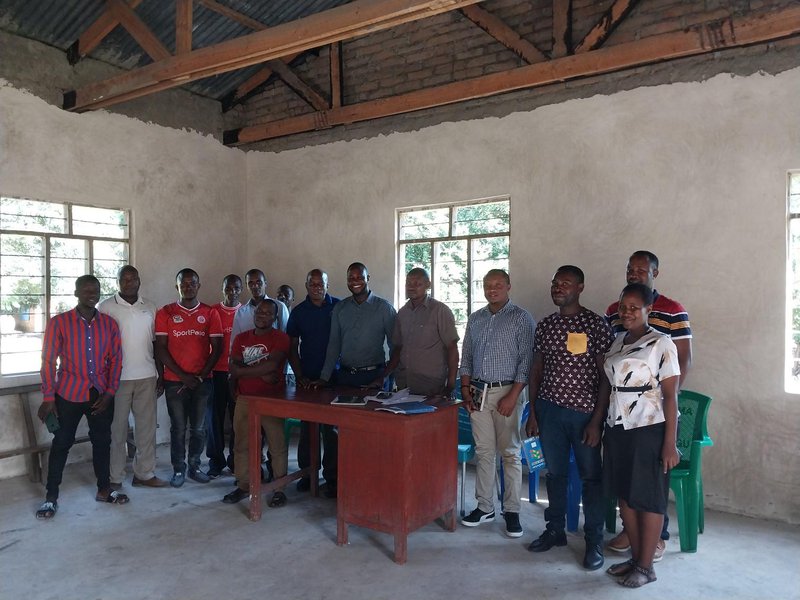 And members of NHE's Tanzanian team on the road: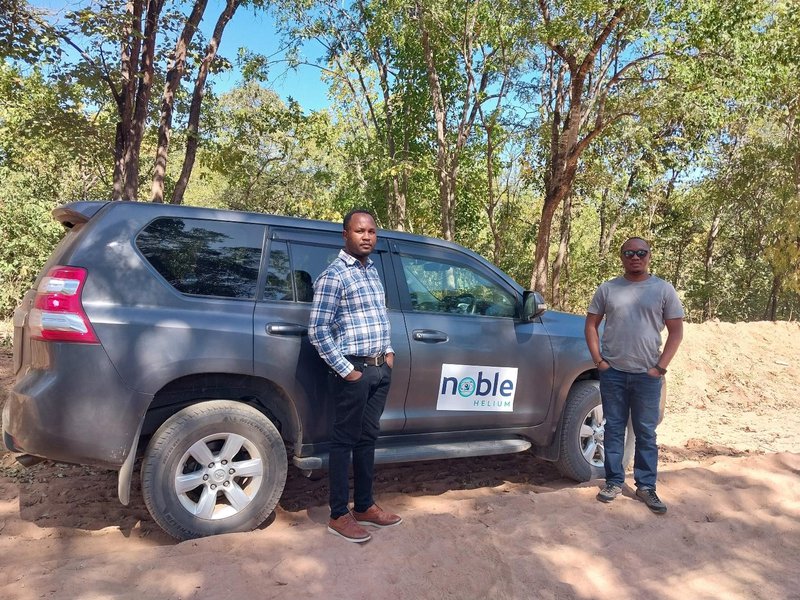 Our NHE 2022 Investment Memo
Below is our 2022 investment memo for NHE including:
Key objectives for NHE in 2022 (shown above)
Why we invested in NHE
What the key risks to our investment thesis are
Our investment plan
---