Multi-Billion Alzheimer's Drug Development Boom Underway: ACW Well Positioned in Phase II Trials
PUBLISHED: 08-06-2016 10:26 a.m.
Prominent US financial institution JP Morgan recently released a rather bullish report on Alzheimer's disease – a sector they think represents one of the most attractive up and coming categories in biotech.
JP Morgan has explicitly recommended that their US clients have exposure to the Alzheimer's therapeutic class in 2016 and beyond, with a number of key sector wide catalysts anticipated in 2016.
Here are some of the key takeaways from the JP Morgan report: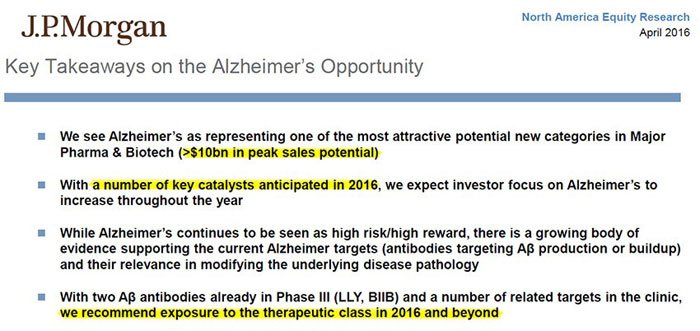 It's also worth noting that in the US, there is a groundswell of investment into what are called 'amyloid beta' drugs for treating Alzheimer's disease (AD) – major backers are thinking that over the next two years Big Pharma will have real success in this space.
Bringing it closer to home, this is good news for Actinogen (ASX:ACW) investors, who are betting on ACW as a company that may be able to help deliver a breakthrough treatment for Alzheimer's disease which could be used in combination with the amyloid beta drugs.
There are a number of macro factors at play here in making Alzheimer's disease one of the hot sectors in biotech right now:
We have an ageing global population, which combined with the public health success in fighting other health problems such as cardiovascular disease and cancer, has left AD as one of the key causes of death, with no 'sure fire' preventable solution;
Current treatments only provide a limited benefit in AD for six months or so. Early detection and treatment is key to achieving any success with this disease, and;
AD is a massive and growing market and recent failures in developing new drugs has only sought to intensify Big Pharma's push to find a solution.
JP Morgan have outlined a hypothesis that any new AD drug brought to market will likely have a peak sales potential of over $10 billion...
So this is the multi-billion dollar opportunity, with small biotechs, institutional investors and Big Pharma all jostling for a position.
Against this back drop, ACW are currently in the midst of a Phase II clinical trial in Alzheimer's disease, for their drug compound Xanamem TM . ACW acquired the rights to Xanamem TM back in 2013 from the University of Edinburgh.
Assuming a positive outcome in Phase II trials, ACW has the potential to attract billion dollar take over offers or commercialisation partnerships, which could generate a return of many multiples of an original investment for early stage investors (i.e. folks who invest right now).
Alternatively, an unsuccessful outcome could see investors lose their original investment. Like any early stage biotech, ACW is a speculative stock. Apply caution to your investment decision.
The novel premise behind Xanamem TM as a treatment for Alzheimer's disease is based on blocking the build-up of the stress hormone cortisol in the brain. In a number of recent large studies, excess cortisol in the brain was consistently demonstrated to be associated with the development and progression of Alzheimer's disease.
For this reason, ACW are actively progressing AD clinical trials in an effort to prove their excess cortisol inhibition theory – and thus confirm the huge commercial potential of Xanamem TM .
As well as progressing the Phase II clinical trials here in Australia and the UK, the company is making steady progress with the US FDA , aiming to harmonise the Australian and UK trials with the US federal agency, further increasing potential global value.
With Dr Bill Ketelbey at the helm, ACW are well positioned to benefit from successful Phase II results. In Bill, ACW has a leader who was part of the Pfizer team that successfully developed and commercialised the current market leading AD drug here in Australia and NZ.
In a nutshell the commercial opportunities could be substantial and ACW could be developing its drug in the right space at the right time.
Checking in on: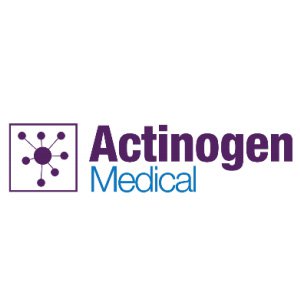 Actinogen Medical
ASX:ACW
Actinogen Medical (ASX:ACW) is a biotech company currently capped at around $50 million, fully committed to developing and commercialising its drug Xanamem TM – which most likely would involve partnering up with big pharma in the form of a large takeover or attractive royalties deal.
It's fair to say the space has been heating up over the last few years, culminating in JPMorgan's sector wide recommendation.
Successful AD treatments pay off – the previous market leading drug in the space was racking up annual sales of over $4.4 billion in the US alone in its peak. As the US usually represents about 50% of the global market, the global annual sales would have been close to $10BN.
Axovant Sciences (NYSE:AXON), which has a single Phase II/III AD drug in development is currently capped at $1.7BN – after its $3BN plus peak.
As any biotech or pharma investor should know, proving up a new drug requires extensive clinical trials, which can take years to complete – however there are multiple catalysts along the way, and the end goal is a large payoff, with many multiples of an original investment.
Remember, ACW is in the midst of Phase II trials – if successful this company could see a swift re-valuation up multiples from its current $50MN market cap.
At the same time, this is speculation on our part and should not be the only basis of an investment decision. Success is no guarantee here, and it always a good idea to seek professional advice if considering an investment.
We first brought you ACW in April via our article, Ex Pfizer VP to Repeat Market Topping Drug Development with this ASX Stock? , and we continue to follow this stock as its goes about its trials.
In August last year, biotech analysts Dirk van Dissel and Alastair Murray analysed ACW, and arrived at a target price of $0.35/share. With ACW currently trading at $0.086/share, this represents a 300% premium to current levels: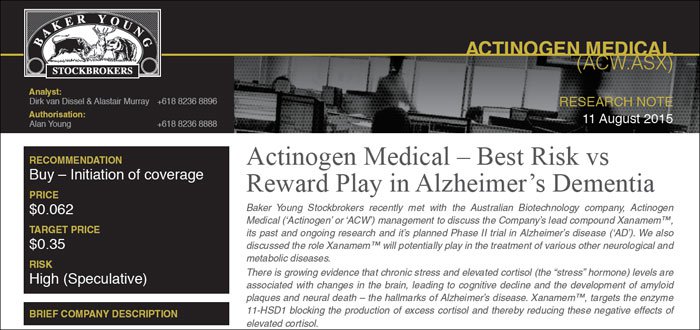 However at the same time, there is no guarantee the analysts target will eventuate – no one has a crystal ball, and an investment in ACW may not prove successful.
Let's delve a little closer into ACW as it progresses through its Phase II trials.
Alzheimer's disease – the most significant health challenge of our time?
It's more than likely someone you know has been affected by this all too prevalent disease – Alzheimer's Australia estimates that 7 in 10 Australians have been impacted by Alzheimer's in some way. AD is the second leading cause of death and is the most common form of dementia. It is an irreversible, progressive brain disorder that slowly destroys memory and executive function of the brain.
AD is identified by the loss of brain cells and the connections between brain cells, in conjunction with a build-up of abnormal amyloid beta protein plaques in the brain.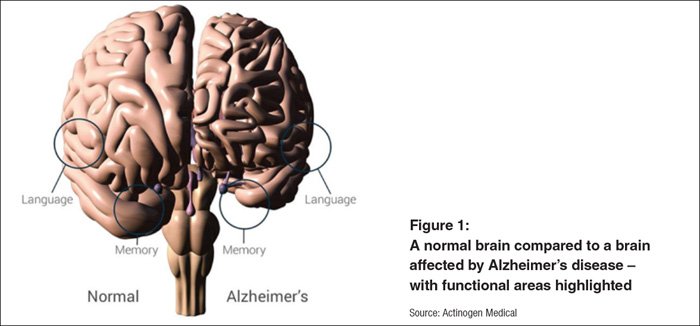 AD takes many years to develop. In fact current thinking is that the changes in the brain, like the beta amyloid build-up and neuronal loss start to occur up to 15 years before symptomatic memory problems begin to be noticed.
Even from that point, it can then take further years for the sufferer to present to their doctor and be diagnosed, so often patients have mild or even moderate AD before they start treatment – and it's now well recognised that the longer treatment is delayed, the poorer the response.
You can see here in basic terms how the disease presents itself as a decline in cognitive functions over the years: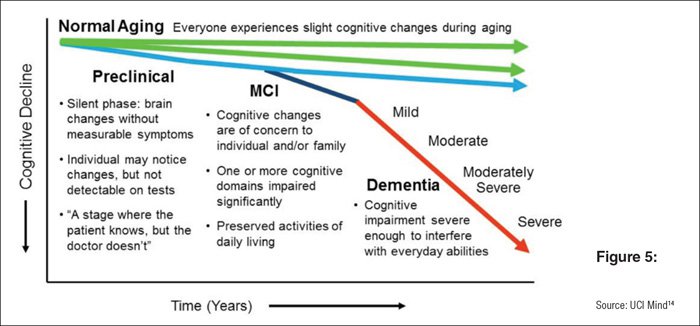 ACW is focused on treating the early stage disease when the benefit will be greatest.
To make matters worse, up until now, current treatments are not very effective – currently available drugs appear to slow the progression of the disease in some people, but after a while (usually no more than about 6 months) they stop working.
How big is the market?
With so many people impacted by the disease the market numbers can appear overwhelming – hence the focus of big pharma industry players to find an effective treatment.
For those into big stats on market size and ACW's potential, here are a few to consider:
There are currently 45 million AD sufferers globally, with the number set to double every 20 years;
Australia's expenditure alone, in 2009-10 on direct health and aged care system related to dementia exceeded $4.9 billion;
Globally, dementia will become a trillion dollar disease by 2018, with the total cost rising to $2 trillion if no new solutions are developed;
The next AD treatment to market is likely to generate around $10BN in annual sales.
Is ACW onto something with its cortisol blocker?
ACW appears to be working in one of the hot new areas of Alzheimer's research. Here is just a small cross-section of the recent major medical journal articles supporting the link between elevated cortisol and AD – remember, ACW has specifically developed Xanamem TM to inhibit the excess production of cortisol in the brain.

Here is further reading with regards to cortisol and AD:

The way things are going, there may even be a simple saliva test just around the corner to identify people with high cortisol levels:

For ACW, the fact the broader scientific community has accepted cortisol as a leading causal factor in cognitive dysfunction, means its Xanamem TM drug compound is a highly anticipated new treatment being developed for AD sufferers.
XanamemTM targets a particular enzyme in the brain which blocks the production of excess cortisol.

Very simply, Xanamem TM binds to the 11b-HSD1 enzyme thereby blocking cortisol production in the brain. With less cortisol, it's hoped that the development of AD slows, and hopefully stops. Hypothetically, if treatment is started early enough, Xanamem TM may even be able to prevent the development of AD...
And this is what ACW are determined to prove up over the coming years.
Now, as we indicated earlier, it is not expected that Xanamem TM would be used in isolation – it is expected it would be used in combination with other treatments, including the drugs under development that are targeting beta-amyloid.
Remember that JPMorgan recommendation?
Well, it turns out a number of major US biotech companies are focusing on amyloid beta drugs, and there is a very high chance one of the major biotechs will be successful in 2016/17 – it could be Eli Lilly, Biogen, or Merck & Roche – and those guys may well turn to ACW as a 'bolt on' highly effective therapy used in combination.
With US biotechs (and investors) focusing on amyloid beta drugs, ACW is presented with an opportunity to command a much larger acquisition or licensing deal with its novel approach.
Remember, however, that this is still an early stage play and caution should be applied to any investment decision relating to this stock.
Phase II Trials underway now
Despite its early-stage status, ACW published no less than 6 positive clinical trial results last year which adds confidence for Phase II. With Phase 1 completed in August , ACW has quickly moved to initiate Phase II, dubbed the 'XanADu Study'.
The good news for ACW is that Phase II trials are funded after a strong $11MN capital raising last year .
The XanADu trial will take 2 years to complete, and while this sounds like a long time, along the way there should be a stream of news flow to keep investors engaged.
Here are the XanADu study highlights:

And the end goal should never be far from our minds – this wait could be more than worth it.
If ACW's XanADu Phase II trial proves the link between the inhibition of cortisol production and cognitive dysfunction, Xanamem TM will be the first drug to have demonstrated this, and it could open up not only a huge market, but a massive new area of neuroscience research.
Opportunity knocks
All in all, ACW's most important target is to progress Xanamem TM as quickly and diligently as possible and hopefully attract development partners that will help the company take the drug into Phase III trials.
However, in theory, at the end of Phase II trials, ACW could decide to switch research to another cortisol-related illness. There is potential to discover effective treatments for diabetes and Parkinson's using Xanamem TM .
The big blue sky for ACW is that it could potentially spin-off several Xanamem TM derivatives – each one treating different cortisol-related illnesses.
But the focus for now is reaching Phase III for using Xanamem TM to treat AD.
Overall, here is ACW's forward looking timeline.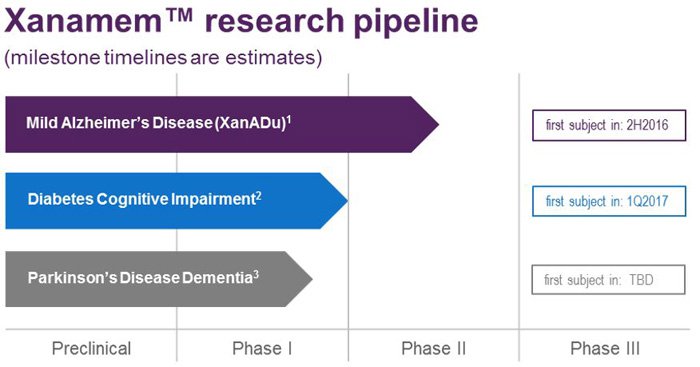 So beyond the immediate AD market, you can add Diabetes and Parkinson's to a very large, multi-billion dollar overall addressable market:

The final word
As the number of Alzheimer's patients doubles every 20 years and healthcare costs rise exponentially given the nature of care required, a huge business opportunity has presented itself for ACW.
ACW's novel approach to dealing with cognitive dysfunction has all the potential of becoming an effective treatment for Alzheimer's and other cortisol related diseases for years to come.
Preliminary clinical trials on animals as well as supplementary research indicates that ACW could be on to a winner in terms of discovering a viable and effective AD treatment.
As the prevalence of AD continues to grow alongside ageing populations, new treatments against AD are desperately needed by clinicians, patients and their families.
ACW is now on track to deliver a potential breakthrough treatment for AD.
Expect major news flow forthcoming for ACW over the coming 12 months...
...and if they continue joining the dots that cognitive dysfunction associated with excess cortisol production can be treated with drugs like Xanamem TM – ACW's market position could quickly change to par with its much larger pharma rivals.
---