ACW Starts Phase II Clinical Trials: Major Milestone Set to Unlock Value Uplift?
PUBLISHED: 24-08-2016 11:38 a.m.
There are currently an estimated 50 million suffers of Alzheimer's disease (AD) globally, the highest rate in history. The consequent costs on healthcare providers are enormous and growing.
But just maybe, there could be a therapeutic solution — one that softens the symptoms of dementia, delays its onset, and most crucially, begins to chip away at reversing its debilitating effects.
Actinogen Medical (ASX:ACW) is developing an Alzheimer's treatment, XanamemTM that has potentially identified an underlying common denominator of dementia sufferers — and it has everything to do with cortisol: the human body's stress hormone.
Persistently high cortisol levels are associated with various negative effects including brain degeneration and mental health. Equally when cortisol is brought down to more normal levels it's clear that these negative effects decrease. So far, ACW's 'cortisol hypothesis' has been welcomed by industry peers and was well received at the Alzheimer's Association International Conference (AAIC), held in Toronto, Canada in July, one of the biggest conferences in the world in this category.
The invitation for ACW to present its findings at the conference was a big step for ACW to publicise its research on XanamemTM, ACW's flagship pharmaceutical product that could prove to be a significant new treatment for Alzheimer's disease.
XanamemTM and ACW's cortisol hypothesis is based on the theory that brain degeneration and dementia is closely linked to the amount of cortisol being produced in particular areas of the brain. There is currently a growing understanding of the serious impact of excess cortisol on the human brain.
Various studies indicate that cortisol does play a significant role in the onset of dementia. CSIRO funded research through the AIBL research team in Melbourne has even chipped in with results of their own, supporting the theory that cortisol is a missing piece of the puzzle in the fight with AD.
With many positive milestones and validations already received at this early stage, ACW has recently embarked on Phase II trials which could light the touch paper for ACW's value and help it to follow in the footsteps of its peers such as Avanir Pharmaceuticals which was bought by Otsuka of Japan for $3.5BN.
However it should be noted that a large take-over such as this is no guarantee – ACW is a speculative biotech stock, and caution should be applied if considering making an investment.
As long as the cortisol hypothesis continues to provide more hard evidence of its efficacy, ACW could be in a strong position to not only change the treatment for AD, but also attract big pharma interest.
Rescreening: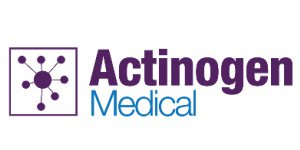 Actinogen Medical
ASX:ACW
Actinogen Medical (ASX:ACW) is walking a gradual R&D path towards a potentially revolutionary treatment for one of the most debilitating diseases known to man — Alzheimer's disease.
AD is a devastating disorder that robs a person of their memories and cognitive abilities, rendering them unable to recognise family members, or care for themselves.
AD is the most prevalent neurodegenerative disease affecting of the elderly. AD affects 1 in 20 people aged over 65, and its incidence increases with age such that 35% of people aged over 85 have the disease. It is an exponentially direct relationship — the older you are, the higher the risk of dementia/AD.
ACW's key differentiator from all other AD treatment research is cortisol.
As long as the cortisol hypothesis holds up to scientific scrutiny, ACW is the front-runner in the development of a treatment to inhibit cortisol production.
This could be a supreme advantage for ACW, especially as cortisol has been linked to other diseases including Parkinson's and diabetes — two diseases also seeing strong growth on the back of demographics and modern lifestyle choices. ACW could potentially expand into R&D for other diseases influenced by cortisol levels — and as you can see the commercial opportunity becomes ever more expansive: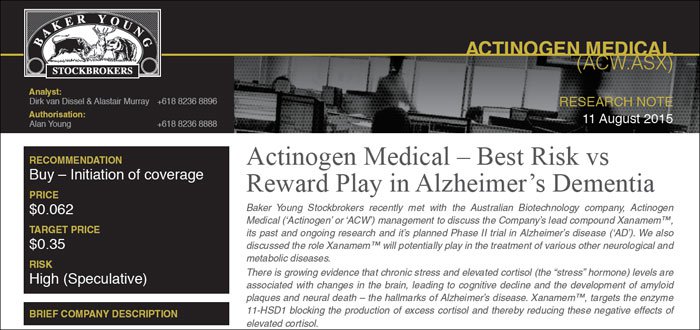 How does Xanamem work?
XanamemTM represents ACW's flagship drug that will constitute the basis of its future growth.
Very simply, XanamemTM binds to the 11b-HSD1 enzyme and thereby blocks cortisol production in the brain. With less cortisol, it is hoped that the development of AD slows and hopefully stops. Hypothetically, if treatment is started early enough, XanamemTM may even be able to prevent the development of AD.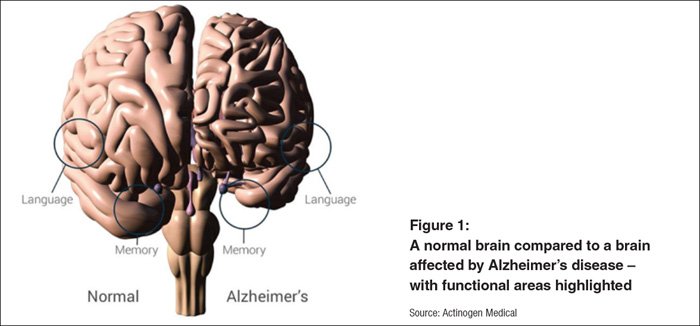 It is still early days with lots more R&D to do, although the results seen so far have been very encouraging.
As long as the excess cortisol link is firmly established, R&D can be done to develop treatments to block the production of cortisol, or to prevent its effects once it is produced. Therefore, ACW has a real shot at being the first company in history to affect the underlying cause of AD, and not just treat its symptoms.
Plotting a course for change
ACW's path to commercialisation and raising its still meagre AU$36MN market cap, will be largely dependent on the success of its Phase II Xanamem TM trial currently underway.
However, securing ACW's long-term future also requires the company to establish firm global patenting for XanamemTM as soon as possible. Just last month, ACW received the most comprehensive patent from the US Patents Office , extending its duration to 2031. Globally, ACW has patents in place for other major markets including the Euro zone, the UK, Australia, Japan and China, which could attract the eye of future investors. The US patent is particularly important because over 50% of global commercial spend on AD comes from the US — the largest AD market in the world.
An American focus is therefore paramount for ACW, and recent progress with the FDA has only adds to the future potential: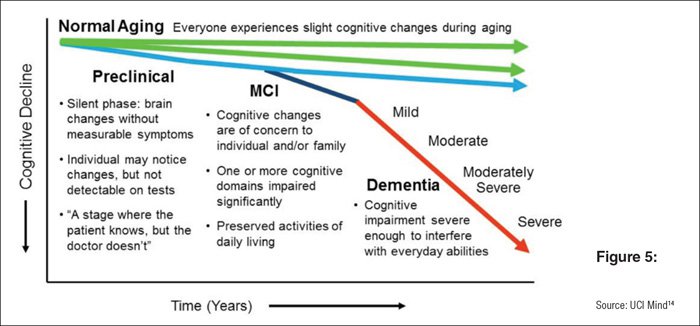 Following in-depth communications with the US Food and Drug Administration (FDA), ACW expects to achieve Investigational New Drug (IND) approval from the FDA later this year. Securing final FDA approval is now one step closer, and ACW expects to start dosing patients in its Phase II trial (what the company has branded XanADu) before the end of the year.
The focus for ACW is to complete its XanADu Phase II clinical trial as soon as possible. If Phase II is successful, ACW will have proven the validity of the cortisol hypothesis under rigorous scientific conditions, and could therefore attract development partners for a full-scale development programme that may spill over into other cortisol-related diseases.
Of course, ACW still has a lot of work of work to do here and is in the early stages of development, and investors should consider their own personal circumstances if considering an investment.
Here's what Professor Craig Ritchie, one of the leading researchers into dementia-related causes had to say about AD and cortisol:

As part of its research and development activity, ACW has collaborated in various ways to help progress research into cortisol.
Digging further into the latest research, two more high-level studies into cortisol-induced AD also indicate ACW is on the right track.
Xanamem TM Study in conjunction with The University of Edinburgh

Just last month, ACW's development of XanADu was one of the highlights at the AAIC Conference held in Toronto, Canada.

ACW's presence at AAIC was only a first step in the company's concerted effort to raise the profile of its cortisol hypothesis. With the conference now concluded, ACW will embark on a publicity drive to widen the exposure of its potentially game-changing AD treatment.
One of the first major hurdles in proving the efficacy of Xanamem TM , was confirming the drug's ability to cross the blood-brain barrier. ACW successfully achieved this difficult milestone and has flown straight into Phase II clinical drugs trials on the drug.
Here at The Next Biotech , we always have a keen eye for catalysts coming over the horizon, and in the case of ACW, its XanADu study as well as growing publicity, have a great shot at raising ACW's valuation before the end of the year and potentially attracting the eye of big pharma.
AIBL Study
In another important study, this time carried out by the tongue-twisting Australian Imaging, Biomarker & Lifestyle Flagship Study of Ageing (AIBL), researchers indicated that "when levels of cortisol, the 'stress hormone' become persistently elevated in the blood, there is a strong correlation with the subsequent development of Alzheimer's disease". Significantly, this study was in-part funded by the CSIRO and was totally independent of ACW.

Looking at the plethora of research papers published by various universities and laboratories, the current state-of-play is that there is a growing body of evidence indicating a clear link between cortisol and AD. Several studies have now shown chronic stress and elevated cortisol levels inducing changes in the brain affecting memory... and to the development of amyloid plaques and neural death, the hallmarks of Alzheimer's disease.
Professor Jeffrey Cummings, Director at the Cleveland Clinic Lou Ruvo Center for Brain Health is also a proponent of the cortisol hypothesis:

What all these studies show, is that ACW is quite likely on track to identifying one of the best way of targeting AD. If successfully approved and marketed, ACW could be directly responsible for slashing healthcare expenditure at a rate never seen before.
Healthcare costs
Aside from the obvious human suffering and trauma caused by AD, it is also wreaking havoc on public healthcare and private treatment costs globally.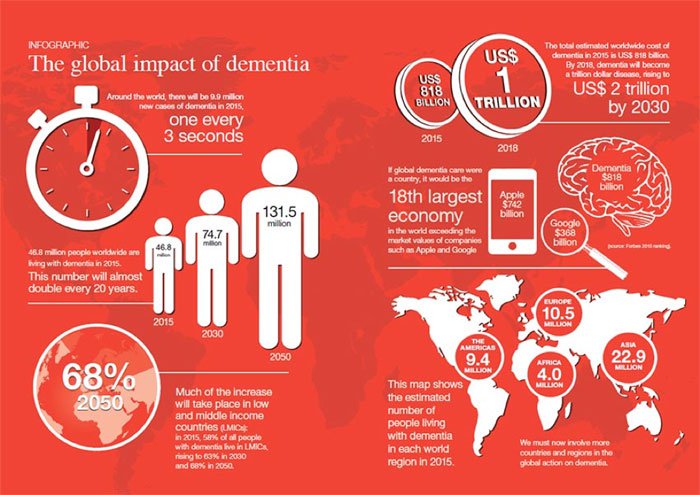 Here are some more figures that illustrate the huge AD problem, as well as the huge opportunity that has been created in tandem for companies like ACW:
There are currently 45 million AD sufferers globally, with the number set to double every 20 years;
Australia's expenditure alone, in 2009-10 on direct health and aged care system related to dementia exceeded $4.9BN;
Globally, dementia will become a trillion dollar disease by 2018, with the total cost rising to $2 trillion if no new solutions are developed;
A viable AD treatment could generate around $10BN in annual sales
A treatment that delays the onset of Alzheimer's by just 5 years will save the US healthcare system $90bn annually.
At AAIC 2016, researchers from Boston and New York reported that more than 369,000 US hospital admissions of people with Alzheimer's in 2013 were potentially avoidable; these preventable hospital visits cost the US taxpayer around US$2.6BN as part of Medicare.
The vast majority of AD sufferers are older adults, often with multiple health problems such as heart disease and diabetes that require dedicated medical management and treatment. Given that AD affects memory and cognitive ability, many of the healthcare facilities that are available for AD patients are often not utilised.
Fighting for a world without Alzheimer's
Despite affecting mainly people over the age of 65, AD is becoming a huge burden in all countries — especially for those with rapidly ageing populations such as the US, Italy, Japan and Australia. The demographic trends are escalating the prevalence of AD with existing healthcare costs already reaching as high as US$250BN globally.
The number of AD sufferers is expected to double every 20 years and by 2050, the world is expected to have 132 million AD sufferers costing the global economy in excess of US$2TN per year in healthcare costs. The majority of this cost will be felt by governments and taxpayers which is rather worrying in itself considering that most government budgets are already underfunded and swamped.
What the world needs is a fresh approach to diagnosing and treating AD...
...and we think ACW has a great shot at achieving such a shift.
However, at the same time, ACW is an early stage company, and its success is no guarantee, investors should seek professional financial advice if considering making an investment. ACW is playing a prominent role in advancing a potentially revolutionary AD treatment and is on-course to successfully complete its Phase II FDA trial sometime over the next two years.
That may be some time away, but already, ACW is on the front lines in the fight against AD courtesy of its cortisol angle. For a budding ASX bloomer worth a paltry $36.4MN, it could be a great opportunity to back one of the most lucrative niches of biopharmaceutical medical research with an addressable market worth US$2TN by 2050.
---