MPJ's New Lithium Asset: Next to $245M Capped PLS
PUBLISHED: 04-02-2016 10:43 a.m.
Most of us have heard the lithium story. By now we understand that it is an essential ingredient in the race towards a more energy efficient future.
And with the increasing demand to create the 'ultimate' energy product, there comes an increase in mining companies desperate to secure large resources of lithium.
It is no surprise then that several ASX explorers have entered the fray to explore for, mine, produce and sell this most sought after commodity.
The most recent explorer to join the great lithium rush is Mining Projects Group Limited (ASX:MPJ).
MPJ, up to now known more for its nickel play than lithium, has recently sealed a deal on a tenement bordering Pilbara Minerals (ASX:PLS) and Altura Mining (ASX:AJM), to be known as the Pilbara Lithium-Gold project.
Like all lithium stocks, these ASX companies are targeting the fast growing battery market.
AJM is capped at around $50M right now, as it sets to complete a feasibility study for lithium production.
Meanwhile, PLS has the second largest hard rock lithium resource globally, and is capped at $245M...
Little MPJ (capped at just $8.5M) have sidled up right next door to both companies, in a now globally recognised lithium 'hot spot'.
In fact, PLS previously drilled just 500m from MPJ's new ground as it firmed up its 80.2 Mt @ 1.26% Li 2 O, 42.3 Mt 0.02% Ta 2 O 5 resource.
The big question is: Does the PLS lithium resource extend into MPJ's ground?
We'll soon have a better indication – drilling is earmarked to start as soon as possible by MPJ.
However, at the same time, there is no guarantee that MPJ will find what it is looking for here – such is the nature of speculative minerals exploration.
What we can take away at the moment, is this deal is big news for MPJ, who is looking to diversify its portfolio and break into an industry that is forecast to rise strongly in the next two years.
MPJ won't be messing around, and has launched an aggressive exploration programme, that has already confirmed spodumene (the mineral which holds lithium) trends on the project in the early stages.
The opportunity to procure a lithium tenement, particularly one so close to PLS was an enticement MPJ couldn't pass up, so we take another look at MPJ, this time focusing on their lithium play.
As news of a $1.2M capital raise its complete, it's high time we re-introduced: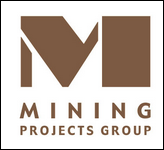 We have covered Mining Projects Group (ASX:MPJ) on several occasions in the past, tracking the company's development as a nickel explorer with a strong technical team that called on decades of combined experience.
In the articles Rocks and Brains: MPJ Identify Broad Nickel Zones as Drilling Continues , and MPJ Reveal New Recruit and Highly Conductive Nickel Target among others, we looked at how this small $8.5M capped explorer was faring in its attempts to identify commercial nickel deposits in Western Australia.
The nickel tenements have not gone away, and they still hold potential, but it's always wise to diversify your portfolio, and that is what MPJ have done here.
Given the recent market buzz on lithium, MPJ's entry into this space is a timely one.
Think electric cars, the rise of lithium ion batteries and by some reports the 'ultimate battery'.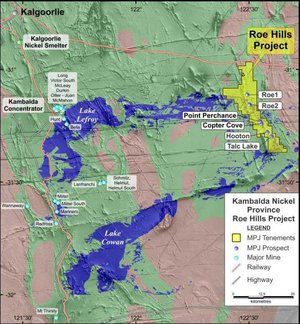 The article above states that: "Scientists have developed a working laboratory demonstrator of a lithium-oxygen battery which has very high energy density, is more than 90% efficient, and, to date, can be recharged more than 2000 times, showing how several of the problems holding back the development of these devices could be solved."
In fact Citi analyst Matthew Schembri said demand for the commodity would rise almost 65 per cent over the next five years.
Schembri believes prices will rise to $US7000 per tonne before new production is incentivised and dampens prices and that a strong demand profile does could ensure price remain at a nominal $US6000 per tonne for the rest of the decade. Whilst it's a strong indicator, price forecasts are just that – so don't think that one analyst prediction is a certainty – these are estimates based on a number of assumptions, which may prove incorrect.
With the inconsistency of the nickel price at the moment, MPJ has made the smart move to diversify its exploration and jump into the potentially very lucrative lithium segment by acquiring the 'Lynas Find Assets' – to be renamed Pilbara Lithium-Gold Project.
This not only gives MPJ more chances of striking it big in exploration, it also gives shareholders the peace of mind that only a fast growing industry such as lithium can bring.
The good thing for MPJ followers is that the company hasn't just jumped into lithium on a wing and a prayer, it has made the savvy decision to explore in an area where there has already been big lithium discoveries.
In fact extensive exploration has already been undertaken at MPJ's new lithium project, and it clearly has demonstrated potential to host significant lithium and gold mineralisation.
Living next door to PLS
Here's a map to give you an idea of just how close MPJ's play is to the major explorers in the area. Remember PLS and AJM are capped at multiples of where MPJ sits right now, and MPJ is aiming to define its own mineralisation next to its bigger neighbours.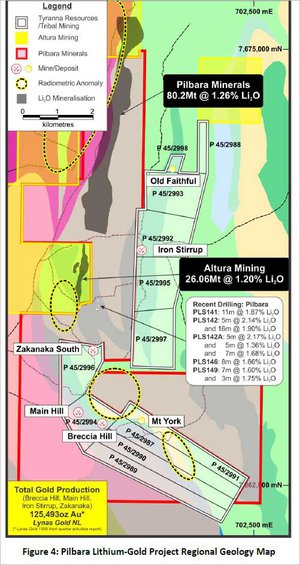 As you can see, MPJ's Pilbara Lithium-Gold Project (denoted by the Tyranna Resources/Tribal Mining ground with white borders) directly adjoins the lithium projects of both Pilbara Minerals (ASX:PLS) (the red bordered ground) and Altura Mining (ASX:AJM) (the yellow bordered ground).
MPJ have pounced on the project and are already evaluating the available data, undertaking mapping, rock chip and soil sampling, and confirmed ultra-detailed airborne magnetic surveys.
The idea is that MPJ will move as quickly as possible to identify drill targets, and then get cracking in its efforts to catch up to its much bigger neighbours.
But for now let's have a look at PLS more closely – it's the biggest company in the region, owing to the excellent resource the company has proven up.
When you look at what PLS has done, especially in the wake of its transition from explorer to producer, MPJ has reason to be confident with its acquisition.
PLS's flagship lithium project is its 100% owned Pilgangoora deposit, which is host to a current resource of 80.2 Mt @ 1.26%Li 2 O, 42.3 Mt 0.02% Ta 2 O 5 – these figures reflect the recently announced resource upgrade .
At the moment, PLS's spodumene resource is the second largest in the world, behind Talison's 120Mt Greenbushes Project in WA's south which was acquired by the Chinese in 2012 for almost $1BN...
They're the sort of numbers this region holds.
And when you look at the rise of PLS's value over the past few years, you can understand why MPJ has made the decision to explore next door. PLS stock has risen from 1.2 cents to as high as 40.5 cents – that's a gain of over 3,000%!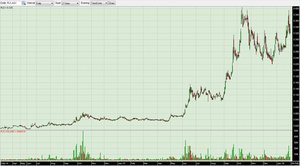 Source: E*TRADE
The past performance of this product is not and should not be taken as an indication of future performance. Caution should be exercised in assessing past performance. This product, like all other financial products, is subject to market forces and unpredictable events that may adversely affect future performance.
Needless to say, this has been a fairly significant year for this company that is now capped at $245M.
Analyst Mark Fichera of Fosters Stockbroking is of the opinion that there may be still more growth in the PLS story, just recently releasing a 12 month price target of $0.47 – significantly higher than its current price of around $0.35: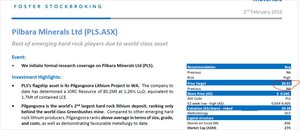 However this is a risked valuation, and there is no guarantee it will come true – and caution is advised when considering investing in this space.
The big question is, can MPJ go on a similar PLS style run? That is what shareholders are certainly hoping for...
Just like there is no guarantee an analyst prediction will come true, there are no guarantees that MPJ will be able to repeat PLS's feats – this is a speculative investment.
So we've looked at the region, now let's explore the MPJ deal.
Doing the deal
Western Australia already supplies around 30 percent of total annual lithium product and, although MPJ has only just begun to finalise its acquisition, it thinks it could be on a winner.
When MPJ went into a trading halt recently you could sense they had some game changing news.
That news has turned out to be a divestment of interests. MPJ intends to capitalise on a strategic acquisition that very fortuitously made itself available to the company.
The deal is with Tyranna Resources (ASX:TYX). Tyranna is part of the Lynas Find Joint Venture (Tyranna Resources Ltd 90%/Tribal Mining 10%) and has agreed to sell the Lynas Find lithium gold project to MPJ.
The project will be renamed the Pilbara Lithium Gold Project for which MPJ has agreed to pay a combination of cash and shares.
MPJ will pay a non-refundable deposit of $20,000, reflecting the previous parties past exploration and acquisition expenditure.
Upon completion of the deal, MPJ will pay $200,000 cash and issue 200 million shares and 100 million unlisted options exercisable at 1c by 30 June, 2017.
MPJ will issue a further 100 million shares when the tenements are granted. All shares and options will be escrowed for 12 months.
There are 'milestone shares' involved as well should certain JORC resources of lithium and gold be established at the project.
These include 80 million shares on a mineral resource of at least 5 million tonnes at 1.2% Li 2 0 or containing at least 500,000 ounces of gold, within three years of the completion date on any of the tenements.
A second lot of 80 million milestone shares to be issued on a mineral resource of at least 15 million tonnes at 1.2% Li 2 0 or containing at least one million ounces of gold, being identified within five years of completion date on the tenements.
To get the deal done, MPJ is also conducting a capital raising amongst sophisticated and strategic investors.
MPJ has hired CPS Capital to act as lead manager to place 300 million new fully paid ordinary shares at 0.4 cents per share to raise $1.2 million.
The cash will pay for an expedited and aggressive on-ground exploration program at its new Pilbara Lithium Gold Project.
If it can fund the sort of resource definition that PLS have made over the past 12 months, this will be money put to good use.
The right people
MPJ has a knack of getting the right people on board.
Those who are leading the Nickel exploration at its Roe Hills project are all top of their field.
Remember this guy.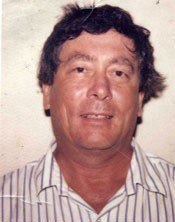 It's Dr Robin Hill, who was the man who led the CSIRO's magmatic ore deposits group for more than 30 years.
Dr Hill is leading the way for MPJ with its nickel exploration.
It is no surprise then, that MPJ have procured another big name to head up its lithium exploration.
That man is Mr Ian Finch who is a highly experienced resources executive.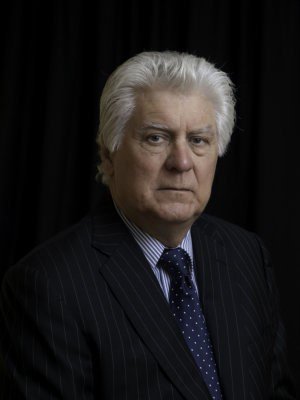 Mr Finch, who will become Chairman of MPJ, is an exploration and mining geologist with over 45 years of experience and has worked extensively throughout Southern Africa, Asia and Australia with Anglo American and Rio Tinto before successfully listing Taipan Resources Ltd on ASX in 1993.
MPJ will be looking for his learned guidance as they move into new territory.
Of his recent achievements, Mr Finch was founding Chairman of ASX listed companies Robust Resources and Bannerman Resources and President of Canadian listed Goldminco Corporation.
He also formed ASX listed companies Trafford Resources and IronClad Mining in 2006 and 2007 respectively and oversaw their recent merger to form Tyranna Resources Ltd., of which he is the current chair.
Trafford Resources Ltd was a cornerstone seed capital investor in the highly acclaimed Orinoco Gold Ltd (ASX:OGX) whose high grade gold mine in Brazil is due to commence production this quarter.
The Next Mining Boom actually first covered Orinoco Gold a few years ago, when it was capped at around $8m in the article Lead Geologist Quits Mining Super-Major to Start Own Company After Uncovering Once-in-a-Lifetime Gold Project
. You could say Orinoco has been doing OK lately – it's now capped at $36M – that's a rise of over 350% since we first wrote about the stock...
The past performance of this product is not and should not be taken as an indication of future performance. Caution should be exercised in assessing past performance. This product, like all other financial products, is subject to market forces and unpredictable events that may adversely affect future performance.
Mr Finch has led a highly successful career, some of his highlights include identifying and purchasing the Paulsens project for Taipan, identifying and overseeing the original exploration at the multi commodity Romang Island project for Robust and materially assisting (through Trafford) the rapid progress of Orinoco's gold projects in Brazil.
MPJ rightly believes that with the right people in place, exploration success is more likely.
A more in depth look at MPJ's new project
Had the Pilbara Lithium-Gold Project's borders been further from its neighbours, MPJ may have thought twice.
However, its northern tenements border PLS's spodumene deposit, where recent drilling is less than 500m from the tenement boundary.
That's enticement enough for anyone.
In case you don't know what spodumene is, it is the mineral which hosts lithium.
And lithium is so hot right now. Here's one of the reasons why.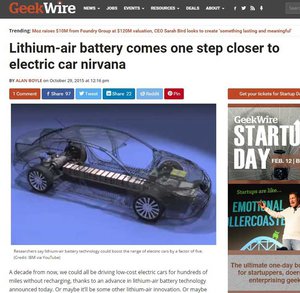 PLS found this out recently as its spodumene lithium bearing deposit became internationally recognised and has defined an emerging lithium region.
Which bodes extremely well for MPJ's Pilbara Lithium-Gold Project.
The Pilbara project covers 29km2, and sits about 100km south of Port Hedland.
In 2008, ASX-listed Trafford Resources published a JORC (2004) gold resource of 49,515oz comprising 933,400t at 1.65gpt. The project had produced 125,493oz between 1994 and 1998.
The project lies in the Pilgangoora greenstone belt, which is dominated by the Pilgangoora syncline.
The syncline is stoped out by regional granite. Where this granite wanes, pegmatite sills intrude the dolerite. These pegmatite sills are the source of the tantalum-lithium mineralisation in the area.
Which is what attracted MPJ.
MPJ Managing Director Josh Wellisch believes that the lithium-bearing pegmatite sills which have been identified, the extensive gold mineralisation already outlined and the considerable success enjoyed by PLS and AJM in establishing substantial lithium resources, give MPJ every reason to be excited about the acquisition.
However MPJ has just announced the deal, and is in the very early stages of exploration here – so caution is advised when considering MPJ for your portfolio – this is a small company and a speculative stock.
Now here's a zoomed out location map including surrounding infrastructure: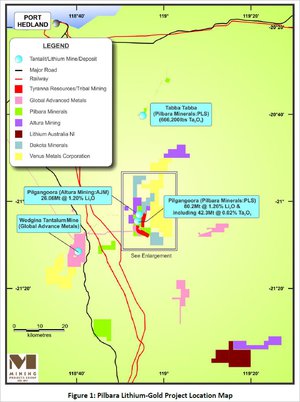 Once again, you can see the importance of this area to MPJ's play. Not only is it close to two exploration success stories, it is also surrounded by important infrastructure including rail and roads that will facilitate its initial testing and then further-down-the-track drilling ambitions.
Our track record
Those following our other site The Next Mining Boom would already be familiar with one particular lithium stock that we have been following for a while – Lithium Australia (ASX:LIT). LIT is evaluating the commercial potential of PLS's mica deposits, and has its own patch in the Pilbara region, marked in brown in the map above.
We have been following the LIT story since June 2015, when it was still named Cobre Montana (ASX:CXB). It all started with the article, ASX Company to Dominate Global Lithium Market? Lately it's been performing well and since August alone it has been up over 280%: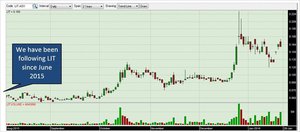 The past performance of this product is not and should not be taken as an indication of future performance. Caution should be exercised in assessing past performance. This product, like all other financial products, is subject to market forces and unpredictable events that may adversely affect future performance.
Can MPJ also garner some similar market attention for its recently acquired lithium project?
We should find out over the coming weeks and months...
From one commodity to another – we have seen it before
MPJ isn't the first explorer to extend its commodity base.
There have been other successes, and regular readers of The Next Small Cap would have seen most recently Ardiden Resources (ASX:ADV), who were in graphite and recently decided to also play in lithium.
ADV acquired lithium tenements in January 2015 – you can see the interest this sparked by the liquidity on the day of the announcement it was moving into lithium. Since we first brought readers the ADV story in October 2015 via the article Graphite Drilling in Weeks for Tiny ASX Explorer , ADV has been up as high as 200%: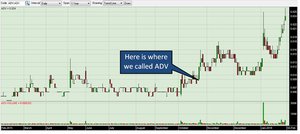 The past performance of this product is not and should not be taken as an indication of future performance. Caution should be exercised in assessing past performance. This product, like all other financial products, is subject to market forces and unpredictable events that may adversely affect future performance.
MPJ is hoping for the same sort of result with its latest acquisition.
Of course this is early days, and no guarantee MPJ will be successful. Also it always a good idea to seek professional advice if considering MPJ for your portfolio – and take into account your own personal circumstances.
The final word
MPJ knows a good deal when it sees one and so its acquisition of Tyranna Resources' lithium project in the Pilbara region, in some ways comes as no surprise.
The acquisition could thrust MPJ into the spotlight as a new kid on the 'global lithium block' in the WA Pilbara region, where its neighbours, such as PLS who is now a major player, are enjoying the fruits of their labour.
As we have highlighted above, MPJ's acquisition, which will be known as the Pilbara Lithium-Gold Project, sits right next door to PLS and AJM.
PLS's spodumene deposit sits just 500 metres from MPJ's tenement boundary.
This is good news for MPJ given the numbers coming out of the PLS camp.
The acquisition enables MPJ to diversify its commodity and asset base, whilst delivering another shot at success in WA minerals exploration.
It is still in the nickel game, but now MPJ has another ace up its sleeve.
It would seem MPJ has made a canny choice not only in the new commodity it will soon begin to explore for, but also in location and in talent.
Once again, MPJ is on the right track, and time will tell how successful the company will be as it now readies itself for an aggressive on-ground exploration programme.
---