Is a Cannabis Cultivation License Now Just Days Away for MMJ?
PUBLISHED: 21-01-2016 09:31 a.m.
Last week a crucial piece of news hit emerging pharmaceutical company MMJ Phytotech (ASX:MMJ).
In what is known as a 'Pre-License Inspection', Federal health inspectors at Health Canada will examine MMJ's Canadian medicinal cannabis growing facilities.
The date for the Duncan Facility inspection is 1 February 2016, just a couple of weeks from now.
This pre-inspection is the final step in the regulatory race to gain permission to grow and sell medicinal cannabis to the fully legal Canadian market.
It is important to note here that while a pre-inspection does not guarantee issuance, so far to date every single company that has reached the stage where MMJ finds itself right now, has gone on to receive a growing license.
There are just 23 companies in Canada that have this status, and MMJ could be joining their ranks very soon.
From looking at these 23 Canadian companies, the pre-license inspection becomes a significant value catalyst that the Australian market is only just starting to understand and price into MMJ.
The ripple effect of this could be significant.
With the Duncan Facility growing license almost in the bag , it could facilitate the production of up to 1000kg of medical cannabis per year.
And if MMJ can get its Duncan facility on-line this year, it really could be a slam dunk for this $30MN-capped Medicinal Cannabis player because revenues could ramp up quite extensively.
MMJ is on the cusp of serious, near term potential value add and is a company with true blue sky potential.
However, this is speculative and investors should be aware that there are risks to every investment – MMJ is no different.
Revisiting: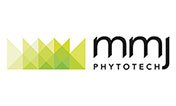 With government legislation easing, medical cannabis is now playing a bigger role than ever before in becoming a rising biotechnology solution to a number of physical and emotional ailments.
The growth of this segment of the biotechnology industry could also potentially generate sizeable returns for investors in the near term. Of course, this is no guarantee – medicinal cannabis is still an industry in its infancy, and MMJ Phytotech (ASX:MMJ) are still in the early stages of executing its strategy – so caution is advised when considering an investment here.
Looking at MMJ's recent good news in Canada with regard to their pre-inspection license, it is worth comparing their position to others who have had a similar experience.
Let's look at Canadian company, Supreme Pharmaceuticals (CSE:SL).
Since Supreme's recent pre-inspection announcement on 3 December 2015, their share price has appreciated sharply by over 140% from C$0.20 per share at the time of the announcement to C$0.49 on 12 January 2016: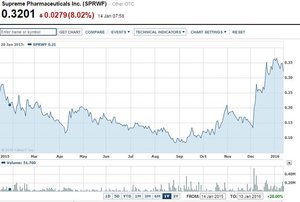 Source: Yahoo Finance . Note: Currency of share prices on chart is USD
The past performance of this product is not and should not be taken as an indication of future performance. Caution should be exercised in assessing past performance. This product, like all other financial products, is subject to market forces and unpredictable events that may adversely affect future performance.
Supreme's share price surged on the back of the exact same news received by MMJ.
This doesn't mean MMJ's share price will follow the same trend though – this is a speculative stock and there are risks involved. It's always good to seek professional advice before choosing to invest.
You can see the importance of MMJ's pre-license inspection. It is the final step to receiving a cultivation license and, as mentioned above, is considered a significant value catalyst.
We have been following the MMJ story for a while now, and you can track its progression in our previous articles on the company:
Given the recent major news at MMJ, it's time we caught up to speed with where MMJ are at right now and what a license could mean to them.
MMJ's 'farm to pharma' strategy makes it a world leading, vertically integrated medicinal cannabis company
Currently, the ASX only has a handful of companies operating in the medical cannabis space – and all of them offer slightly different products.
No other ASX listed medicinal cannabis company can boast full vertical integration – from growing of the plant through to undertaking clinical trials and R&D on Medicinal Cannabis.
In terms of competition, there is very little out there given the infancy of medical cannabis as a commercial industry.
It's likely that those who move first, could be best positioned as other hopefuls join the party later down the track.
This is the premise behind MMJ's rapid move into becoming a vertically integrated player in the medicinal cannabis market. It means not having to share the spoils with other parties when revenues come in.
Here's how MMJ is structured as a company: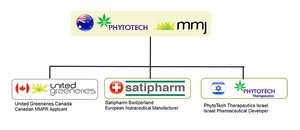 In order to get traction with its wheel-spin, MMJ has a subsidiary in Canada – United Greeneries (UG).
United Greeneries has two medical cannabis growing facilities, the Duncan and Saskatchewan facilities. Currently, UG is awaiting final regulatory approval to start growing 1000kg at its Duncan facility on Vancouver Island in British Columbia – the milestone achieved last week marks a significant achievement for MMJ.
MMJ/UG received word from Canada's medical cannabis watchdog (Health Canada) that the Duncan site will undergo a final inspection on 1 February 2016 – that's only a few days away now.
Once a license is obtained, MMJ can commence growing operations with an expected harvest possible within 3-6 months.
Here's a sneak peek of UG's Duncan facility that should be approved to begin growing by the end of Q1 2016.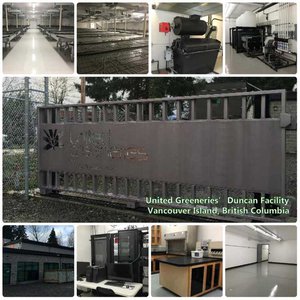 MMJ/UG also have a second Canadian facility in the works, based in Saskatchewan, which could ramp up production to as high as 12,000kg per year once brought online.
A key advantage for MMJ with these facilities is that they are in Canada – which has the world's most comprehensive federal level legal framework for Medical Grade Cannabis growing, called The Marihuana for Medical Purposes Regulations, or MMPR .
The likely game changer however, is the biochemical quality testing facilities and analytics lab at Duncan.
Few growers have these facilities at their disposal, which may potentially make MMJ's product the best on show in the industry.
Longer term, MMJ has plans to become a significant supplier of 'Active Pharmaceutical Ingredients' (API) extracted from the cannabis plant...
...so that it can execute its overarching mission: to become a 'farm to pharma' company that maximises its commercial potential.
API's are the real value, which can fetch in excess of $350,000 per kilo!

But how does MMJ stack up to its competition?
Let's see.
Graphed below is MMJ's market valuation and growth compared to its nearest competitors.
As you can see, MMJ is currently somewhere in the middle of the peloton, with a lot of catching up to do in terms of company valuation – and this presents an opportunity for the astute investor.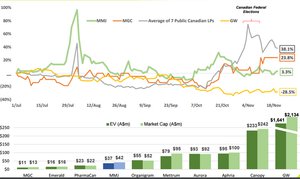 With a top-end growing facility almost approved, existing retail and wholesale sales already achieved and superb facilities at its disposal to ensure high grade product with each harvest...
...MMJ has the capability to do a lot of catching up and fast.
With a Canadian license almost in the bag, MMJ is a value inflection point
With its licensing moving in the right direction, MMJ can look forward to positive cash flow and growth in the near future.
Shown on the indicative chart below is MMJ's projection of its development.

As you can see in red, MMJ is at an inflection point whereby the real growth in valuation could soon begin.
For investors, this could be the time to grab a share of MMJ before its value starts to move up again alongside growing revenues and cash flow...
And when it comes to revenues and cash flow, MMJ is already making tracks on this front too.
Sales up and running
MMJ has already kick-started sales of its CBD capsules via Swiss subsidiary Satipharm .
In August Last year, Satipharm generated its first revenues and continues to generate sales to this day: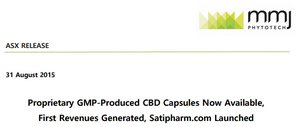 And just recently Prima Sport, a UK based online retailer and distributor, agreed to stock MMJ's capsules as part of a broader wholesale agreement that could potentially generate sales for years to come. The first initial deal was for A$225,000, allowing Prima Sport to distribute the product across its range of retail outlets and online stores.
Here they are for sale: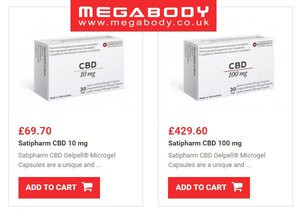 And it's clear that initial sales have been popular to say the least: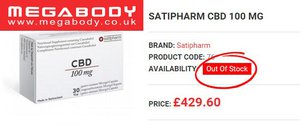 Priced at £429 per 100mg (A$891), sales are expected to be strong in 2016.
Should expectations be met, MMJ could be in a primary market position.
For a young company operating in a new market niche...
...but only capped at around $30MN, that's a good place to be.
If MMJ is able to offload $225,000 worth of product in one purchase, just how much revenue could it generate as it continues to execute on its 'farm to pharma' strategy?
The Australian picture
Recently the Victorian government created history by announcing it will legalise the use of medical marijuana.
Premier Daniel Andrews called the decision to accept recommendations from a ground-breaking law reform report, one of the best days of his political career.
Here is the Channel Seven news reaction to the announcement.
Victoria isn't the only state with ambitions to legalise the medical cannabis industry. NSW is providing up to $9 million to support cannabis clinical trials .
At a Federal level, Health Minister Sussan Ley has also come out in support saying the Government wants to give people suffering from debilitating disease access to the most effective medical treatments.
With this change in regulation in mind, MMJ has accelerated its entry into the Australian Medical Cannabis market.
To facilitate its entry, the company engaged Australian legal firm Piper Alderman as a strategic partner to guide it through the regulatory and licensing approvals process.
This move means that MMJ has instigated a truly global play.
The bigger picture
With commercial sales gradually picking up steam, MMJ's longer-term goals come into view.
The longer-term play for MMJ is for its current sales of its CBD capsules to underpin R&D funding based in Israel...
And that's where PhytoTech Therapeutics comes in – another subsidiary of MMJ...
PhytoTech Therapeutics
Based in Israel, MMJ's R&D unit received approvals for phase one clinical trials of a cannabinoid (CBD) pill aimed at alleviating the effects of multiple sclerosis (MS) including pain and spasticity.
Multiple Sclerosis is a disabling lifelong disease, which attacks the central nervous system. It affects more than 1.2 million people worldwide and spasticity is one of the most common and most disabling symptoms, affecting up to 84% of patients.
MMJ hopes to lead the fight against this disease.
MMJ also recently conducted temperature stability trials for its product, finding that the product has a long shelf life when stored at room temperature, increasing its commercial viability in its current form, as it reduces the costs of shipping and storage.
Clinical trials commenced in October last year with results expected early this year.
This demonstrates MMJ's deeper strategy and also provides a neat catalyst in the coming months.
Going global is worth the wait
Operating on a global scale will take some time as laws and regulations do not change as quickly as company operations do.
For the time being, here is the state of play for medical cannabis globally: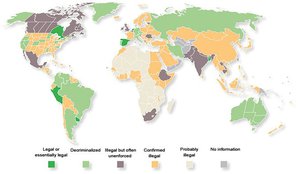 As the amount of countries where medical cannabis is legal increases, so will MMJ's addressable market.
In the US, the use of medical cannabis is legal in 23 states, of which California is the largest. 12 states have passed, or are about to pass CBD only medical cannabis regulations. These numbers are expected to rise towards 40 states by 2020 as pending legislation is expected to be put into practice in the next few years.
In Australia, last year's news that medicinal cannabis is to be legalised, gave medicinal marijuana stocks a jump on the ASX.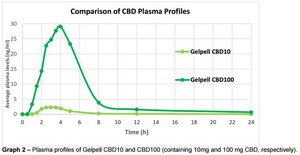 Medical cannabis isn't just on the way, it's already here
There has been much talk across the media and amongst government officials regarding the efficacy of medical cannabis as well as its broader social effects.
It's clear that the tide is changing...
...medical cannabis has been stuck in the Stone Age whereby it is illegal in most countries, and thus overlooked by the mainstream medical community.
But now, after many years in the wilderness, it is finally going through a renaissance for the benefit for patients, growers and government officials that always want a slice of any new industry.
It may well be stories such as this...

...that are helping the medical cannabis cause.
For MMJ, the operating environment is looking positive.
MMJ is ready to start growing up to 1000kg/year of medicinal cannabis at full capacity via the Duncan facility, with the potential for more once its second Canadian facility sparks into action. Not only that, but MMJ has already managed to establish sales revenue.
There's a lot more work to do, but for a company that has so much under its belt, a valuation of $30MN seems undervalued to us here at The Next Biotech .
Medical cannabis could be a huge market in the years to come assuming there are no legislative U-turns in the US, Australia and Europe and CBD continues to deliver effective results for patients.
For MMJ, it's increasingly obvious that it will become the first licensed grower of medicinal cannabis on the ASX – this means it truly has a first mover advantage in this market.
The company is utilising this position to full effect by spending millions on state-of-the-art growing facilities – that may enable MMJ to become a dominant bulk grower just as demand awakens for this forgotten medicine.
---