IMC Hits Key Milestones Ahead of Imminent NASDAQ Listing
PUBLISHED: 17-05-2017 09:40 a.m.
Immuron Limited (ASX:IMC) is working in the realm of oral immunotherapies, targeting inflammatory-mediated and infectious diseases and is uniquely positioned to address large unmet needs.
The global immunotherapy drugs market is projected to reach US$201.52 billion by 2021 from US$108.41 billion in 2016, yet the biggest need could come in the non-alcoholic fatty liver disease market (NAFDL), estimated to be worth $35 billion.
The incidence rate of fatty liver disease, particularly Non-Alcoholic Liver Disease (NAFLD) was estimated to increase approximately by 20 to 25% in 2015, with the market for treatments anticipated to grow significantly during the forecast period.
The advancement in technology, personalized medicine and cost-effective treatment procedures are few other factors predicted to fuel growth of the global fatty liver treatment market.
However, the side effects associated with the current treatments in development, and increasing stringency in the regulatory requirements, are some of the major factors that could limit the growth of the global fatty liver treatment market.
IMC has the only asset – IMM-124E – in development that, due to its safety profile, could potentially target the entire spectrum of the disease and can also be used in combination with other agents currently in development.
IMC is well positioned to address high unmet medical needs in multiple blockbuster markets.
Since our article in March titled ' ASX Stock to Launch on NASDAQ with Gut Busting Immunotherapy Products ', IMC has come out with several major developments, and managed to capture investors attention in a big way.
But there's plenty more good news expected over the coming months, and this is only just the beginning for this emerging growth story.
Now, at the same time, it should be noted that this company represents a speculative investment and those considering this stock for their portfolio should seek professional financial advice before making a decision.
Recently the company has expanded its major collaboration with the Walter Reed Army Institute of Research (WRAIR), a segment of the US Department of Defence, to develop an anti-infective human therapeutic.
Put simply, a non-antibiotic drug to fight infection.
This has been done as part of its development of IMC's anti-infective platform, which includes the development of three new Shigella-specific products for preclinical evaluation.
Shigella is a gram-negative bacteria, which causes about 165 million cases of severe dysentery per year, resulting in one million deaths annually.
Unfortunately, no approved vaccines currently exist for Shigella.
IMC is working to reverse this situation and is being funded in part by WRAIR and by The Armed Forces Research Institute of Medical Sciences (AFRIMS). The studies will evaluate and assess its anti-infective platform including in Non-Human Primate (NHP) clinical studies.
That's not the only news sparking interest in this under the radar biotech play.
Last week, IMC also announced it had completed manufacturing supplies of IMM-529 for its C. difficile Phase I/II Clinical Trials set to commence Q2 2017.
This will build on the positive pre-clinical results reported from a series of proof-of-concept studies completed by Monash University in Melbourne, and should produce results to move on to the final stage of clinical studies by mid next year...
IMC look to be ascending several ladders at once, as it also navigates all the red tape required towards a NASDAQ listing... and on this front, it's hoping the red tape can be replaced with a blue ribbon finish line ASAP.
IMC is certainly taking the fastest route it can to a NASDAQ listing and expect to be listed within months.
The final piece of news is also significant as IMC has now completed recruitment for its Phase II Clinical Trials for IMM-124E, its cornerstone treatment for a range of fatty liver diseases. This is the space IMC hope to make some major money, and is also a field which been attracting a lot of media attention...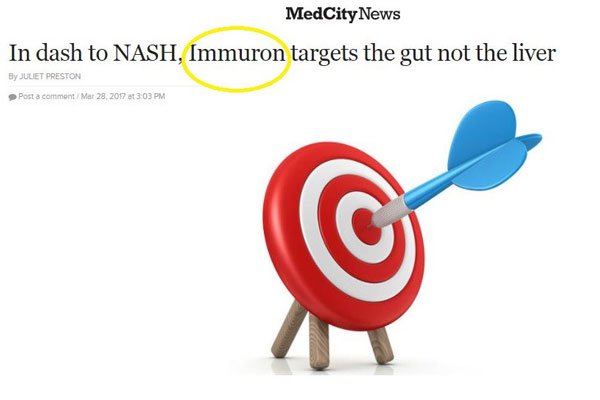 At the same time, IMC announced the completion of the first stage of its colitis preclinical program for IMM-124E at the University of Zürich in Switzerland.
That's a lot of positive news in just a few short months, so without further ado, let's get stuck into:

Immuron Limited
ASX:IMC
Immuron Limited (ASX:IMC) has all the elements that a small cap biotech could want:
clinical assets with a distinctive edge;
an on-the-market product called Travelan specifically designed to reduce the risk of infection by Enterotoxigenic E. coli (ETEC), Shigella, Salmonella and other bacteria that cause Travellers' Diarrhoea that is already bringing in revenues;
two clinical assets in Phase II trials, plus;
funding assistance from a major government body, multinational exposure and malleable management style.
We hinted above about the company capturing investors attention – and in fact, since our previous article on the company was released,
IMC has been up as high as 130%, which included a 15% rise on the back of a positive colitis study alone: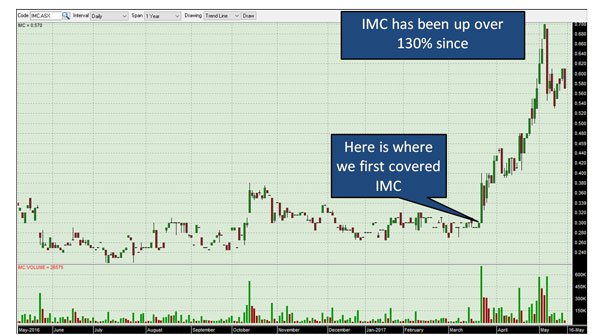 The past performance of this product is not and should not be taken as an indication of future performance. Caution should be exercised in assessing past performance. This product, like all other financial products, is subject to market forces and unpredictable events that may adversely affect future performance.
As IMC progresses with its NASDAQ listing, we are anticipating continued global investor interest...
Before we dive into IMC's clinical stage assets, here's a quick look at IMC's Travelan product:

Travelan is generating revenues for IMC right now, but it's the clinical stage assets that may be the biggest value driver in this stock.
Considering the level of interest from Big Pharma on fatty liver diseases that IMM-124E is designed to treat such as NASH, AFLD, and paediatric NAFDL, there is no doubt IMC is on the right path.
As you can see above, MedCity has cottoned on to the potential inherent in IMC's value proposition and this Finfeed.com article from April indicates that the market is very curious to see how things pan out for the company in 2017: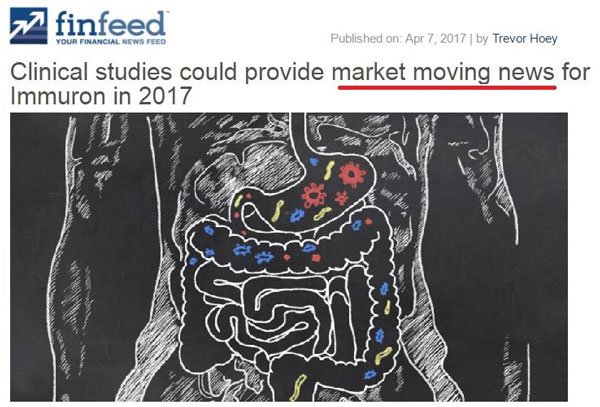 Certainly, there is a lot to be interested in and several catalysts on the horizon as you can see by the table below: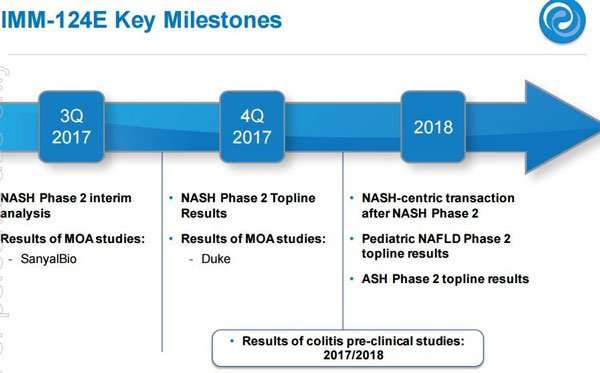 So, let's look further into what has been driving the company forward.
Growing collaboration with US Department of Defence
Just this week, IMC announced it was expanding its existing agreement with the US Department of Defence (DoD) , finalizing an agreement with the Walter Reed Army Institute of Research (WRAIR) for the institute to provide funding towards the development of three new Shigella-specific anti-microbial products based on its anti-infective platform.
Working so closely with the US DoD is a major signal that this company's treatment platform is showing promising signs, not to mention the legitimisation of being chosen as a partner by such a major institution as the US DoD.
WRAIR will fund the evaluation of the therapeutic potential of the products, and will assess their protective capacity in established mouse and guinea pig small animal models.
The expanded agreement now includes work to be performed by The Armed Forces Research Institute of Medical Sciences (AFRIMS, the US Naval Medical Research Center headquartered in Thailand), who will fund and perform research via Non-Human Primate (NHP) clinical studies.
If you're not familiar with Shigella, it is a highly virulent pathogenic organism that causes disease in humans even at low doses – which means it can spread fairly easily from person to person. Animal models that mimic the action of Shigella in humans have been essential in determining product efficacy, so this development is no small feat.
The DoD has a history of investing in the development of novel therapies for infectious diseases, which means it is well-equipped to provide support, resources and expertise – invaluable to a small cap like IMC, particularly at this stage of its growth.
Considering this is a non-antibiotic option, it is particularly attractive as a new treatment.
The widespread use of antibiotics over the past several decades has helped create antibiotic-resistant infectious diseases – a major ongoing concern for many in the health researchers and governments.
So a unique and promising treatment – which works in a different way to antibiotics and could be truly ground-breaking in the fight against infectious disease across the board – puts IMC in a very good position... and starts turning a nice-sounding idea turn into an actual, game-changing reality.
Update on IMM-529: trial supplies ready
In the realm of its IMM-529 asset, the work has so far focused on its use in treating C. Difficile – a bacterium that kills 30,000 people a year in the US.
IMM-529's potential as a bio-therapeutic asset for C. difficile (prevention, treatment and relapse) has so far been well supported by pre-clinical studies: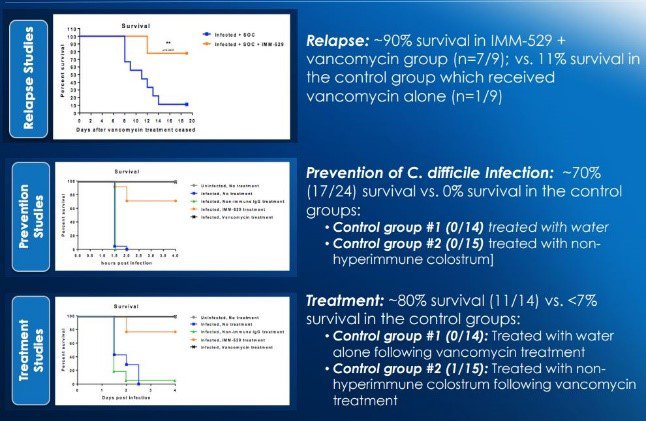 We wrote about its unique mechanism of action in our last article, but just in case 'multiple epitopes' and 'surface layer proteins' didn't stick all that well in your memory, below should provide a bit of a refresher: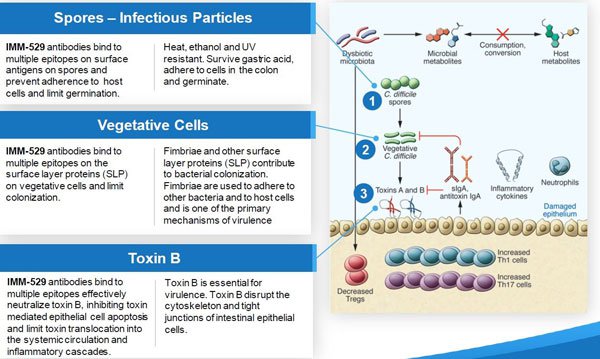 The key pieces of news around the IMM-529 clinical candidate is the fact IMC has completed manufacturing the trial supplies for Phase I/II, as it announced to the market last week.
CSIRO Separations Science team and Pharmaceutical Packaging Professionals manufactured it on IMC's behalf, with the funding partly provided via a $50,000 grant from the Food Innovation Australia Ltd.
Of course, this product is in an early stage of development and if considering this stock for your portfolio you should take all public information into account and seek professional financial advice.
Each of these steps bring IMM-529 closer to passing trials, closer to fully approved and marketable products that could pose considerable revenue opportunities down the track... and potentially closer to a major deal with Big Pharma.
The beauty of IMC as a whole is the fact both its clinical assets and its on-the-market product 'Travelan' are borne of the one immunotherapy platform... which has seemingly endless potential.
And a growing body of investors appear to be realising this.
With Phase I/II on IMM-529 C. difficile asset due to commence within months, we can expect plenty of news flow in the coming weeks and months.
Progressing towards a Cash deal for NASH?
The most obvious money-maker in IMC's portfolio is its IMM-124E NASH (Non-Alcoholic Steatohepatitis) asset which is about to commence all-important Phase II Clinical trials.
The announcement in April that it had successfully randomised its 134 th subject, marking the official completion of the recruitment process, was welcome news for investors.
But, in fact, the company released an announcement back in February saying it had completed the recruitment for Phase II Trials. As it turns out, strong patient demand saw IMC allowing additional subjects already in the screening process to progress further and enter the randomisation stage to determine eligibility. Which is why the total number of subjects is now 134, not the initially planned 120.
That is a pretty 'healthy' sign, if you ask us – and will hopefully prove to be a healthy outcome for the extra participants.
While this company has seemingly endless blue sky, it's in the field of fatty liver disease that it is most hoping to attract a large Big Pharma transaction...
... and potentially arrive at a market cap several multiples of its current $60M.
This is of course speculative on our part and investors should seek professional financial advice if considering this stock for their portfolio.
Here's a look at some of the big deals that have been done in the space with regards to licensing and M&A partnerships with NASH: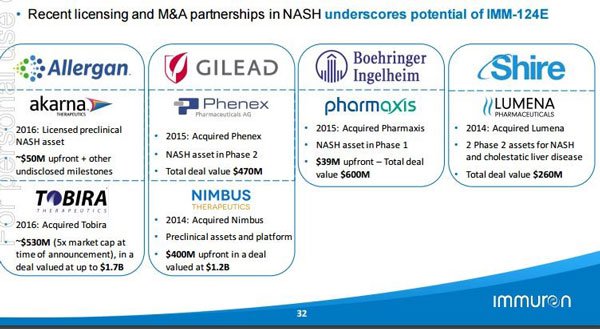 As you can see, deals worth hundreds of millions of dollars have been done and IMC would be hoping to tread a similar path.
The peer table below indicates there is potential for substantial growth: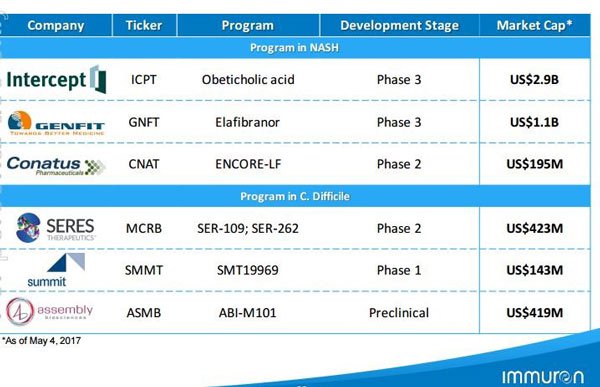 Furthermore, the chart below indicates the magnitude of the market/s, and the current opportunities inherent in them, that IMC is hoping to address with its 124E NASH biotherapy: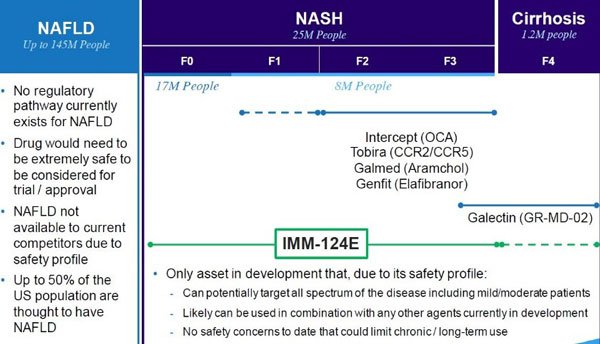 For some small cap biotechs that take an asset this far through the clinical process, there is the lure for a Big Pharma transaction. Those that have managed to do this, tend to enter the fast lane to the land of Mid-Caps.
Could IMC announcing a major deal on its NASH portfolio in the next 6-12 months?
Considering the interest from investors so far, a NASH portfolio deal could see IMC heading towards a sharp uptick.
It's not just the 'dash to NASH', however.
There are multiple catalysts waiting just around the corner for IMC:
its NASDAQ listing,
its Phase II Trial results,
news for its cash flow positive, $1 million revenue 'Travelan' product which used to prevent traveller's diarrhea in a market worth $600 million,
and its pipeline of 'additional mechanism of action' research into the use of its platform for Parkinson's, mood disorders, obesity and autism...
Progress is looking rosy.
The future is looking bright.
And the sky looks to be a bright blue as IMC prepares to take an even stronger foothold in the US market.
---