GTG Signs Prestigious Collaboration Agreement for Fight Against Cancer
PUBLISHED: 02-10-2019 10:24 a.m.
If it's true that we are defined by the company we keep, then there's one Aussie junior which has recently struck up some fine company, and is defining a solid place for itself on the world's stage.
Here is its story ... so far.
The space that this junior biotech lives and works in is a massive and serious one: the global fight to defeat cancer. It is estimated that cancer accounted for 9.6 million deaths last year. Put another way, around one in every six fatalities worldwide was due to cancer – the second leading cause of death globally.
According to the World Health Organisation, the economic impact of cancer is both significant and increasing, with the total annual economic cost estimated at approximately US$1.16 trillion in 2010, and rising year on year.
There is no shortage of innovative research into treatment options. However by the time treatment is sought the cancer can quite often be late-stage. Late-stage treatment is much more costly and intrusive, and generally offers the patient a much lower chance of success, than treatment which is commenced at an earlier stage in the progression of the disease.
For example, according to a US study of breast cancer patients between 2003 and 2010, the cost of the first year of treatment averaged US$55,000 when diagnosed at Stage I, compared with US$103,000 when diagnosis did not occur until Stage II, and US$127,000 at Stage III.
At the same time, according to the American Cancer Society, the average 5 year survival rate for patients whose breast cancer was diagnosed prior to spreading beyond the breast was 99%, compared with 85% for those whose cancer had spread to nearby structures, and just 27% in the case of patients whose cancer had spread to distant parts of the body.
So, timely and well targeted treatment is the ideal. And the key to making this ideal a reality is accessible predictive risk testing.
Enter emerging med-tech junior Genetic Technologies (ASX:GTG | NASDAQ:GENE).
GTG understands the importance of timely and precise targeting. Accessible predictive risk testing is where GTG lives.
Back in April we looked into GTG's development of its world-leading genetic risk assessment tools, in particular its affordable and easy breast cancer and colorectal cancer risk tests. GTG was also confident in its pipeline plans to apply the technology to risk assessment for an expansive range of diseases including prostate cancer, melanoma, Type 2 diabetes and cardiovascular disease.
The following month we were able to report the successful completion and validation of the company's flagship GeneType for Breast Cancer and GeneType for Colorectal Cancer, the culmination of long-term research and ongoing collaboration with the University of Melbourne.
By that time GTG's commercialisation strategy was also well underway with expansion into the US$800 billion plus Chinese healthcare market via the Hainan Resort Software Community (HRSC) Free Trade Zone initiative.
Now, in another breakthrough development, GTG has signed a 3-year Collaboration Agreement with high profile US-based researcher Translational Genomics Research Institute (TGen).
Fine company indeed!
Having attracted the attention of such a respected non-profit biomedical research institute, known for its focus on ground-breaking research with life-changing results, it's time to once again touch base with ...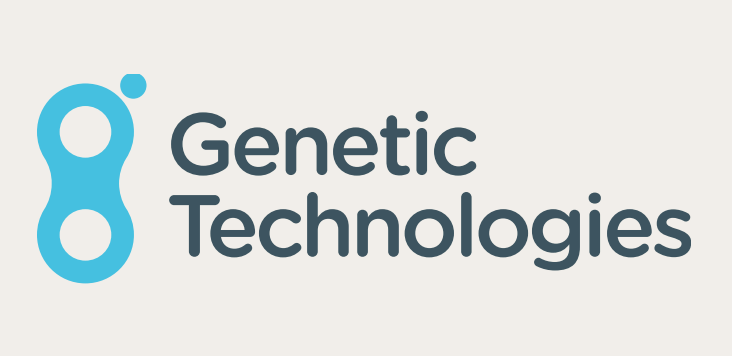 Genetic Technologies
ASX:GTG
Share Price: 0.005 cents (as at 1 October 2019)
Market Capitalisation: $A14.69 million
Here's why I like GTG: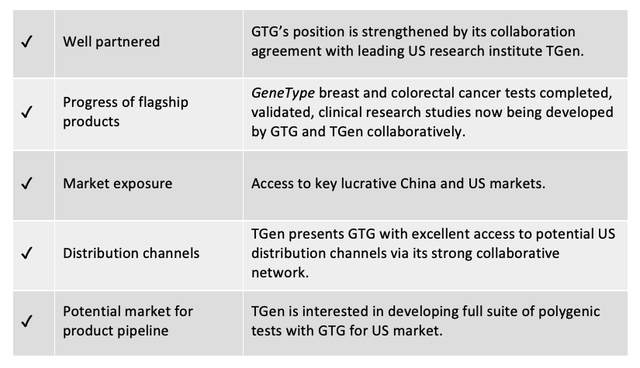 Announcement sparks surge
Investors showed their approval of the Collaboration Agreement between GTG and TGen, with the share price surging 40% in the first half hour of trade following the announcement, as reported on Finfeed: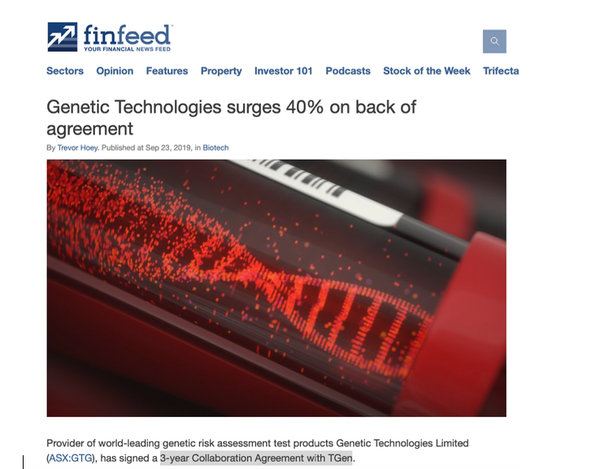 The share price soon settled back from its post-announcement high, and there are a few factors contributing to this. GTG had gone through a period of strategic transition during the April-June quarter, and cash receipts were consistently down during this period. In May the company had received a Nasdaq Notification Letter, applying to the company's shareholder equity as trading on the Nasdaq Capital Market (not on the ASX), although the trading of shares was not impacted. And GTG is still somewhat in restructuring mode, currently in the process of recruiting a permanent CEO.
However, with the TGen collaboration agreement firmly in place GTG can now devote its full attention to bringing its innovative solutions to market.
GeneType: a recap
You will remember GTG had successfully completed and validated its two flagship risk assessment tools: GeneType for Breast Cancer and GeneType for Colorectal Cancer.
GeneType for Breast Cancer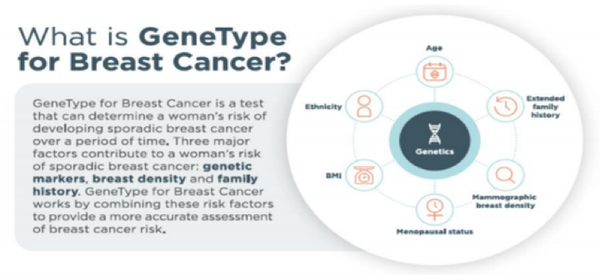 By looking for differences (known as Single Nucleotide Polymorphisms, or SNPs) in the patient's DNA, and comparing it against genetic markers, breast density and family history, GeneType for Breast Cancer can provide a risk assessment for the 90% of breast cancer cases which do not involve mutations in BRCA1 and BRCA2.
Additionally, and unlike most screening tools which are largely based on Caucasians, GeneType for Breast Cancer is medically validated across African, Hispanic and Caucasian women.
GeneType for Colorectal Cancer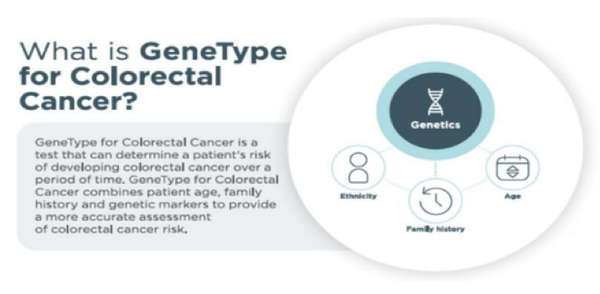 A world first polygenic risk test for colon cancer, GeneType for Colorectal Cancer analyses a patient's DNA for around 40 SNPs that have been clinically validated in their association with colorectal cancer. The analysis assigns a single polygenic risk score, which is used to determine further action or risk reduction for the patient.
Both GeneType tests are:
Non-invasive (DNA is collected via cheek swab)
Affordable
Unlike any other genetic test currently available
Patent protected: IP is supported by a strong global patent portfolio
The Pipeline
GTG has no intention of sitting back and basking in the successful completion and commercialisation of its two GeneType tests. Pipeline plans are to adapt its successful technology to provide affordable and timely testing in other areas of need. Specifically, this is how 2019/2020 is looking for GTG:

Translation to the clinic
One of the qualities that TGen brings to the table is its core focus on the translation of genomics discoveries into the clinic.
Together GTG and TGen will cooperate on the design and conduct of clinical research studies to support the clinical application of GTG's polygenic risk tests, beginning with the flagship GeneType for Breast Cancer and GeneType for Colorectal Cancer risk tests. The aim will be to demonstrate the value of the tests for clinicians in assessing individual patient risk profiles.
If, as expected, these studies provide strong clinical evidence to support the use of GTG's polygenic risk tests as a routine tool in the clinical setting, this will be an important development for clinicians, and a giant step in their quest to develop individual risk management programs for patients, enhancing prevention and treatment of these cancers.
The distribution channels
Another exciting advantage the collaboration with TGen will deliver to GTG is the unlocking of a raft of potential distribution channels in the difficult-to-crack US market. TGen's enviable network of influence includes: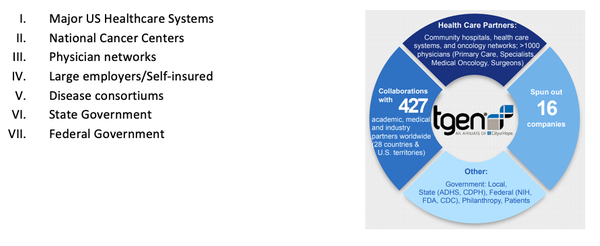 The synergy of collaboration
TGen is based in Arizona and is an affiliate of City of Hope in Duarte, California. A well respected – and well-connected – non-profit biomedical research institute, it is dedicated to conducting ground-breaking research with life-changing results.
Beyond the current focus on the flagship GeneType tests, one aim of the collaboration between GTG and TGen is to cooperate in designing and conducting clinical utility studies for a suite of further polygenic risk tests to be developed and made available in the US market.
These are clearly partners for the long haul.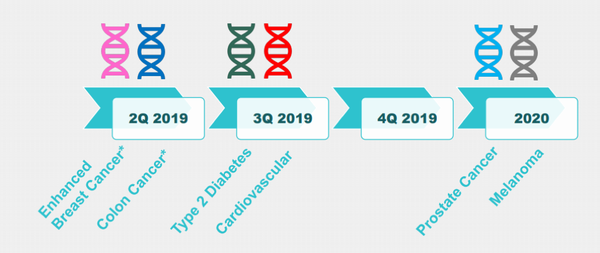 The synergy of this agreement is palpable and progressive. While GTG's Chief Scientific Officer Dr Richard Allman looks forward to the collaboration delivering the translation of the GeneType tests into daily clinical usage, TGen's Associate Professor David Duggan, PhD envisages "the potential to personalise clinical management", and expects to see enhanced clinical decision-making affecting "a sizeable number of patients".
Together the Australian junior biotech and the US-based biomedical research institute have jumped ahead of the pack in bringing their revolutionary suite of tools to the clinic. Promising better tailored screening for individual patients, and a potential lifesaver for the many for whom diagnosis currently comes too late, this is a collaborative effort that cannot be ignored in a space where innovative solutions are so desperately and urgently sought.
---