Full Steam Ahead: Sub-$10M Capped ASX Gold Explorer Now Drilling Tier 1 Targets
Hey! Looks like you have stumbled on the section of our website where we have archived articles from our old business model.
In 2019 the original founding team returned to run Next Investors, we changed our business model to only write about stocks we carefully research and are invested in for the long term.
The below articles were written under our previous business model. We have kept these articles online here for your reference.
Our new mission is to build a high performing ASX micro cap investment portfolio and share our research, analysis and investment strategy with our readers.
Click Here to View Latest Articles
With the gold price now rising beyond US$1900/oz, the safe haven metal is showing no signs of slowing down, which presents opportunities for gold explorers and investors alike.
Next Small Cap was recently introduced to a sub $7M micro-cap stock with a high grade gold deposit with near term production potential.
Aside from near term production, it has numerous 'Tier 1' drill ready targets in world class mining districts.
The company recently raised $1.18M and is set to apply those funds to exploration over the coming weeks and months.
This company also has the potential to leverage the strong recovery in copper and nickel prices and boasts a highly experienced management team to see its projects through.
This ASX stock has gone under the radar somewhat and appears to punching above its weight — there are few companies of this size with established in-ground resources that are worth far in excess of their enterprise value.
This company holds three 100% owned projects: Greenvale (gold, copper-gold, nickel-cobalt, zinc), Nicholson (lead-zinc-silver with copper and cobalt) and Victor (lead-zinc-silver with copper).
Its flagship asset is the Greenvale Project, which contains low CAPEX, potentially high return gold and copper resources in trucking distance to several potential toll treatment facilities.
This project is located within the northern extension of the Ordovician Macquarie Arc, home to the $27 billion capped Newcrest Mining's Cadia Mine as well as North Parkes' porphyry Cu-Au mines.
The Greenvale Ordovcian rocks represent the northern remnants of the predominantly NSW Macquarie Arc but are underexplored.
Today's company holds most of this terrain, which could be a significant factor in its ascent as work at this project unfolds over the next few months.
Within the Greenvale Project are two high grade deposits with near term production potential: the Steam Engine Gold Deposit where a Scoping Study is underway. The second is the Wyandotte Copper Deposit – a high grade copper deposit that, like Steam Engine, is being assessed for its potential for toll treatment and where the company is establishing a maiden high grade copper resource.
Steam Engine is the current focus and is where the drill rig is mobilised and resource drilling has now commenced.
Phase 1 of this resource drilling program follows a recently announced upgraded mineral resource estimate, which currently stands at 1.27 million tonnes at 2.3 g/t gold (approximately 94,000 ounces).
The company will undertake a program of 50 RC and Diamond Core holes for a total of 2,500 metres to enable the completion of a Scoping Study.
With drilling in full swing, let's look deeper into the company and introduce: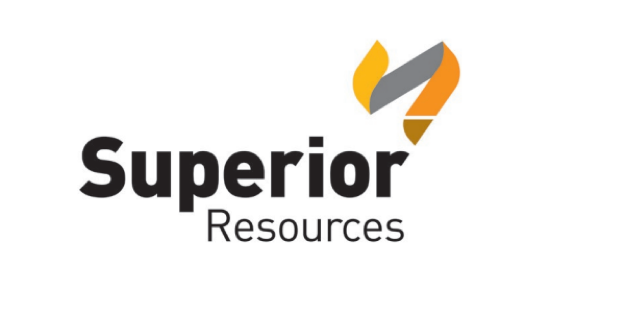 Share Price: $0.006 (as at market open 24 July 2020)
Market Capitalisation: $6.83 million
Cash and equity at hand: $1.23 million
Here's why I like SPQ: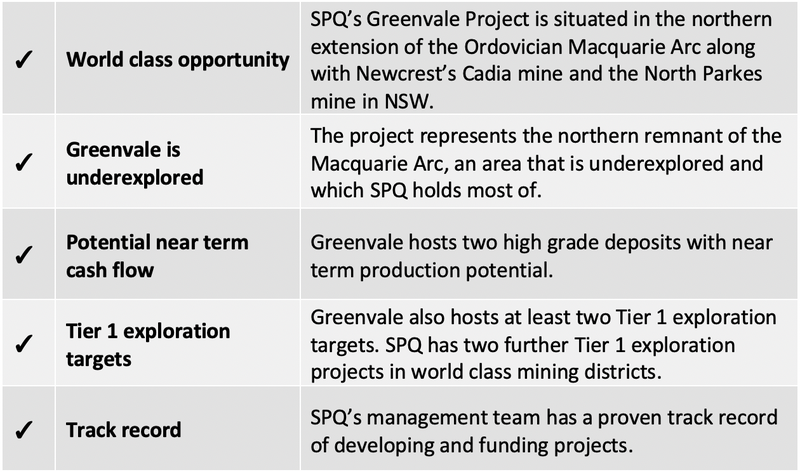 A brief overview
Superior Resources Limited (ASX:SPQ) is one of Australia's most promising emerging diversified mining groups.
SPQ has either defined resources or is exploring for large lead-zinc-silver, copper, gold and nickel-copper-cobalt deposits in northern Queensland.
Its three 100% owned projects include the flagship Greenvale Project, The Nicholson Project and the Victor Project, highlighted on the map below.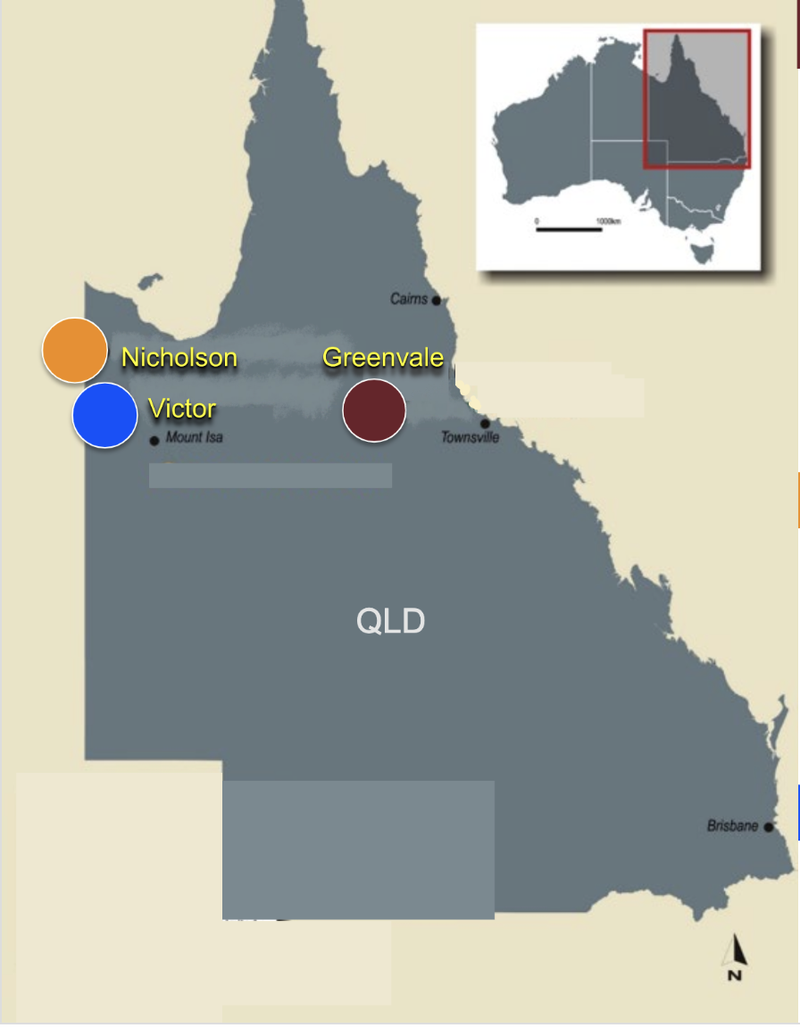 The Greenvale Project spans 891km2 and is prospective for gold, copper-gold, nickel-cobalt and zinc. The four most active prospects include:
Steam Engine where a Scoping Study is underway to investigate near-term gold production potential
Wyandotte where a maiden Copper Mineral Resource estimate is soon due
Bottletree, which is progressing towards a Tier 1 sized copper deposit and
Big Mag, a ~80km2 mag anomaly that is prospective for Ni-Cu-Co and Cu-Au.
Of the other two projects, the Nicholson Project is a lead-zinc-silver (copper, cobalt) project with several drill-ready Tier 1-equivalent targets, with potential to be McArthur River-sized deposits.
The company has already drilled 3,176m in H2 2019 as part of its joint venture with the $10.9 billion capped South32. The project spans 312 km2 and the area also hosts a battery metals project and a uranium project.
Finally, the Victor Project is a lead-zinc (Copper) project with several Tier-1 equivalent targets, spanning 717km2.
Of all these high potential projects, it is the Greenvale Project that is the attention grabber (currently).
The importance of Greenvale
The Greenvale Project covers the majority of the Ordovician sequences that represent the northern remnants of the Macquarie Arc within Queensland. These are best described as the underexplored northern remnant of the Macquarie Arc, a prolific geological feature that hosts the giant long-life low-cost Cadia and Northparkes copper-gold mines in NSW.
The following map illustrates the location and extent of the Macquarie Arc system as it winds its way down from the northern-most areas of Queensland where SPQ's Greenvale projects are situated through to some of New South Wales' largest gold and copper deposits.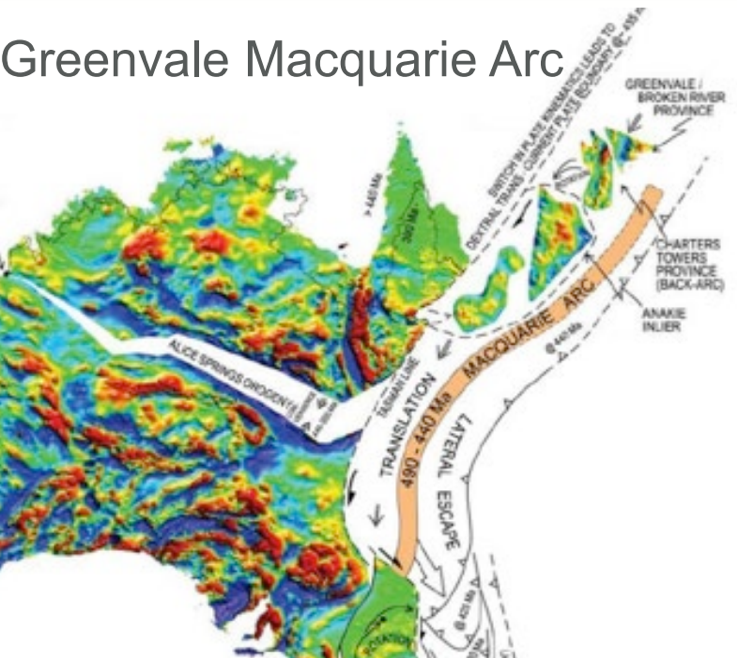 Greenvale is highly prospective for VMS (volcanogenic massive sulphides) and porphyry copper, gold, zinc and silver deposits.
As indicated below, the project is located within an area of notable economic significance, being proximal to the Kidston, Balcooma, Surveyor and Dry River South deposits.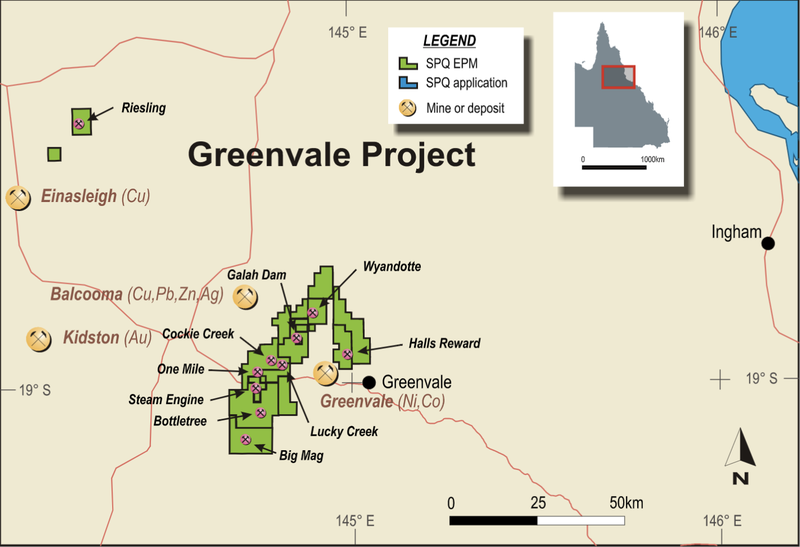 The area contains a number of drill-ready prospects, however the current focus is the Steam Engine Gold Deposit where SPQ delivered an 11% resource upgrade in May, triggering a significant uptick in the company's share price.
Steam Engine has an Indicated and Inferred Mineral Resource Estimate of nearly 1.3 million tonnes at 2.3 g/t for 94,000 ounces of gold.
Highlights of the upgrade include:
Indicated Resources: 370,000 tonnes @ 2.5 g/t gold (approx. 33,000 ounces); and
Inferred Resources: 900,000 tonnes @ 2.2 g/t gold (approx. 64,000 ounces).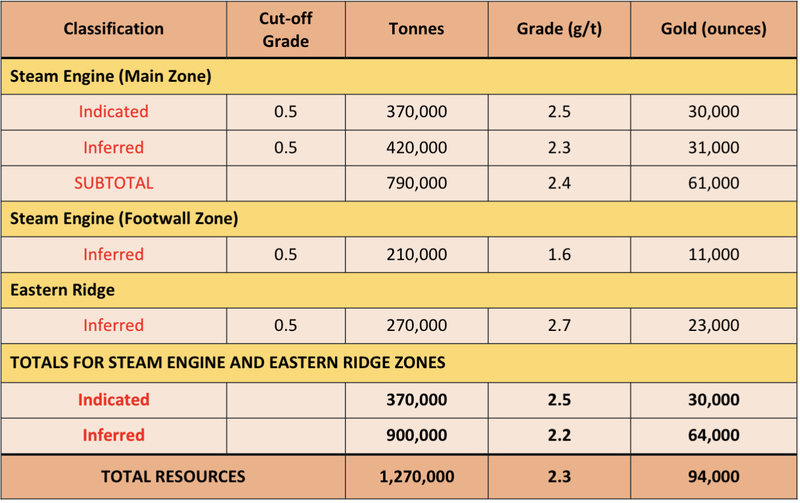 Commenting on the upgraded mineral resource at the time, SPQ Managing Director, Peter Hwang said: "We have long considered Steam Engine to have excellent near-term development potential, given its location and the nature of the resource.
"Now with the current record high Australian dollar gold prices and positive long-term forecasts for the safe haven metal, this strategy for early development has become compelling."
The results led the company to accelerate scoping level studies based on an open pit and toll treatment operation as well as the now commenced drilling program designed to further upgrade and expand the resource.
Hwang said, "Efficiency as to time and cost will be key to realising successful early development of any viable resource at Steam Engine. Consistent with our low overhead principles, we are fortunate to have the ability to defray most of the significant costs of this process through our senior management's specialised technical, legal and financial capabilities."
"Steam Engine shows all indications to be a quality and potentially sizeable gold deposit, demonstrating good grades and continuity developed within extensive shear zone structures. Together with the positive gold market, this is good news for the company within a difficult market environment."
Importantly for SPQ and its shareholders, the upgraded resource estimate only takes into account 30% of the identified strike which is at least 2.5 kilometres based on early stage shallow depth modelling.
Two other gold lode zones aside from the Steam Engine Lode have been identified, being the Eastern Ridge Lode and the Southern Zone of lodes.
The company has illustrated that surface soil geochemistry supports the potential for a considerably larger shallow lode system that is yet to be tested. However, it is most excited by the possibility of an extensive high-grade feeder system developed underneath the known lodes.
"It is not uncommon for these feeder systems to develop thicker and more extensive zones of high-grade gold mineralisation," Hwang said.
"This is particularly so at Steam Engine where the mineralisation is mainly hosted within shear zones, and shear zones are conducive to the development of thicker vein sets.
"Mesothermal vein-type gold deposits account for a large portion of the world's economic gold deposits and they can hold impressive amounts of high-grade ore."
A look at all eight Greenvale prospects
SPQ Chairman Carlos Fernicola told shareholders recently, "Given the forecasts for sustained high gold prices, a near-term development focus at Steam Engine, potentially supplemented by Wyandotte, is an ideal strategy to realise and retain the substantial value potential presented by our Tier-1 projects.
"In addition to Steam Engine and Wyandotte, we are planning a low-cost maiden exploration program at the high-impact Big Mag sulphide nickel-copper target, which at about 80 square kilometres in size represents enormous potential."
Wyandotte and Big Mag are other key deposits. There are eight at Greenvale in all: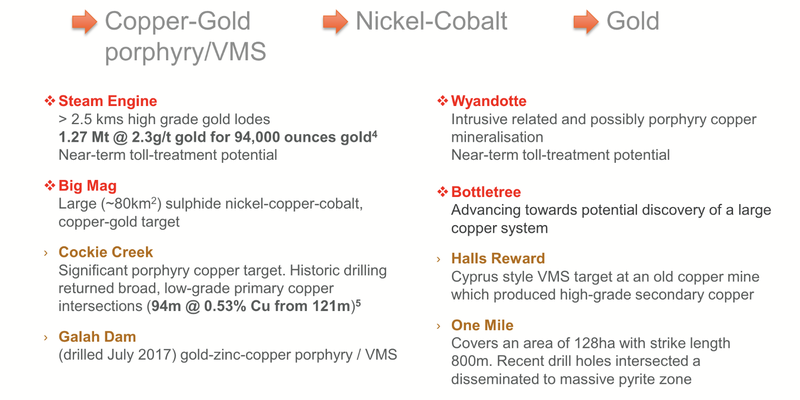 Looking at Big Mag and Bottletree specifically, both are located near the historic Greenvale Nickel Mine, which produced $6.9 billion nickel and cobalt at today's prices.
It has been suggested that Big Mag is considered to be related to the same series of rocks as Greenvale Nickel Mine.
Big Mag is characterised by a regionally large, intense magnetic anomaly of ~80km2. It has high potential for nickel-cobalt, copper-gold mineralisation and looking at the very limited historic exploration done here, it is largely unexplored.
As for Bottletree, the company has identified a large-scale copper deposit here. Diamond drilling targeting chargeability anomaly was completed in August 2018 and found extensive copper, including a high grade copper core:
18.7m @ 1.12% Cu
292m @ 0.22% Cu
The copper grades were found to correlate well with chargeability intensity. This, together with 3D modelling has shown that a large and high grade copper target lies adjacent to the 2018 drilling and at depth.
Moving forward at Greenvale
Based on the findings to date, SPQ is accelerating the Greenvale project to a Scoping Study with a view to determining whether a feasibility level of study is warranted.
The First phase of the now underway drilling program will enable completion of an accelerated Scoping Study.
The program will consist of 50 RC and Diamond Core holes to be drilled for a total of 2,500 metres.
In addition to the resource drilling, the SPQ is also planning additional drilling to further expand the mineral resource and to test for the presence of an underground high-grade ore shoot feeder system.
The additional drilling is planned to be conducted during the current program.
This is a milestone moment for the company, with Hwang commenting, "We are very pleased to be kicking off the next stage of Steam Engine just as the gold price begins to test its record highs. Earlier this year we started evaluating the deposit on the basis of an Aussie $2,000 gold price and fundamentals appeared attractive at the time. On the back of the current outlook for gold, we are doubling our efforts to expedite completion of a Scoping Study and investigate our toll treatment options."
Hwang sees this strategy as the best pathway to near-term cash flow generation, and with the precious metal at all-time highs accelerating the project appears to be the best option, hence commencement of the drill program
Potential revenue from gold sales would assist in further developing Steam Engine as well as expediting exploration initiatives at Tier 1 and certain other projects, with the company particularly identifying Bottletree, Big Mag and the Nicholson Project.
Drilling is expected to continue for at least two months, with plenty of news flow to come during this time.
Nicholson and Victor – highly valued assets
SPQ also has a prominent exploration position within the Carpentaria Zinc Province, which contains an estimated 20% of the world's zinc inventory.
This is one of the world's richest mineral producing regions, and the company is focused on multiple Tier-1 equivalent exploration targets at various sites.
This region includes the company's Nicholson Project and Victor project where recent drilling has resulted in an upgrade of its prospectivity for base metals.
Drilling at Nicholson confirmed the presence of SEDEX-style mineralisation systems contained within a thick (up to 340 metres) Mount Les Siltstone rock unit.
SPQ was encouraged by the overall results of the 2019 drilling program, particularly considering that only three of the initial eight targets have been drilled.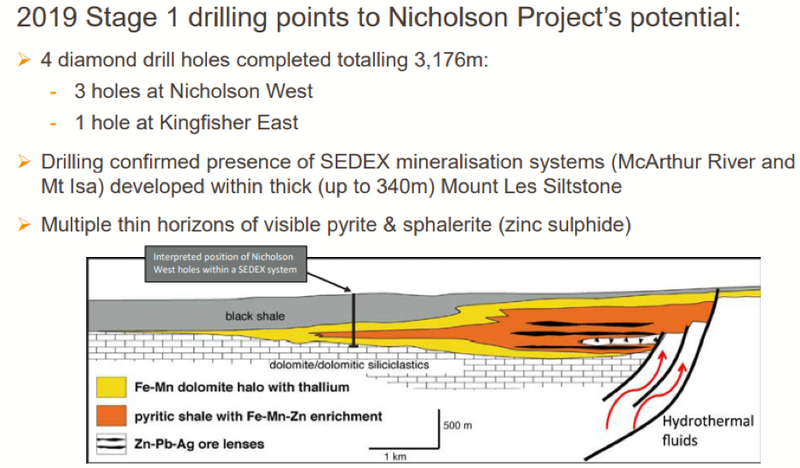 Approximately $2 million has been spent on the Stage 1 drilling program, done as a (now terminated) JV with South32.
Providing further encouragement has been the release of data from the Walford South target, one of the 2019 program targets that is yet to be drilled and which is located only six kilometres away from Aeon Metals' Walford Creek deposit.
With extensive project infrastructure having been established, SPQ will be following up on expressions of interest from third parties regarding potential joint venture arrangements.
Management sees the potential for world-class discoveries similar to the company-making deposits that were a source of riches at McArthur River, Century and Mount Isa.
As the map below shows, these mines lie in relatively close proximity to the Nicholson project with Century equidistant between Nicholson and the group's Victor Project to the south.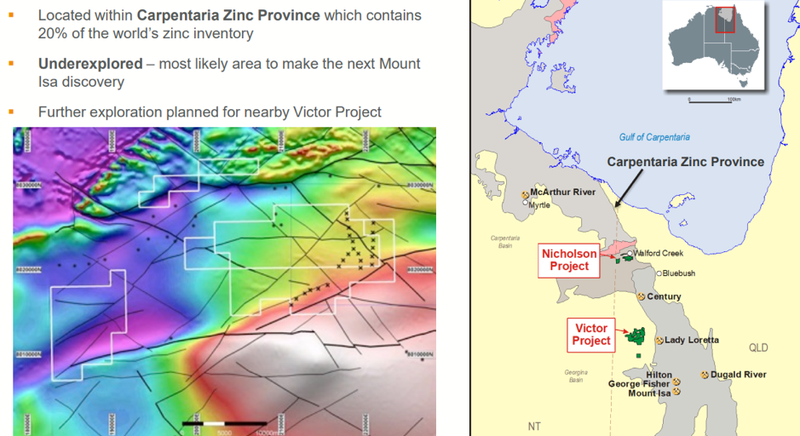 This region has the potential for world-class discoveries similar to McArthur River, Century and Mount Isa lead-zinc-silver deposits.
SPQ is leveraged to high performing commodities
Gold is breaking out. In fact, you could argue it has broken out.
The spot gold price has climbed significantly this year, reaching a record high of US$1,977 per ounce (A$2,719).
Some analysts predict gold will climb even higher, with Bank of America setting its price target to a record US$3,000/oz.
As far as SPQ is concerned, the current positive gold price in line with the work being done at Steam Engine has the potential for an accelerated early mining and toll treatment operation.
Hwang says, "the Mineral Resource is being further evaluated for its potential for toll treatment using a pit optimisation based on aa AU$2,000 gold price. The pit optimisation results will be released as part of a Scoping Study.
The Company has determined that the results of the work completed to date warrant advancing the project to a Scoping Study to determine the potential viability for toll treatment of the resource.
Meanwhile, nickel and copper have also made gains.
Nickel rose on the back of Tesla chief executive Elon Musk's call for more nickel to be mined and produced, saying that the car company could offer a "giant" long term contract for the producer.
Nickel prices surged on the London Metal Exchange after the announcement rising 4.5% to close at US$13,689 per tonne: turnover reached its highest in four months.
Nickel is a key ingredient for batteries used in Tesla electric vehicles (EV), hinting demand will continue to rise.
As for copper, it is rising in tandem with gold, which is highly unusual.
The price of copper surpassed US$6,000 a tonne in June, up about 30% since its low in March.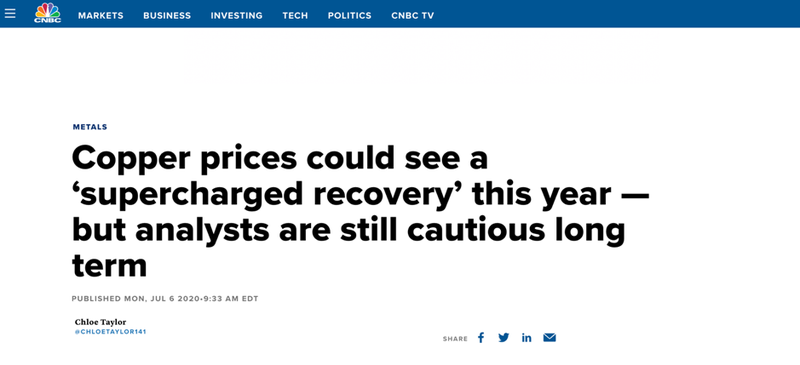 Copper's recovery this year is striking, given its price sank by more than a quarter between January to mid-March as COVID-19 spread through China.
With China's efforts to stimulate the economy, sector level demand for copper has increased. A demand tracker used by Citigroup, shows it rose by 5.5% on the year – its biggest jump in over two years.
The copper price will be influenced by pandemic-based economics. Wood Mackenzie's forecast is upbeat, forecasting strong demand in the second of the year, however with people in lockdown or facing job losses, demand for copper heavy products such as cars and washing machines could be affected.
SPQ's diversification into these metals bodes well for its future.
Yet, it is the continued rise of gold and the immediate work to be done at its Greenvale Project – and Steam Engine in particular – that should see this under the radar $6.8 million capped company attract positive investor attention.
---