Crippled by Coronavirus, Chinese Entities are Flocking to ASX Stock's Remote Work Solution
PUBLISHED: 27-02-2020 10:27 a.m.
Coronavirus has to date infected more than 80,000 people and killed close to 3,000.
The COVID-19 virus has crippled commerce across much of China, hit company earnings, ravaged stock markets and brought many global industries to a standstill.
The World Health Organization (WHO) has stopped short of calling the outbreak a pandemic so far, declaring it can still be beaten. However, it has warned people to prepare for such an outcome.
China's president Xi Jinping warned at the weekend that the coronavirus would have a 'relatively big impact on the economy and society'.
So how exactly will life change for the average Chinese worker?
Given the spread of the coronavirus and whole cities shutting down, keeping humans away from other humans and working remotely could be a rapidly growing industry.
If the global markets are shifting, could there be any ASX companies out there actually leveraged to this global health scare?
Well of course, the answer is yes.
One ASX listed tech company is getting people back to work in China, via an extremely secure remote working solution that not only acts to contain the virus but to also reinvigorate economies, particularly in China.
This $120 million capped ASX junior provides globally patented, secure and efficient cloud network solutions and is making Fortune 500 level security commercially available to organisations of all sizes.
It has received numerous industry awards for its technology, that includes winning the prestigious Global Security Challenge, an event sponsored by the United States Department of Defence.
This company owns 80% of Beijing iLinkAll Science and Technology Co. Ltd – a company approved by Chinese Government Authorities to sell its products in China including iLinkAll's intelligent network security product Virtual Secure Network (VSN), which is used to improve information flow and work process.
Just today, iLinkAll signed a RMB1 million (A$216,990) contract with Pinnacle (Shanghai) to act as an agent for its VSN.
This follows Beijing Municipal Bureau of Economics and Information Technology selecting iLinkAll's VSN remote working product to help it fight the coronavirus and enable people to work and receive safe and secure information.
Beijing will roll out the technology first, with the Chinese government investigating nationwide adoption.
If this occurs, the company's already significant top line will be boosted further. It is already forecasting a 50% rise in revenue forecast from $10.1 million to $15.3 million this calendar year.
At the end of the last quarter its cash balance was up 300% from $2.05 million to $6.2 million and operating cash outflow down 27% to $2.4 million from $3.3 million – demonstrating that this is a company heading in the right direction, especially with deals such as the implementation and supply of its VSN software to the Jiajiang Qingyi Water Plant and Water Supply Construction Project in the Sichuan Province.
This is expected to generate material revenues for iLinkAll. iLinkAll will receive RMB5m (A$1.1m) with 60% of the design and implementation fee paid within two weeks of commencement.
The company strengthened its balance sheet through a recent $4.5 million equity placement at $0.065 per share, plus has a $30.75 million funding arrangement in place.
Given this company is signing deals in quick succession with major Chinese government related organisations on the back of the coronavirus scares, has growing revenue forecast and trimming of operating cash outflows, now might be the right time to get familiar with this stock.
Introducing ...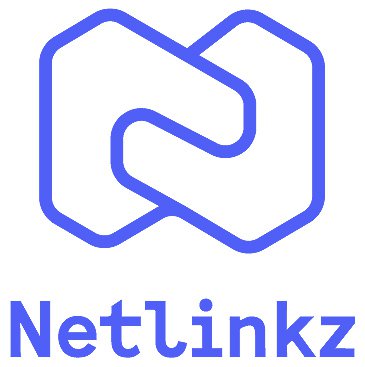 NetLinkz Limited
ASX:NET
Share price: $0.06
Market cap: $120.6M
The Netlinkz investment case:
Netlinkz: a quick overview
Netlinkz (ASX:NET) is the creator of the Virtual Invisible Network (VIN), a globally patented network technology that allows organisations to quickly connect sites, devices and staff over the internet through a unique network solution that is generally invisible.
VIN can be summed up in the following graphic: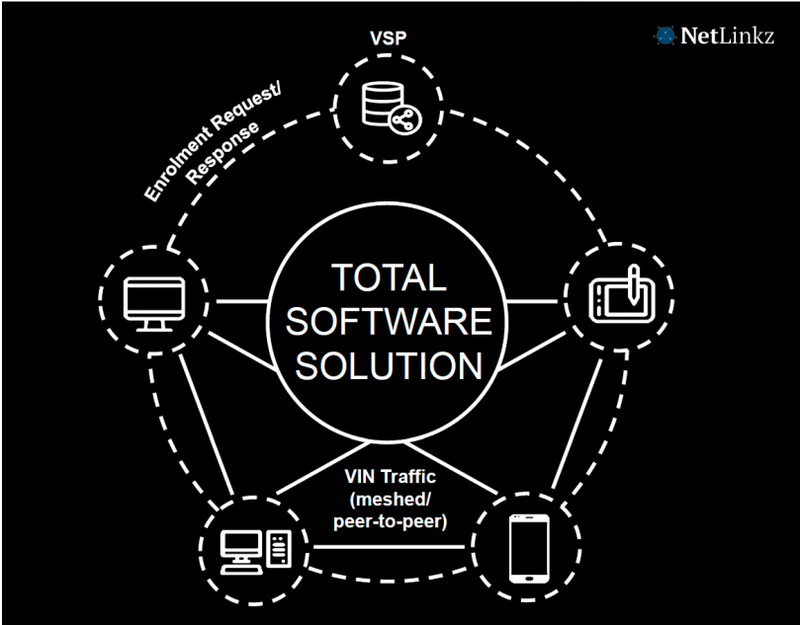 The ultimate goal is secure connection between multiple parties.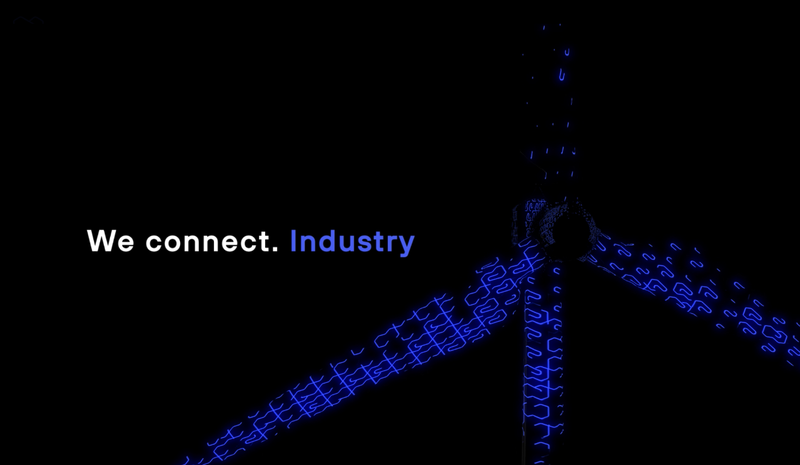 So effective is the technology, that as mentioned above, Netlinkz was a winner of the prestigious Global Security Challenge (GSC), the world's largest international security innovation competition, sponsored by the United States Department of Defence and judged by a leading panel of industry experts from some of the world's largest IT companies (amongst other sectors).
It has also won the Telstra Innovation Challenge in Australia.
NET's strengths lie in the ability of its software to provide a transparent platform to connect and visualise each end point on a meshed network.
It can provide a meshed network of devices across, and on top of, several existing networks.
The software is a fraction of the cost of multi-protocol label switching (MPLS) and has the flexibility and configuration that fixed MPLS cannot provide. It also is cloud enabled for private and public clouds and offers both security of data and high-speed connections.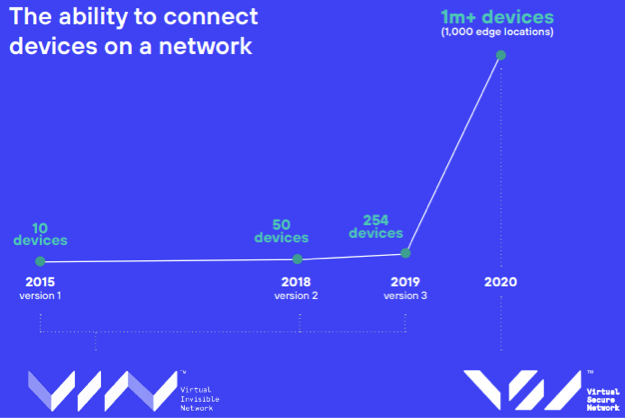 The technology has attracted the attention of several global companies, which last year contributed to its share price surging.
Part of that was due to Blue Tech (a US Federal Government IT solutions provider) announcing it would lab test NET's VIN cyber security software in mid-March last year.
Furthermore, sales of NET's VPN replacement product through reseller JASTVIN continued through 51 cities and Netlinkz has continued to expand its sales channels and volume.
The company has continued its momentum into 2020, but it is the security aspect of its product that has brought the company to the fore recently and attracted the Chinese government to its products.
Netlinkz joins fight against coronavirus
The tech world has come together to help make inroads in the battle against the coronavirus. This may be in helping to prevent the spread of the disease or to assist in finding a cure.
Twitter launched a dedicated search prompt for India with the Ministry of Health and Family Welfare and the World Health Organization (WHO) to ensure that individuals receive immediate authoritative health information from the right sources.

Chinese short-video platform TikTok, has put out a warning in eight Indian languages for its users, asking them to verify facts with trusted sources, including the WHO or resources from the local government while creating, viewing or interacting with novel coronavirus-related content.
Alibaba has partnered with The Global Health Drug Discovery Institute from Beijing, to develop an open-sourced data platform to track coronavirus using AI.
There are other ways to help. One is to put economies back on their feet by re-integrating people back into a work environment, even if they can't physically be at their place of employ.
That's where Netlinkz is so vital.
While China has yet to follow the remote workforce trend, due mostly to the Chinese government's fear of the flow of non-state controlled information to its citizens, the government has had to rethink its position. This is the perfect time for NET to demonstrate its technology and gain market traction.
Recently, the Chinese government was lobbied by Australia's higher education sector to relax its internet restrictions and allow students to study online.

The impact of the coronavirus on the education system is to the tune of $8 billion. Something had to give.
The Chinese government must now do the same for businesses.
As The Guardian reports, "China's president Xi Jinping warned at the weekend that the coronavirus would have a 'relatively big impact on the economy and society'. Adding that it would be short-term and controllable, Xi said the government would step up efforts to cushion the blow. The country has taken a number of measures in recent weeks to prop up its economy."

The government has been examining ways in which the people of China can safely and securely receive information.
In doing so, NetLinkz has come into the picture through its 80% interest in Beijing iLinkAll Technology Co. Ltd.
iLinkAll only majority foreign owned entity to address coronavirus
NetLinkz has a valuable joint venture in Beijing iLinkAll Technology Co. Ltd through its wholly owned subsidiary Netlinkz Technology Hong Kong Ltd and an entity nominated by iSoftStone Information and Technology, with whom Netlinkz has a joint venture. NetLinkz is partnering with the China company to distribute and sell NetLinkz's VIN and VSP software.
iLinkAll is approved by Chinese Government Authorities to sell its products in China and it has a 24/7 China wide customer service centre in Shandong, China.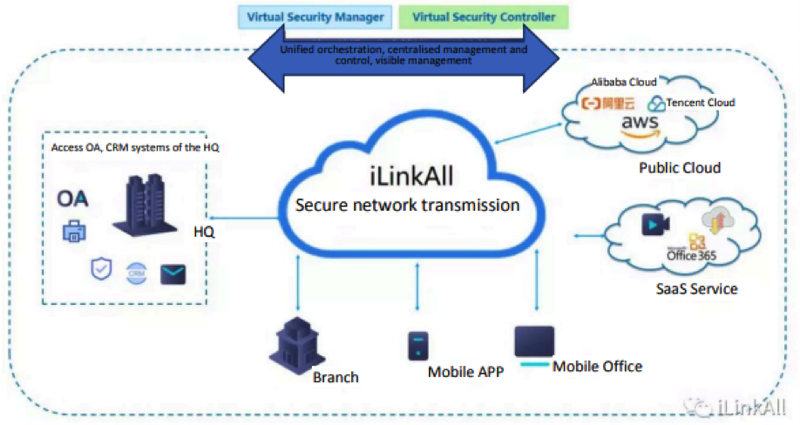 iSoftStone is China's leading software and cloud-based technology developer with a national footprint and over 66,000 employees, more than 1,000 local and global corporate customers including more than 90 Fortune 500 companies.
iSoftStone has existing commercial relationships with Industry Leaders such as Huawei, China Telecom, China Unicom, China Mobile, Tencent, Alibaba and Baidu.
Not only do these joint venture agreements and strong industry relationships provide diversification, but they also offer cross-selling opportunities.
Far from being disadvantaged by the coronavirus, alongside multiple Chinese software companies including JD.com, We Chat, and a number of Alibaba subsidiaries, iLinkAll has been nominated as the only majority foreign owned entity in a consortium of software companies working together to provide innovative solutions to tackle the coronavirus epidemic.
Commenting on the importance of this development, executive chairman James Tsiolis said, "We are proud to be supporting the people of Beijing during an extremely difficult period for the city and the people of China.
"iLinkAll's VSN has been selected as the city's first batch of 'remote and mobile' technology solutions to help small to medium-sized companies and their professional workers remotely log into their office and help those businesses get back to work."
Tsiolis anticipates a similar program will be initiated nationally to assist other impacted cities and communities, with its relationship with the Beijing Government delivering increased visibility of Netlinkz's capabilities to the Chinese business community.
A recently completed $4.5 million equity placement will support an anticipated escalation in sales by iLinkAll of its VSN as a result of the Beijing Government's appointment.
Within the VSN, professionals can collaborate and work together point to point and in a meshed network. With so many people being forced to work from home, the company anticipates its product will be widely used by both businesses and individuals.
The IT enterprises selected cover the areas of re-establishing online working, community outbreak management, telemedicine, remote consultation, co-operation, remote video conferencing, online education, cloud games, video-on-demand, digital entertainment, live video broadcasting, network science, and other public service platforms.
The adoption of iLinkAll's product by the Beijing government isn't the only recent milestone.
Reaching the Pinnacle
iLinkAll will provide development and technical services in conjunction with its software to Pinnacle Shanghai, which provides information technology services in various fields, such as, web technologies, mainframe, sap and as a global outsourcing service supplier.
Pinnacle's customers include Morgan Stanley, Nomura and Aon Insurance. The VSN software will provide a secure remote connectivity control system and an information management system platform.
The one year contract agreement will generate revenues for iLinkAll of RMB 1,000,000 (A$225,000) and will lead to a second phase of revenue generation to provide additional on premise services and licenses according to demand from Pinnacle's clients. The majority of the contract will be paid upfront.
In addition to the Pinnacle contract, ILinkAll has signed a contract with Shanghai M-Soft Information Technology Co. Ltd., to distribute and sell VSN and VSN Lite. This agreement will initially generate revenue of 500,000 RMB (A$110,000) and lead to further enterprise sales of iLinkAll VSN product.
M-Soft's client list includes China Aerospace Science and Industry Co. Ltd., and Abbott Laboratories (Shanghai).
Providing software for water supply and sanitation services program
Just last week, the Beijing iLinkAll Science and Technology company signed an agreement to provide its Virtual Secure Network software to a World Bank sponsored initiative to improve water supply and sanitation services in selected areas of the Deyang Municipality of the Sichuan Province which has a population of 81 million.
The project is a public private partnership initiated by the World Bank.
iLinkAll will provide development and technical services in conjunction with its software to the project.
The VSN software will provide secure remote connectivity of the automation control system and information management system integration platform for the project.
The agreement is expected to generate material revenues for iLinkAll with the already commenced 16-week design and implementation phase of the agreement providing upfront income of $1.1 million.
iLinkAll will also receive ongoing monthly licence fees once the design and implementation phase is completed.
The amount of the monthly licence fees to be paid to iLinkAll for the use of the VSN software will be determined after the initial design and implementation phase has been completed.
The VSN software will continue to be used to securely connect nodes for the ongoing monitoring of water supply and sanitation services.
SSI acquisition to generate annualised profits of $1.5 million
Another important development this year was the completion of the $10.2 million acquisition of Security Software International (SSI) Pacific which is expected to generate annualised profits of $1.5 million.
As well as generating strong earnings, similar to NetLinkz's other businesses it benefits from established relationships in Australia and the increasing demand for security across the tech industry.
Commenting on the acquisition of SSI and its ideal fit with NetLinkz's other businesses, Tsiolis said, "In SSI we have acquired a high quality, value accretive business that provides strategic synergies and global growth opportunities to NetLinkz.
''SSI has outstanding relationships in the Australian market, and we are excited to work closely with SSI to develop an innovative combined enterprise solution that meets the security and monitoring demands of these existing clients and modern businesses around the globe.
"NetLinkz and its VIN software are complementary to the core offering of SSI and we believe that the additional security and innovative technological solutions that VIN provides will be invaluable to SSI's current client base and to any future client as we work toward global expansion of the business.''
NetLinkz makes strong start to 2020
February has been a busy and very successful month for NetLinkz, with the company forging new supply agreements in relation to a World Bank sponsored initiative while also being selected by the Beijing Municipal Bureau of Economic and Information Technology as an approved provider of remote office collaboration solutions.
Leading up to these developments, NetLinkz strengthened its balance sheet through a $4.5 million equity placement.
This will allow the company to pursue a wide range of initiatives in 2020 as the group capitalises on its strong industry position in providing secure and efficient cloud network solutions.
For the moment, one of its main priorities is to help the Beijing government combat the coronavirus by putting people back to work. In doing so, it could help reverse the impending economic downturn that is crippling markets.
If successful, we should see further increased revenues and the potential for Netlinkz's current $120 million market cap to move further north.
---