Can ACU Reach 35 Million Sports Lovers Through New SportsBlog Deal?
PUBLISHED: 25-05-2016 09:23 a.m.
Activistic Limited (ASX:ACU) is a great example of how a company's simple technology can be leveraged to solve complex problems.
Using ACU's micro-payments platform; charities, political and religious organisations are able to receive recurring donations from supporters.
These supporters donate via their mobile phone bill, and the net effect is a reduction in costs required for an organisation to collect donor money.
ACU's current mobile apps on the market, Veterans Call (in the US) and Ralli (in the UK), empower donors via their mobile phones, to give and to keep on giving.
To date, the uptake of donors to these apps has been impressive.
ACU is closing in on 50,000 downloads with a 6% donation rate since launching its proprietary Veteran's Call app in January.
Engagement is also increasing.
Take a look at the customer ratings as seen on the Google Play store: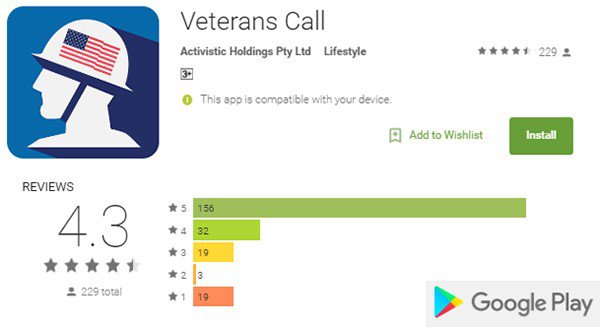 ACU's Veterans Call (VC) app is set to gain more traction with the recent news that ACU has partnered with SportsBlog, to promote ACU's app to the 35 million person community that subscribes to the sports news site.
As well as the 35 million subscribers, there are 40,000 bloggers and more than 14m unique visitors to SportsBlog every month – that's a sizable addressable market, and a market which is more than willing to donate to worthy veterans causes.
ACU is set to work closely with SportsBlog and the Veterans Call charities to create visibility though direct advertising on the SportsBlog properties, leveraging email and social channels to subscribers and also to create a veterans blog that will help give voice to veterans achieving and recovering through the arena of sport.
With this deal taking shape, the next two to three months should be productive for ACU.
Before we go too far, we should reiterate that ACU is a speculative tech stock – and there is no guarantee it will be successful. Always invest with due caution.
We are looking out for ACU to grow downloads and donations through three avenues in the near term:
Executing the SportsBlog Channel and trying to bring as many of their 35 million subscribers over to Veterans Call;
Working with the Charities and their assets and properties to market for Memorial Day and 4 July – two major events in the US calendar;
Potentially cut deals with country artists to advocate through their social followings to sign up to Veterans Call.
Syncing up with:

Activistic

Activistic (ASX:ACU) is taking out the middle-man by cutting to the chase and allowing donors to donate to a cause directly from their phone bill. Not only does this reinforce trust between donors and charities, it also speeds up the donation process significantly.
There are other benefits too such as a sudden absence of fraud, less red tape and a larger addressable market for ACU...
Currently, only 6.4% of all donations are conducted online, but this is quickly changing.
Online is the fastest growing donation method and is likely to surpass other methods in nominal terms at some point over the next 5-10 years.

Moreover, mobile-phone-powered giving avoids a litany of regulatory red-tape connected with payments and financial information. By taking debit/credit cards out of the equation, ACU is able to reach more donors with more of them likely to make a donation as a result. Even adolescents under the age of 18 can use ACU's platform to make donations.
ACU is without competition in this intriguing market niche worth US$260BN per year in the US alone. Globally, charitable giving is estimated to be worth US$1TN per year and ACU has a plan to attack the US first, before taking its disruptive idea global.
It is still an early stage play however, so apply caution to any investment decision with regard to this stock.
We've been talking about ACU on a regular basis since publishing our first article ASX Fintech Company Launches into $1 Trillion Global Industry in June 2015 including all its partners, business units and future operational plans.
Our track record
Whilst ACU's share price is somewhat languishing right now, it may not take much to get it going in the right direction – a major deal cut with a charity or marketing channel could see its share price head the right way.
Just take a look at the recent performance of TV2U International (ASX:TV2) – we have been following this stock since it was an ASX shell – since our last article on TV2 , its share price has been up over 200% on the back of signing a major agreement:

The past performance of this product is not and should not be taken as an indication of future performance. Caution should be exercised in assessing past performance. This product, like all other financial products, is subject to market forces and unpredictable events that may adversely affect future performance.
We are hoping for something similar with ACU...
If you're after a refresher on how it all works, take a look at this quick video:
Veterans Call – a good sport
In North America, ACU has Veteran's Call while across the pond in the UK, it has Ralli.
Over time, ACU expects to add further apps that directly address specific causes but for the time being it's focusing on veterans and celebrities.
Before we get to how ACU plans to leverage celebrity appeal, here's the most recent addition to ACU's marketing arsenal that already includes a powerhouse fundraiser in the form of the AUSA – one of the largest veterans' charities in America raising $60MN annually.

That's right, when it comes to helping veterans in America, appealing to sports fans works pretty well given the close alignment between sport and the military.
ACU has partnered with SportsBlog to promote its Veteran's Call app to over 35 million people including 40,000 bloggers and 14 million unique visitors to SportsBlog's range of digital assets including apps, websites and social media channels.
A legally binding Letter of Intent has been signed by both parties, which allows ACU to promote Veterans Call to the SportsBlog audience. The intention is that formal agreements will be entered into over the next 45 days. Before that though, both parties are already teaming up on marketing and partnership activities.
The partnership could deliver a major breakthrough for ACU in the US because SportsBlog will conduct direct advertising to millions of its subscribers and visitors as well as launching a dedicated veteran's area on its site.
We expect ACU to be showcased front-and-centre and given US sports fans' affinity for patriotism and homeland security; this could be a master stroke marketing move by ACU.
To give you an idea just how mad Americans are for sport and their armed forces, take a look at this photo from a routine American football game: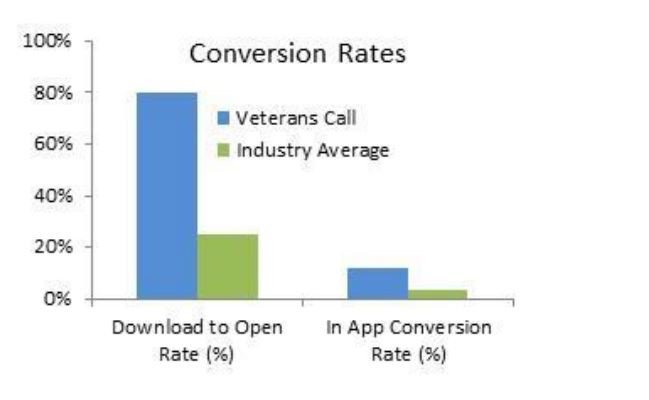 Not only do Americans sing their national anthem at the start of every sports event regardless of the sport, they also stage joint events and with pageantry understandably turned up to overdrive.
It's the American way after all.
Can you imagine millions of US patriots having an easy donate button flash up on their mobile phones during a sports event? Or on their computers while reading a sports blog? Or on TV while watching their favourite sports team?
ACU's reach at this stage is indeterminate despite the addressable market, so apply caution to your investment decision and seek professional advice with regard to this stock.
Using sports for greater access to veteran's donors, ACU is taking the right steps to getting its cutting-edge platform more publicity and traction with donors
One of the really attractive features that made the SportsBlog venture come about in the first place was ACU's technology.
ACU's technology will allow donors to make donations far more easily, quickly and most importantly, provide a portal for real-time updates and greater interactivity between donors and charity partners.
That's exactly what donors want, and it's also exactly what charities want to offer donors.
Survey says
Take a look at this 2015 survey conducted by the Australian Charities and Not-for-profits Commission (ACNC).
When asked what influences their decision to trust a charity not, here's what respondents said:

The most important factor for donors as proven by statistical surveying is funds going to those in need, the charity supporting a worthy cause and that the charity provides information about how funds are used.
Everything else such as the charities' reputations, nationality or personal affinity comes second.
That's quite synchronistic for ACU, because its entire business model is built on increasing the portion of funds going to charities and improving donor interactivity through transparency, post-donation information and regular updates about the worthy cause being supported.
Building momentum for a new dawn in charitable giving
ACU is quite literally ushering in a new dawn in charitable giving and its deal with SportsBlog will push it further into a new day and new life.
It is simply preposterous to think that charities will still be using collection tins, notes, coins and cheques when collecting donations in 5-10 years' time.
Do remember that the world is slowly but surely moving into a cashless society on the back of digital currencies, breathtaking technological advances and greater online participation. We are far more likely to see an end of cash as we know it at some stage in our generation.
But what will replace notes and coins?
Digital versions of money that are instantly transferable between online accounts.
What this means for charities is that they will have to do what they've always done (raise funds), but adapt to the changing market conditions which means more online and Internet exposure.
It will not be donors adapting to what charities want but the other way around. Charities will have to embrace online payments to maintain fundraising efforts, so when offered the chance to avoid wasting 30%-40% on payment fees, they're likely to take it.
Even more important than saving donors and charities money, ACU delivers information to donors about their chosen charities which is the most important factor behind repeat donations and long-term donor relationships.
We think ACU is a great example of a company utilising technology to solve an age-old problem.
What ACU needs now is more publicity, greater awareness of the currently wasteful state of charitable giving and for donors to start doing some basic arithmetic
---