ASX MedTech Junior Displays Promise for Pancreatic Cancer Patients
PUBLISHED: 30-01-2020 11:39 a.m.
Pancreatic cancer survival rates have barely changed in 40 years — and they're not good.
This form of cancer has the highest mortality rate of all major cancers; only one in every 20 pancreatic cancer patients survive five years from diagnosis, while the longer-term survival rate is just 1%. The median survival time is a short eight months from diagnosis.
This low survival rate is largely due to most patients being diagnosed quite late in the disease's progression — there are often no symptoms in the early stages and if present, they are hard to detect.
Unfortunately, 277,000 new cases of this deadly disease are diagnosed annually worldwide, placing pancreatic cancer on track to be the second leading cause of cancer related deaths by 2030 in Western countries.
This presents a significant and growing unmet patient need for effective treatment options.
Surgery is an option — if caught early enough — and lifts that five-year survival rate from ~5% to more than 20%. Yet, even a 20% survival rate remains startling low when compared to other major cancers including breast, bowel, prostate, and melanoma patients who are more likely to survive the cancer than not.
While surgery is the most effective available treatment for pancreatic cancer, it is an option only available to 15-20% of all diagnosed patients. For patients with late stages of the disease, no treatment has had a real impact so far.
Today's ASX MedTech junior has developed a first-in-class, truly innovative device that treats unresectable (tumours that can't be surgically removed) locally advanced pancreatic cancer.
The device implants a pre-determined dose of beta radiation directly into cancerous tumours with a needle to irradiate them. Studies have shown that the device, used in combination with chemotherapy, has downstaged one-quarter of patients that were previously told they had unresectable cancer to go on and have potentially curative surgery.
Surgical resection of pancreatic cancer, particularly in patients previously determined to be unresectable, profoundly improves patients' prognoses from a five-year survival rate of 5% to greater than 20%.
Additionally, for those patients who were not downstaged to surgery, the device has been shown to extend progression-free survival (PFS) time.
As treatment options remain limited for patients with the disease, this company's goal of delivering targeted and effective therapy are incredibly important. It has a significant opportunity to become standard of care, in combination with chemotherapy.
The next major milestone for both investors and the company's commercialisation plans is obtaining CE Mark approval for the device, which allows for the device to be sold in Europe, including the UK.
We expect the company to be awarded a CE Mark any day now with a broad indication for treatment of inoperable pancreatic cancer. It is then expected to commence a roll out to hospitals in Europe. Regulatory filing in other key markets in the Asia-Pacific will follow as these markets recognise the CE Mark as part of their local approval process.
The CE Mark approval is imminent and this could very well prove to be a major catalyst for investors. From there, with manufacturing capacity already in place, the device is poised for commercialisation and providing wide-reaching lifesaving patient treatment.
Introducing,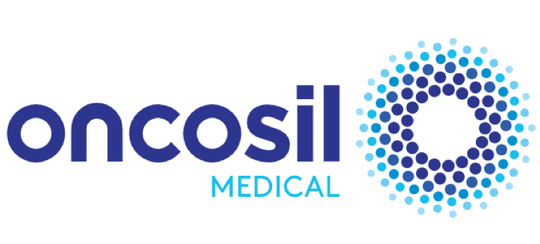 OncoSil Medical Ltd
ASX:OSL
Share Price: $0.175
Market Cap: $110.4 million
Cash: $6.8 million as at 31 December 2019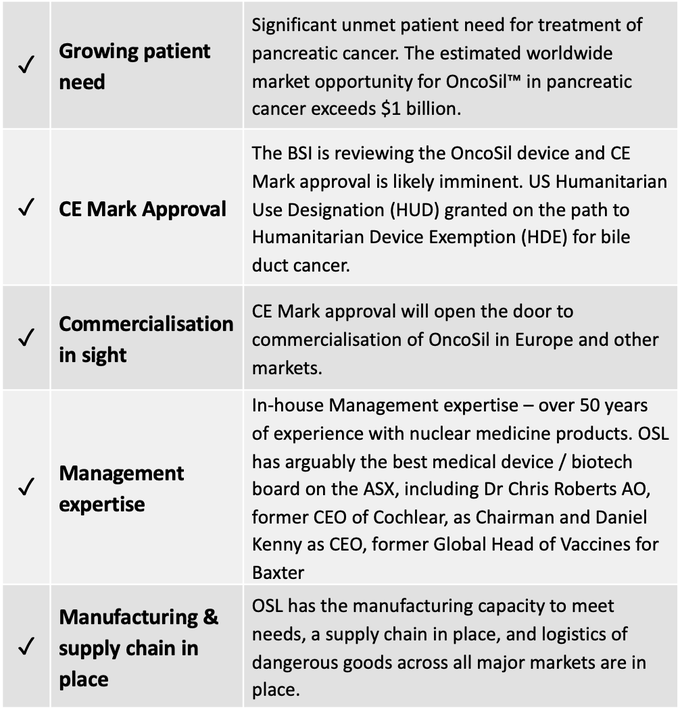 Unmet need in pancreatic cancer treatment
The pancreas — an organ that secretes enzymes that aid digestion and hormones that regulate the metabolism of sugars — is made up of the head, body, and tail.
Pancreatic cancer occurs when abnormal cells in the pancreas grow out of control and symptoms vary according to the tumour type and location. Cancers most commonly arise from the head and from there spread to nearby organs.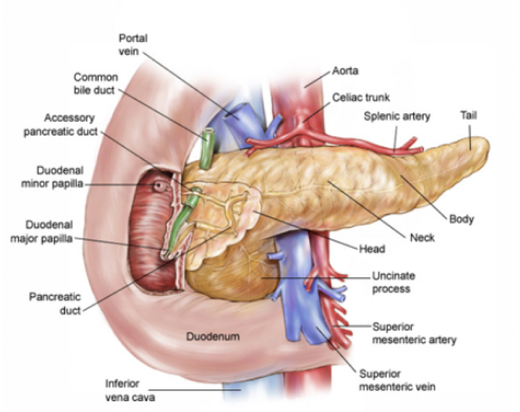 American Society of Clinical Oncology
Pancreatic cancer symptoms include severe pain, nausea and jaundice, but unfortunately symptoms are often difficult to detect in the early stages of the disease, meaning tumours can grow over time without detection.
There is significant unmet patient need in the treatment of pancreatic cancer which has the fourth highest cause of cancer death and the highest mortality rate of all major cancers. The EU sees an average of 79,000 new cases of pancreatic cancer each year, while there are 42,000 in the US, and 3,350 in Australia.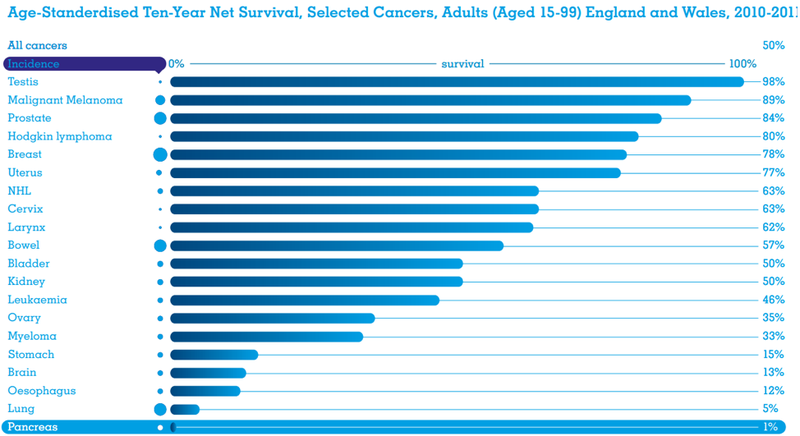 OncosilTM is transforming the prognosis for patients
The current most effective way to treat pancreatic cancer is an operation to remove the pancreatic tumour, an option available to approximately one in five patients at diagnosis. Other current standards of care, such as chemotherapy, often have limited effectiveness and can be toxic to patients.
Medical device company, OncoSil Medical (ASX:OSL) is seeking to advance radiation for cancer patients with a prime focus on developing solutions to treat pancreatic cancer and liver cancer. Its lead product, OncoSilTM is a targeted radioactive isotope (Phosphorus-32), that's implanted directly into a patient's pancreatic tumours via an endoscopic ultrasound.
OncoSilTM is a single-use brachytherapy device that implants a pre-determined dose of beta radiation directly into cancerous tissue. The beta particles emitted by OncoSilTM travel a short distance in the tissue causing damage to cancer cell DNA, which renders them incapable of further cell division and proliferation.
The device is used for the treatment of pancreatic cancer and is intended for locally advanced, unresectable pancreatic cancer (LAPC), in other words, patients who are unable to undergo surgery to remove their tumours due to either tumour size, or the location in the pancreas.
Treatment with OncoSilTM is intended to deliver more concentrated and localised beta radiation compared to external beam radiation.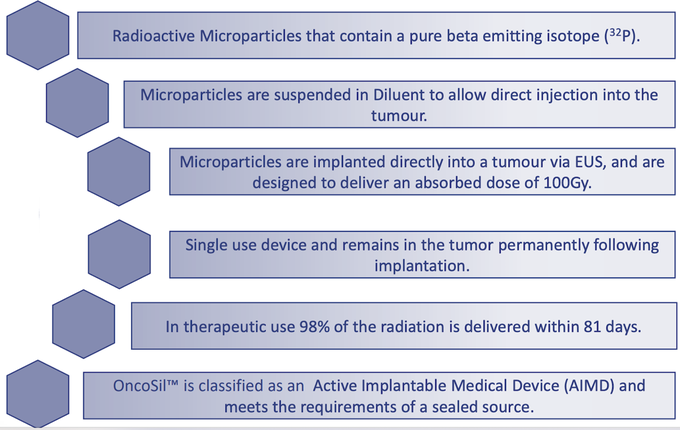 Device overview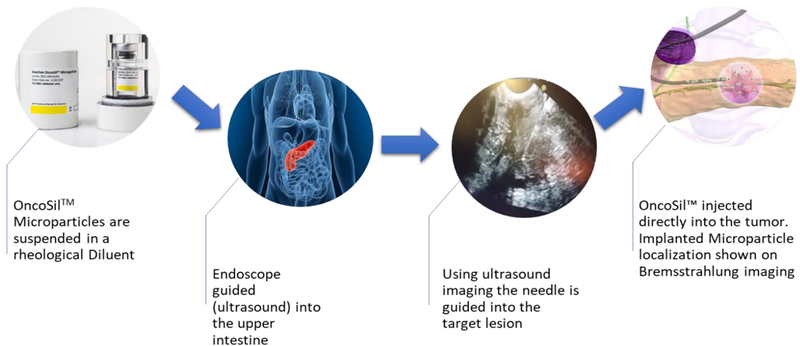 Device Procedure
Associate Professor Dylan Bartholomeusz, Head of Nuclear Medicine at The Royal Adelaide Hospital, a leading pancreatic cancer centre explained: "In a clinical sense, pancreatic cancer has a very poor outcome. Usually, patients are diagnosed quite late, so the survival rate is low. When it comes to patients with late stages of the disease, no treatment has had a real impact so far.
"Treatments often have poor outcomes, but targeted treatments, such as OncoSilTM which 'get in there' and treat the primary cancer, are showing promise."
The following video provides a good overview of the company and its device, (just keep in mind that it is from October 2018):
OncoSil has now conducted four clinical studies with encouraging results on tolerability, safety and efficacy.
PanCO Study
The PanCO study is an ongoing international multi-institutional, single arm study conducted across 12 sites in Australia, UK and Belgium to further investigate the safety, efficacy, feasibility and performance of the OncoSilTM device when implanted intratumorally in patients with non-resectable locally advanced pancreatic cancer (LAPC).
Unresectable LAPC is a malignancy with poor prognosis and is remains an area of significant unmet medical need, accounting for 30-40% of all pancreatic cancer presentations.
In the study, OncoSilTM treatment was associated with a reduction in size as well as a reduction in the fibrosis of tumours along blood vessels – this finding is not seen in study participants undergoing chemo-only regimens.
Performance (efficacy) data for the 42 study participants implanted with the OncoSilTM device demonstrated clinically relevant benefits for patients with unresectable LAPC.
Promising survival estimates were demonstrated with median overall survival of 16 months compared to the median overall survival estimates of patients with LAPC of only 9-11 months — an unequivocal direct clinical benefit for patients.
Furthermore, nearly one-in-four PanCO patients were "converted" from an initially inoperable to surgically resectable state when the OncoSilTM device is used in combination with optimum chemotherapy. Of the 42 patients, 10 patients underwent surgical resection — a 23.8% resection rate.
The OncoSilTM device was shown to provide a valuable treatment option in an area of high unmet medical need with an acceptable safety and tolerability profile. There was no convincing evidence of significant safety concerns or unexpected/serious toxicities associated with the OncoSilTM device and/or implantation procedure over a prolonged study timeframe.
The study found the clinically relevant benefits of OncoSilTM combined with systemic chemotherapy in appropriate patients with unresectable LAPC more than outweigh the identified risks and represent a favourable risk-benefit profile.
PanCO Tumour Volumetric Assessment: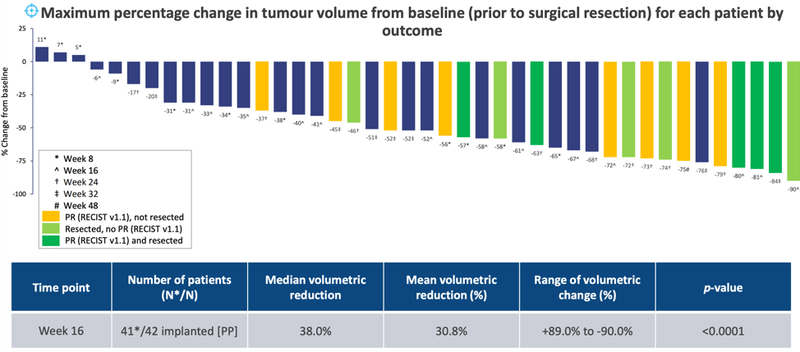 Commercialisation ahead: CE Mark imminent
OncoSil has been working towards gaining CE Mark approval from the European Notified Body, the British Standard Institute's (BSI) to commercially sell OncoSilTM in Europe.
Early in 2019 BSI provided feedback from its Clinical Oversight Committee (COC) that insufficient clinical benefit had been demonstrated in the company's data package.
The share price took a hit in response, closing down 66% on the day of the announcement, as highlighted below. But as you can also see, confidence that CE Mark approval will soon be received led to a recovery in the stock.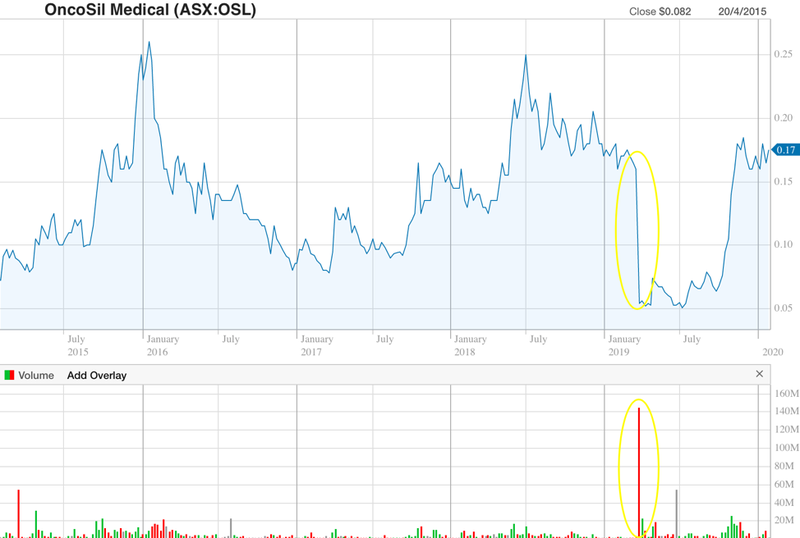 This came as OncoSil submitted a formal response to BSI that included a Clinical Evaluation Report (CER) and further information and overall survival data that was presented to the American Society of Clinical Oncology (ASCO).
The company has since received a positive CE Mark a Status Report from BSI explaining that concerns with the external clinical and bio-statistical expert reports had been resolved, after which CEO Daniel Kenny confirmed, "OncoSil has closed out concerns raised earlier this year by BSI".
OncoSil has also provided BSI with its Post Market Surveillance (PMS) Plan and Post Market Clinical Follow-up (PMCF) program. These post approval plans outline the compliance regimen associated with the European roll out of the OncoSilTM device in the treatment of unresectable locally advanced pancreatic cancer.
On 1 November, the company received a positive CE Mark status report from the BSI, sending the stock up as much as 57% on the news, to hit a high of 16.5c — their highest point since the BSI raised its concerns back in March 2019.
Once the approval is officially over the line and commercialisation of the device comes into focus, I expect the stock to break out of the ~$0.05-$0.25 range that it has been trading in since the company first targeted CE Mark Approval back in 2015.
OncoSil's optimistic view was backed by a Bell Potter note to clients, confirming "CE Mark Now Virtually Certain".
The broker raised its valuation to $0.30 per share — a 87.5% premium to the price at the time, and up from its earlier target price of $0.20, while retaining its Buy (Speculative) recommendation.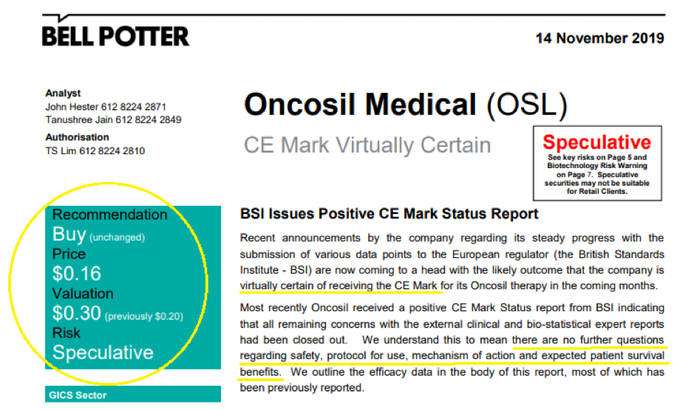 This report was released on 14 November, prior to the company's 19 November update on its progress towards obtaining CE Mark and after "a positive and constructive meeting with BSI management" on its PMS PMCF program.
Global market opportunities
The suspected imminent CE Mark approval will not only allows for commercialisation in Europe but will permit the company to file its device in all geographies that recognise CE Mark. Currently, this includes all markets with the exception of the US, China, and Japan, for which other studies are required.
While awaiting the outcome of its CE Mark application and commercialisation in Europe, OncoSil has also been exploring various US regulatory pathways for its device and is working towards approval from the US Food & Drug Administration (FDA) to obtain a Humanitarian Device Exemption (HDE). The HDE program creates an alternative pathway for obtaining market approval for medical devices that may help patients with rare diseases or conditions.
As announced in October 2019, the company has applied for and has been granted approval by the FDA for a Humanitarian Use Designation (HUD) for both intrahepatic (ICC) and distal cholangiocarcinoma (dCCA). This lays the groundwork for its HDE application. OncoSil expects to submit the HDE application, which will include data from its most recent study results, in the coming months.
Below are annual incidences of pancreatic and liver cancer across various potential markets. Clearly, this is a huge addressable market that is only growing given there has been little improvement in survival outcomes for decades, combined with increased disease incidence.
In the US alone, the market for pancreatic cancer treatment is worth more than US$2 billion.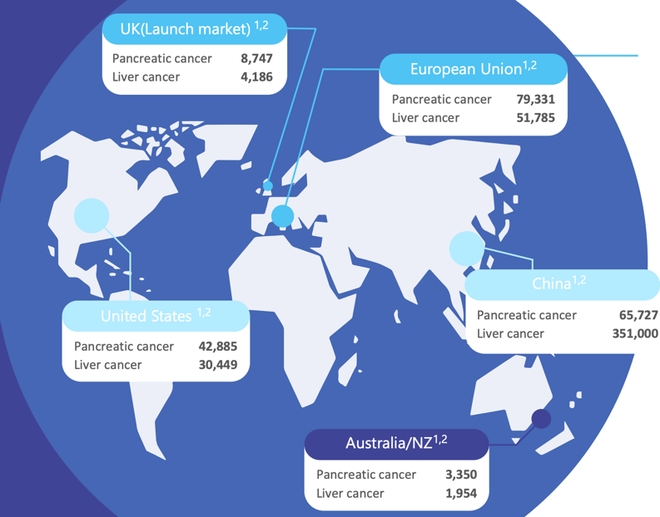 Highly experienced management team
Backing OncoSil's ambitions is arguably the best medical device-biotech board on the ASX with both strong clinical and commercial pedigree.
Chairman Dr Chris Roberts AO was the president/CEO of Cochlear Limited (ASX: COH) from February 2004 to August 2015. Dr Roberts was also previously chairman of Sirtex Medical Ltd (ASX: SRX), from March 2000 to December 2002, and was executive vice-president of global sleep disorder treatment company ResMed Inc (NYSE: RMD, ASX: RMD) from 1992 to 2004.
In the CEO role is Daniel Kenny, who joined OncoSil in January 2015, bringing over 30 years' experience in the Global Pharmaceutical and Medical Device industry. Over his career, Kenny has developed and successfully driven multi-billion dollar franchises with industry leaders such as Roche, Allergan and Baxter working in Australia, EMEA and the US. His extensive experience extends to US FDA & European product & device registration, global clinical trial operations, and strategic marketing and business development.
Dr Roger Aston, a non-executive director at OncoSil, is a scientist and seasoned biotechnology entrepreneur. He has been closely involved in start-up companies and major pharmaceutical companies.
He is also the current chairman of Immuron Limited (ASX: IMC), ResApp Health Limited (ASX: RAP), PharmAust Ltd (ASX: PAA) and its subsidiary Pitney Pharmaceuticals Pty Ltd.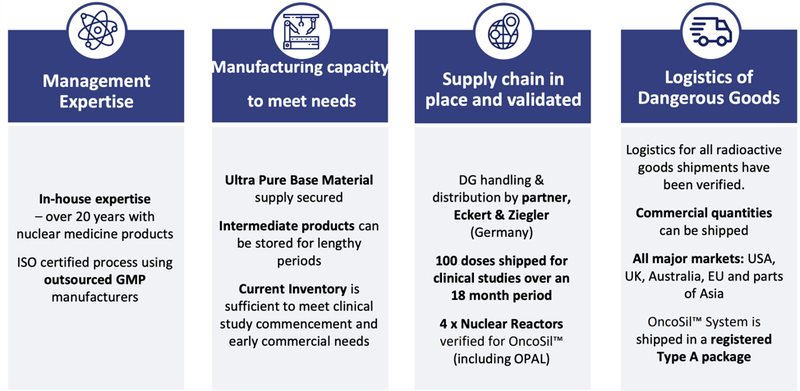 Manufacturing & Supply Chain
A Final Word
The company's innovative technology OncoSilTM is transforming the prognosis for patients with pancreatic cancer.
Treatment with the OncoSilTM device has been demonstrated to downstage 24% of patients with what would have previously been inoperable cancer to give them potentially lifesaving surgery – the only currently known lifesaving treatment. Keep in mind that, surgical resection of pancreatic cancer, particularly in patients previously determined to be unresectable, profoundly improves patients' prognosis from a five-year survival rate of 5% to greater than 20%.
Not only that, but OncoSilTM is also extending the life of patients with unresectable pancreatic cancer that can't be downstaged.
OncoSilTM has a huge and growing worldwide addressable market — the opportunity for the device in the treatment of pancreatic cancer exceeds $1 billion. A major step towards commercialising this opportunity — and more importantly, delivering potentially life-saving treatment to pancreatic cancer patients — is now just around the corner with CE Mark approval imminent.
This CE Mark status, while overwhelmingly expected to be approved — not only by the company's highly experienced management team, but also by independent analysts — will be a major milestone for the company and its shareholders.
The company is already busy securing strategic partnerships and licensing agreements in key geographies as it looks ahead to delivering life-saving and life-extending treatment to patients worldwide.
While treatment options remain limited for patients with pancreatic cancer, OncoSil Medical has a significant opportunity, in combination with chemotherapy, to become standard of care.
---