ASX Junior's Flagship Immunomodulatory Drug Could Turn the Tide in Duchenne Muscular Dystrophy Treatment
PUBLISHED: 16-10-2018 10:05 a.m.
Duchenne muscular dystrophy (DMD) is a rare, yet fatal, muscular genetic condition that affects one in 3600 to 6000 male births worldwide.
With first symptoms emerging at between three and six years of age, the condition causes muscle weakness and atrophy, starting with the pelvic area and shoulder muscles and progresses to affect the trunk, forearms and other muscles. Few patients survive past 30, eventually succumbing to breathing or heart problems.
Only recently have therapies emerged to help males with DMD survive beyond their teen years and with advances in cardiac and respiratory care, survival into the early 30s is becoming more common.
Yet treatment options for the disease remain limited and, sadly, there is no cure.
Today's ASX biotech junior has its hands on an antisense drug candidate developed by world leaders in antisense drug development and commercialisation, the US$6 billion-capped Ionis Pharmaceuticals (NASDAQ:IONS) that it hopes could have a significant impact on the future treatment of this devastating disease.
This Australian company is one of only a few companies working in the DMD space with one drug dedicated to the largely unmet need in treating the inflammation associated with the disease. Also working in the company's favour, is the growing activity in this arena which looks to be attracting major investment. According to GlobalData, in 2017 $2.2 billion was issued in capital raising deals involving DMD pipeline drugs.
GlobalData's expectation is that high value capital raisings to support DMD drug development will continue into 2019, with big strategic alliance deals to follow for DMD drugs. This augurs well for today's company as it keeps one eye on attracting interest from big pharma in its own DMD drug.
So why is antisense technology such a hot area?
Antisense technologies prevent the production of proteins involved in disease processes — in order to provide a therapeutic benefit. Proteins are fundamental components of all living cells and include molecules such as enzymes, hormones and antibodies, necessary for carrying out the body's functions. The overproduction or abnormal production of proteins is associated with many diseases. Antisense prevents undesirable protein production in disease.
The drug candidate being studied by today's company is actually targeted at a protein believed to be involved in causing the muscle inflammation that exacerbates the muscle fibre damage in DMD patients.
This ASX junior, capped at just $7 million, is already in a Phase II clinical trial with its flagship drug to treat DMD, and in August it reported that the first patient in the trial had been dosed.
The six-month dosing trial of immunomodulatory therapy, ATL1102, in nine non-ambulant DMD patients aged 10-18 years is now underway at the neuromuscular centre of the Royal Children's Hospital in Melbourne — the largest clinic in the southern hemisphere treating children with DMD.
The ATL1102 drug inhibits the expression of protein 'CD49d' on certain immune cells (T cells). DMD is more severe and progresses more rapidly in patients who have more T cells with high levels of CD49d.
ATL1102 is being developed to treat the inflammation that exacerbates tissue damage and causes fibrosis in DMD patients — a condition that, at the moment, can only be managed with corticosteroids.
The problem is that corticosteroids come with a host of serious side effects, particularly when used for long periods as is required for DMD patients. They are also known to be less effective in patients with high-CD49d T cells.
With a drug that could prove to be a viable alternative to corticosteroid treatment, it comes as little surprise that the company attracted the attention of major institutional investors.
Two fund managers, $2.9 billion-capped Platinum Asset Management (ASX:PTM) and Australian Ethical Investment (ASX:AEF), were the major investors in a $5 million raising with the capital to be put towards the company's now underway Phase II DMD clinical trial. Both groups bring a lot of credibility to the table... and no doubt conducted robust due diligence before deciding to back this micro-cap biotech.
Importantly, as DMD is considered an 'orphan disease' the company expects to benefit from the development and IP incentives provided to companies to develop orphan drugs, including the offset of drug development costs and help with getting the drug out to market once it's passed muster...
Several countries have public policy around orphan drugs to ensure that treatments are developed even though a condition is rare and doesn't have the market of more common ailments such as diabetes, asthma or cancers. Orphan drug status is assigned to treatments that might otherwise lack sufficient financial incentives or lack the commercial market needed to attract R&D investment.
With plenty to delve into, it's time to formally introduce Next Biotech readers to:

Antisense Therapeutics
ASX:ANP
ASX biopharmaceutical company, Antisense Therapeutics (ASX:ANP), is seeking to develop new and highly effective therapeutics for disease where there is a significant unmet medical need.
The company has two drug candidates, ATL1102 and ATL1103, which it has been studying in clinical trials for use in three diseases: Duchenne Muscular Dystrophy (DMD), Multiple Sclerosis (MS) (ATL1102) and acromegaly (ATL1103).
While it's made serious headway in using ATL1102 in MS and ATL1103 in acromegaly, ANPs main clinical development focus right now is candidate ATL1102's potential to become a therapy for DMD.
DMD is a rare genetic disorder caused by mutations that disrupt the normal function of a gene on the X chromosome. It is a devastating genetic muscular disease caused by loss of the protein dystrophin with progressive muscle wasting and associated muscle injury leading to inflammation and fibrosis, tragically resulting in a 100% mortality rate.
The illustration below highlights the devastation it can cause: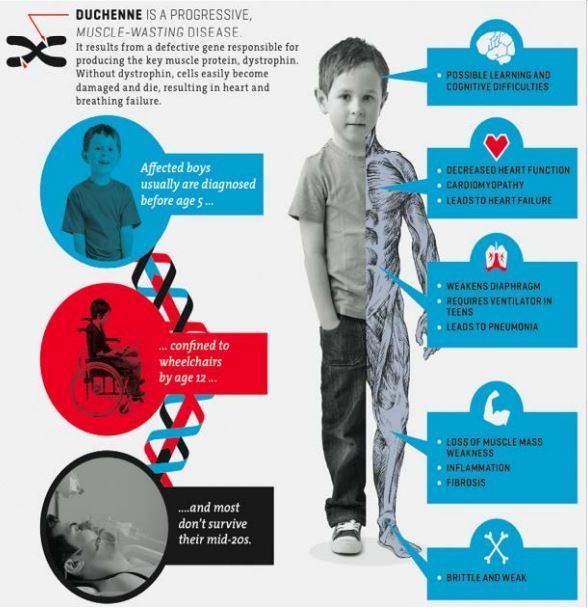 Unfortunately, despite there being no known cure, the disease doesn't get the same attention as more widely recognised diseases.
However, the space is seeing plenty of recent activity as improved treatments are sought and the market is awakening to the enormous value being created by active players in this space. Notably ATL1102 may work in tandem with other treatments on the market including the $8.7 billion capped Sarepta Therapeutics' (NASDAQ:SRPT) drug developments in this field.
What stands out, and why it is complementary to other treatments, comes down to the fact that ANP's treatment is one of only a few that is looking to tackle the inflammation associated with the disease.
ANP is conducting a Phase II clinical trial of ATL1102, a highly active immunomodulatory antisense drug to human CD49d RNA in DMD patients at the Royal Children's Hospital (RCH) in Melbourne.
Here's a look at how Antisense works: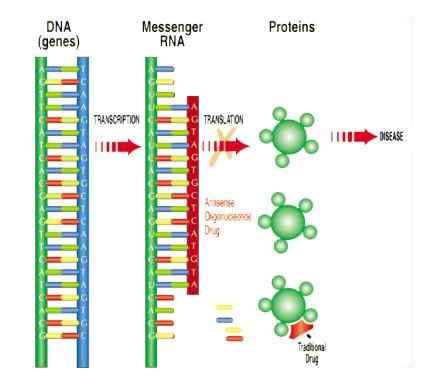 This video may also help illustrate how the technology works:
Previously, ANP successfully completed a Phase II efficacy and safety trial of ATL1102 in patients with relapsing-remitting multiple sclerosis (RRMS). After just eight weeks of dosing, ATL1102 demonstrated a 90% reduction in inflammatory MS brain lesions versus placebo.
Given its target's (CD49d) potential role in DMD disease development and its trial success in MS, scientific researchers have acknowledged the drug's potential use as a therapy for DMD. The current trial will assess the safety and tolerability of ATL1102, as well as its efficacy in slowing DMD progression by decreasing inflammation mediated tissue damage.
ANP is studying ATL1102 as an agent for the treatment of inflammation that exacerbates muscle fibre damage, for which DMD patients currently have to use corticosteroids.
Steroids have been recommended as a treatment for patients with DMD to preserve or improve muscle strength and motor function for decades.
However, steroid use remains controversial, with researchers and clinicians disagreeing on the optimal dosing regimen used for DMD patients.
When used at high doses and for long periods of time, corticosteroids have a range of serious side effects, and also aren't as effective in patients with a greater number of white blood cells that express high levels of CD49d receptors (ATL1102's biological target) on their surface.
And now a new study, "The effect of steroid treatment on weight in non-ambulatory males with Duchenne Muscular Dystrophy" published in the American Journal of Medical Genetics, has linked long term steroid treatment to increased weight gain in boys with DMD who are unable to walk. It recognised the safety issues with steroids and highlights the importance of finding new and improved therapies, such as ATL1102, to treat inflammation in boys with DMD.
The findings of that study and ANP's therapies were reported by Finfeed.com: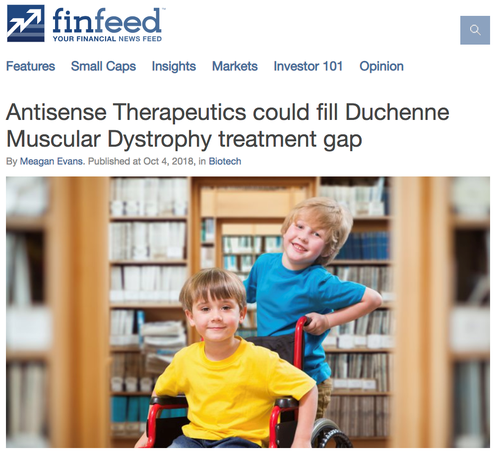 ATL1102 now in Phase 2 trials
In July, ANP announced it had begun the Phase II clinical trial for DMD candidate ATL1102 at the Royal Children's Hospital (RCH) in Melbourne.
The study is being led by the Clinical Investigators Dr Ian Woodcock, a Neuromuscular Fellow at the RCH and Professor Monique Ryan, Director of the Neurology Department at RCH.
ANP's Phase II trial will primarily assess the safety and tolerability of ATL1102 and also its efficacy in terms of its effects on the blood and imaging markers of inflammation and muscle damage and other important markers of disease progression.
The DMD patients to be enrolled in the trial are all non-ambulant boys (meaning the disease has progressed so far that the boys cannot walk) aged between 10 and 18 years.
Specifically, ANP and the advisory team behind the trials are hoping that ATL1102 can achieve two related things in patients:
Eliminate a substantial portion of continued muscle degeneration by ameliorating the damaging effects of inflammation.
As a result of (1.), extend the period of mobility in the boys and in particular upper limb functioning for the trial patients who use a wheelchair.
The treatment being used is the same drug previously used by ANP in successful Phase II trials in MS patients.
ANP announced in late August the dosing of the first patient in the trial — a key inflection point and milestone for the micro-cap biotech stock. (Full details on the trial are available here on the Australian New Zealand Clinical Trials Registry.)
The company hopes to generate positive trial data that would cement itself as a strong contender to help treat a disease that is, desperately underserved.
Then there's the possibility that if ANP has success with its clinical trials on ATL1102, it could strike a deal with Big Pharma...
ANP has already partnered with world leaders in antisense drug development and commercialisation and the original creators of ATL1102 —the $6 billion capped Ionis Pharmaceuticals (NASDAQ:IONS).
ANP has a worldwide exclusive license from Ionis Pharmaceuticals to their intellectual property on ATL1102 for all disease applications.
ANP has subsequently generated their own IP and patents around the drug, having taken ATL1102 all the way from preclinical studies to the current Phase II clinical trials.
Below is a look at another link between ANP and a multi-billion dollar US biotech.
A look at bigger players in DMD drug development
In late 2016 Sarepta Therapeutics (NASDAQ:SRPT) received FDA approval for eteplirsen, a drug that can help restore the dystrophin protein levels in children with DMD.
Sarepta has only one approved drug, Exondys 51 (eteplirsen), which was specifically designed to treat the 13% of DMD boys who have a specific mutation of the dystrophin gene.
Exondys 51 brought in a cool US$73.5 million in net revenues for the quarter ending June 30 — news that saw the stock surge 19% after the quarterly was published in August. Sarepta's current market capitalisation is more than US$8 billion.
All up, Sarepta's market value has gained 380% since it secured FDA approval for its first DMD drug in September 2016.
This is particularly relevant for ANP as former SRPT Chairman, William (Bill) Goolsbee, is a director on ANP's Board.
Goolsbee is also the Chairman of the company's scientific advisory board which includes the two Australian scientists (Profs Steve Wilton and Sue Fletcher) who are the inventors of Sarepta's drug, eteplirsen. Bill has extensive experience and networks in the field of DMD drug development and commercialisation which he is imparting on ANP in their development of ATL1102.
This plays nicely with the fact that, as at 30 June this year, ANP held cash reserves of $4.3 million to see it through the Phase II of its all-important clinical trial for ATL1102 in DMD patients. The company expects to benefit from the R&D tax incentive cash rebate from the ATO related to its R&D expenditure.
Overall there has been a flurry of activity in this space by large pharma companies. Here's a look at a number of the recently initiated DMD trials: It's important to note again, that ANP is one of very few company's looking to tackle the inflammatory component of the disease and as such could anticipate limited competition if its clinical development plans are successful.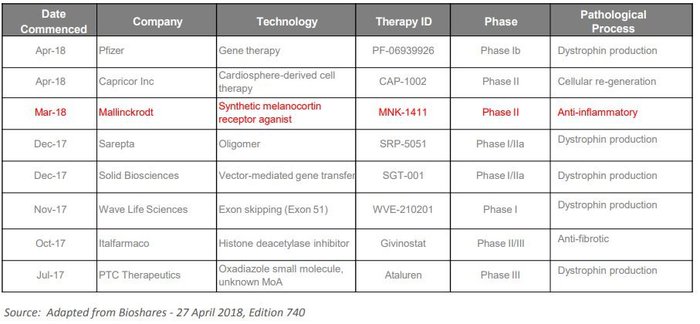 Institutional interest boosts the books by $5M
In May, ANP completed a $5 million capital raising, with the backing of two major institutional investors, Australian Ethical Investment (ASX:AEF) (holding a ~19% interest in ANP) and Platinum Asset Management (ASX:PTM) (holding a 5.6% interest).
The $5 million has been earmarked for the ATL1102 Phase II clinical trial in DMD patients and to initiate an Early Access Program in Europe for their drug ATL1103 in acromegaly.
AEF and PTM's holdings in ANP provide solid proof that the 'smart money' is backing this micro-cap.
With cash in the bank and given its track record in completing multiple successful Phase II trials, there is good reason to believe that ANP could successfully deliver positive results on the current Phase II ATL1102 DMD trial now underway ... and to expect significant associated newsflow to begin rolling in shortly.
With all of these positives, it seems only a matter of time before investors will recognise the unique medical and commercial potential of ANP's therapies.
This information is general financial product advice only and you should consider seeking professional advice before making any investment decision. All indications of performance returns are historical and cannot be relied upon as an indicator for future performance.
---