ASX Biotech Eyes International Distribution of Overlooked Cancer Drug
PUBLISHED: 30-10-2018 10:39 a.m.
Today's biotech junior is in the business of repurposing late-stage drug assets that have been overlooked by big pharma.
Its first drug is for the treatment of a deadly blood cancer, called Acute Myeloid Leukaemia (AML). There is a clear unmet medical need for improved AML treatments when standard chemotherapy fails and patients relapse or the disease becomes resistant (refractory) to the chemo. In fact, there is no current effective treatment for relapsed and refractory AML (r/r AML).
The drug being developed by today's ASX biotech offers a treatment for r/r AML.
The drug was first discovered several decades ago by a US big pharma and was intended to be an improved chemotherapy for a range of cancers, the main improvement being that it lacked the heart damage (cardiotoxicity) caused by other chemo drugs. It was tested against various cancers during the 1980s and 1990s and progressed to a Phase 3 study in breast cancer, the largest cancer market. However, the Phase 3 study showed it wasn't nearly as effective as the established chemotherapy, so the drug was shelved and disappeared.
Yet during its testing against other cancers, it showed remarkable activity in AML. In fact, the Phase 2 results were so impressive that the drug was actually approved in one country for treating AML. The problem was that AML was a relatively small disease in the cancer world, with less than 20,000 new cases each year in the US. In contrast, breast cancer is the most lucrative cancer market for pharmaceutical companies, with around 330,000 new cases per year. AML was seen as an 'orphan' market with low sales potential and just not worthwhile for big pharma.
So the drug disappeared for 25 years before it was found and reclaimed by this biotech company with the mission to bring the 'forgotten' drug to the market for AML. Since listing in 2016, this micro-cap has successfully manufactured the drug and is planning to start a final study next year in order to get FDA approval for AML.
Back in July, it added an unexpected and valuable milestone when its drug received a 'Rare Paediatric Disease' (RPD) designation from the FDA. This qualifies the drug to receive a valuable 'Priority Review Voucher' (PRV) with the FDA and there's every reason to expect it to receive this designation. The PRV is essentially a ticket to a fast-track (6-month) FDA review that can be sold to other companies and there is an active secondary market for PRVs, with PRVs selling in the range of ~A$150-$175 million.
Another key avenue for this company to make money in the short term is a Named Patient Program (NPP) outside the US, with a focus on Europe. NPPs are designed to provide physicians with access to unapproved medicines for patients with life-threatening diseases, like AML. In some countries it's possible to generate revenues from these NPPs.
Midway through the year, the company presented a case study at the International Conference on Leukaemia and Hematologic Oncology in Paris, on two girls with r/r AML who were successfully treated with the drug in 1984 and 1991. The two girls are still alive today because of the drug.
Given its unique safety profile, the drug could be a strong contender for use in treating kids with AML, and this case study (while admittedly being a small sample) is more evidence that there could be real potential here.
Yet it's a research report from Independent Investment Research (IIR) released this month that could be what attracts investors' attention.
The research house valued the company at $0.40 per share, a 400% premium to the current share price.
It's time to introduce you formally to this very promising ASX micro-cap:

The $9.7 million capped Race Oncology (ASX:RAC) has set its sights firmly on repurposing the chemotherapy drug, Bisantrene, and getting investors to take notice.
It is being helped by reports such as the one below released by Independent Investment Research (IIR) which values RAC at 4x current share price.
IIR released a research note in October assigning a base case valuation to RAC of $0.40 per share — well above the $0.14 share price at the time the report was released on October 5. The current stock market weakness has seen RAC pull back to $0.10 per share since then — to just one-quarter of IIR's valuation.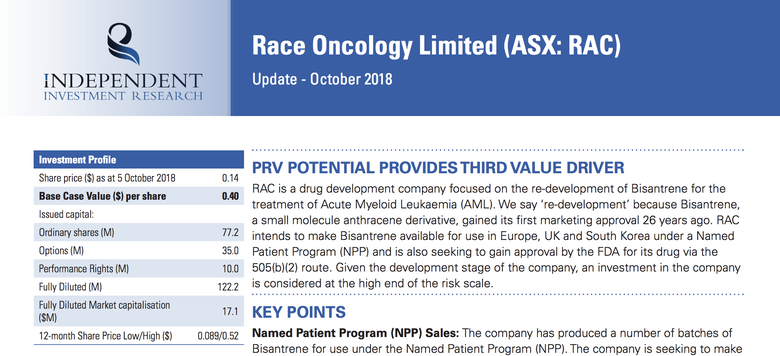 The independent research house noted that despite the depressed share price in recent months, the underlying investment thematic in the company has not changed and there's added value from the potential Priority Review Voucher (PRV).
The below graphic from the report lists the key valuation assumptions used to arrive at the figure: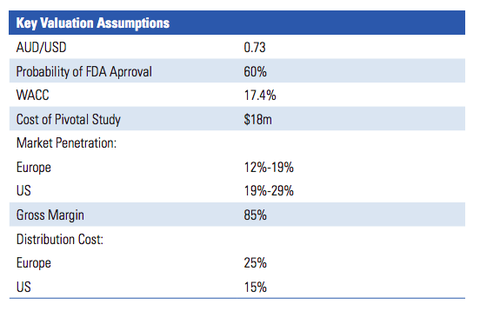 IIR's valuation of $0.40 per share assumes that RAC will sell the PRV in future for a sum equal to the last PRV sale (US$81 million). For a sub-$10 million-capped company, that could be one hell of a pay day.
It's worth noting that IIR's report has not counted any Named Patient Program (NPP) revenues or the future upside involved in Bisantrene being used for treatment in other cancers beyond AML, which remains a distinct possibility. We will look at NPP revenues shortly, but first let's dive into Acute myeloid leukaemia (AML).
What is AML?
Acute myeloid leukaemia (AML) — also known as acute myeloblastic leukaemia, acute myelogenous leukaemia, or acute nonlymphocytic leukaemia (ANLL) — is a disease that desperately needs improved treatment options.
The five-year adult survival rate for those with AML is just 24%, and whereas chronic leukaemia progresses gradually over time, AML starts suddenly and progresses rapidly. While it affects patients of all ages, it has a higher incidence in those over age 50, meaning as populations age, the number of new AML cases will increase. Here's a quick look at what AML is:
Bisantrane and the treatment of AML
Bisantrene is a cancer drug that was first discovered several decades ago by US big pharma company, Lederle Pharmaceuticals. Bisantrene is related to the most widely used class of cancer chemotherapy drugs called 'anthracyclines'. Examples are doxorubicin and daunorubicin.
Cardiotoxicity is a big problem with the anthracyclines, because the heart damage caused by these drugs is permanent and life-long. Patients can survive their cancer only to be victims of congestive heart failure. Because Bisantrene doesn't have this problem, it can be used where patients have reached their cardiotoxic limit with anthracyclines, or they simply cannot tolerate anthracyclines due to existing heart conditions, age, or other factors. In treating children, doctors have to be especially careful because of the risk of causing lifelong heart damage. Again, Bisantrene offers a safer alternative.
Lederle's goal was to develop a chemotherapy agent that did not have the cardiotoxicity of the anthracyclines. With Bisantrene they succeeded. Of course, the next step was to show that it worked to treat cancers and in Phase 2 clinical trials, it showed good activity against several cancers – breast cancer, ovarian cancer, lymphoma and AML.
The results in AML were really impressive. Between 1984 and 1995, there were nine Phase 2 AML studies published on the use of Bisantrene to treat relapsed or refractory AML. The studies were conducted in France, Italy and South Africa, covering 136 AML patients. There was an average 46% complete clinical response and this was in patients who had failed all other treatments. The French health authorities were so impressed that they granted Bisantrene marketing approval for r/r AML in France in 1988, but the drug was not commercialised in France and never registered anywhere else.
It seems Lederle had its eye on the much larger breast cancer market opportunity and by 1985 had already started a Phase 3 study in breast cancer. When the study was over, Bisantrene delivered a clinical response of only 13% compared with 28% for doxorubicin, the established chemotherapy. After these results, Lederle apparently lost interest in Bisantrene.
But Lederle had bigger problems. Their parent company, American Cyanamid, found itself in financial difficulty and sold off the Lederle operation in 1994 to another big pharma, Wyeth. Wyeth had no oncology business, so they were not interested in a cancer drug with only a small market opportunity like AML. Wyeth conducted no further studies on Bisantrene and let the French approval lapse. Bisantrene then disappeared for nearly three decades, until Race rediscovered it.
The International Journal of Cancer Research & Therapy took an in-depth and technical look at the drug last year in this comprehensive article about Bisantrene.
The report summarised that:
"In over 2000 patients, bisantrene has been well tolerated and shown to lack the cardiac dose-limiting toxicity of the anthracycline class and perhaps to lack a propensity to induce multi-drug resistance.
"Within an extensive body of publications comprising over 40 clinical trials, clinical activity has been documented in a number of indications, including lymphoma, refractory breast cancer, and ovarian cancer... [also] therapeutic utility was seen in acute myeloid leukemia (AML) comparable or superior to drugs currently in development.
"Originally developed in the 1970s and 1980s, bisantrene is a well-tolerated and useful drug that has resumed clinical development."
Race was created with the mission to bring lost drug assets back to life and Bisantrene was its first project. Bisantrene was an orphan drug effectively owned by no-one. Race now owns it, its ownership conferred through two granted US patents that expire in 2034 and an 'Orphan Drug Designation' in the US for AML, which gives Race 7 years of exclusivity from the date it's approved by the FDA.
Here is RAC CEO, Peter Molloy discussing Bisantrene with the Finance News Network:
Race intends to complete the development needed to get Bisantrene approved by the US FDA for AML. Effectively, that means it needs to do a Phase 2/3 trial that meets the requirements of the FDA for approval in the US for the treatment of adult r/r AML. Fortunately, Race does not have to repeat all the previous studies on the drug and can use that data in its New Drug Application (NDA) for approval by the FDA. That's a saving of many years' work and at least $100m; in addition, RAC knows that the drug works, so it's a highly de-risked venture.
Getting FDA approval for adult r/r AML is only part of the RAC value proposition. The company has two other important and largely independent value domains which we will explore further: a saleable Priority Review Voucher (PRV) worth up to $100 million, and potential revenues from early access schemes outside the US.
Bisantrene granted RPD designation by FDA
Bisantrene was granted Rare Paediatric Disease (RPD) designation in July for the treatment of childhood AML from the FDA.
RAC submitted a dossier to the FDA arguing that paediatric AML is a different disease to adult AML and constitutes a 'rare' disease, thereby qualifying for RPD designation. Ultimately the FDA agreed and granted the RPD designation adding an entirely new and unexpected value pathway for RAC.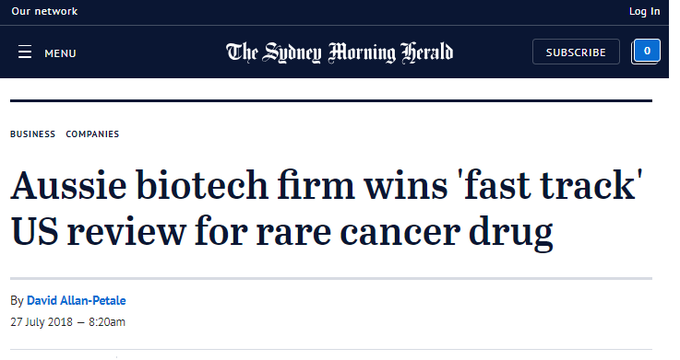 The RPD designation means that by completing a small childhood AML study Race could receive a 'Priority Review Voucher' (PRV) that promises a fast-tracked 6-month FDA review.
As part of the FDA's plan to incentivise companies to pursue rare disease, they made the PRV saleable. In other words, you can sell the PRV to a big pharma company that can use it to get a fast-track review for their new blockbuster drug. This makes it extremely valuable and since 2017, PRVs have been selling on the secondary market for US$86-130m.
To secure the PRV, Race will run a clinical trial for the use of Bisantrene in childhood AML in parallel to the trials for adult AML. But because there are so few childhood AML patients, the trial will need to be very small and therefore inexpensive to run.
Promising case study from France
Again, Bisantrene is de-risked, because it has already been used in the past to treat childhood AML.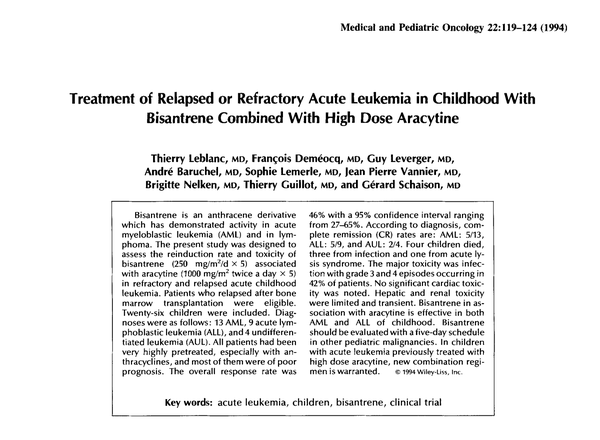 Two of the doctors who used Bisantrene to treat children in one of the Bisantrene studies 25 years ago, recently did a follow-up on two of the children (girls). This was published as a poster at the 2018 International Conference on Leukaemia and Hematologic Oncology in Paris.
One of the girls was seven years old when diagnosed with AML in 1984. She relapsed after multiple lines of chemotherapy and then was treated with a single 7-day course of Bisantrene, followed by cytarabine (another chemotherapy). She had a complete response, which allowed her to receive a bone marrow transplant. As a result, she is alive and well, and the mother of three children.
The other girl was 13 years old when diagnosed in 1990 and also had relapsed after multiple lines of chemotherapy. In 1991, she received Bisantrene treatment in combination with carboplatin and etoposide (chemotherapies). She also had a complete response, which allowed her to receive a bone marrow graft. She is alive and well, and has a three-year old child.
Professor Guy Leverger, one of the authors, stated: "The long-term follow-up with these two salvage paediatric patients I treated decades ago provides interesting insight into a novel chemotherapy lost to development, and with potential benefits over classical anthracyclines."
Now we have an understanding of the science, let's look at revenue avenues and the path forward.
Named patient revenues
The Named Patient Program (NPP) is a key avenue for RAC to make money in the short term. An NPP provides patients and physicians access to medicines that are not available to them in their own country. These drugs must be approved in at least one country, from which they can be imported.
RAC has already manufactured Bisantrene for use under the NPP and is seeking to make the drug available in Europe, UK and South Korea for the treatment of AML. While it has yet to make any sales under the NPP, it has received UK approval to distribute Bisantrene on a named patient basis. While perhaps not the core value proposition for Race, the NPP revenues provide an interesting upside.
IND filing next step on the road to clinical trials
The next step for RAC is the process of filing for an Investigational New Drug (IND) application with the FDA.
In September, RAC signed an agreement with NSF Health Sciences, a Washington DC-based advisory firm, to facilitate its IND filing in the US for Bisantrene.
NSF will help RAC navigate the process and prepare the company to start the adult registration trial in the second half of 2019 — an important milestone for RAC. The IND filing is expected by the end of the first quarter CY2019. Once RAC has jumped through the IND hoop, the pivotal adult AML trial can kick off in the second half of 2019. The childhood AML study is expected to happen in parallel.
The adult trial will involve between 100-200 adult patients with r/r AML.
RAC unveils new US partner
RAC recently announced that it has executed an agreement with a Mr Tom Lee, to assist the small cap with partnering and funding opportunities in the US.
As President and CEO of the Texas-based Medical Innovators Company, LLC, Lee has a wide network that includes thought leaders and investors in Texas, as well as strong connections with institutions. He recently retired from the MD Anderson Cancer Center, where he served for 17 years as Director of Active Venture Development and played a key role in creating some 45 companies from the Centre's technologies, through licensing and internal incubation.
As part of the agreement, Lee will introduce RAC to clinical trial groups and thought leaders, with a keen eye towards locking in funding for the company's future Bisantrene clinical trials.
Beyond that, he will be making introductions to investors and potential licensing and M&A partners, and exploring non-dilutive funding opportunities such as grants.
Management comes with impressive track record
A critical factor to consider when looking at small caps like RAC is the quality of the management team. Led by Managing Director and CEO, Peter Molloy, RAC employs a team a highly experienced experts.
Molloy himself has a track record of creating value for shareholders in the biotech space. He was previously CEO of the ASX-listed company, Biota Holdings Ltd (ASX:BTA), during a period where the company's market capitalisation grew from $30m to nearly $300m in just three and a half years.
During his pharmaceutical career, Molloy has managed seven biotech or pharmaceutical businesses, launched 23 pharmaceutical products, and executed 40 international licensing or distribution deals.
Details of the full management team can be found on the company's website.
Racing to create investor value
RAC has shown it is willing to go the distance to get its once-forgotten chemotherapy drug back on the oncology radar. It plans to create value for investors in three ways:
Move Bisantrene towards FDA approval for adult AML, making it a valuable asset for potential acquirers.

Secure a saleable Priority Review Voucher (PRV) through a targeted paediatric development program.

Generate revenues through Named Patient Programs (NPP) outside the US to support RAC's operations.

These three pathways for value creation are largely independent, giving the company its best chance of commercial success. Management intends to realise value on all three in the medium term.
In terms of successful trial results for AML therapies, there is already a list of lucrative success stories that set a precedent for the likes of RAC.
One example is Celator Pharmaceuticals Inc. (NASDAQ:CPXX) and its late-stage AML chemotherapy drug, Vyxeos. The company skyrocketed to a ~$780 million market cap on the back of positive Phase 3 data in AML in March 2016 (see chart below). This was followed by the company being acquired soon after by Jazz Pharmaceuticals in a US$1.5 billion cash takeover (a 70% premium to market price at the time).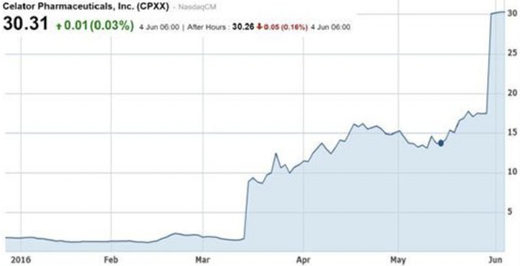 Biotechs have been garnering significant attention on the ASX in recent weeks, and with plenty on potentially market moving news in the pipeline there's every chance that RAC could be next in line for increased investor attention.
Whether investors get in early, or wait for the achievement of key milestones — including the first sale under the NPP, filing of the IND projected for first quarter 2019, commencement of the clinical trials and, lastly, securing FDA approval — is yet to be seen, but we have every reason to believe that RAC won't continue to fly under the radar for long.
---