AOU Acquires New Cobalt Project in Czech Republic
Hey! Looks like you have stumbled on the section of our website where we have archived articles from our old business model.
In 2019 the original founding team returned to run Next Investors, we changed our business model to only write about stocks we carefully research and are invested in for the long term.
The below articles were written under our previous business model. We have kept these articles online here for your reference.
Our new mission is to build a high performing ASX micro cap investment portfolio and share our research, analysis and investment strategy with our readers.
Click Here to View Latest Articles
2017 could shape up as an auspicious and anticipation-paved year for Auroch Minerals (ASX:AOU).
The Perth-based company this week announced an intriguing new addition to its portfolio, releasing news of an option agreement granting it the right to acquire 100% of the Tisová underground copper mine and three exploration licence applications, in the Czech Republic — in the veritable heart of industrial Europe.
The Tisová underground mine has a monolithic history: mined intermittently since the twelfth century and more recently operating from 1959 to 1973, when it produced 560,000 tonnes of ore containing 0.68% copper.
The opportunity here for AOU seems to lie in the volcanogenic massive sulphide (VMS) mineralisation that boasts high cobalt and gold levels, but has never actually been evaluated or mined for these metals.
This could mean serious business for the $12.87 million-capped AOU, presenting a significant previously unrecognised cobalt play to complement and diversify the company's clean energy-focused repertoire, which already includes high-demand copper and zinc.
However, it should be noted this is an early stage play and investors should seek professional financial advice if considering this stock for their portfolio.
Extensive underground development has been completed at Tisová, which will be examined to determine the most efficient method to progress mine exploration and subsequent development.
Sampling of the broader sulphide envelope has produced significant grades of cobalt, copper and gold. Grades of 0.68% cobalt, 3.5g/t gold and 3.5% copper were returned from assays of recent grab samples — and that was just from the Tisová waste dumps.
With drilling to commence in the third quarter of 2017, just a few months from now, this new acquisition in otherwise underexplored territory could shape up to be the next piece of the puzzle for the forward-thinking AOU.
AOU is also drilling for copper and zinc in Portugal, and has completed diamond drill hole ALFP001 and has immediately commenced its second hole at its base and precious metal Alcoutim project.
This Alcoutim Project is highly prospective, and is immediately along strike from the super-giant Neves Corvo mine, which resides in the western half of the globally renowned Iberian Pyrite Belt (IPB).
Drilling of ALFP002 at Alcoutim commenced on June 26 and is predicted to reach the target depth in a week and half, with results expected back in two weeks.
A flurry of news flow is anticipated in the coming 6 months for AOU with two drilling programs under way.
With the current resurgence of cobalt and zinc, and the ternary battery rally continuing to build momentum faster than you can say "Tesla-fuelled electric vehicle revolution", AOU has positioned itself in the centre of a very tasty commodities sandwich.
So, let's get straight to the nuts and bolts of this tightly held ASX company's latest news.
Catching up with: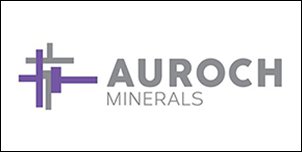 Auroch Minerals
ASX:AOU
We last caught up with AOU in May , just as drilling had commenced ahead of schedule at its Portugal-situated Alcoutim project. As we'll look at in more detail shortly, progress on that drilling program has so far been impressively swift.
But for now, let's look more closely at the most recent development in AOU's rather milestone-rich year — the acquisition of its new cobalt project , which in the first week of July had a very positive impact for the company, suggesting the company is riding a rather important wave, and investors are beginning to recognise it.
Czech-ing out the Tisová mine...
AOU has entered into an option agreement, giving it the right to acquire 100% of the historic Tisová mine and three exploration licence applications.
As we've mentioned, the Tisová mine is situated in the heart of industrial Europe — in the post-communist Czech Republic, formerly known as Czechoslovakia.
The space on which AOU has set its sights is located on the Czech/Germany border. The following map shows the plan of the Tisová area and the licences involved in the agreement: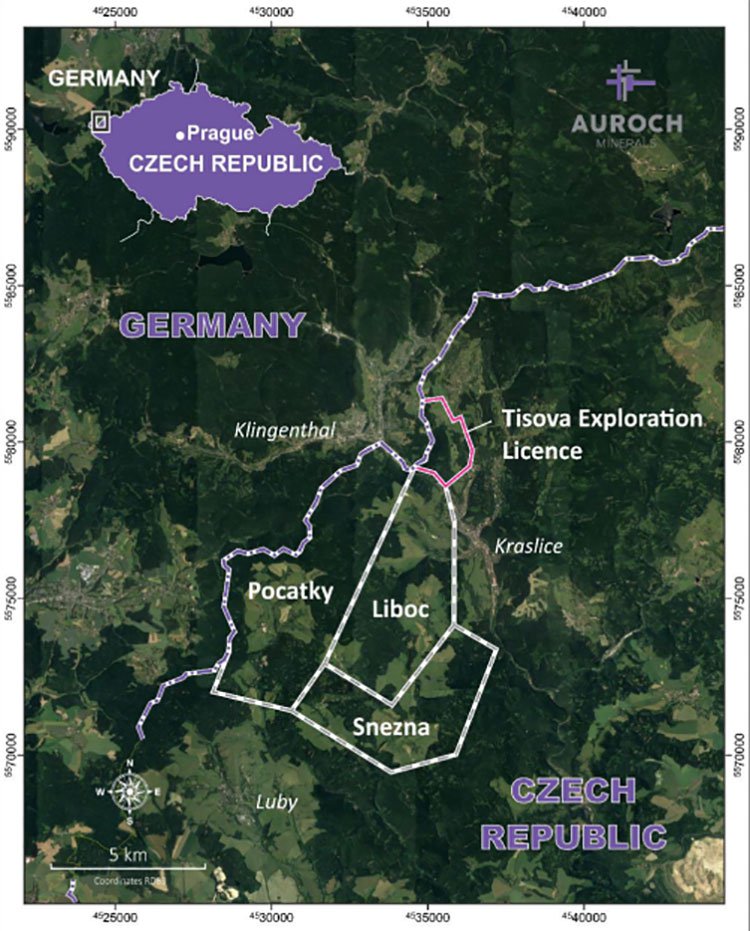 The deposit is open along strike and down-dip, and the deal has enabled AOU to secure a significant ground holding, which provides scope to prove up a substantial deposit.
The Tisová underground mine is extremely old, with a history that extends back to the twelfth century, last operated between 1959 and 1973 when it produced 560,000 tonnes of ore containing 0.68% copper.
This image below is of the Tisová mine circa 1965. The headframe has been removed, but the Helena shaft, which was used for ore haulage, is still open.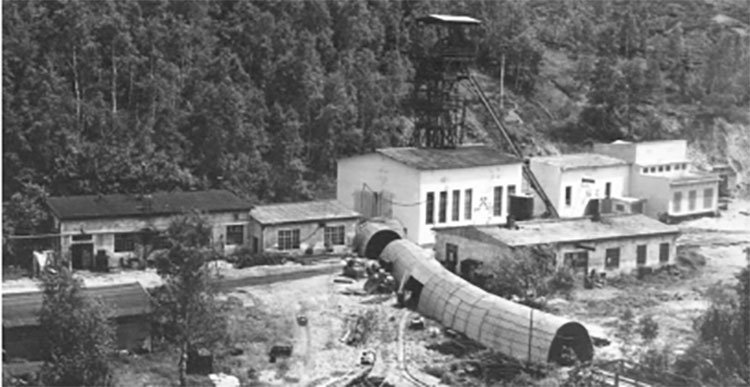 The deposit style is VMS, with copper being confined to specific horizons of chalcopyrite-rich ore within a much broader sequence of massive, semi-massive and disseminated sulphides.
Importantly, previous exploration and mining at Tisová focused on the copper-rich VMS, and didn't regularly sample for cobalt or gold.
These opportunities were therefore not evaluated or exploited, which means that in a lot of ways, AOU is in unchartered territory, paving its own way. And for an early-stage explorer, this possibility of navigating heavily underexplored terrain holds significant potential.
A sample of things to come
AOU has collected a suite of representative samples from the Helena waste dumps associated with the Tisová mine. Interestingly, these waste dumps alone could provide a legitimate target of unrecognised value with potential for as yet un-recognised cobalt and gold.
The image below shows massive sulphide sample collected from the Tisová waste dump.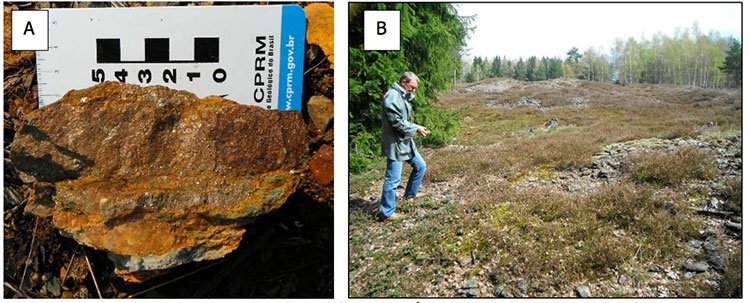 The copper ores form lenses more than several hundred meters in length, but only two to five metres wide within a much thicker stratabound envelope of sulphides, which were regarded as waste when mined in the past.
These sulphides were systematically sampled on the old dumps. They represent a wide range of potential ore types in the broader sulphide halos with significant amounts of other metals such as cobalt and gold.
Importantly, the analytical data suggests that the best cobalt and gold grades are not associated with the narrow high-grade copper zones. You can see the results in the following table: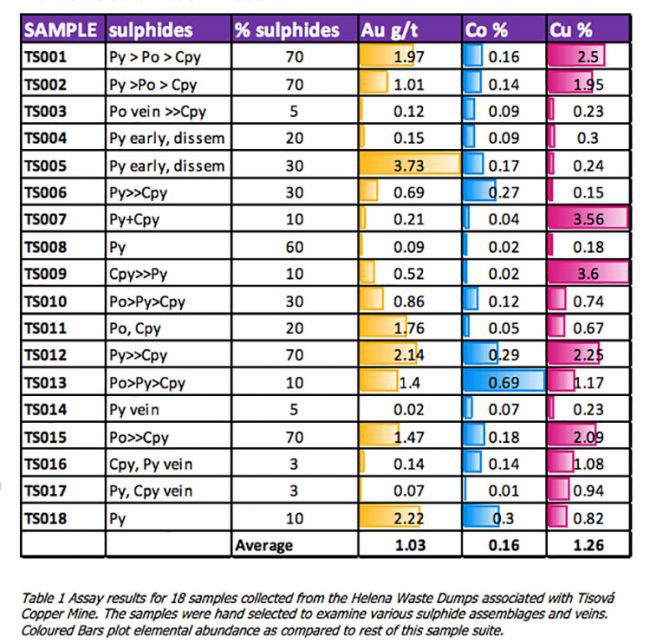 For those of you who don't have PhDs in geological science, the crucial point to bear in mind here is that while the Tisová copper orebodies are not wide, they occur within a much thicker zone of pyrite and pyrrhotite mineralisation (up to 60m). It's here, outside the copper zones, where AOU's sampling indicates the presence of significant cobalt and gold that was not previously recognised during the mining phase.
With true thickness of up to 60m of sulphide-rich mineralisation and the deposit open in all directions, there's considerable potential for a significant operation to be developed, should the grades and continuity of the cobalt and gold mineralisation be proven by new exploration drilling.
Moreover, that these levels of mineralisation were taken from waste dumps is especially encouraging.
However any success AOU may experience here in future is speculative at this stage, so investors should take a cautious approach to any investment decision they make with regard to this stock.
Given the age of the mine and the unreliability of historical records, AOU intends to undertake much more in the way of evaluation before deciding whether to exercise its options.
The company's plan over the next nine months will include drilling four holes for a total of about 1200 to 1500 metres. These will include twin historical holes that intercepted thick zones of sulphide mineralisation.
Below is a cross-sectional view of the Tisová orebodies. The deep-red colour represents the chalcopyrite rich zones which were exploited by the previous mining. The pale-red zone represents the thicker pyrite and pyrrhotite sulphide zone where AOU sampling has indicated the presence of previously unrecognised significant cobalt and gold mineralisation.
The Image of the Sydney Harbour Bridge is inset at the same scale to show the mapped size of the sulphide orebody and it's quite the compelling comparison.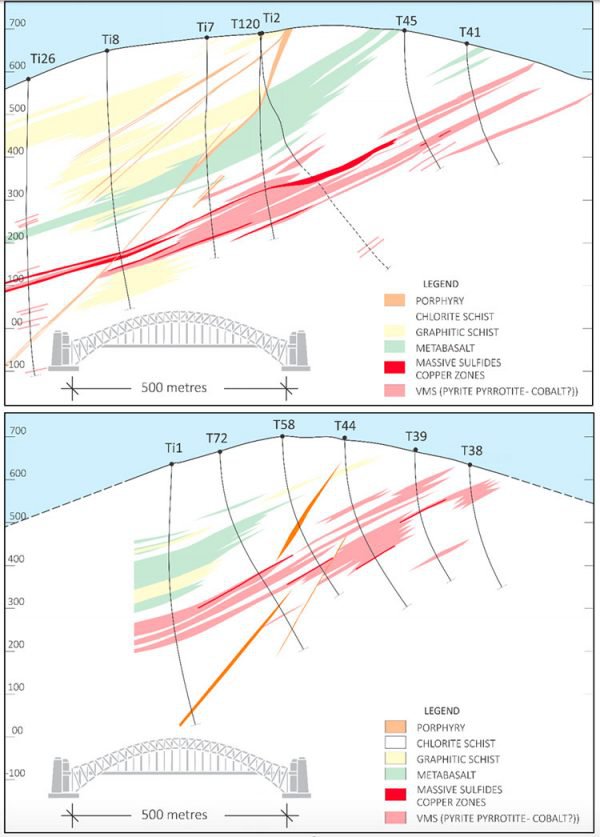 With drilling expected to commence in August-September when permitting is completed, this new cobalt project is very much a subject of anticipation.
Meanwhile, in the Land of the Giants...
AOU is a company with its corporate finger in a number of pies, but all of this seems carefully and strategically considered in light of its underpinning focus on metals that fit into a cleaner energy picture.
AOU's Alcoutim project in Portugal is no exception.
Like we said, 2017 has so far been a year flush with milestones for AOU, and smooth progress at its Alcoutim project in the IPB is testament to the expertise and hard work of its team.
AOU has completed diamond drill hole ALFP001 at Alcoutim on budget and schedule, with a number of results due in the next couple of weeks, as explained in this article from finfeed.com: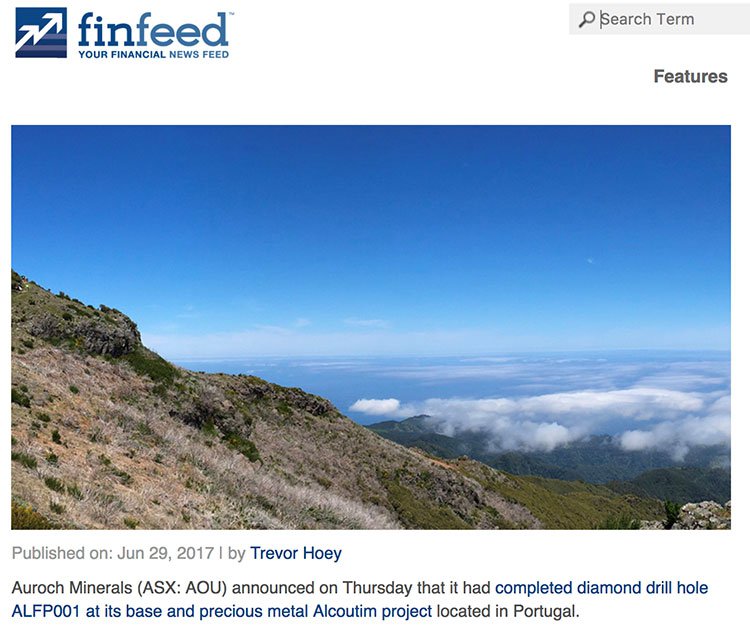 Setting is everything here. Renowned for its poly-metallic (copper-zinc dominant) deposits, the IPB is home to over 80 known deposits and resources, totalling more than 1,700 million tons of mineralised ore.
The highly prospective region has been branded the Land of the Giants by AOU's CEO, Dr. Andrew Tunks, owing not only to the presence of nine giant (>100Mt) and three super-giant (>200Mt) VMS ore deposits, but also to the fact that this is where Rio Tinto — the second largest mining company in the world — had its first success.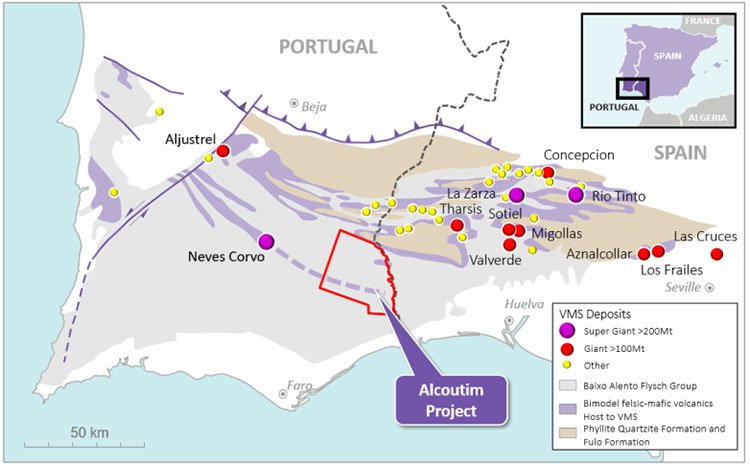 Progress to date is coming along nicely. ALFP001 has been drilled to 1,156 metres, and finished in interbedded shales and greywackes of the Mértola Formation Flysch.
The hole targeted an Electro-Magnetic (EM) conductor at a depth of more than 800 metres. The conductor was interpreted to be massive sulphides hosted by a lower order black shale basin, surrounded by mafic magmatic rocks of the Foupana magmatic centre.
The IPB is known to host several deposits in similar geological settings, so the identification of these kinds of characteristics would provide a considerable confidence boost to AOU's team.
Previous exploration drill hole data, as well as geophysical modelling of the magnetic data and several 2D Seismic reflection profiles throughout the licence, suggest that the general depth to the top of the targeted Volcano Sedimentary Complex (VSC) varies from around 700 metres to 1000 metres in the target zones...
However, the initial interpretation of drill core of the first hole suggests the hole drilled into a thicker than expected sequence of flysch sediments, down faulted into the target VSC.
Intense faulting is known throughout the IPB and leads to significant offsets of the target stratigraphy — you can see the complex faulted nature of the VSC-flysch contact throughout the Neves Corvo mining district in the cross-section below:

Following the completion of ALFP001, AOU completed a two loop (1,000 metres x 1,000 metres) Down Hole Transient Electro-Magnetic (DHTEM) survey in the lower portion of the hole at depths between 736 metres and 1,155 metres.
This map shows the design of the two loop (1,000m x 1,000m) down hole EM survey over drill hole ALFP001 with target PFN3 to the west.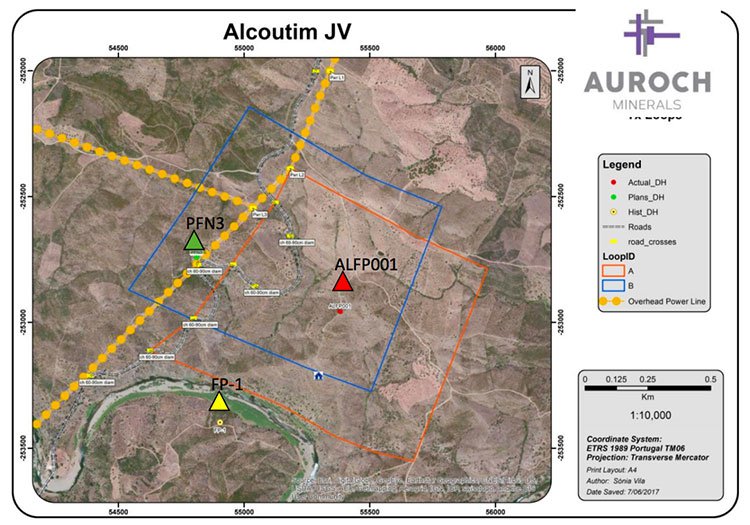 The integration of this down hill EM data with existing data such as magnetics, gravity and magneto tellurics will be essential in refining AOU's geological and geophysical models, and for most optimally locating its subsequent drill holes.
A total of 22 potential VMS targets have been defined by integrating geology and geophysics throughout the large Alcoutim license area, with the first five holes to test priority targets along the Neves Corvo Trend.
The Foupana magnetic anomaly (42 kilometres south-east of the super-giant Neves Corvo Mine) is the largest and most intense magnetic anomaly of the Neves Corvo Trend and is interpreted to be a large, submarine centre of bimodal magmatic activity.
Coincident EM anomalies are interpreted to represent possible massive sulphide mineralisation. The first two hole locations will test this geological model, close to the magmatic centre and with a strong coincident AMT anomaly.
DHTEM surveys and geochemical assays will be collected from all holes when completed as part of continual refining of target selection.
What's next at Alcoutim?
Drilling of ALFP002 commenced on June 26, and is expecting to reach the target depth in a week and half. Results are expected back in two weeks, so we're not expecting any quiet periods from AOU any time soon.
The bigger picture
As we've mentioned, at the crux of AOU's strategy is a razor-sharp focus on metals essential to the thriving renewable energy industry. And this is a market that shows no sign of slowing down.
Take cobalt, for instance, which AOU is hoping to find in the Czech Republic.
A key component of the lithium-ion batteries used in electric cars, the price per ton of cobalt has surged by almost 70% so far this year.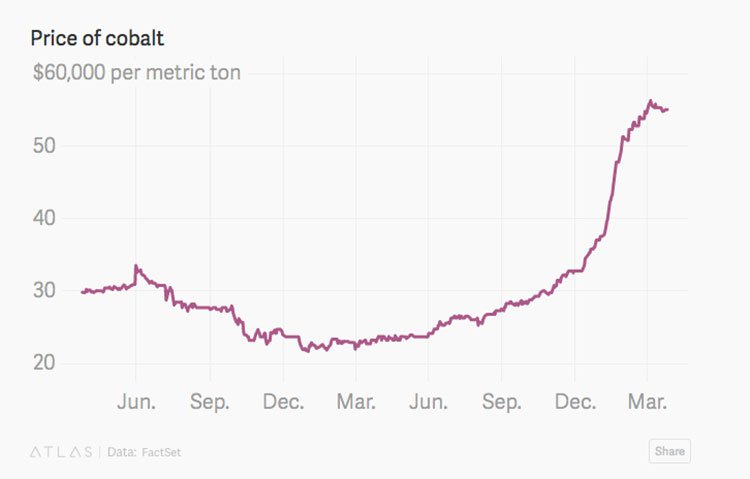 Of course, commodity prices do fluctuate and caution should be applied to any investment decision here. Seek professional financial advice before choosing to invest.
The following article from last month explains how the recent cobalt price rally could be just the start of something much bigger...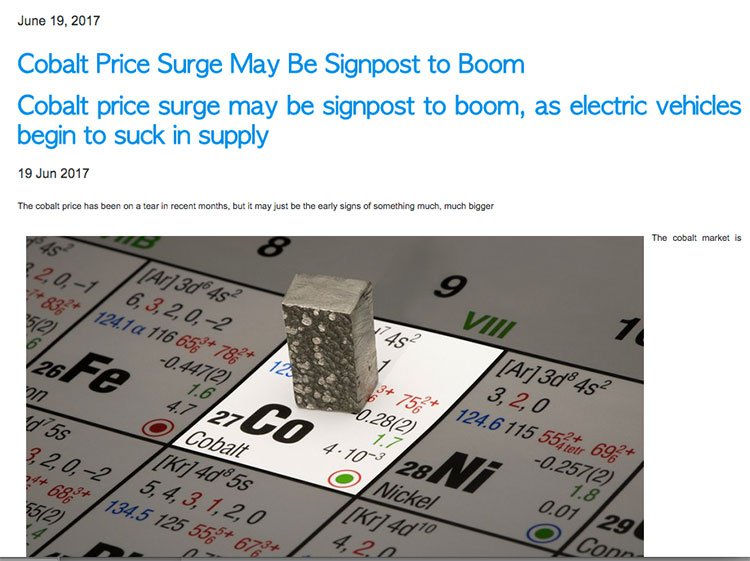 Cobalt demand growth is expected to outpace cobalt supply growth for the foreseeable future, setting the stage for persistent material shortages and far higher prices.
Of particularly keen interest to cobalt investors is recent news of China tweaking a proposed formula for calculating credits for electric car makers to reward models with longer ranges.
With this new formula, a multiplier is applied so that electric cars with longer range receive more credit points. Cars with a range of 350 km (217 miles) or more continue to get the maximum of five credit points.
In the wake of this news, cobalt stocks in China have risen, with a similar trend emerging in ASX cobalt stocks.
This gives AOU's new play for cobalt in the Czech Republic a particularly timely flourish.
With $7.5 million in the bank and an emerging track-record of making expedient work of its exploration programs, AOU is in good form to charge forward with its increasingly diversified portfolio of projects.
Although it's still early days, progress thus far has been lightning-fast, with a steady flow of milestones being either bang on time or ahead of schedule.
The question now is what will AOU do next?
---