OKR's data shows Colorado uranium project has potential
Shares Held: 2,633,352
Options Held: 0
---
Today, our North American uranium Investment, Okapi Resources (ASX:OKR) released findings from a historical data review at its Maybell uranium project in Colorado.
The review detailed potential high grade zones within thick lower grade zones, at the Maybell project which OKR intends to drill in Q4 of this year, pending a permit application.
Of particular note to us is this project's close proximity to Wyoming - OKR's project is located in Moffatt county which borders the state, Wyoming has historically produced the large majority of domestic US uranium.
This proximity to a processing and production hub we think helps the potential future viability of OKR's project at a time when the US is making efforts to secure it uranium supply chain.
And when uranium prices were high in the mid 1970s this project's product was shipped to a mill in Wyoming.
While it may seem like a small historical detail - we think it indicates that the historical production at the Maybell project in Colorado could be replicated in a scenario where uranium prices are elevated for a sustained period of time.
OKR compiled this data and put the historical drill holes on a map, the ones that it kept as relevant were selected using the following criteria - (intervals with a grade x thickness (g x t) greater than 0.65 ft.%):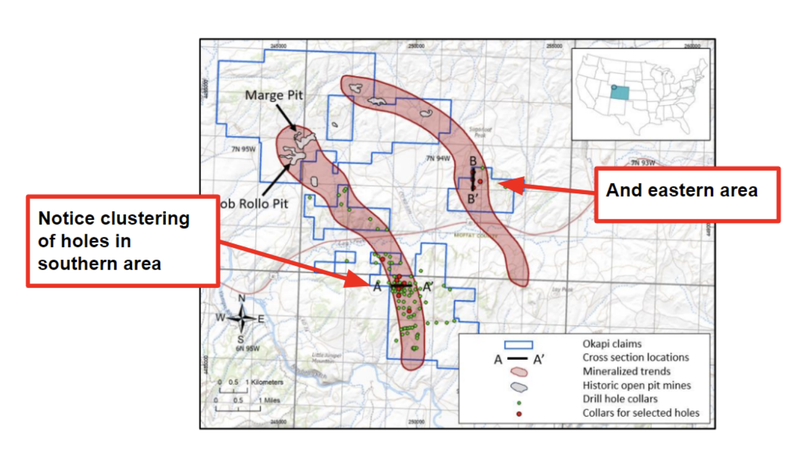 From this southern area, OKR produced the following two figures (southern area left, eastern area right):

There are some good meterages in there, with a few higher grade sections within it, and the overall mineralised trend.
In short, there seems to be enough mineralisation to warrant a drill program here.
As such, we see this historical data review as a valuable exercise, which will underpin future exploration works at this project.
What's next for OKR?
This is what we think the near-term newsflow for OKR will look like:
🔄 Drilling at Athabasca Basin
We expect OKR to drill its most promising projects in Canada in Q3 of this year.
🔄 Drilling at most advanced project in Colorado (which has a JORC resource)
A permit is in place for 18,200m across 60 drill holes - we want to see OKR firm up a timeline for this drilling.
🔄 Drilling at second Colorado project
At the Maybell project OKR has engaged a company called BRS Engineering to work over historical data - data which was announced today - the company has direct experience at the Maybell Project when it was operating. We'd be looking for a drill program in Q4 2023
🔄 Progress on enrichment tech
Scientific progress and regulatory approvals aren't linear processes but we are looking for one of the following three things to happen on the enrichment front:
🔲 Further validation and extend the enrichment performance (show how well it works)
🔲 Achieve continuous operation at bench scale (scale up process)
🔲 Regulatory approvals
Read: Our latest OKR Note
Further reading: Our OKR Initiation Note