Mining for Uranium: ISR vs Conventional Mining
Published 13-JUL-2023 14:12 P.M.
There are two primary ways in which uranium is mined:
Conventional hard rock deposits - projects mined using conventional mining techniques - think a giant open pit/underground mine.
ISR deposits - ISR stands for "In Situ Recoverable" or "In Situ Leach" (ISL) - these are more comparable to oil and gas projects whereby wells are drilled into the ground and a liquid solution (containing uranium) is pumped back up to surface.
There are some key differences between the two mining methods that we will look at in this article, but here is a brief overview: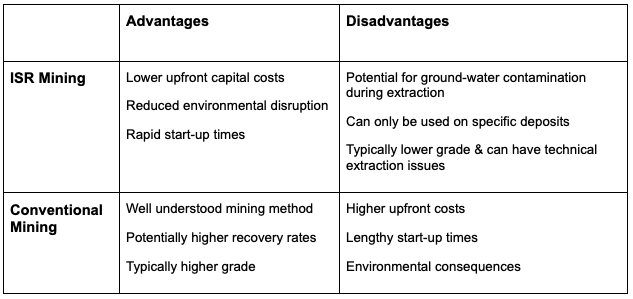 In this article we focus on ISR deposits, investigating what they are and how they work.
What is ISR uranium mining?
ISR extraction involves pumping an acid solution into a uranium orebody underground.
This solution then dissolves the uranium before the solution is pumped back up to the surface, where the uranium is separated from the solution.
This is how it looks in a diagram:
(Source)
Benefits of ISR uranium mining
The typical benefits of ISR uranium projects are:
Low cost due to favourable CAPEX and OPEX; and
Lower impact on the environment compared to conventional hard rock mining
Below is a visual representation of the differences (left is a conventional hard rock uranium mine and on the right an ISR mine).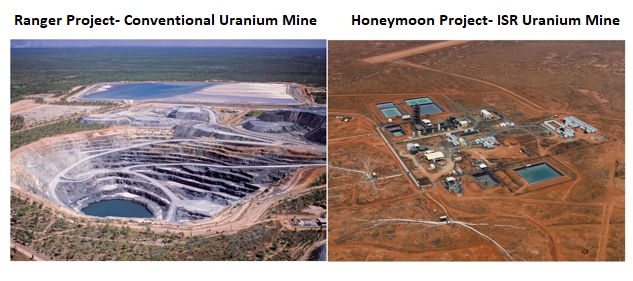 From these visual differences between the two types of mining you can start to understand where these cost advantages come from.
Both methods extract the valuable uranium, but with conventional mining there is an extra cost in removing all of the waste rock compared to pumping the uranium from underground.
Here is a table that describes the key differences between the two types of uranium mines: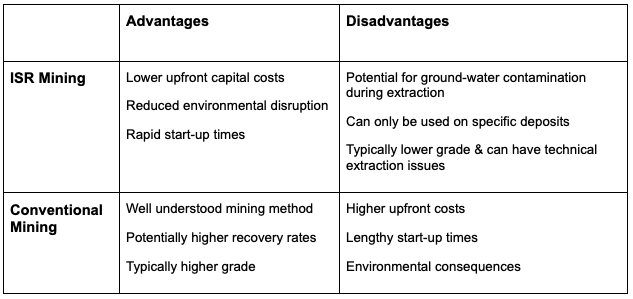 Below is a chart showing the CAPEX differences between ISR and conventional mines: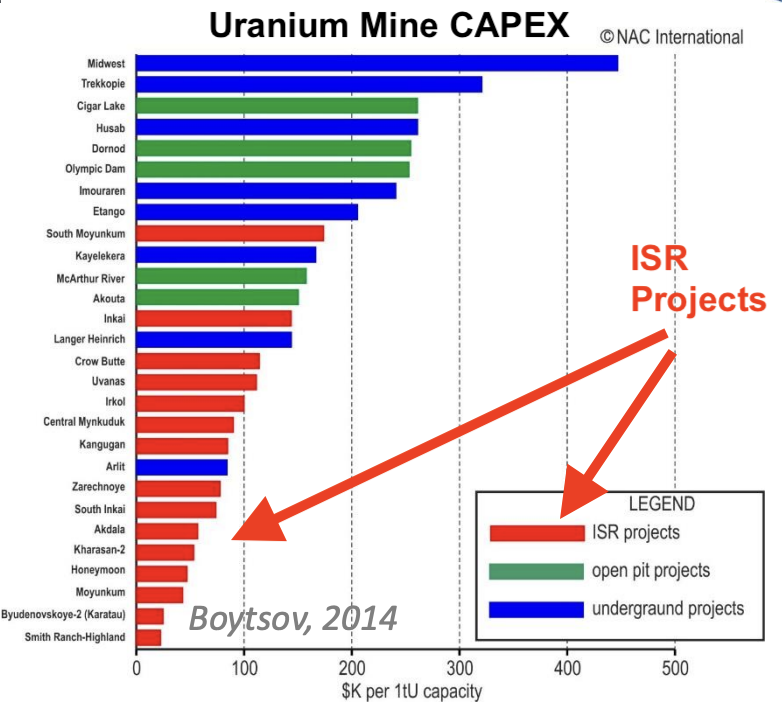 (Source)
It's also no surprise to us that the world's biggest producer of uranium (Kazakhstan) is also operating mostly ISR mines.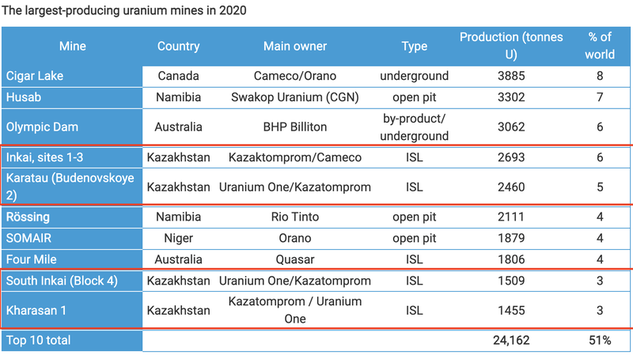 (Source)
Kazakhstan accounts for ~41% of Global Uranium supply and is the lowest-cost producer in the world.
In the past the US was a major producer of uranium and was also producing most of its uranium from ISR amenable projects.
How to evaluate ISR uranium investments
Both ISR and conventional uranium mines have their independent pros and cons.
The characteristics of a uranium deposit, such as its depth, ore softness and grade will usually determine the best method of uranium mining - ISR or conventional.
As an investor you'll need to evaluate if the project is economic based on the overall merits, and not just the type of uranium deposit on hand.
---