Electromagnetic (EM) Surveys Explained
Published 17-AUG-2023 17:00 P.M.
Electromagnetic EM Surveys are one of the most commonly used techniques to help resource exploration companies narrow down drilling targets.
Drilling is expensive, so the company wants to make sure that when it drills, it has the best chance to make a discovery.
EM Surveys help by giving the company a snapshot of the types of rocks underground.
Typically, EM anomalies "light up" on a resistivity map based on conductivity.
This can be a good indication for a drill target when looking for specific types of metals (for example, graphite).
This is what an EM Survey can look like: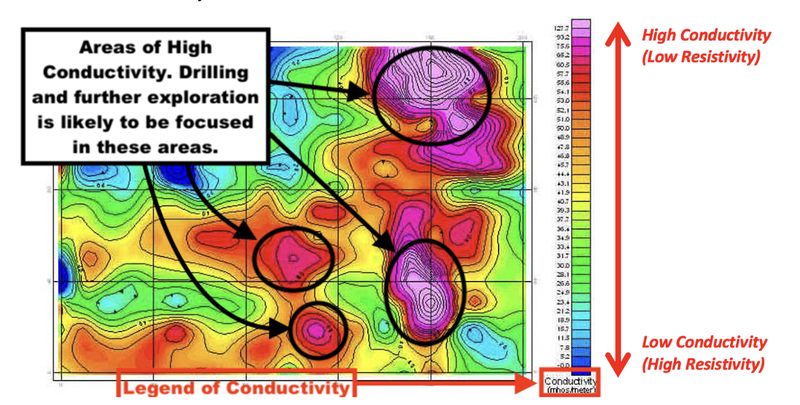 It is worth noting that while EM surveys can stack the odds in an explorer's favour, they can often times lead to nothing being found.
At a very high level EM Surveys are a way of narrowing down and defining high priority drill targets.
How do EM Surveys Work?
Imagine trying to find a lost watch hidden somewhere in your backyard.
Digging up the whole backyard is impractical, so you use a metal detector to narrow down where to dig.
The detector sends out an invisible signal into the ground, and when it hits a metal in the watch, the signal changes, and the detector beeps to let you know something is found.
There is no guarantee that the beep is your watch, it could be a useless rusty old nail... but at least you know in the areas where no beeps are happening digging is pointless.
Electromagnetic (EM) surveys work in a similar way, but on a much larger scale.
Instead of a handheld detector, companies use large devices that send out a powerful electromagnetic signal into the ground.
These devices are often connected to helicopters or aeroplanes as large areas need to be scanned quickly – usually referred to as Airborne EM (AEM) Surveys.
There can be many different methods of conducting EM surveys, such as Moving Loop Electromagnetic (MLEM) survey, Aeromagnetic Surveys (AEM) and many others.
We will look at these in more detail later.
The electric signal from the transmitter can penetrate deep into the earth.
When the signal hits a layer of rock or minerals that conducts electricity (like nickel, copper and other base metals), the signal changes, just like with a metal detector.
A second device, called a receiver, picks up these changed signals.
The information is then sent to a computer, where it's turned into images or models of the underground.
By looking at these images companies get an idea of where there might be "conductive rocks" that may or may not contain minerals/metals, without having to dig or drill.
Here is a good video explainer from Geoscience Australia:
What do EM Surveys Look Like
After conducting an EM survey the company will get a bunch of data which is then turned into geological models.
These models usually look like colourful blobs like this: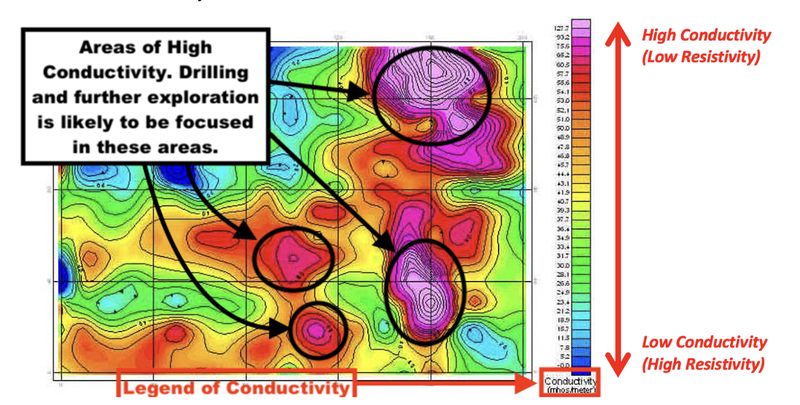 The various colours show different levels of conductivity (or resistivity) of the area that was scanned, and a legend to interpret the results.
Depending on the type of minerals/metals being explored for, the colourful image can help narrow down the best spots to drill.
There are also 3D models that can be built from the data.
Here is what a drone IP Survey found for LCL Resources (ASX:LCL) between its two gold systems.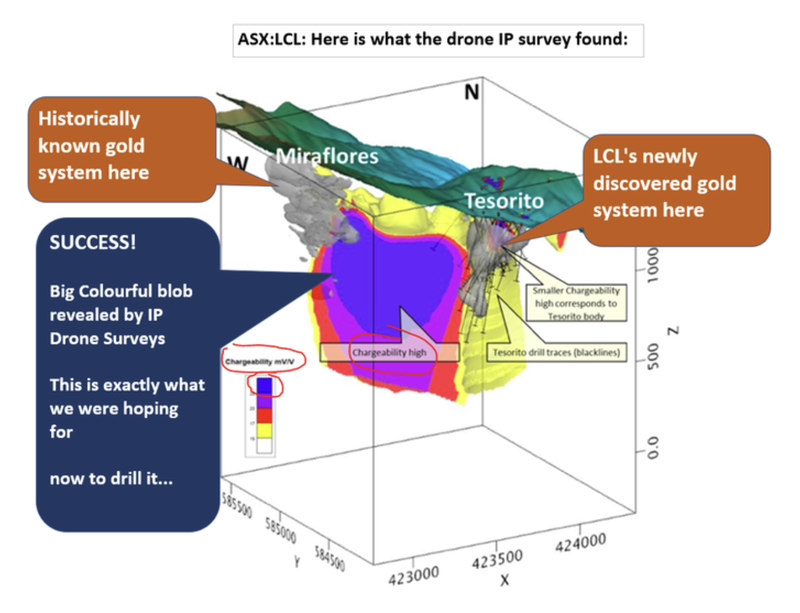 The giant EM target in between two gold systems put together a geological theory that the two structures may be connected by a much larger Porphyry system.
Porphyry systems can be giant in size/scale and can sometimes contain copper mineralisation - hence the giant EM target.
In LCL's case, the target did not lead to a porphyry discovery BUT it was a target found using EM and one worth drilling.
Had it been successful the company's project would have grown significantly.
Drilling and EM Surveys
EM Surveys and drilling are like two sides of the same coin.
While EM Surveys provide a non-invasive sneak peek into the earth's subsurface, offering hints on where a potential deposit might lie, drilling offers the final confirmation.
One sets the direction, and the other validates the journey.
However, EM surveys are not an exact science, and sometimes only provide information on mineralisation from one or two angles.
If the shape of the mineralisation is non-regular, the company could drill into it and completely miss, giving the false impression that the mineralisation doesn't exist.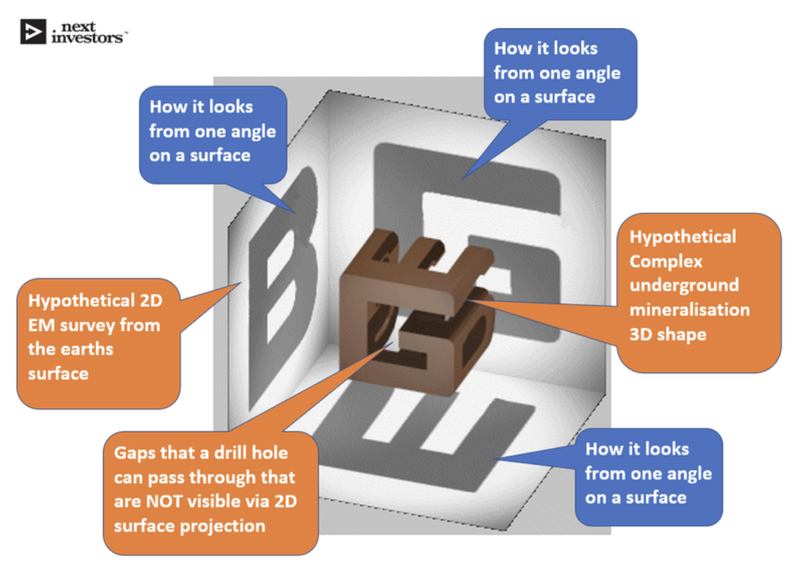 It's important for companies to undertake multiple drilling campaigns and sometimes even downhole EM surveys to get a better idea of the structures underground.
What we look out for in EM Surveys
Here are 4 specific things we often look out (although not always, there are caveats) for when trying to understand a projects EM survey results:
Strong Conductors and Anomalies: Conductors and anomalies are prominent features on an EM survey, these are zones that conduct electricity particularly well. Note: depending on the type of mineral the company is searching for, they may be looking for low conductivity.
Shape and Depth of Anomalies: The shape and depth of a conductive anomaly can help with modelling structures underground.
Context of Geological Features: EM survey results are often used in conjunction with other geophysical data such as rock chip sampling, this allows an explorer to be further informed about the potential. For example, an anomaly along a well-known deposit belt or occurrence can serve to increase the confidence of prospectivity in a project.
Comparison with previous data: If there is historical data and older survey results for the region, it can be compared with the new EM data to give the company a better understanding of its project.
Types/Methods of EM Surveys
There are a number of different types of EM surveys and technology is always changing.
This is a non-exhaustive list of the common types of EM surveys that we often come across, as well as their capabilities, costs and complexity.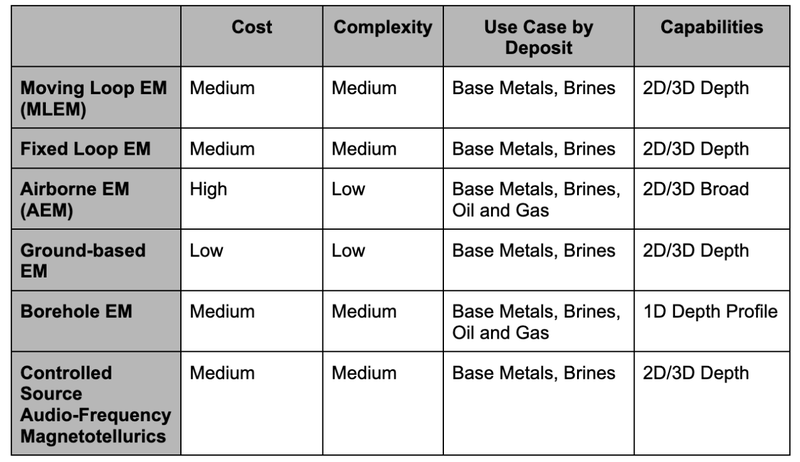 Understanding what type of EM survey the company is using will give a better idea of the costs involved and the goal of the company.
Conclusion - EM Surveys
EM surveys are a big part of the exploration company roadmap, and provide valuable insights into what could be underground.
At a very high level, they help junior explorers find areas of interest which warrant drill testing.
Here is where EM surveys typically sit in the mining project lifecycle:

Ultimately, EM surveys form a big part of the drilling process and help companies to save time and money when picking the best drill targets for exploration.
---