Two more key events coming out of Europe in the next 48 hours...
Published 13-JUL-2021 19:33 P.M.
Our European battery metals investments Vulcan Energy Resources (ASX:VUL) and Euro Manganese (ASX:EMN) both lifted off the back of the Stellantis EV 2021 day last week, especially VUL who has had a great run so far this week after unconfirmed reports from Reuters about an MoU for an offtake with Stellantis.
The EU and its major auto-makers are belting out key events faster than our small team can cover them...
Two more major events will happen in the next 48 hours that could shape the auto industry as we know it and further impact our investments in VUL and EMN.
As always, we'll report back with a full rundown of our key takeaways from each event
Event #1 TONIGHT - VolksWagen announces new group strategy 2030
What is it: VolksWagen will announce its new group strategy dubbed: NEW AUTO - Mobility for Generations to Come. As the future is CO2-neutral and software-driven.
Why it matters: We are watching for any mention of decarbonisation, sustainability, geothermal lithium or high purity manganese that might be relevant for VUL and EMN.
When is it: 9:30pm AEST tonight
Where to watch: You can tune in here
VW GROUP CEO Herbert Diess will showcase VW's decarbonization plans running to 2030, noting its Audi subsidiary already plans to only produce electric cars for the European market by 2026.
We don't exactly know what to expect from VW tonight, but we can guarantee you that we'll be watching intently for any news that could affect our battery metals investments - VW are revealing their plans to become carbon neutral so expect something interesting to pop out.
In March, VW held its Power Day, giving investors and EV fans the chance to take a sneak peak at VW's plans over the coming years to scale electric vehicle production.
Diess teased us on Twitter about tonight's event: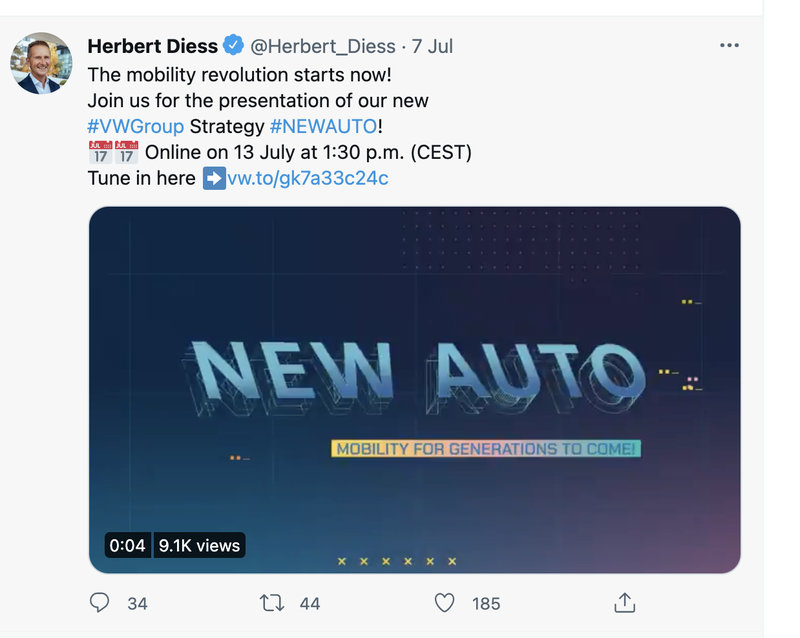 Event #2 TOMORROW - European Commission will announce an action plan to reduce carbon emissions by 55% by 2030
What is it: Dubbed the EU's "Fit for 55" package, tomorrow night EU leaders will lay out how Europe intends to achieve a raft of ambitious plans to drastically cut emissions by 55% over the next decade.
Why it matters: These announcements will reveal Europe's ACTUAL action plans covering:
Emissions trading systems,
Renewable energy targets,
New green rules into the transport sector - which could be positive for EMN as they are recycling old mine tailings, and their manganese could be considered "recycled",
A new carbon border tax - which could be positive for VUL's zero carbon lithium as it will place tariffs on importing lithium from high carbon overseas producers into Europe.
When is it: Tomorrow night
Where to watch: No Live Stream available that we know of yet - keep an eye on mainstream media for updates.

What to expect:
The EU wants to put the 27 EU countries and the European Parliament on track to meet its 2030 goal of reducing emissions by 55% from 1990 levels.
The "Fit for 55" package will be released on Wednesday and will outline just how the EU will try to achieve this.
In terms of Electric Vehicles specifically, it looks like this:
The EU has set a target of one million charging-points for electric vehicles by 2025, and three million by 2030.
Stricter CO2 limits for cars and vans in the EU could completely ban new petrol and diesel vehicles from 2035.
Analysis by the EU commission suggests a 38 to 40-percent-reduction target is needed to reach EU climate goals.
The EU's greenhouse gas emissions are mostly made up of transport emissions which are rising. The Commission wants the number of emissions caused by transport to fall by 90 percent by mid-century.
EU officials are mulling whether to set a zero emissions target from 2035 and to boost the existing 2030 target to 60 percent.
If you're interested in its other policy strategies, check out this article:

We are big investors in the European EV thematic.
As you all know by know, our key investments that all intend to supply EU battery makers over the coming years are:
EuroManganese (ASX:EMN) - developing a high purity manganese project in the Czech Republic by recycling tailings from an old mine site.
Vulcan Energy Resources (ASX:VUL) - aiming to become the world's first Zero Carbon Lithium® producer, from a combined deep geothermal and lithium brine resource. VUL has Europe's largest lithium resource, in the Upper Rhine Valley of Germany.
We will collect the key take-aways for VUL and EMN investors from both VW's strategy event and the EU's Fit for 55 announcement.
---