One ASX Med-Tech is Set to Transform The $100+Billion Cancer Diagnostic Market
Hey! Looks like you have stumbled on the section of our website where we have archived articles from our old business model.
In 2019 the original founding team returned to run Next Investors, we changed our business model to only write about stocks we carefully research and are invested in for the long term.
The below articles were written under our previous business model. We have kept these articles online here for your reference.
Our new mission is to build a high performing ASX micro cap investment portfolio and share our research, analysis and investment strategy with our readers.
Click Here to View Latest Articles
Early detection of cancer symptoms lead to more effective treatment options and better outcomes.
That is a premise backed by Cancer Australia, established by the Australian government in 2006, which has released data that shows the five-year survival rate of colorectal cancer is 99% if detected at stage 1.
Last year Cancer Australia confirmed that one person is diagnosed with cancer every four minutes, with an estimated 138,000 new cases in 2018 alone.
The top five most common cancers – female breast cancer, colorectal, lung, prostate cancers and melanoma – contribute to approximately six out of 10 of these cases.
Data reveals that the majority of cancer cases for female breast (77%), prostate (82%) and melanoma (92%) were diagnosed as early stage, compared to colorectal (46%) and lung cancer (18%).
Looking specifically at breast cancer, stage 0 and stage 1 is very treatable and survivable. When breast cancer is detected early, and is in the localised stage, the 5-year relative survival rate is 100%.
Early stage detection is vastly more prominent than it once was.
Yet, there is still a great deal of improvement in early detection statistics and science and technology are the drivers of that advancement.
One ASX listed company dedicated to improving healthcare through the early detection of cancer, is developing a new non-radioactive and safe diagnostic imaging technology that it hopes will encourage more people to seek early diagnosis.
Known as MagSenseTM, this biotechnology/nanotechnology combination aims to detect cancer and other diseases earlier and with higher specificity than is currently possible.
MagSense is a unique, non-invasive, patent protected technology that fits into myriad addressable cancer diagnostic markets collectively worth $166 billion dollars and growing at 7% annually.
The company behind the technology is looking to fill a gap in the medical imaging space. It has been 50 years since the last imaging technology was released, so there is a clear unmet need here.
Its initial focus is breast cancer, but should the technology work as expected then all cancer incidences could benefit.
This new technology would mitigate the need for unnecessary and invasive biopsies, protect patients from radiation exposure and would reduce treatment costs by two to four times current costs.
Imagine being able to avoid cancer surgery.
Imagine being able to lower drug doses for cancer treatment.
This is what today's company is working towards and having just completed its toxicology safety study for its MagSense nanoparticle formulation for the detection of HER-2 metastatic breast cancer, on time and with no adverse effects reported, it may not be long before imagination becomes reality.
The company is...

Market Cap: $15.21M
Share price: 0.047 (as at close of trade 12 August)
Here's why I like IBX...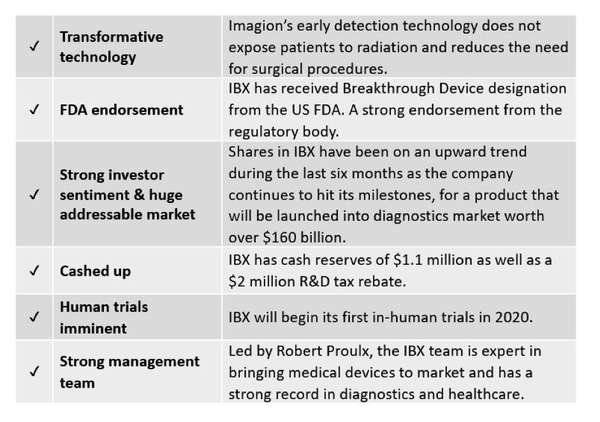 Imagion: a healthcare industry game-changer
The 21st century is well underway. In fact, we are almost 20 years in. So the saying 'bringing (an industry/technology/ideology) into the 21st century' should be moot.
However, it seems there are some industries yet to catch up with technological advancement. One of those industries is diagnostic imaging.
According to Imagion Biosystems (ASX:IBX) CEO, Robert Proulx, advancements in imaging have been slow, with no real progress made for half a century.
In fact Proulx says, "There've been five ways to image the body for the last 50 years and while improvements have been made, they haven't changed significantly."
The initial focus is breast cancer, but Imagion is set to change the dialogue; to deliver a technology that could potentially alter the way cancer is diagnosed.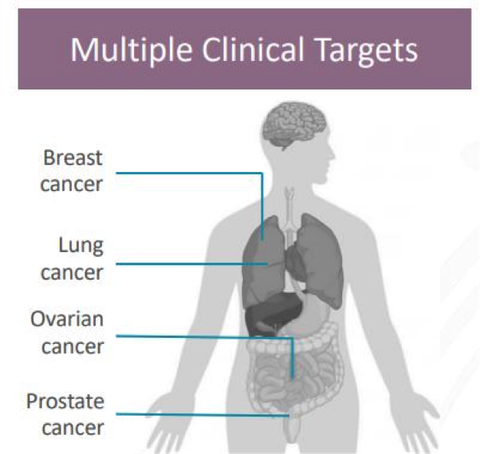 Proulx joined IBX in 2015 because he saw a need for advancement in the industry and believed that IBX had the tools to deliver a '21st century' imaging technology both the healthcare profession and patients were crying out for. Effectively, he believed Imagion could dramatically change healthcare.
Four years into his tenure as CEO, having cleaned the company up and put it on the fast track, there is nothing that has changed his mind. If anything, Imagion is right on track to deliver on its promise.
This is a company led by one of the most experienced teams in imaging and healthcare and it possesses a technology that the US Food and Drug Administration (FDA) believes is in Proulx's words "medically important".
Tech that could change cancer diagnoses – it makes sense!
Before we get down to how the technology works, let's examine current practices.
According to Proulx, there are five ways to image the body: MR, magnetic resonance, CT, computed tomography, x-ray, ultrasound and positron emission tomography (PET scanning).
These methods produce images, however it is difficult to determine what is a benign or malignant tumour. A spot on a mammogram may be determined but not whether it is cancerous.
MagSenseTM Technology is functional imaging that can detect the presence of cancer and can replace having to do a tissue biopsy. It detects cancerous cells without introducing radioactivity or invasive biopsies.
This technology is based on superparamagnetic relaxometry. A full description of how this works can be found here.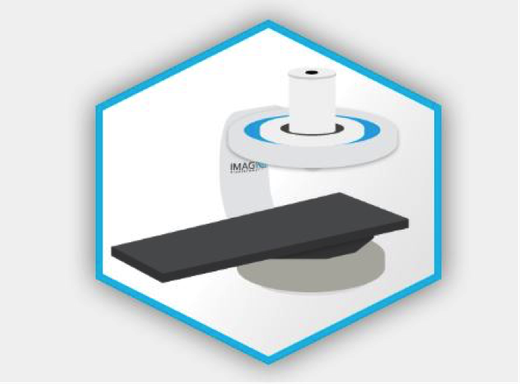 What it boils down to is that highly sensitive detectors used in the MagSenseTM instrument allow for unprecedented sensitivity of detection and the precise localisation of the bound nanoparticles.
If you are a little confused, the following video offers a concise explanation: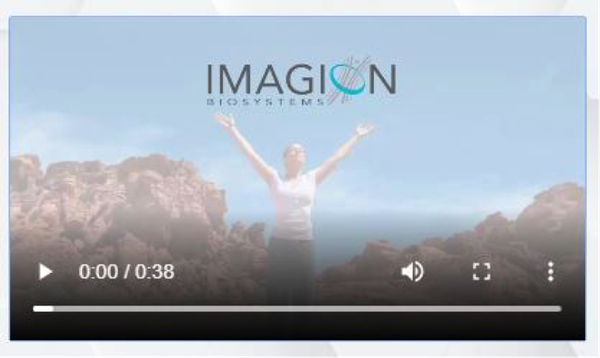 In essence, this technology can precisely determine the location and number of cancer cells. The benefits include differentiation between benign and malignant tumours and the ability to halve the number of patients having lymph nodes removed unnecessarily.
Here are the benefits spelled out: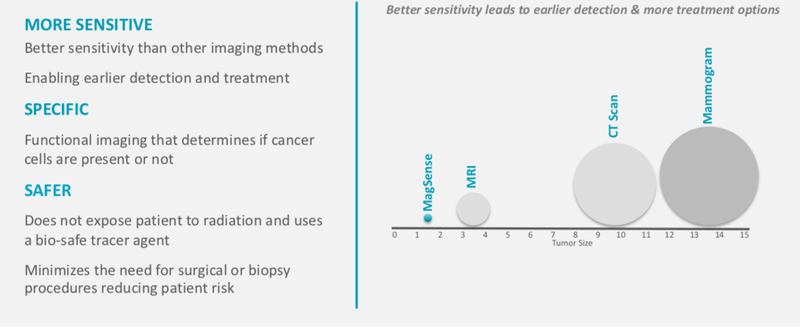 The use of nanoparticles is crucial in this.
Imagion's PrecisionMRX® nanoparticles are currently under development.
As Proulx explains to market analysts at the stockbroker, Morgans, "Unlike PET scanners that use a radiotracer, or x-rays or CT that use x-rays or ionising radiation, we use a very harmless, biologically safe, magnetizable nanoparticle that gets processed by the body and excreted normally.
"But we're able to use the properties of that particle in such a way that we can detect it when it's bound specifically to a particular type of tumour. So this is sort of a new sixth way to do medical imaging that combines the specificity you look for from pathology with the in-vivo, or in the body, detection.
"That will be new to the medical imaging market if we can do that."
The uniqueness of this technology is already garnering the attention of the industry heavyweights, so much so that the even the FDA is fully on board.
IBX receive FDA endorsement
The company has delivered a steady flow of news over the last few years, but it was the latest announcement that really put it on the map.
Investors have certainly taken note.
Shares of IBX have been trending up over the past quarter. In fact, shares have risen 135% over the past four weeks and 47% over the past half year.
So what was this market moving news?
Any endorsement received by the US Food and Drug Administration (FDA) is usually a positive sign.
The FDA's endorsement of Imagion's technology was no different.
The FDA is important for two reasons.
Firstly, through the filing of a Pre-Submission with the FDA, Imagion has taken its first step towards gaining approval to commence its first-in-human study into its non-invasive, non-radioactive imaging technology MagSense, for staging HER2 breast cancer.
Secondly, Imagion's MagSenseTM Systems gained "Breakthrough Device" designation from the FDA, a factor that will help expedite communication between the company and the FDA for this approval process.
To qualify for Breakthrough Device status a product must be considered to "provide for more effective treatment or diagnosis of life-threatening or irreversibly debilitating human disease or conditions".
Achieving Breakthrough Device status was a major development that resulted in Imagion's shares increasing more than 150% under record volumes.
You can read further about this breakthrough in the following Finfeed article.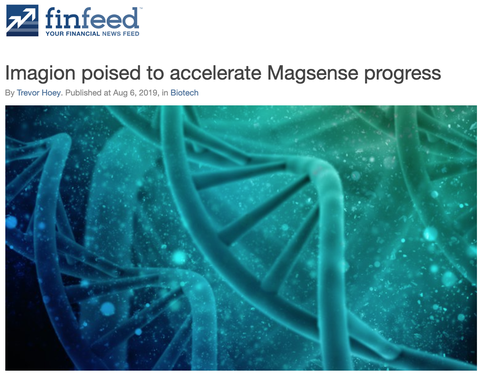 Here is Proulx speaking with Proactive Investors about what this FDA designation means for the company.
The designation was made within just three weeks of Imagion's submission to the FDA, which is an achievement in itself and clearly illustrates the FDA's confidence in the product to potentially transform healthcare and meet this unmet need in imaging diagnostics.
Accelerated communication with the FDA
It is worth pointing out something that may have been lost in the recent quarterly.
That is the fact that the toxicology study for the nanoparticle injectable for the detection of HER-2 metastatic breast cancer was completed on time and with no adverse effects.
This piece of news is just as important as the FDA's Breakthrough Device Designation.
It is a key milestone in that it provides an indication of the safety profile for MagSenseTM, which is required before clinical human trials can begin.
Effectively, it clears the path for in-human trials to start in the very near term.
In referring to the FDA and nanoparticle milestones, Proulx said, "These are both critical milestones that de-risk our development program and highlight the transformative nature of our imaging technology: a non-radioactive and non-invasive method to detect the presence and progression of HER2 breast cancer, which today can only be achieved by the use of biopsy and often unnecessary removal of lymph nodes.
"During the coming quarter investors can expect to see further progress as we prepare to enter the clinic, including completion of our pre-submission to the FDA to enable commencement of the study, signing up a clinical site to conduct the study and progressing the manufacturing of the nanoparticles to be used in the trial."
Here's a look at the company's indicative timetable as to what we can expect next. Importantly, the next milestone is the commencement of in-human trials.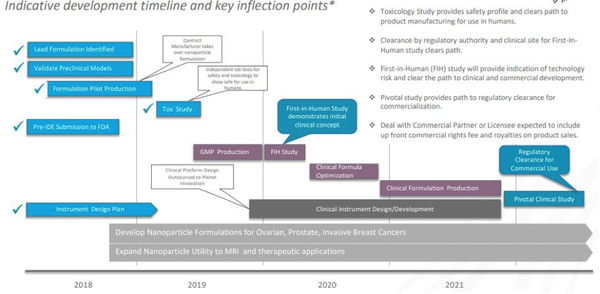 As you can see, commercial rights are expected to be granted by 2021, just two short years away at which point Imagion's business model will come into play.
Printer/Ink revenue model
Remember the addressable market here is over $166 billion dollars.
Imagion is targeting the following sectors: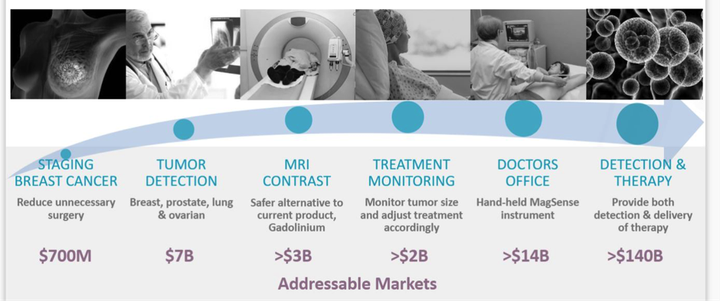 It is targeting breast cancer first because this provides the quickest path to commercialisation. Once that is achieved it can look at introducing the product into other markets.
This feeds into the company's Printer/Ink revenue model.
Essentially, Imagion is set to make $500,000 at a 50% gross margin on each instrument (MagTest) sale which would lead to $2.2 million in annual revenue per instrument. Add $1500 per test, per patient at 80% gross margin for those who require this non-invasive form of diagnostic and the business case looks pretty strong.
It looks something like this: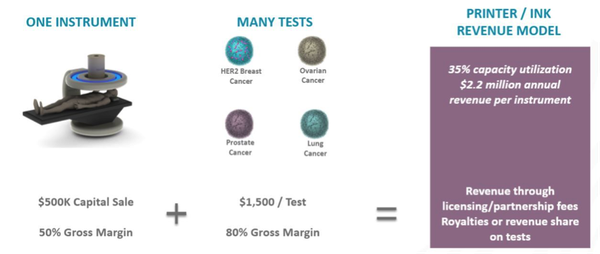 Here is Proulx once again speaking with Proactive Investors about the Printer/Ink business model, as well as reaffirming how the technology works:
Given the addressable market, there is strong R&D pipeline in train that covers metastatic breast cancer, invasive breast cancer, ovarian cancer and prostate cancer and that's just the MagSense pipeline.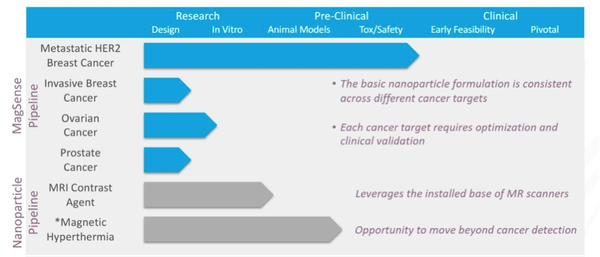 Note, that IBX do intend to conduct its Magnetic Hypothermia R&D with a third party.
Given the amount of work Imagion is doing and the speed with which it is completing its tasks and hitting its milestones, there is a strong case to suggest that this $15.2 million capped company, won't be sitting at that number for too long.
Part of the reason for its ascension this year is the team.
Those who know and do
IBX boasts one of the most experienced teams assembled for any med-tech company.
Proulx is a 25-year veteran. Non-executive director Mike Harsh is the former Head of Imaging at GE Healthcare and has vast experience in building imaging systems. Mark Van Asten is a serial CEO in medical devices, with 25-years' experience commercialising diagnostic products.
This is one serious pool of talent, including many others we haven't mentioned, but you can be rest assured that no stone will be unturned to bring Imagion's products to market.
The final word
In what is a $100+ billion market, you would expect that technology would meet the need.
In healthcare diagnostics, and imaging in particular, this is not the case.
It has been 50 years since the last upgrade to imaging equipment was conducted.
That's 50 years too long.
However it opens the door for Imagion to bring its early cancer detection technology to market. This could happen in just two years and it could be a big game changing event for the industry.
Imagine a reduction in patient risk due to earlier detection and treatment of cancer.
Imagine a functional imaging solution that determines if cancer cells are present or not.
Imagine not having to be exposed to radiation.
That's a world that most of us would like to live in.
Imagion that!
---