Can This ASX Junior Surge Through the Pain Barrier?
Hey! Looks like you have stumbled on the section of our website where we have archived articles from our old business model.
In 2019 the original founding team returned to run Next Investors, we changed our business model to only write about stocks we carefully research and are invested in for the long term.
The below articles were written under our previous business model. We have kept these articles online here for your reference.
Our new mission is to build a high performing ASX micro cap investment portfolio and share our research, analysis and investment strategy with our readers.
Click Here to View Latest Articles
Few things are as endemic to the human condition as pain.
It is right up there on the inevitability scale with death and taxes. And it is a hungry consumer of resources – of productivity, quality of life and, of course, money.
The global market for pain management drugs, according to Allied Market Research, was worth US$61.05 billion (A$89.9B) in 2017, and projected to increase to US$77.13 billion (A$113.6B) by 2023 (CAGR of 4%).
According to the Institute of Medicine (US) Committee on Advancing Pain Research, Care and Education, some 1.5 billion people worldwide suffer chronic pain, with half of those reporting they receive inadequate pain relief.
With conventional opioids still the go-to pharmaceutical treatment for chronic pain, a Deloitte Access Economics report commissioned by Painaustralia quantifies the cost of chronic pain in Australia – including the harm and costs of opioid misuse.
Painaustralia advises greater consideration be given to alternative pain management therapies, and they are not alone in this. Australian health authorities such as NSW Health have identified the risk of opioid misuse, while also questioning, from existing evidence, the long term efficacy of opioid therapy. Researchers at Boston University School of Public Health are blunt in declaring "an opioid epidemic".
Long term use of other pain treatments such as non-steroidal anti-inflammatory drugs (NSAIDs), commonly used to treat the chronic pain of osteoarthritis, is not without risk either. Areas of risk can include anything from stomach problems to liver, kidney and even cardiovascular events.
With both safety and long-term efficacy of conventional pain therapies being questioned, it's clear there is a significant unmet need in the area of pain management.
There are very real opportunities for novel, safe and effective, non-opioid-reliant pain management, and the rewards for cracking this space could be spectacular.
Currently emerging from the pack in this multi-billion dollar quest is an ASX junior biotech whose lead therapy offers some serious potential.
The biotech is a regenerative medicine company, and the therapy is a novel stem cell therapy.
Not to be confused with the more primitive hit-or-miss flavours of stem cell therapy, this is a new and very different technology.
Earlier attempts at stem cell therapy typically adopted a process of cleaning and re-injecting autologous (patient's own) stem cells, with results which were, at best, mixed.
By contrast, key to this novel therapy is the use of healthy allogeneic (donor supplied) stem cells which have been manipulated to a high quality and consistent potency, and which retain – importantly – their beneficial secretions.
The product pipeline of this regenerative medicine company is underpinned by two proprietary novel allogeneic stem cell platforms, both of which are derived from allogeneic mesenchymal stem cells (MSCs), the body's natural healing and repair cells.
Unlike earlier therapies, these MSC-derived products are designed not merely to mask the pain, but to treat the underlying cause of the pain by regenerating healthy and well-functioning cells.
Clinical trials are progressing well for the company's lead product. With an initial focus on treating osteoarthritis (which afflicts some 250 million people worldwide), the company has now welcomed the successful outcome of its Phase I trial and is poised to enter Phase II, with the road to market firmly in its sights.
Excellent news for this company on the commercial front also, with support for its recent capital raising coming from a Japan-based institutional investor with extensive experience in the regenerative medicine industry.
With a Japanese commercial partnership on the horizon, and final negotiations afoot for a licensing deal in that country, this latest news feeds neatly into this company's stated strategy to go to market in Japan.
The Japanese share of the vast global pain management market is better than 10%, and with a favourable regulatory environment providing a streamlined path to market for regenerative medicine, this Japan-based strategy could well pay off handsomely.
There has never been a better time to take a look at this bold Australian regenerative medicine company and understand why it is currently generating such a healthy deal of interest.
Presenting ...

Share Price: 0.057 (as at market close 27 February 2019)
Market Capitalisation: A$15.84 million
Here's why I like it: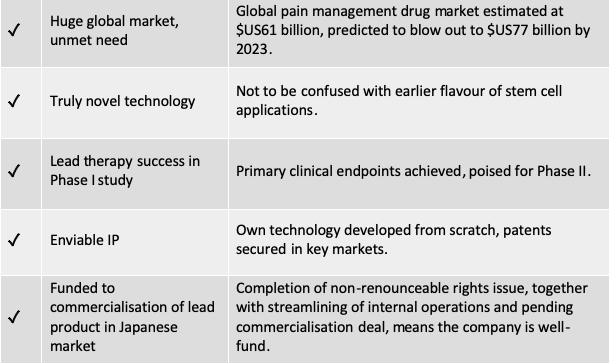 Regeneus (ASX:RGS), founded in 2007, is a clinical stage regenerative medicine company developing a portfolio of novel cellular therapies for the global pain market.
RGS's initial focus is on osteoarthritis (OA). As identified by the Institute of Medicine (US) Committee on Advancing Pain Research, Care and Education, osteoarthritis is the second most prevalent cause of chronic pain in adults in the US today, and globally affects 240 million sufferers.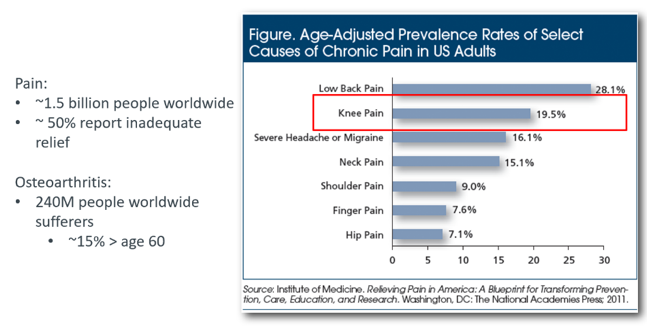 RGS also sees opportunities for its therapies in treating other musculoskeletal disorders, neuropathic pain and dermatology. However its strategy is to first attain commercialisation of its lead therapy in the osteoarthritis space, identified by GlobalData to be a $US9.5 billion ($A13.99 billion) addressable opportunity in Japan, the US and EU alone.
The traditional approach to pain management, whereby therapies are employed to dull or mask pain while the underlying cause persists or worsens, has been eschewed by RGS.
By contrast, the therapies developed by RGS are designed to tackle the underlying inflammation – a largely unserviced therapeutic space.
Schematically: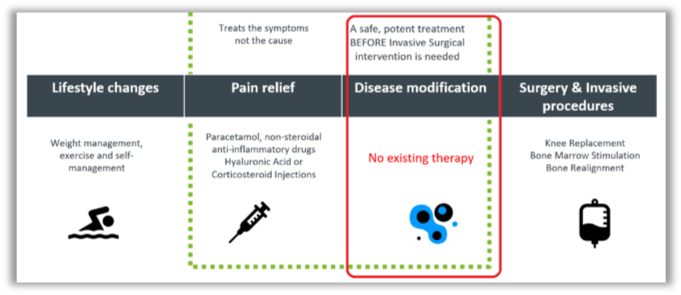 A secrete science
This is not the old stem cell therapy.
Once upon a time stem cell therapy meant harvesting (potentially compromised) autologous cells from the patient, cleaning them of secretions and accretions, and reinjecting them.
Once upon a time stem cell therapy meant encouraging stem cells to change into other cell types and grow into the damaged tissues.
Once upon a time stem cell therapy did not yield consistent results.
What the team at Regeneus suspected is that stem cell therapy can do much better than that.
The RGS technology uses healthy allogeneic stem cells from screened human donors, and manipulates these cells to a defined standard. Importantly, the bioactive secretions of the cells are retained, rather than being cleaned away.
It is now widely accepted that these secretions drive the therapeutic effect.
The outcome of the process developed by Regeneus is stem cells of a consistently high quality and known potency, and, most importantly, retaining the therapeutically beneficial secretions.
The RGS product pipeline is underpinned by two proprietary novel allogeneic stem cell platforms:
Progenza – derived from expanded allogeneic MSCs from adipose tissue (fat), retaining by design the bioactive secretions (secretomes) of the cells.
Sygenus – allogeneic MSC secretions used as a topical application for the treatment of inflammatory skin conditions such as wound healing and acne.
What are MSCs?
Mesenchymal stem cells (MSCs) are the body's natural healing and repair cells. By secreting bioactives, these cells are able to direct the healing process as required by the injury or inflammation to be treated.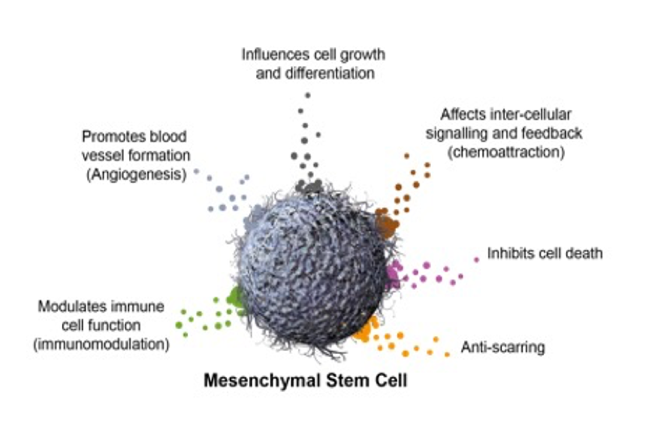 Fun facts:
MSCs are present throughout the body.
MSCs control inflammation and coordinate regeneration.
MSCs are associated with capillaries.
Fat (adipose tissue) has many capillaries and thus many MSCs.
Progenza
Progenza is RGS' lead cell therapy and is a platform technology.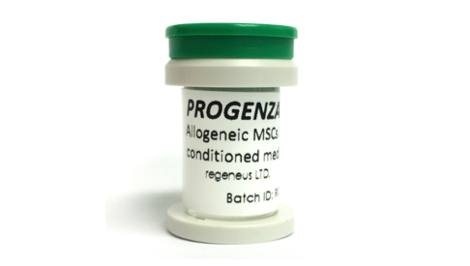 Progenza's first target indication is osteoarthritis. However it also has potential for the treatment of other musculoskeletal disorders and inflammatory conditions, and Regeneus' patents cover a broad range of diseases and conditions.
Progenza works by reducing inflammation and promoting healing and repair in damaged or diseased tissue.
What makes Progenza unique?
Unlike any existing treatment for osteoarthritis.
New generation of cell therapy treatment.
Expanded allogeneic MSCs from adipose tissue.
Includes bioactive secretions which improve the functionality of the MSCs post-thawing. Secreted cytokines and growth factors reduce inflammation and pain, and promote healing and repair of the damaged tissue.
Progenza cells are adult stem cells, and are not reprogrammed or genetically altered in any way during the manufacturing process. This will result in a speedier regulatory path than would be the case for induced pluripotent stem cells (iPS cells).
Using MSCs from adipose tissue assists in scaling the manufacture of the cells, resulting in a capability to produce potentially upward of 300 million doses of cells from a single donor. This single donor capability will also streamline the regulatory approval pathway for Progenza.

A Phase I trial of Progenza OA has been completed successfully with the primary safety endpoints met and efficacy demonstrated in significantly reducing knee pain and improving cartilage volume. RGS is now on the cusp of commencing the Phase II trial.

Rats, no triggers
Apart from the therapeutic effect of MSCs on inflammation, and consequently reducing the pain caused by the inflammation, it has been shown in rat studies that at the correct dosage level MSCs can have a powerful direct effect on pain also.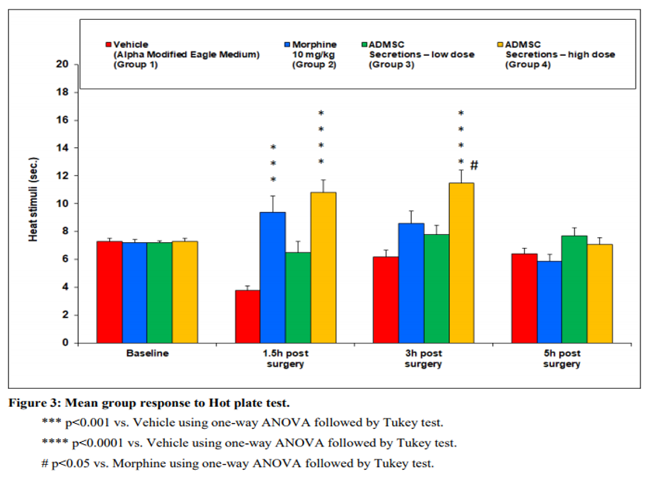 Rat model studies have shown neuropathic pain (pain that occurs without a trigger) reversed with a single injection of Progenza.
These findings pave the way for the potential use of Progenza in the treatment of neuropathic pain. Since there is no cure for the underlying causes of neuropathic pain, this could prove to be an important breakthrough in the treatment of this type of pain.
Regeneus is ready to seek a collaborative partnership to commence a Phase I trial of Progenza in neuropathic pain as the second indication.
A topical platform
Along with the Progenza cell therapy platform, RGS has been developing Sygenus, an MSC secretions platform.
Sygenus is the topical equivalent of Progenza – comprising multiple bioactive secretions (growth factors, cytokines, chemokines, exosomes, microRNAs) but not the MSCs themselves, and therefore is more applicable for topical use.
The therapy has broad application across a range of inflammatory skin conditions in both therapeutic and medical aesthetic markets, where the secretions accelerate healing and repair, as well as reduce pain, inflammation and scarring.
This platform has been shown to be safe and tolerable in preclinical safety studies, and in high doses was shown to be more potent and longer lasting than morphine, in terms of its analgesic effects.
While the initial priority for RGS is to focus on taking Progenza OA to market, its comprehensive secretions-based patent portfolio covers Sygenus, and RGS will be seeking collaborative partnerships to develop and commercialise this important therapy.
Patents in place
Having taken an early interest in regenerative medicine, relative to the market, Regeneus has exceptionally strong IP coverage for both of its platform technologies in key markets including the US, China, Japan and Europe.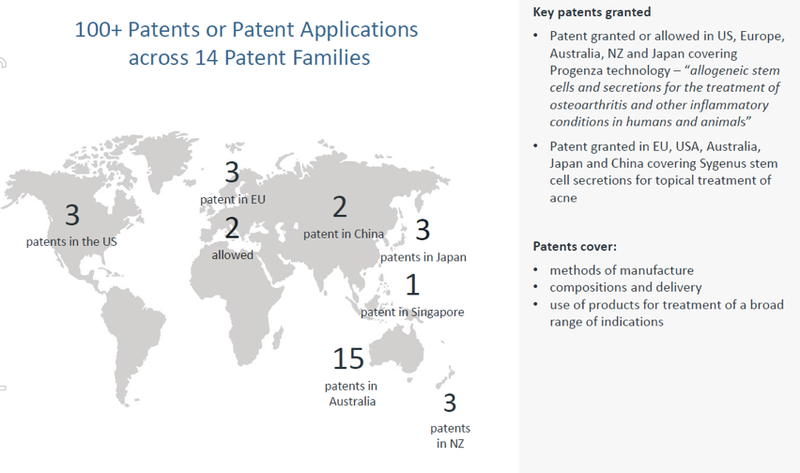 The Japanese connection
A uniquely favourable regulatory environment, along with a local demand that amounts to around 10% of the global market, combine to make Japan the market of choice for RGS. Regenerative medicine initiatives are given fast-track treatment by the Japanese regulatory settings, taking much of the pain out of bringing these therapies to market.
Regeneus, like its ASX-listed peers, has a clear strategy to commercialise its therapy in Japan.
Unlike its peers, Regeneus has Leo Lee at the helm. Before being appointed CEO of RGS in January 2019, Mr Lee had worked in both North America and Asia, and had lived and worked in Japan for the past 12 years. Mr Lee, who is fluent in Japanese, was previously President of Allergan Japan and President of Merck Japan.
Since his appointment, Mr Lee has focused his team on commercialising Progenza in the Japanese market. While yet to be signed off, the finalisation of a commercialisation agreement with a Japanese partner is expected be the icing on the cake for the company.
In interesting recent news, RGS announced that the full shortfall from its non-renounceable rights issue in August was placed to a Japan-based institutional investor with significant experience in the Japanese life sciences and regenerative medicine space.
As reported on Finfeed, placement to such an investor was seen as validation of the company's commercialisation strategy for Progenza in Japan.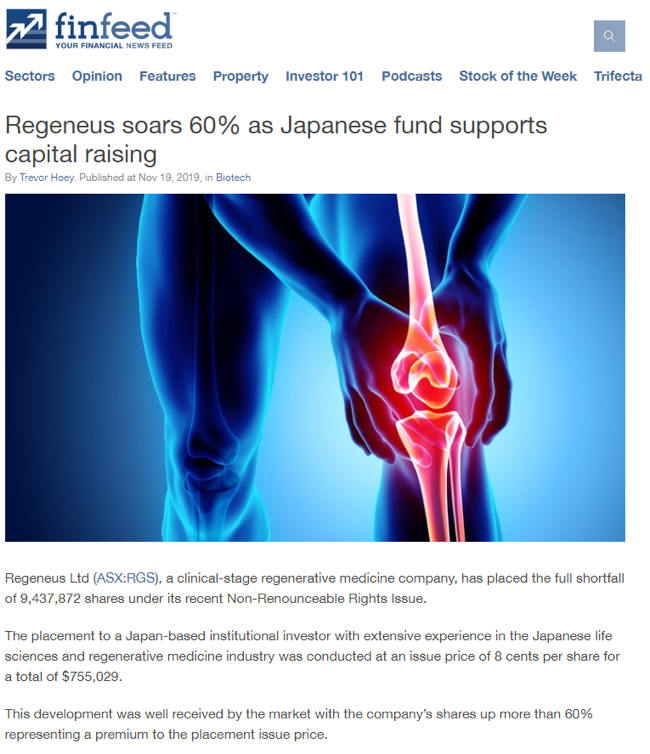 The combination of the rights issue and the streamlined internal operations introduced on Mr Lee's watch, will build the momentum required to hit milestones towards Progenza treating osteoarthritis patients in Japan.
Eyes on the prize
Several changes have been made to ensure Regeneus is well-positioned to capture this commercialisation opportunity.
As well as the appointment of Leo Lee as CEO, a number of changes were made to the Board in the last financial year, including the appointment of Barry Sechos as Non-Executive Chairman, together with the appointment of two additional Non-Executive Directors, Dr John Chiplin and Dr Alan Dunton, both of whom bring to Regeneus significant experience in leading large-scale life sciences and biotechnology companies internationally.
Since his appointment Mr Lee, together with the Board, has formulated a new vision and a refreshed strategy for RGS, to focus on its immediate goal of commercialising its highest value product, Progenza for osteoarthritis of the knee, in the Japanese market.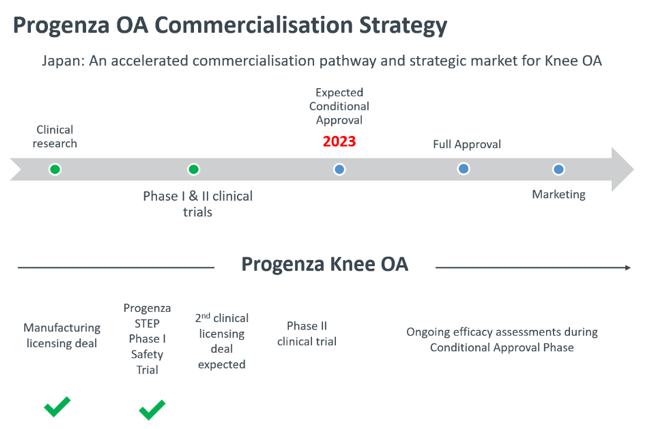 To allow it to continue to focus resources on the strategy for getting Progenza OA to market, the company has looked to collaborative partnerships with leading university and research bodies to assist with the ongoing pre-clinical and clinical development of Progenza for other indications, and of Sygenus, while maintaining the IP of its platform of technologies.
The company has also streamlined its internal operations, implementing a more efficient governance model, and presenting a highly leveraged leadership team. These cost-containment initiatives have strengthened RGS's position to achieve its commercialisation goals.
The Company Directors' have also recently committed $4 million to support Regeneus as it focuses on concluding negotiations with partners who intend to commercialise Progenza in Japan. The commitment is a further sign of the leadership's belief in the management team's ability to secure the deal.
Catalysts in 2020 and beyond
It's all about Progenza OA in Japan, with RGS targeting a product launch in 2023.
Expected milestones with potential stock catalyst effect for 2020 and beyond include:
Announcement of commercialisation partnership in Japan, anticipated 2020.
Phase II clinical trial of Progenza OA commencement in Japan, anticipated 2021.
Results of Phase II trial, anticipated 2022.
Conditional approval of Progenza OA in Japan, anticipated 2023.
Product to market in Japan, anticipated 2023.
Analogously, it is worth noting the experience of TiGenix, which in 2018 was purchased by Takeda Pharmaceutical for US$608 million (A$895M) after bringing its allogeneic expanded adipose derived stem cell therapy Cx601 to market for the treatment of fistulas caused by Crohn's disease.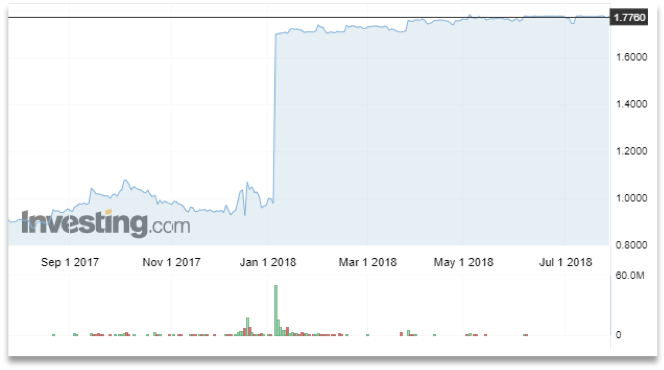 TiGenix
From pain to gain
The global pain market is a vast and growing area of need in which the shortcomings of current conventional treatments have created a multi-billion dollar opportunity for developers of novel therapies.
ASX listed junior biotech Regeneus is in the sweet spot of having developed and patented novel regenerative medicine technologies which are proving safe and efficacious across several types of pain.
Preclinical and Phase I studies have already shown excellent results for the lead platform Progenza in the treatment of osteoarthritis of the knee, one of the leading causes of chronic pain globally.
There is a significant opportunity for Progenza, which addresses both pain and underlying inflammation, to capture this market.
Leo Lee and his team at RGS have set in place a strategy to propel the product to commercialisation in the lucrative Japanese market. Recently deployed capital raising as well as cost-containment initiatives, along with a pending partnering deal, should see RGS funded to market in Japan.
Once that deal is announced, expect to see a very healthy re-rating of Regeneus.
With clinical results pointing in the right direction, a tight strategy with finances to support it, and an experienced and commercialisation-focused leadership team in place, RGS could well be on the verge of something very big.
One thing is for sure. If its strategy goes to plan, this biotech's investors will be feeling no pain.
---