ASX Junior Has Early Success With K9 Cancer Trials: Human Trials Await
PUBLISHED: 07-11-2019 11:03 a.m.
An estimated 6 million dogs are diagnosed with cancer each year in the US alone, compared with 1.7 million human diagnoses.
One of the most commonly diagnosed and aggressive canine cancers is lymphoma. Typically, a dog diagnosed with lymphoma will have no more than a 50/50 chance of surviving for longer than four weeks from the time of diagnosis.
Driven by a burgeoning rate of global dog ownership (90 million dogs currently in the US) and the ever increasing willingness of owners to spend more on the pets which they consider part of their family, the overall market for veterinary medical products has now topped $US22 billion (AU$31.8BN), and is growing year on year. According to American Pet Products, in 2015 almost 80% of all dog owners had their dogs treated with drugs, compared to just 50% less than two decades ago.
This includes treatment of cancers such as canine lymphoma.
As reported by Global Market Insights, the global pet cancer therapeutics market, estimated at US$178 million in 2018, is predicted to exceed US$359 million by 2025, with canine cancer therapies accounting for the lion's share.
But it doesn't end there. Canine B-cell lymphoma is recognised as being very similar to non-Hodgkin's lymphoma in humans. In fact many of the common canine cancers are similar to human cancers, and as such, dogs are recognised as excellent models in the development of treatments for the human disease.
One ASX listed clinical stage oncology company is developing novel targeted cancer therapeutics for both humans and animals. This is a company which specialises in repurposing already marketed drugs, thus lowering the risks and costs of development, and leveraging off existing approvals and historical evidence of low toxicity.
The company's leading clinical candidate is a small molecule drug which is already approved for use as an antiparasitic in food chain animals, and which the company is currently repurposing to develop as a novel, safe and potent treatment for cancer.
With Phase 1 trials in humans and dogs already confirming its low toxicity while producing a significant reduction in key prognostic biomarkers, the company is now recruiting dogs for its Phase 2 clinical trials. The Phase 2 trials will focus on a new, higher dosage and more palatable, Good Manufacturing Practice (GMP) grade tablet formulation of the drug. This will be an open label trial, in which announcements can be expected as soon as there is a meaningful discernible trend in results.
However, canine cancer treatment is not the end game for this company. The company's strategy is to first develop the drug as a novel therapy to treat cancers in dogs, and then use these outcomes to inform and de-risk its human clinical development program. In the event of a successful set of results from these clinical trials, it is hoped that a major global player in veterinary therapeutics will exercise its option over the canine treatment, leaving the company to pursue the application of the therapy to human cancers.
This is its main game.
With $3.6 million cash in bank to facilitate the trials, a supply of 7,750 tablets already in hand, and all inventory now on site, everything is set for the recruitment of the canine participants.
Don't be surprised to see tail-wagging news over the next few months from ...

PharmAust Limited
ASX:PAA
Share Price: 0.10 (as at 6 November 2019)
Market Capitalisation: $A30.18 million
Here's why I like it: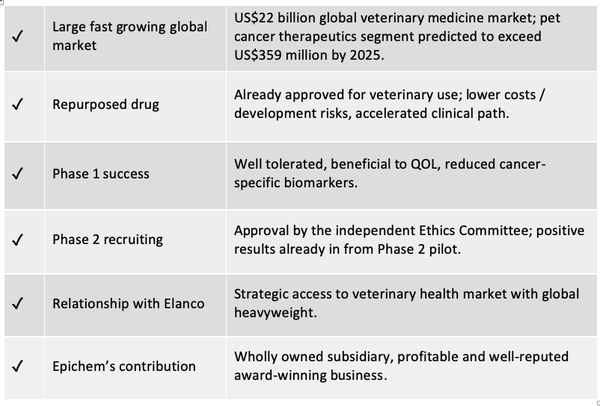 Everything old is new again
PharmAust (ASX:PAA) is a clinical stage oncology company developing novel targeted cancer therapeutics to address disease in both humans and animals.
PAA specialises in repurposing drugs that have already gone to market for a different use.
In the following presentation executive director Robert Bishop discusses PharmAust's strategy in detail.
With much of the cost and risk of development already borne, as well as in-the-wild confirmation of tolerance and toxicity levels, repurposing offers excellent advantages in cost-effectiveness and safety, as well as enhanced efficiency in securing relevant approvals.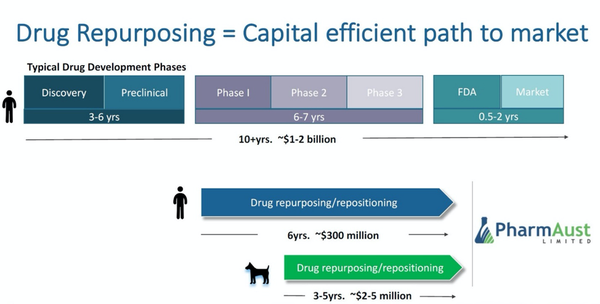 PAA's leading clinical candidate is monepantel (MPL), a sheep drench.
With its low toxicity already attested by its current approved use in food chain animals, MPL is an ideal candidate for repurposing. As an oral aminoacetonitrile (AAD) compound that has been shown to modulate the mTOR pathway (recognised as a key driver of cancer), MPL is now being evaluated by PAA for treatment of lymphomas and other cancers in companion animals. Unusually for an anti-cancer drug, MPL is non-toxic to normal healthy cells, and looks promising as a potential replacement for toxic chemotherapy treatments in a US$47 billion per annum market.
Early wins for K9 QOL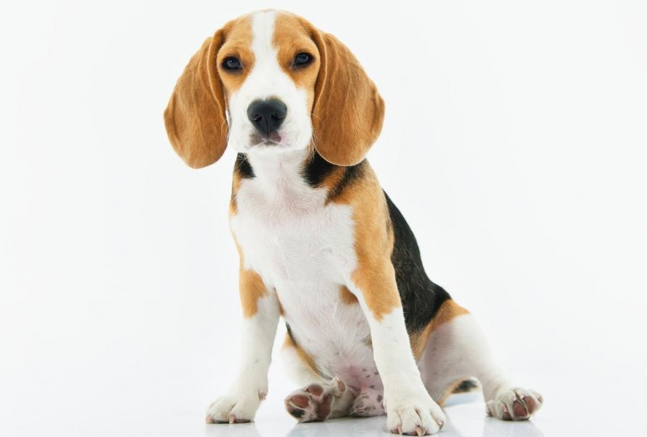 In its Phase 1 trial conducted in dogs with solid tumours, MPL was shown to be well tolerated and was reported as beneficial to quality of life (QOL) in dosages up to 25mg/kg bodyweight as monotherapy, or at 5mg/kg bodyweight in combination with carboplatin. Furthermore, it was shown to significantly reduce blood levels of cancer-specific markers in dogs with "standard of care" treatment-refractory cancer.
Subsequently, in a Phase 2 pilot program, dogs diagnosed with lymphoma were treated with MPL as front-line therapy for two weeks before transitioning to standard therapies. Results showed that six out of the seven dogs diagnosed with treatment-naïve (i.e. not having been exposed to any previous treatment, including corticosteroid anti-inflammatories) B-cell lymphoma developed stable disease, or progression free survival, and showed evidence of tumour regression with minimal side-effects.
Phase 1 trials pass the taste test
As previously reported by Finfeed, PAA's initial encouraging results were achieved using gelatin encapsulated liquid monepantel treatment, despite the formulation being not particularly palatable to the dogs. This was seen as a potential risk moving forward, if the doggie participants are deterred by the taste.
PAA has now developed a high dose, highly palatable GMP grade tablet formulation for its Phase 2 trials.

Following approval from the NSW Department of Primary Industries Secretary's Animal Ethics Committee, PAA is resuming trials, with recruitment of canine subjects now underway.
As reported just this week on Finfeed, the approval is for the investigation of the MPL tablets for:
Testing anti-cancer efficacy in short-term studies; and
Testing anti-cancer maintenance in long-term studies.
Efficacy is measured by achieving stable disease and progression-free survival, or regression of tumours. Preventing metastasis (spread of cancer) will also be monitored.
Interestingly, this trial will take place in real-world conditions. Participants will be pet dogs, and owners will be trained in administering the treatment, supported by local veterinarians.
The trial will be conducted in partnership with the University of Melbourne's U-Vet Werribee Animal Hospital, overseen by Dr Claire Cannon, Head of Small Animal Medicine & Oncology. Through this partnership, with U-Vet acting in a hub-and-spoke system with veterinarians in the Melbourne area, eligible pet dogs will be recruited from Melbourne and further afield for referral and treatment at Werribee. PAA have announced that a similar model is now being employed in Sydney via the Animal Referral Hospital in Homebush, and it is planned that this hub-and-spoke model will be replicated in other regions, enabling local veterinarians to facilitate recruitment of their eligible patients.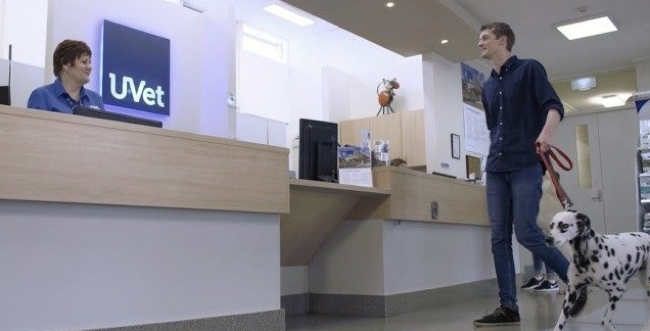 Recruitment will aim to generate a population of patients diagnosed with (treatment-naïve) B-cell lymphoma which is likely to provide meaningful statistical analysis as a reliable and measurable outcome of the trial. Factors which will be taken into account include progression of the lymphoma, expected survival of the dog, and its general health.
The trial will encompass a 28 day period of treatment. After the first 14 days of treatment, there will be an initial assessment of patient response. The purpose of this assessment will be to determine whether the MPL is performing the same or better than observed in the previous trial. Following this assessment there will be a further 14 days of treatment.
The results of this 28 day program will enable comparison of the tablet's performance with registered canine anti-cancer drugs already on the market.
Most importantly, if mutually agreed by owner and vet, individual dogs may subsequently be permitted to remain long-term on a lower maintenance dose. This can be of significant benefit to participating dogs, as canine cancer treatment traditionally sees relapse occurring from 6 to 12 months down the track.
If the trials deliver three to six month progression-free survival then this would demonstrate a highly successful drug for canine treatment. As an open label trial, results may be released as soon as a meaningful trend can be discerned. However results are most likely to be announced in the final quarter of 2019.
Recruitment guidance available here. Owners or vets wishing to refer a case for the trial should make contact as follows:
Melbourne – [email protected] or call 03 9731 2054
Sydney – [email protected] or call 02 9758 8666
Perth – [email protected] or call 08 9412 5700. Please note that PAA is yet to receive relevant permissions for Perth trials. These permissions are pending and we will notify readers if and when they come through.
Big Pharma Option
The monepantel molecule is owned by Elanco Animal Health, a US$10.22 billion capped global animal health company.
The molecule was originally developed by Novartis Animal Health, since acquired by Elanco, which developed it for use as a sheep drench. Novartis had concentrated on developing MPL for anthelmintic (anti-parasitic) use, and had not considered any potential anti-cancer applications.
PAA soon identified the anti-cancer potential of MPL and registered worldwide IP on the anti-cancer applications of the drug.
With its acquisition of Novartis, Elanco, now the world's second largest animal health company, acquired the MPL anthelmintic IP. However the anti-cancer IP remained with PAA, whose strategy has always been to explore the applications of MPL to both veterinary and human cancers.
Positive clinical outcomes thus far have enabled an Option Agreement with Elanco in respect of the veterinary uses, while PAA would retain all IP covering human applications.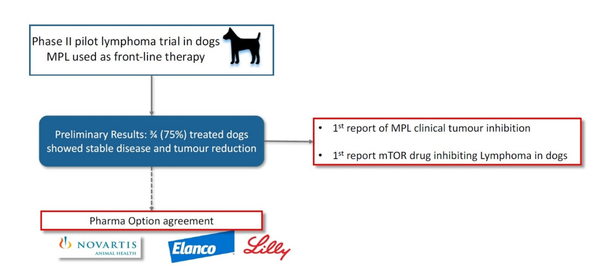 This is PAA's strategy, and it is now looking to a continuation of the good results arising from its MPL clinical trials, knowing that strong results will activate this partnership with Elanco in an important corporate outcome for PAA.
It's not all about dogs: the Pipeline
As well as the exciting developments in canine treatment, PAA has also completed Phase 1 clinical trials of MPL in humans diagnosed with solid tumours. As with the dogs, the human Phase 1 trials achieved their primary clinical endpoints in terms of safety and reduction in key clinical biomarkers.
In what was an excellent outcome, three of four human patients achieved stable disease by CT scan during that trial too.
It should also be noted that PAA has initiated a preclinical program to screen its portfolio of proprietary AAD compounds for anti-cancer activity. These novel compounds are related to, but distinct from, MPL, and have the potential to provide PAA with a fully proprietary oncology pipeline.

The three "C"s
The positive news for PAA has not been restricted to pleasing clinical results. There is much to smile about on the corporate and commercial fronts also.
PAA is comfortable with current cash at bank sitting at approximately $3.6 million.
On 3 October 2019 PAA announced that it had raised $2.4 million through a placement primarily to Australian and Singaporean fund management institutions. The funds are destined to progress the human trial program, including further development of the formulation and production of tablets, as well as strengthening working capital.
Excellent news from wholly owned subsidiary Epichem has also bolstered the current position of PAA. On 2 July 2019 it was announced that the highly regarded Epichem, which delivers products and services in synthetic and medicinal chemistry to the global drug discovery and pharmaceutical industries, had paid off its debt liability on time for its state-of-the-art purpose-built laboratory, with money saved on principal and interest to now go straight to the bottom line.
Epichem's revenues are forecast to reach $4.2 million by the end of this financial year.

Epichem has also been awarded the WA Industry Export Award for International Health 2019, for its significant contribution to the global sector in providing end-to-end support in drug discovery. Head of Drug Discovery Dr Martine Keenan was also presented with the Women in International Business Award, as well as Fellowship to the Royal Society of Chemistry, UK.
Bringing with him a wealth of domestic and international pharmaceutical, diagnostics and healthcare senior executive experience, Colin La Galia recently came on board as CEO of Epichem. Formerly Regional Business Director and Commercial Head of Asia Pacific, China and Japan for Abbott Rapid Diagnostics in Toxicology, Colin has also held senior leadership roles in the likes of Alere Inc, Origin Healthcare, GlaxoSmithKline and Merck Sharpe & Dohme. He has a proven record of driving commercial success and revenue growth.
On a roll
Whether it's top quality people you're looking for, or sound science, clinical runs on the board, a clever development strategy, or a strong cash position, industry accolades, or excellent potential in the pipeline, it is difficult to go past PAA.
PAA's repurposed MPL candidate has already been ticking boxes both in its earlier incarnation as an anti-parasitical in sheep where it proved its toxicity credentials, and in the earlier Phase 1 trial and Phase 2 pilot study where it showed off some very decent efficacy as an anti-cancer drug.
Now on the cusp of the Phase 2 trial that is expected to confirm what the previous trials have already suggested, PAA has begun enrolling the canine participants who will play a pivotal role in determining the future of this potentially important therapy.
If this trial goes as expected, there is upside for PAA on several levels – not the least of which are the important Elanco partnership for veterinary applications, and the momentum boost for PAA's ongoing human applications. Not forgetting the upside for the trial patients themselves who, without this intervention, would likely have had only weeks to live.
This is a significant moment for PAA, a significant moment for its canine patients, and a significant moment in the battle against cancer in both humans and companion animals. If you're making noise about this junior biotech right now, it's quite possible you are barking up the right tree.
---