ASX Copper Junior Backed by $5BN Lundin Mining on Path for Alaskan Success
PUBLISHED: 22-10-2019 09:57 a.m.
It is no small thing to have a C$5 billion (A$5.6B) multinational miner like Lundin Mining Corporation (TSE: LUN) in your corner.
Lundin Mining doesn't invest in projects it doesn't believe in and given recent activity, and as the company's largest shareholder, it looks like it has a great deal of faith in a circa $30 million ASX-listed small cap.
Why?
Firstly, this company's copper and copper equivalent grades compare favourably with some of the world's highest‐grade operating mines, providing the opportunity for excellent returns should mining occur.
Secondly, it owns the Alaska Range Project, covering 261 square kilometres of State Mining Claims. This consists of high‐grade existing resources and numerous large unexplored advanced targets within a 35 kilometre mineralised belt. This project displays strong fundamentals for copper (Cu) and gold (Au) and already has JORC resources at two deposits. It also includes the Saturn and Mars Cu-Au prospects, which are the focus of Lundin's interest.
Thirdly, the project is located in Alaska, a Tier-1 mining jurisdiction: a pro-mining state and a top 10 global investment destination.
Those points alone make this company a potentially attractive investment. Yet that only touches the surface.
Throw in a highly diligent and experienced management team that has big company experience and a track record of delivering mines from advanced exploration projects, plus strong drilling results out of Saturn and Mars — with the promise of more to come — and there's reason for Lundin Mining's validation.
Lundin Mining poured in A$4.3 million via a share placement earlier this year to fund drilling at the company's Saturn and Mars targets, which exploration to date suggests may both be porphyry copper-gold systems of vast scale.
Just this week, the company announced that a single angled hole to a final down‐hole depth of 417 metres has been drilled into the Mars target.
Lundin also has an exclusive option to earn a 51% interest in the company's Stellar Project — which hosts the Saturn target — via staged exploration spending of US$24 million and staged payments to PolarX amounting to US$20 million cash over three years.
It is thus all systems go for this ASX junior, so let's deep dive into why this company is so compelling on so many levels.
Introducing...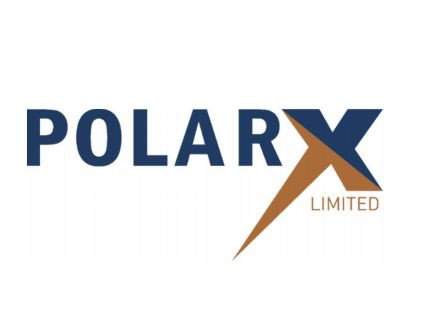 PolarX Limited
ASX:PXX
Share price: 8.6 cents
Market capitalisation: $35.8 million
Here's where I like PolarX...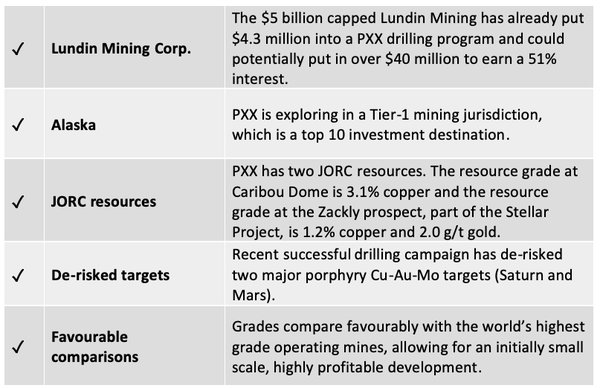 PXX: The story so far
PolarX (ASX:PXX) owns the Alaska Range Project, covering 261km2 of State Mining Claims.
The Alaska Range Project comprises high-grade existing resources and numerous large unexplored advanced targets within a 35km mineralised belt now under the company's control.
It is situated in the least explored part of the most prolific copper belt in the world: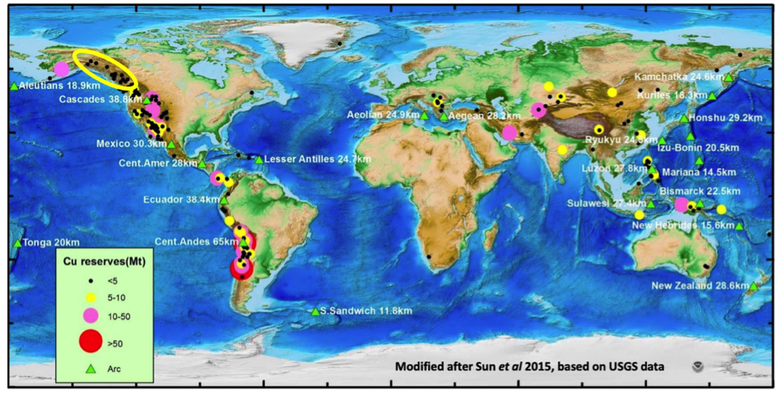 Most notably, the Alaska Range Project hosts of the Stellar and Caribou Projects which boast significant JORC resource grades: Caribou Dome is 3.1% copper, whilst Zackly, part of the Stellar Project, is 1.2% copper and 2.0g/t gold, with 14g/t silver.
These deposits remain open in all directions and are thus almost certain to grow with further drilling.
One further advantage is that until this year's program, no targets outside the existing resources have ever been drill-tested, giving PolarX carte blanche to extend its campaign.
The table below illustrates the Resource Estimates (JORC 2012), 0.5% Cu cut-off grade:

The following map highlights the project area, which is just 250km north-east of Anchorage and enjoys excellent infrastructure including rail access and ports: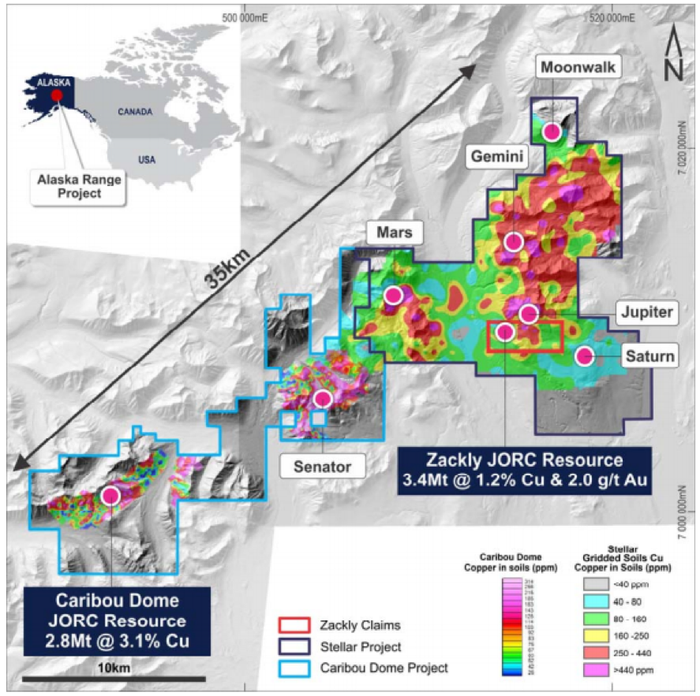 Alaska itself is a drawcard. As stated earlier, it is a low risk environment, a Tier-1 jurisdiction, a pro-mining state and a global top 10 investment destination.
Over 40Moz gold have been mined in Alaska to date, but it still remains heavily under-explored, so much so that several Australian companies have made the trip to this far outpost of North America including the $7 billion capped Northern Star Resources (ASX:NST), which recently acquired Sumitomo's Pogo gold project for A$347 million.
The A$12 billion South 32 Ltd (ASX|LON: S32) is heavily invested in Canada's Trilogy Metals' Alaskan projects, whilst ASX small cap White Rock Minerals (ASX:WRM) has been enjoying the support of mining giant Sandfire.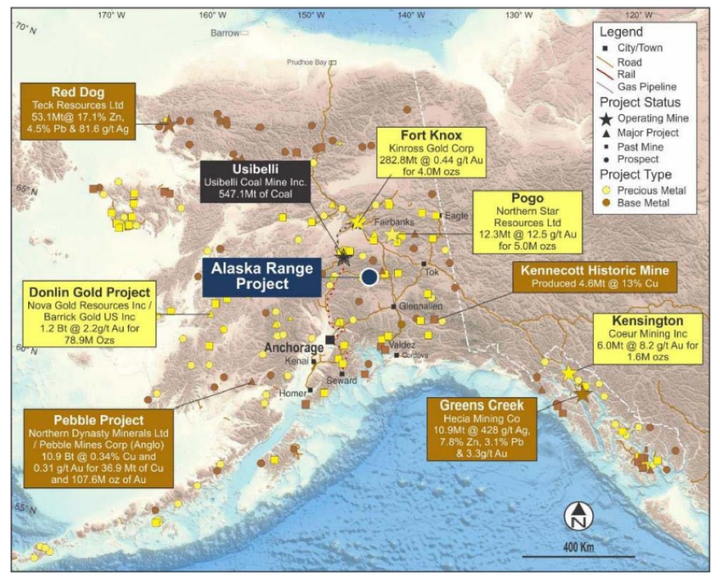 As you can see, PolarX is in good company and given its resources and drilling results thus far, could make its own mark in the region sooner than expected.
A good starting point for investors interested in PolarX is managing director Frazer Tabeart's interview with Morgans' senior analyst Chris Brown about the Alaska Range Project.
Lundin Mining's endorsement
Canadian based, diversified metals company Lundin Mining Corporation is PolarX's largest shareholder with a 12.8% stake.
The PolarX share price more than doubled between May and August, partly attributable to the market's enthusiasm for Lundin Mining's investment seen to be endorsing the project's prospects. The stock has pulled back some since its highs in August, but given the role Lundin Mining will play moving forward, the stock may soon rally again and is still up 40% for the year-to-date.
PolarX entered into a strategic partnership with Lundin Mining in June. The partnership covers the Stellar Project only, which includes the Saturn and Mars targets under which Lundin Mining invested $4.3 million in PolarX to secure the right to subsequently enter a staged earn‐in joint venture. PXX does still retain its 100% interest in the entire Caribou Dome Project and the Zackly deposit.
Lundin Mining's financial and operational support for the project is extremely significant given the group is a global mining giant with expertise across many commodities and experience in taking projects from exploration to production.
It is exactly what PolarX need to move its project activity forward and it is now fully funded to do so. In fact, it could be funded for the next three years.
If exercised, Lundin Mining can acquire a 51% interest in Stellar by staged exploration spending of US$24 million and staged cash payments to PolarX of US$20 million, both over three years, as follows:
Year 1: US$2M cash to PolarX, US$8M exploration expenditure
Year 2: US$3M cash to PolarX, US$8M exploration expenditure
Year 3: US$5M cash to PolarX, US$8M exploration expenditure
US$10M cash to PolarX to exercise the option to form a 51/49 JV
The good news for Lundin Mining is that PolarX recently completed a very successful drilling campaign which has de-risked two major porphyry Cu-Au-Mo targets, Saturn and Mars.
The Stellar Project
The Stellar Project comprises 231 contiguous State Mining Claims and is located immediately adjacent to PolarX's Caribou Dome Copper Project.
The Stellar claims cover a total area of 150km2.
Until recently, the main focus has been on the Zackly area. This was originally explored from 1981 to 1994 by several companies and included surface sampling, trenching, geophysics and both core and reverse circulation drilling totalling approximately 12,000m over approximately 85 holes.
Historical conventional soil sampling over the Zackly prospect and surrounding areas defined multiple, large, highly anomalous Cu-Au zones currently untested by drilling.
Exploration started up again in 2010 when Millrock Resources Inc collected approximately 950 soil and 760 rock samples for assay and/or spectral analysis, as well as 99 stream sediment samples throughout the project area.
PolarX began its exploration activities in 2017, when it re-drilled the Zackly high-grade copper-gold skarn to test and upgrade the historic resource to JORC (2012) standard, and tested for along-strike extensions of the known mineralisation.
The Zackly deposit features a style of mineralisation often associated with large mineralised porphyry systems. It has a resource of 3.4 million tonnes at 1.2% copper and 2.0 g/t gold. The upside for PolarX was that only 1,050m of its approximate 5km known trend was drilled and was only been modelled to shallow depth to date.
Since then, PolarX has been working to expand the high grade Zackly Cu‐Au‐Ag resource to reach critical‐mass for an economically viable project.
Other prospects within Stellar include the Jupiter Prospect, the Gemini Prospect and the Moonwalk Prospect, however it is recent work at the Mars and Saturn prospects that have tongues wagging.
Saturn's rings of gold
An initial program of induced polarisation ground geophysics and follow-up diamond drilling at Saturn was agreed with Lundin.
Drilling of the first two holes got underway in August, funded from proceeds of the placement to Lundin Mining that raised $4.3 million.
The Saturn target is only three kilometres to the east of the Zackly skarn deposit. The Saturn anomaly is interpreted to be the potential fluid source for the east‐west trend of skarn mineralisation and alteration discovered at Zackly as indicated below.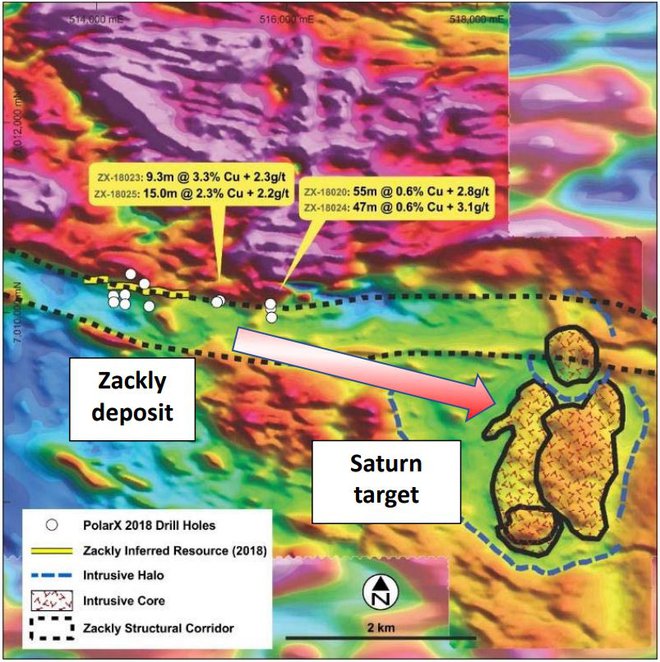 Further to that interpretation, Saturn's geological features and its proximity of high-grade copper-gold mineralisation at Zackly suggest that Saturn itself may be a porphyry copper-gold system, possibly similar to the giant Grasberg in Indonesia.
Initial results of that core drilling program, which was designed to evaluate the Saturn and Mars porphyry targets, support PolarX's expectations that a deeper porphyry source may be present at the prospect.
"The drilling at Saturn appears to have clipped the edge of a porphyry system – in hole 19SAT001 and 19SAT002 we saw 30-100m down hole thicknesses of intense clay alteration which is often seen in the upper parts of preserved porphyry systems," managing director Frazer Tabeart told Next Mining Boom.
"We also saw local evidence of hotter mineralising fluids seen as zones of quartz-sericite-pyrite alteration, plus alteration styles (propylitic alteration) usually found at the edges of porphyry systems."
Put simply, core drilling into the extensive Saturn magnetic anomaly has identified geology, alteration patterns and local hydrothermal veining consistent with a deeper porphyry source.
Saturn is covered by a thick layer of unconsolidated post-mineral cover which has slowed drilling progress.
Five holes for a total of approximately 2,600 metres have been completed to date, with drilling providing PolarX with a vector to the east and to the south.
Further drilling is now required to confirm the presence of a major mineralised porphyry system.
A recently completed gravity survey should also help to identify buried intrusions, however a comprehensive update won't be available until all data has been received, analysed and interpreted.
Life on Mars
Developments at Saturn are encouraging, however results at the Mars prospect also look highly promising.
The first 300 metres of the initial diamond hole intersected porphyry-style veins containing visible iron, copper and molybdenum sulphides in altered volcanic rocks from near surface.
Just yesterday, PolarX announced that the single angled hole was drilled to a final down‐hole depth of 417 metres.
"Visual confirmation of even more intense porphyry‐style veining containing chalcopyrite and molybdenite from 321 metres to the end of the first hole at 417 metres depth at Mars is extremely promising," Tabeart said.
"The 400 metres+ down‐hole thickness of mineralisation, the large size of the copper‐gold‐molybdenum surface geochemical and geophysical anomalies at Mars support our view that a very large mineralised system may be present."
The mineralised porphyry‐style veins occur from within 6 metres of the surface to the end of the hole at 417 metres down‐hole depth. The veins cross‐cut highly magnetic andesitic lavas and diorite intrusions, strongly altered to chlorite, epidote and carbonate, locally with more intense sericite‐carbonate‐silica alteration.
The mineralisation intensity broadly increases with down-hole depth, but increases at 321 metres to the end of the hole with abundances of chalcopyrite visually estimated at between 0.5% and 2.0% within this interval.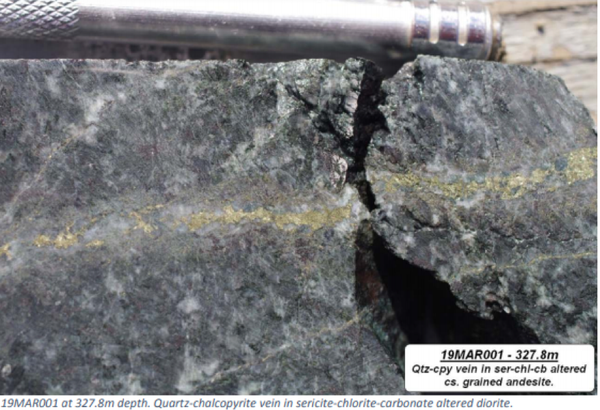 This is a highly promising result for PXX.
You can read more about it in the following Finfeed article: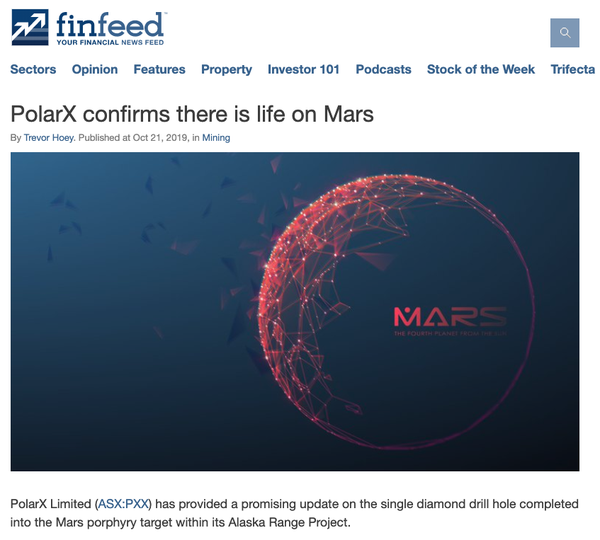 Assays are yet to be provided and further drilling is required to make definitive statements regarding the orebody, however Tabeart believes they are likely to carry gold.
"We know this because the surface geochemical anomalism at Mars has strong copper, gold and molybdenum anomalism, up to 1775ppm Cu and 556ppb Au (both are very high)," he said.
In this video with Proactive Investors Tabeart talks about the encouraging results to date:
Caribou Dome
Recent focus has been on prospects within the Stellar Project, however we shouldn't discount Caribou Dome.
Caribou comprises 216 mineral claims covering ~110km2, is located approximately 250km northeast of Anchorage and is surrounded by required infrastructure.
Previous exploration conducted by Coventry Resources garnered a JORC Resource announced on 15 April 2017.
The total mineral resource is 2.8mt at 3.1% Cu (using a 0.5% lower cut-off) containing 86,000t of copper. Significantly, approximately 60% of the Mineral Resource (1.6Mt at 3.0% Cu) lies within 150m of surface. The Mineral Resource remains open at depth and along strike both at surface and depth.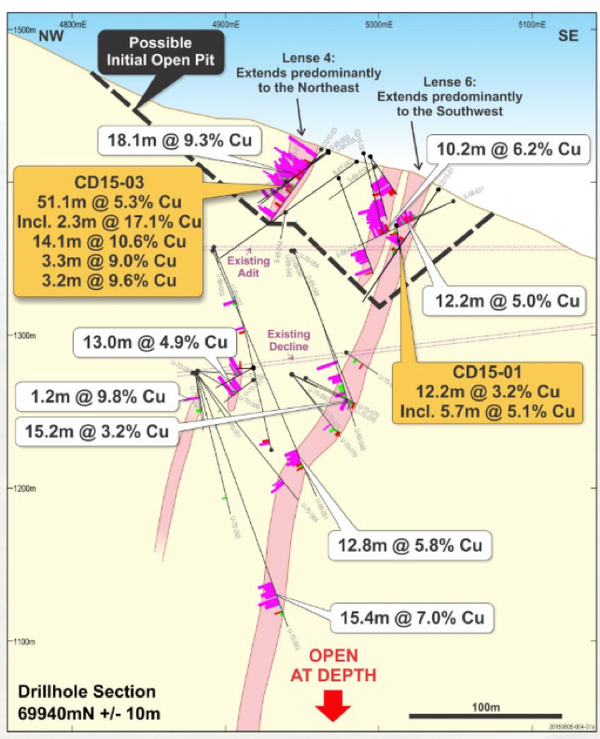 While not much work is currently being done by PolarX here, it is certainly a strong project to have up its sleeve.
Looking at its peers
As noted earlier, grades for PXX's projects compare favourably with the world's highest grade operating mines, allowing for an initially small scale, highly profitable development.
The company believes the geology and geophysical signatures at Mars and particularly at Saturn are comparable to the huge Grasberg copper-gold deposit in Indonesia.
Grasberg mine has the world's single largest known gold reserve and the second largest copper reserves, with copper being the primary commodity, with a proven and provable reserve of 2.8 billion tonnes of 1.09% copper.
The reserves also contain 0.98g/t gold and 3.87g/t silver.
Ownership is spread between Freeport McMoran Copper & Gold (48.8%) and PT Inalum/PT Indonesia (51.2%) .
Furthermore, looking at PolarX's peers, the grades stack up well: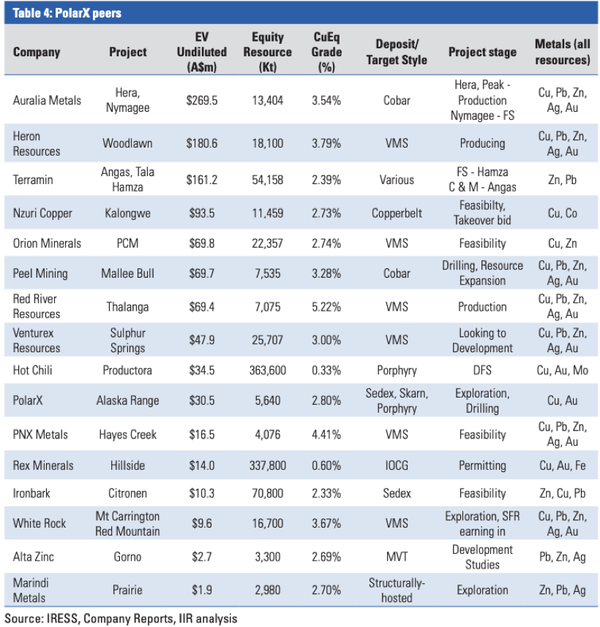 The work to be done over the next 12 months will determine just how favourable the numbers actually are.
Demand for copper and gold
PolarX stated two main goals for 2019: advance Saturn and Mars and expand the high grade Zackly Cu‐Au‐Ag resource to critical‐mass for an economically viable project.
It has certainly achieved its first aim and the company expects its 100%-owned Zackly to rapidly increase in size with further drilling to the East.
Early soil sampling demonstrates almost the entire 35km belt is mineralised with copper, gold and silver from surface in various geological forms.
These results come at a good time.
Projected growing demand for copper, driven by the electric vehicle (EV) revolution, and potential supply crunch is high.
Here is Roskill's Jonathan Barnes speaking about supply and demand as well as its use in electrics.
"Supply is starting to get very constrained, a lot of big mines are experiencing reducing head-grades and very few big discoveries are even close to being developed," Tabeart told miningjournal.com.
Meanwhile, gold continues to fluctuate however it is still sitting at a pretty high price of US$1484/oz. But the outlook for the precious metal going forward is bullish.
Suffice to say, it is a good time to be in these metals.
Given recent results, backing by Lundin Mining, market projections and plenty of work and news flow to come, we could be looking at a big 2020 for the A$35 million capped PolarX which looks to be in the right place at the right time.
---