EMD's peer announce breakthrough results for MDMA therapy
Shares Held: 5,666,667
Options Held: 2,833,334
---
On Thursday last week, MAPS, a US-based not-for-profit organisation published Phase 3 trial results on MDMA Assisted Therapy (MDMA-AT) for those suffering from Post Traumatic Stress Disorder (PTSD).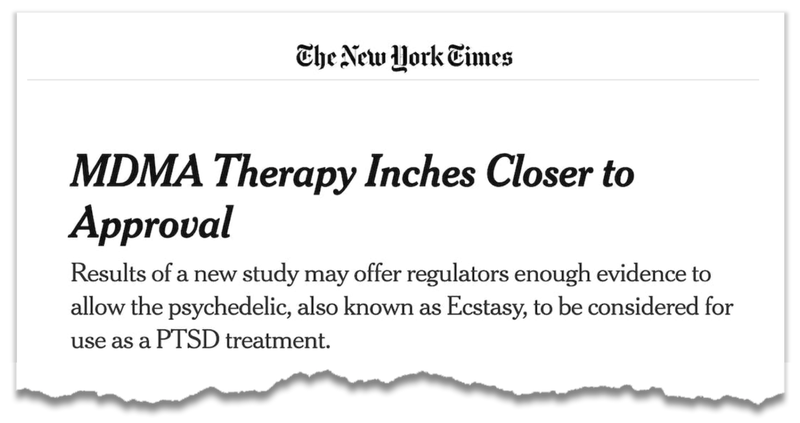 We think this has big positive implications for one of the latest additions to our Portfolio, Emyria (ASX: EMD).
To get up to speed on EMD, read our first two notes on EMD:
More on why this matters for EMD…
The Multidisciplinary Association for Psychedelic Studies (MAPS) and its Public Benefit Corp. arm, MAPS PBC published results of their second Phase 3 trial on MDMA Assisted Therapy late last week.
The results of this second Phase 3 trial were published in one of the most prestigious life science journals in the world, Nature Medicine.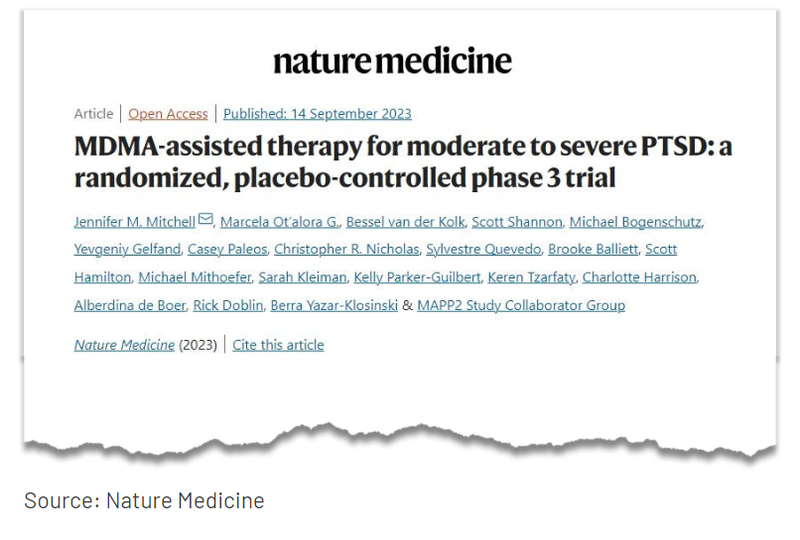 This was MAPS' second Phase 3 trial on MDMA, with the results of the first trial published in 2021.
The big takeaway from this second Phase 3 trial?
"71.2% of those in the MDMA-AT group no longer had a PTSD diagnosis, versus 47.6% in the placebo group; and, 46.2% of the MDMA-AT arm met remission criteria compared to 21.4% in the placebo-with-therapy group."
That's correct, more than two thirds of those receiving the MDMA treatment and the associated therapy no longer had PTSD, and almost half of patients had successfully put their PTSD into remission.
What's more, the results were markedly more improved for those in the placebo arm of the study.
We think this is highly relevant to our Investment, EMD, because EMD has a Phase 2B, MDMA-assisted therapy trial, which successfully recruited its first patient in July: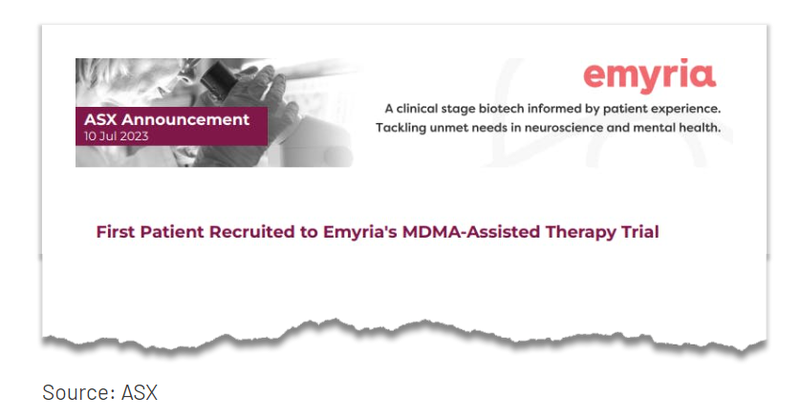 For governments and regulators to consider changing laws regarding a new area of science like MDMA assisted therapy there needs to be a large body of evidence that supports safety and efficacy.
The MAPS results are a strong indication that MDMA assisted therapy is effective at treating PTSD, and a big step forward for the industry.
EMD is looking to develop its own MDMA assisted therapy as well as novel MDMA drugs that mitigate some of the shortcomings of MDMA (like its prolonged active time).
We see these trial results as validation of EMD's strategy as well as a big macro tailwind for the company.
EMD's MDMA Assisted Therapy Trail
EMD is conducting its own Phase 2b trial for MDMA-AT, it has secured all of the necessary approvals and MDMA supply for up to 72 patients.
The goal of the trial is to show that MDMA is effective at treating certain mental disorders as well as to develop a protocol for treatment.
EMD's patient recruitment followed quickly after the TGA ruling legalised the use of psychedelics (MDMA, psilocybin) for treatment of specific mental health disorders as of July 1st, 2023.
EMD has moved very quickly, and has a trio of aspects to it working in its favour as an integrated clinical drug development and care delivery company.
By integrated, we mean EMD has:
Treatment centres - places where psychedelic treatments can be administered with wrap-around care, i.e. providing a full suite of practitioners such as psychiatrists, mental health nurses, psychologists, counsellors, OTs, social workers, physical therapists.
Treatments - the actual drugs, which includes psilocybin, ketamine, MDMA and an ongoing drug development program into MDMA analogues, aiming to make the treatment work better for a range of conditions.
Data - EMD collects and owns valuable patient data to help improve its drug treatments and therapy programs.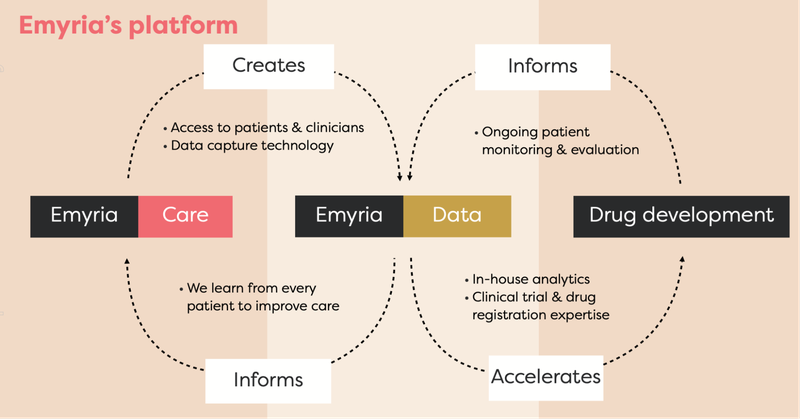 So not only does the publication of last week's Phase 3 trial results underpin the overall efficacy of MDMA-AT as a treatment for PTSD (which EMD also has a Phase 2B trial for), we think it may point to MDMA's potential for other indications such as complex pain.
This link between complex pain and PTSD is discussed in EMD's latest Investor Presentation (see slide 8 in particular in EMD's latest Investor Presentation.
EMD is looking to find new uses for MDMA and has a drug development arm which is building a library of MDMA analogues which could be used to treat disorders like Parkinson's disease.
As a result, we think EMD is extremely well positioned to capitalise on the TGA's decision and has a powerful first mover advantage in the market which could see it re-rate on either expanded care delivery or clinical trial success, or both.
Our Big Bet for EMD is as follows:
EMD re-rates to a +$300M market cap by making a breakthrough with one or more of its clinical trial programs (MDMA, psilocybin, ketamine, CBD) while rapidly growing the footprint of its mental health treatment clinics.
What's next for EMD?
EMD has an entitlement offer happening right now which has an indicative closing date of 28 September (this month):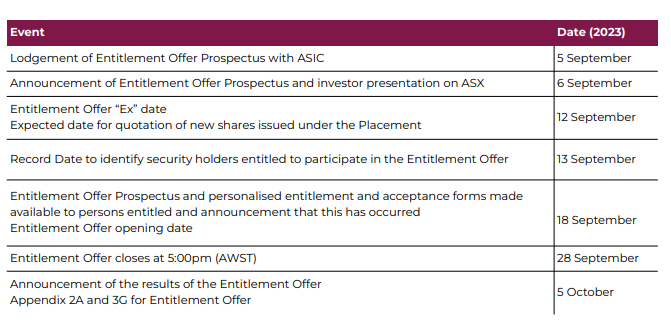 The entitlement offer allows existing shareholders at the record date (13 September) to apply for "1 New Share for every 7.5 existing Shares held on the Record Date at an issue price of $0.075 per New Share, together with 1 free attaching New Option for every 2 New Shares applied for and issued"
The Prospectus is available here.
In terms of newsflow, there's plenty in the pipeline and we expect EMD to provide further updates on the following:
MDMA-AT Phase 2b first patient treated 🔄
MDMA-AT Phase 2b patient recruitment updates 🔄
Animal study results for fast-acting MDMA analogue 🔄
Approval for ketamine assisted therapy protocol 🔄
Secure key approvals for psilocybin use 🔄
Recommence Phase 3 trial of low-dose CBD for stress & anxiety 🔄
Secure a major payer partnership (we see this as a major catalyst) 🔄
Below is EMD's roadmap outlining what it intends to accomplish across its drug development, clinical trials and care delivery programs: