Natural gas prices in the US at highest levels since 2008
PRM and GLV Apr 19, 2022
---
The impacts of the Russia/Ukraine conflict on oil & gas supply chains seem to be getting worse by the day - natural gas futures in the US trading as high as ~US$8.05/MMBtu overnight - the highest level seen since 2008.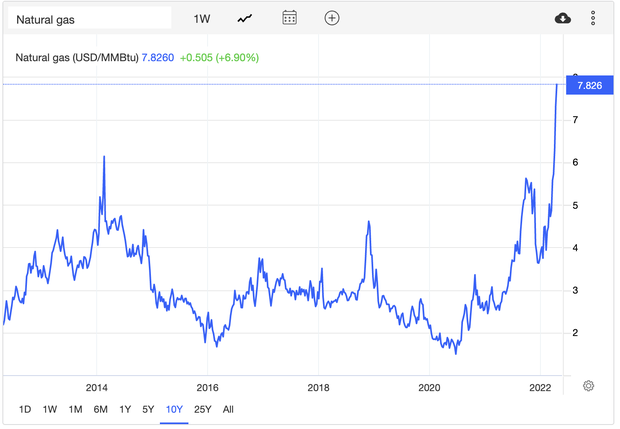 The following article published by CNBC titled "Natural gas surges to highest level since 2008 as Russia's war upends energy markets" highlighted the fact that US natural gas prices are now up ~108% for the year.
More importantly though, the article made mention of the U.S now exporting record amounts of liquefied natural gas (LNG) to Europe.
The key takeaway for us was that there is now a battle developing between Asia and Europe for spare LNG cargoes - the two continents are locked into a bidding war for whatever spare capacity is available in the market.
With China being a net energy importer and Europe now trying to diversify away from Russian gas (which accounts for ~40% of natural gas usage inside the EU), we suspect that this will create upwards pressure on gas prices globally.
All of this means that demand for new gas supplies globally has never been higher.
Just last week we announced the two latest additions to our Catalyst Hunter portfolio, which are only a few weeks away from drilling one one of the largest oil & gas wells being drilled by an ASX junior in decades.
Our investments Prominence Energy (ASX: PRM) and Global Oil and Gas (ASX: GLV) have a combined 37.5% interest in the Sasanof Prospect located in the North West Shelf, offshore WA. The North West Shelf is home to ~47mtpa of LNG processing capacity and a supply source for global LNG markets.
The Sasanof Prospect has a prospective resource of 7.2 trillion cubic feet and 176 million barrels of condensate on a 2U basis (unrisked mid case). The prospect therefor has the potential to host a resource larger than, or at least rival, the size of discoveries made by oil and gas majors like Exxon, Chevron and Woodside in this part of WA.
To see the key reasons we invested in PRM and GLV, what we want to see from the upcoming drilling program, the risks to our investment thesis and our investment plan check out our launch note here.
Read More: Introducing Our new Catalyst Hunter Portfolio additions PRM and GLV