Who will process the world's critical minerals?
Published 27-MAY-2023 13:00 P.M.
Processing of battery metals for electrification will be pivotal.
The talking point for this week?
How will the world process the critical minerals it needs to power decarbonisation and the green energy transition...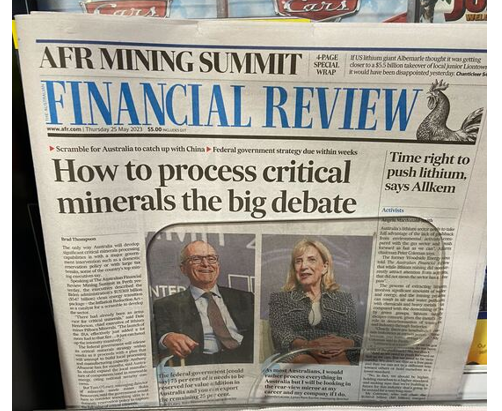 At the moment, almost all of the world's critical minerals are PROCESSED inside China.
While they may be mined in other countries the value added processing (the step needed to produce ready-to-use materials) happens almost exclusively in China.
China hosts ~23% of global battery raw materials supply BUT controls ~80% of the world's chemical production of battery grade raw materials.
For some context:
Lithium: China controls ~60% of the world's lithium processing capacity.
Graphite: China controls ~86% of the world's battery anode supply.
Rare earths: China controls ~90% of the world's processing capacity.
Without the processing stage, none of the lithium or rare earths mined in Australia or anywhere around the world can be used to produce stuff.
So, while it is one of the final steps in the supply chains, it is typically where bottlenecks to supply start to form.
The post-COVID supply chain shocks and then the EU's energy dependence on Russia (post the Russia/Ukraine conflict) made the critical minerals supply chain a mainstream problem.
Now the West (namely the US & EU) is responding.
The European Union just released its own version of the Critical Raw Materials Act, the primary aim being to try to build out its own domestic supply chains.
Here in Australia, we have had a "Critical Minerals Strategy" in place since 2020.
And just last year the US launched the ~US$400BN Inflation Reduction Act (IRA).
The overarching ambitions of the US IRA are summarised by the recent introductions to EV incentives...
The US wants to have ~80% of the critical minerals found in Electric Vehicle (EV) batteries to be sourced from inside the US or countries with which it has free trade agreements.
Deal signed between Australia and the US this week
This week US President Joe Biden and Australia's Prime Minister Anthony Albanese signed a deal that would secure Australia's "friendly" status with the US.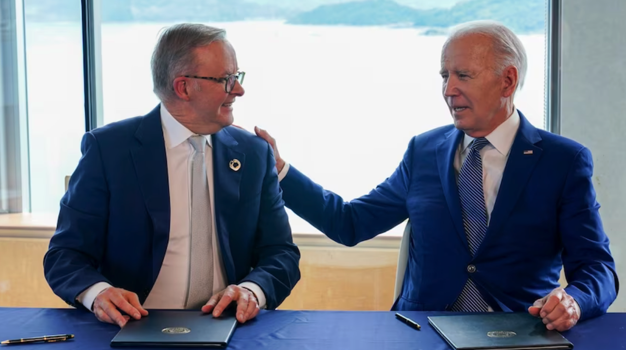 (Source)
Why does this matter for small cap investors like us?
It could open the floodgates to billions of dollars in funding for Australian critical raw material projects.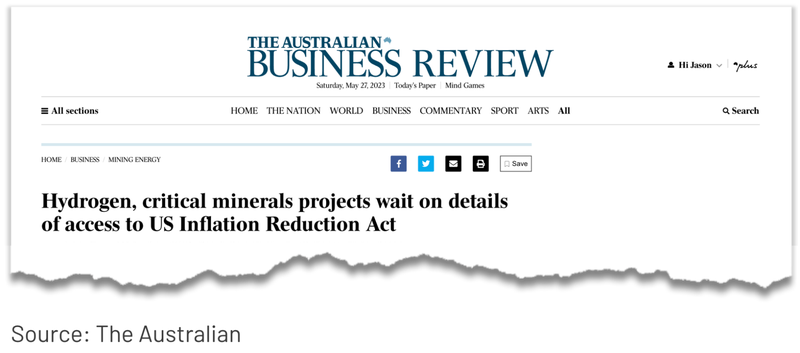 (Source)
The US has already been actively funding projects based in the US - the US$1BN deal for ASX listed Ioneer's lithium project in Nevada comes to mind.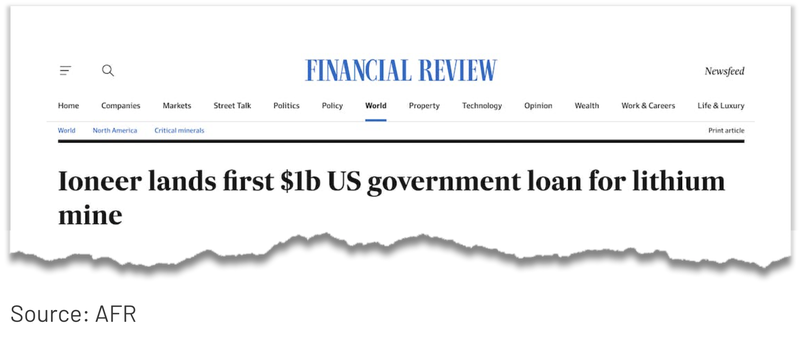 (Source)
Deals like the one signed this week between the US and Australia mean the reach of US government funding is now moving offshore into other 'friendly' countries.
Up until now, the assumption was that the US government funding would be earmarked for projects INSIDE the US.
(and yes, we have been on the hunt for ASX listed explorers with battery metals exploration projects located in the USA)
Now we know that some of that funding could move overseas into other jurisdictions.
A little bit of bias here - but we think Australia & the US's North American neighbours could benefit from this the most.
Australian companies are making the most of the abundant natural gas resources and the renewable energy capacity in WA, planning and committing to critical minerals processing projects.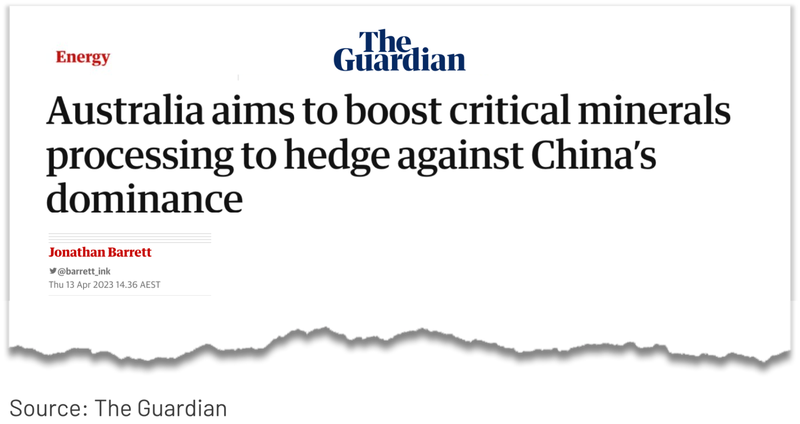 (Source)
The Australian government has even got involved lending a hand to majors like Iluka resources to develop processing capacity.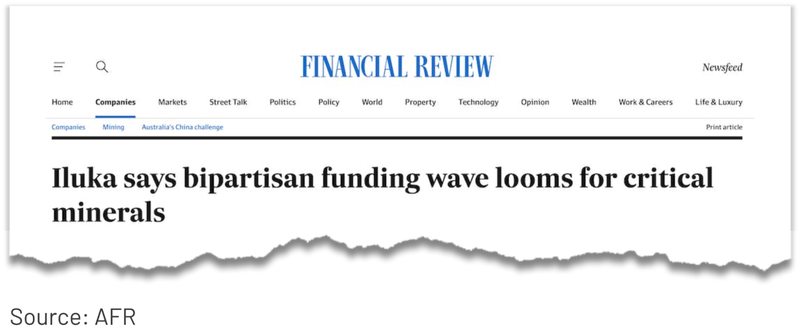 (Source)
We think the critical raw materials processing projects in "US-friendly" jurisdictions have one of the strongest tailwinds of all macro thematics in the market.
We are putting our capital behind these opportunities and have Investments in companies looking to capitalise on all of this.
Outside of the core exploration and mining business', some of our Investments are also looking at developing critical minerals processing infrastructure in US-friendly jurisdictions:
FYI Resources (ASX: FYI) - is looking to develop two processing plants for two critical raw materials (High Purity Alumina & rare earths) across WA and the NT.
Euro Manganese (ASX: EMN) - is looking to develop a high-purity manganese processing plant in Quebec, Canada. The plant is in addition to the company's Manganese project in the Czech Republic, strategically located inside the European Union.
Evolution Energy Minerals (ASX: EV1) - is looking to build a downstream graphite processing plant inside the USA. At the same time, the company is looking to secure project financing for its graphite project in Tanzania, leading up to a Final Investment Decision (FID) on the project.
Okapi Resources (ASX:OKR) is a uranium explorer and developer with projects across four uranium districts in the USA & Canada. OKR owns a cornerstone stake in a uranium enrichment technology company that uses a chemical process which could make uranium enrichment more efficient, safer and cheaper than other enrichment technologies.
On the raw materials side, we are also Invested in the following:
Mandrake Resources (ASX:MAN) - is looking to define a lithium brine resource across its project in Utah, USA. Breaking news in the US lithium brine space - oil and gas supermajor Exxon Mobil paid US$100M for projects in the US this week.
Megado Minerals (ASX:MEG) - is looking to follow in the footsteps of ~$2.2Bn Patriot Battery Metals and make a lithium discovery in the James Bay region in Canada. The company also has rare earths projects inside the US, giving it a two pronged exposure to the North American critical minerals thematic.
US funding to extend into countries like... Tanzania?
A few months ago, the US Vice President also announced a deal with Tanzania.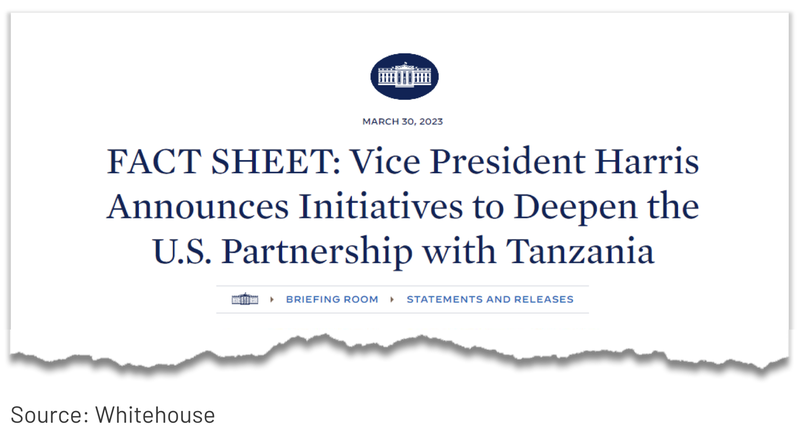 (Source)
As part of the deal, the US government underlined its commitment to working with Tanzania to shore up critical minerals supply chains and to help with the financing of critical minerals projects in the country.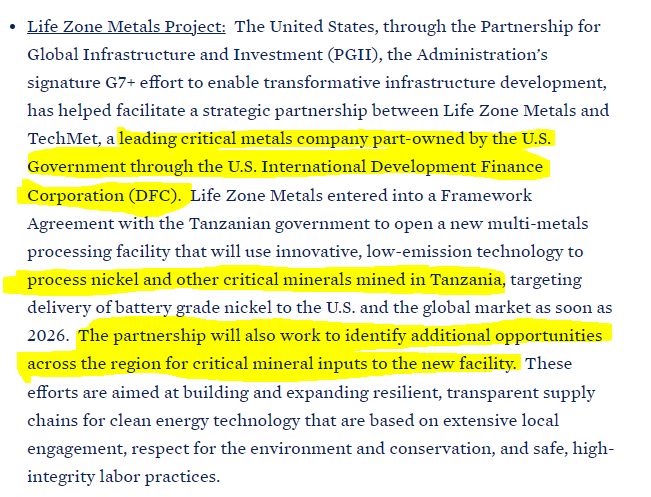 (Source)
We have several investments in Tanzania focused on critical minerals, including the following:
Evolution Energy Minerals (ASX: EV1) - is looking to make a Final Investment Decision (FID) on its graphite project in Tanzania. EV1's project has a Net Present Value (NPV) of ~US$338M with a project financing requirement of US$120M.
Noble Helium (ASX:NHE) - is looking to discover a multi billion cubic feet (bcf) helium resource in the North Rukwa basin in Tanzania. While helium isn't officially listed as a critical raw material, it is critical in the manufacturing process for semiconductors, MRI machines and other high-tech goods we take for granted.
Argentina is also close to a deal with the US?
Late in the week, we also saw rumours of a potential deal being signed between the US and Argentina.

(Source)
The EU is also on the scene in South America, looking to sign deals in the critical raw materials space.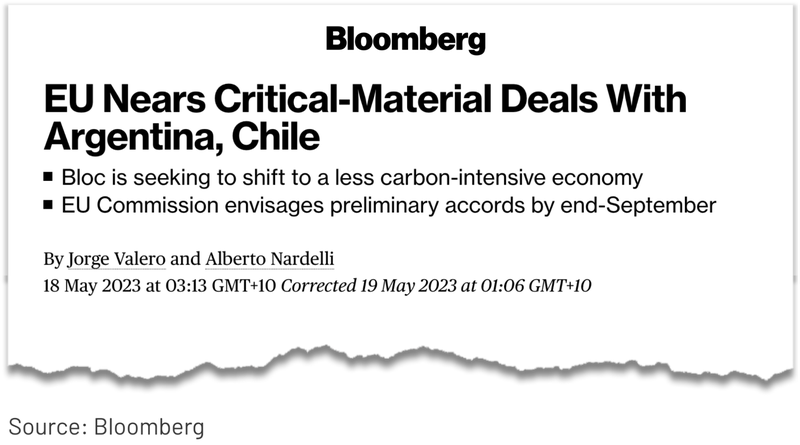 (Source)
The International Energy Agency (IEA) anticipates a 40x increase in lithium demand by 2040.
~60% of the world's known lithium resources sit in South America in a region known as the "Lithium Triangle" - across Bolivia, Chile and Argentina.
Our view is that in order to meet the coming lithium demand over the next 20-30 years, the world needs to commit capital to regions where lithium resources exist.
Regions like South America.
While no deals have been signed as yet, we think companies with critical raw materials projects inside South America stand to benefit from demand coming from the US and EU.
We are Invested in the following South American critical raw materials companies:
Pursuit Minerals (ASX: PUR) - Developing its lithium brine project in Argentina. PUR's project sits inside an existing lithium resource, and the company is looking to fast-track the project into production as quickly as possible.
Latin Resources (ASX: LRS) - Developing its hard rock lithium project in Brazil. LRS is following in the footsteps of its $6.3BN neighbour Sigma Lithium. LRS has a resource upgrade and a preliminary economic assessment of its project all due in the coming months.
Track the progress and performance of our portfolio of critical materials Investments
Here is a list of all our current Investments in the critical materials needed for the energy transition.
Click on any of the companies to see our Investment memo that outlines what the company does, why we invested, what we want to see the company achieve in the next 12 months, the risks and our Investment plan:
See our critical materials portfolio of Investments
What we wrote about this week 🧬 🦉 🏹
Invictus Energy (ASX:IVZ)
IVZ is gearing up to drill its second oil and gas well in Zimbabwe next quarter (Q3-2023).
Leading up to the drill program we have increased our position in the company by participating in the 12c placement and applying for our full allocation in the company's SPP.
📰 See our full Note: We just Increased our Position in IVZ - Drilling Event Next Quarter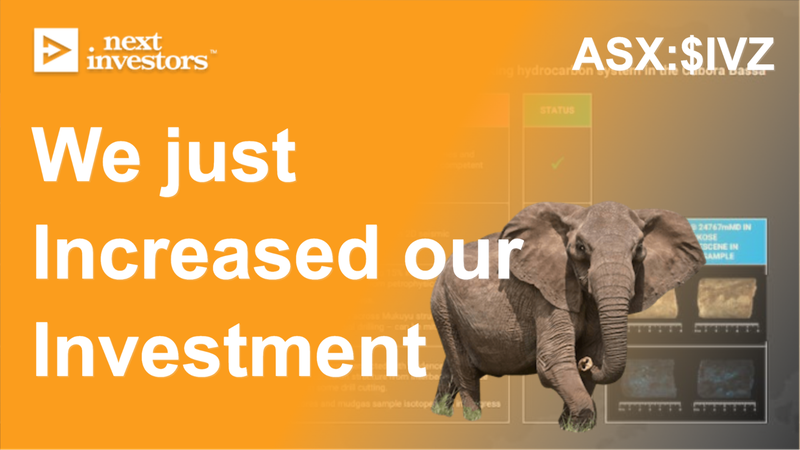 Noble Helium (ASX:NHE)
This week we did a deep dive into the East African Rift System, where >4 billion barrels of oil and gas have been discovered across just two basins in Uganda and Kenya.
The system has an 80% exploration success rate across ~40 wells, and of the 40 wells drilled, ~14 were drilled across Basin Margin targets with a 100% discovery rate.
NHE's helium project sits inside the East African Rift System and on the basin margin - drilling is now only a few months away (Q3-2023).
📰 See our full Note: NHE targets String of Pearls in East African Rift System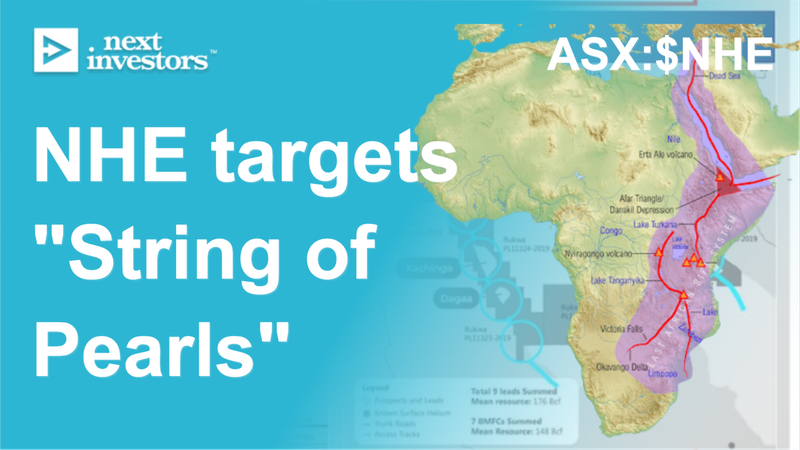 KNI just finished drilling its battery metals projects inside the European Union in Norway.
Now the company is turning its attention to its lithium projects in North America (James Bay, Canada). KNI expects to be drilling for lithium later this year or early next year.
📰 See our full Note: KNI fast tracks Canada Lithium exploration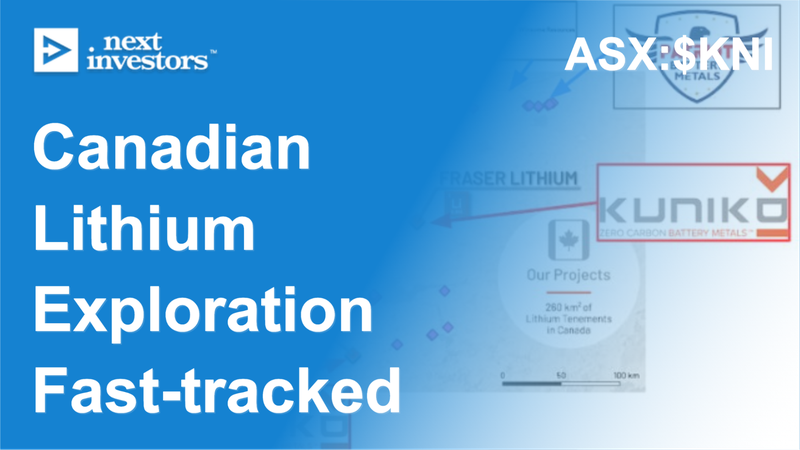 Megado Minerals (ASX:MEG)
This week we looked at the origins of Patriot Battery Metals which has more than tripled its market cap since its IPO in December 2022 and now trades at ~$2.2Bn.
Interestingly, MEG's James Bay lithium ground was vended in from the same group that vend in Patriot's projects.
📰 See our full Note: $2BN Patriot - Can Jody Dahrouge do it again?
Mandrake Resources (ASX:MAN)
Oil and gas supermajor Exxon just paid US$100M for a lithium project in Southern Arkansas, chasing underground lithium brines.
At the same time, MAN signed a good access agreement to re-enter old oil wells at its US based lithium brine project.
MAN will now try and extract the lithium from these wells - at about 1/10th of the cost of drilling new wells and taking months/years off the permitting time.
📰 See our full Note: MAN lands more lithium land as Exxon unexpectedly enters exploration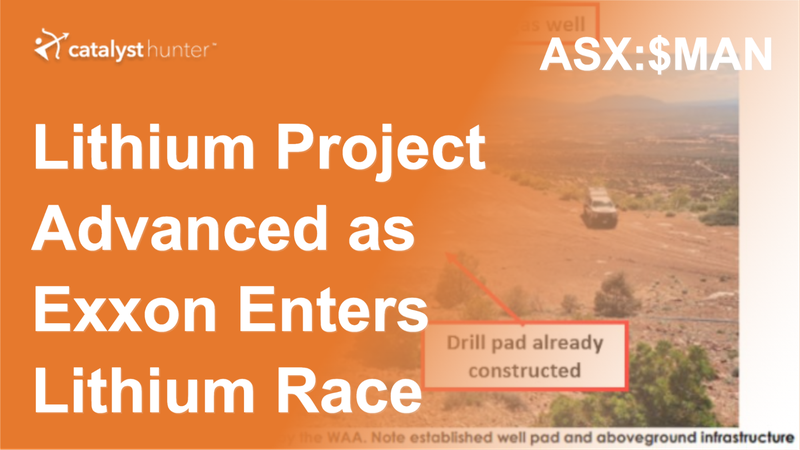 Quick Takes 🗣️
EMH: The latest on EMH's flowsheet & DFS due Q4 2023
AKN: AKN - new license, drilling to start in Tanzania
BOD: BOD making progress with Aqua Phase tech
TYX: Key condition to TYX's $31M funding agreement met
TG1: TG1 drilling for gold in NSW right now
EV1: EV1 makes its second graphite discovery for the year.
RAS: Update on RAS's gold project neighbouring ~14.7m ounces of gold
NHE: NHE details its drilling timeline - First well in Q3 2023
Macro News - What we are reading 📰
Battery Metals
Rinehart, Modi in private talks as India eyes WA lithium assets (AFR)
EU Nears Critical-Materials Agreements With Argentina and Chile (AFR)
Australia must build on Biden's $555bn green boost (The Australian)
Lithium
Exxon Joins Hunt for Lithium in Bet on EV Boom (Wall Street Journal)
Hydrogen
Hydrogen and critical minerals 'not an either/or game' (AFR)
Gold
Gold near $2000 is acting like gold near $1000, before it broke 80% higher (White Noise Communications)
In Gold We Trust 2023 report (In Gold We Trust)
Gold hits 2-month low on US debt talks progress, rate hike bets (Reuters)
Biotech
Pricing and reimbursement of orphan drugs: the need for more transparency - Orphanet Journal of Rare Diseases (Biomed central)
Helium
Cathie Wood's ARKK Dumped Nvidia Stock Before $560 Billion Surge (Bloomberg)
⏲️ Upcoming potential share price catalysts
Updates this week:
IVZ: Drilling oil & gas target in Zimbabwe, Myuku-2 (Q3, 2023).

No material news this week, but we did put out a note detailing our Investment Strategy for IVZ. See our note here.

LCL: Maiden drilling underway at primary PNG copper-gold target.

No material news this week, but LCL's Managing Director Jason Stribinkis put out a great interview running through last week's assay results. It's definitely worth a watch, check out the interview here.

NHE: Scheduled to drill two targets at its helium project in Tanzania (Q3 2023).

NHE put out an operations update detailing where the company is at and what to expect over the coming months. See our note on the news here.

DXB: Interim Analysis of Phase III Clinical Trial on FSGS (Q4 2023).

No material news this week but DXB did put out a reminder on the closing date for the company's rights issue. See the announcement here.

TG1: Drilling at its NSW gold project in May.

TG1 started drilling at its NSW gold project on Monday. See our take on the news here.
No material news this week:
TMR: Maiden JORC resource estimate for its Canadian gold project.
GAL: Drilling at its Callisto PGE discovery in WA.
LNR: >10,000m drill program at rare earth's project in WA.
TTM: Drilling campaign at flagship Dynasty gold project.
GTR: Maiden resource estimates across two of its uranium projects in Wyoming, USA.
BOD: Phase III clinical trial for CBD insomnia treatment.
KNI: Drilling 3/3 of its Norwegian battery metals projects in Europe.
Have a great weekend,
Next Investors
---