Scott Morisson's "Shopping List" of Critical Minerals
Published 19-MAR-2022 16:53 P.M.
Two things you are probably getting tired of us talking about by now:
We invested in VUL and it went up over 5,000%
Strategic critical materials is the next big global investment theme.
But we're not quite done talking about it just yet....
ScoMo officially jumped on the critical materials bandwagon this week. The Australian government released its own "shopping list" of strategically important metals and commodities, including a strategy and funding to fast track project developments.
Long time readers will know that some of our most successful investments have been in companies exploring and looking to supply the raw materials that are needed to move the world towards a lower carbon future and energy security....like VUL... which you may recall is up over 5,000%.
From things like electric vehicles (EVs) to the mobile phones we use on a daily basis, none of these can be produced without these raw materials. And over the last two years, it seems the world has woken up to this fact.
With geopolitical tensions boiling over in Ukraine, these same materials have been elevated from "necessary" to "critical and of strategic importance" to countries all around the world.
Before the pandemic and the subsequent geopolitical escalations there was no urgency to localise the supply chains of these critical materials. The world that had embraced globalisation and nobody (us included) thought we would see geopolitical tensions escalating to these levels.
Over the last 6 months we have seen the US release a new list of 50 mineral commodities critical to the US economy and national security. (source)
We have been well aware of the US and EU's push to localise these supply chains but living in Australia, with our well developed mining industry, we never really thought our own government would display the same level of urgency.
Since 2019, our federal government has been fine tuning its critical minerals strategy in the background. Its ultimate ambition of not only securing local supply but aiming to become a trusted counterparty to supply the world with these minerals.
Just this week our Prime Minister Scott Morrison announced $243 million in grants split across four different projects as part of Australia's newly revised 2022 critical minerals strategy.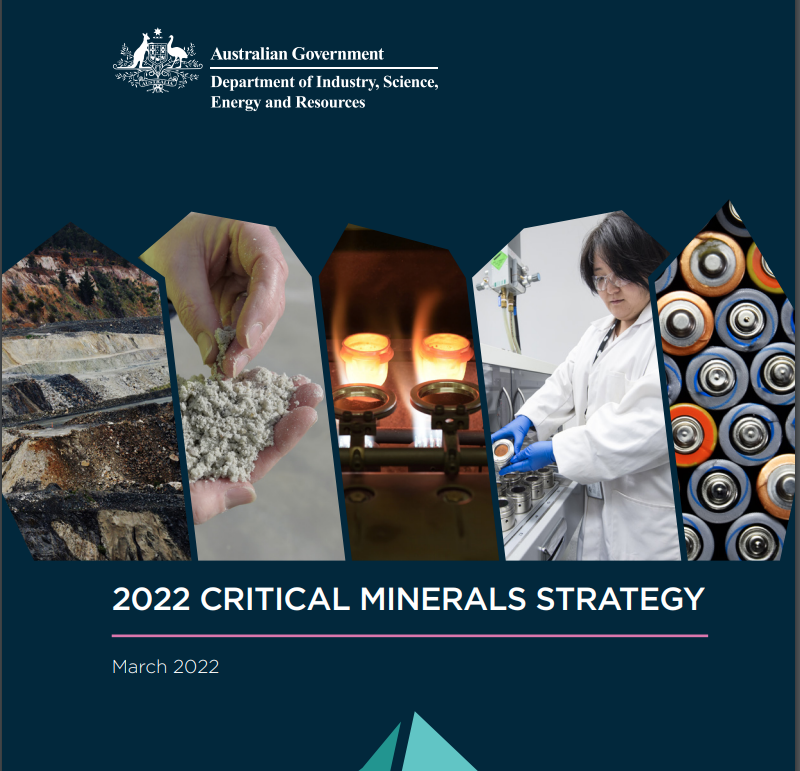 Grants of Note:
$119M for a JV between Pure Battery Technologies and Poseidon Nickel to build a "precursor cathode active material" refinery in WA
Arafura Resources received $30M to develop its Nolans rare earth separation plant in the NT (to establish a rare earths refining industry in Australia)
Australian Vanadium received $49M for its vanadium project in WA (to establish redox flow battery manufacturing capacity)
Alpha HPA received $45M for its alumina production facility in QLD
This money has been granted in a drive to increase manufacturing/refining/processing capacity and develop a downstream industry across the critical minerals, as listed in the government's strategy documents.
At the same time, the federal government added high-purity alumina (an industry we have exposure to through WA based FYI Resources (ASX: FYI)) and silicon to that list of critical minerals.
This isn't the first time the federal government has thrown money behind companies that are in the critical minerals sector.
Recognising that a competitive downstream industry requires an abundance of local supply of the actual raw materials, the government has also gone down to the source - exploration companies.
Last year the federal government launched the $2 billion Critical Minerals Facility. This is basically a loan fund managed by Export Finance Australia, to provide debt financing to projects aligned with the Australian Government's Critical Minerals Strategy and are otherwise in Australia's national interest.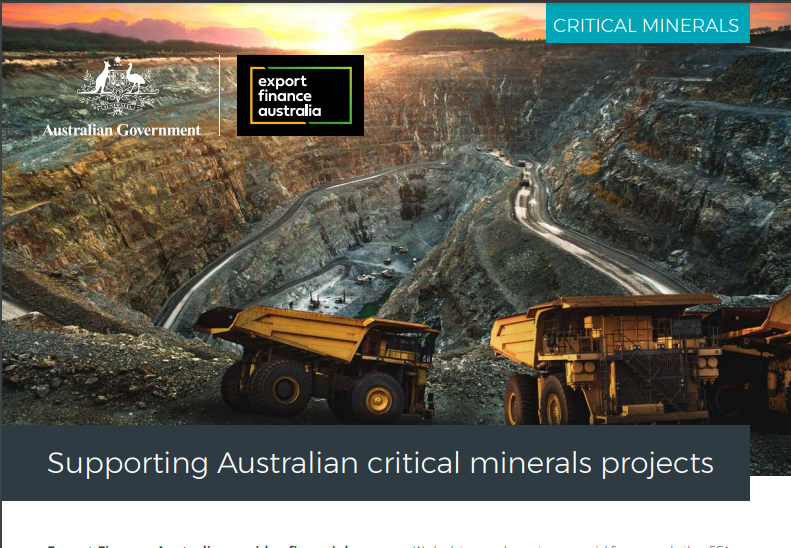 Interestingly enough, that funding facility saw the federal government provide $140M in financing to Hastings Technology Metals. Hastings' rare earths project (which is expected to be in production in 2023) sits right next door to one of our latest investments in the Catalyst Hunter portfolio - rare earths explorer Frontier Resources (ASX: FNT).
Here is why we invested in FNT a couple of weeks ago.
Over the last 2 years, we have been investing almost identically to the Australian government's prescribed strategy, investing in explorers across these critical minerals and especially those with downstream ambitions.
Our government has also recognised that it's not enough to just mine the stuff out of the ground but the real economic value-add comes when a country can convert those raw materials into high value finished goods.
Below is a list of the commodities listed as "Critical Minerals" this week in the government's strategy document: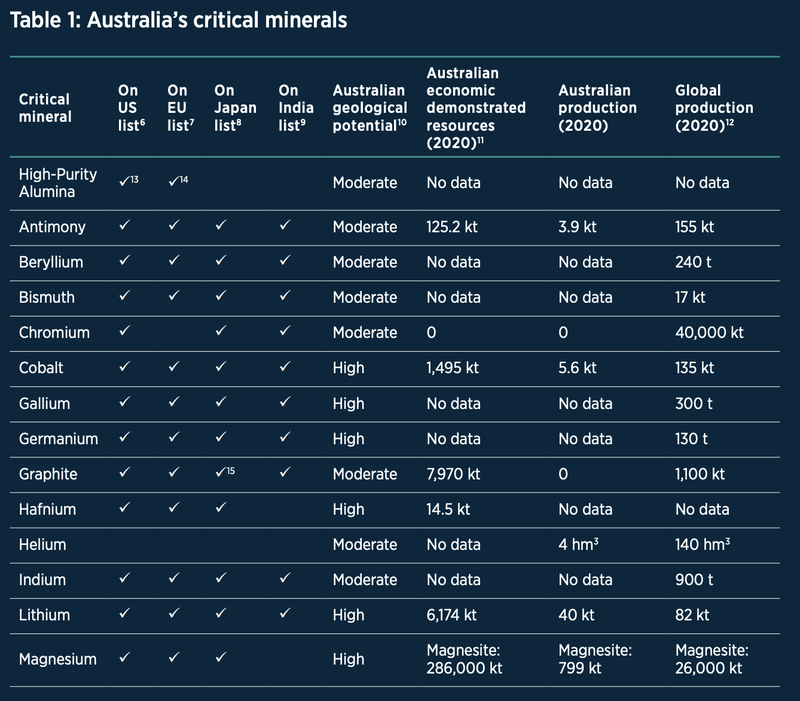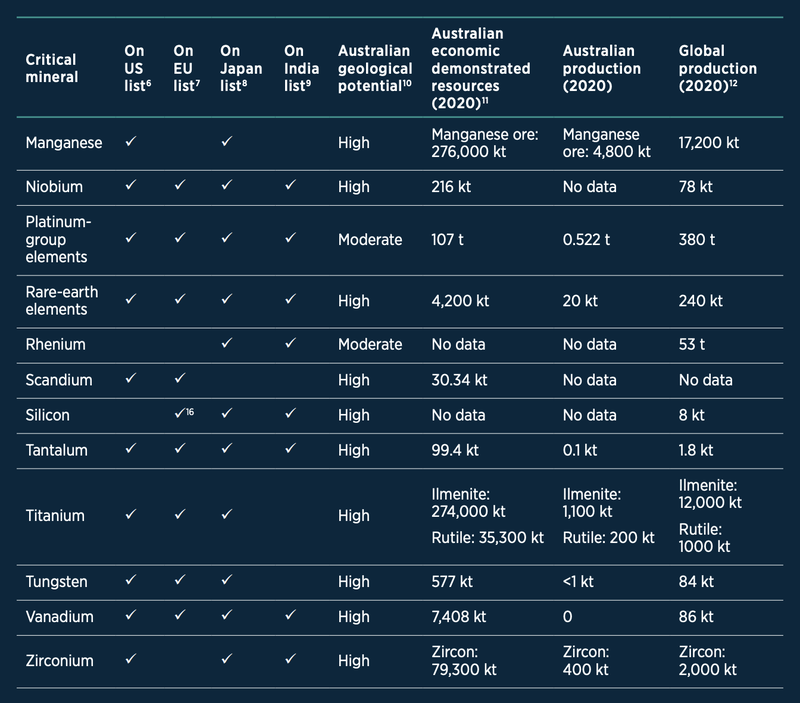 After the USA revised its list of 50 critical minerals, our very own government has now revised its "critical minerals strategy" whilst throwing ~$234M behind companies with exposure to these commodities.
So it's becoming more and more evident that there is an underreported sense of urgency amongst sovereigns to build out and secure the supply chains of these raw materials.
Call it reactionary (spurred by the Ukraine/Russia conflict), we think it is better late than never by our own government and see it as validation that we have structured our investment portfolio around a thematic with strong tailwinds behind it.
We believe that we are invested in the right thematic at the right time. The next 10+ years will be all about a rush globally to localise and secure supply chains of raw materials that are critical for the future.
Here are current investments with exposures to the critical raw materials listed in the Australian federal governments "2022 Critical Minerals Strategy":
See our critical materials portfolio here
Upcoming new investments in critical materials
In keeping with our critical commodities theme, we will make two new portfolio additions to our Next Investors portfolio.
Coming in April to the Next Investors portfolio is the IPO of Sarytogan Graphite (ASX:SGA) - SGA Prospectus
We are also looking forward to Noble Helium (ASX:NHE) listing on the ASX on 8 April and joining the Next Investors portfolio - NHE Prospectus
NHE is presenting at the Brisbane Mining: Energy and Metals conference on Thursday 24 March at 2:30pm Brisbane time (that's 3:30pm AEST)
Our other portfolio companies presenting at the conference this week:
Wednesday 23 March:
EXR at 9:15am (10:15am AEST)
AKN at 11:30am (12:30pm AEST)
Thursday 24 March:
FYI at 2:15pm (3:15pm AEST)
NHE at 2:30pm (3:30pm AEST)
You can watch for free by registering here.
📰 This week on Next Investors
EU urgently needs ESG grade cobalt for EV transition - Russia and DRC supplies are ruled out
On Monday our European battery metals investment, Kuniko (ASX:KNI) announced that it had been granted drilling permits for its cobalt project in Norway.
Cobalt is an essential part of the electric vehicle (EV) supply chain. But most (~70%) is still sourced from the Democratic Republic of Congo, while the second largest producer is Russia. Located amid Europe's growing EV market, KNI has set itself up to drill for cobalt at a time when Europe is desperate for local supply.
KNI's project is located in an area that was historically the largest cobalt mining region in the world. The maiden 7 drill hole campaign will be targeting a trio of large EM conductors right near the historic mine which was estimated to be mined for ~1 million tons with a cobalt grade of 0.1–0.3% cobalt.
The next couple of months could prove to be an important period for KNI with drilling permits secured and drilling targeted to commence in the first week of May.
📰 Read the full breakdown: EU urgently needs ESG grade cobalt for EV transition - Russia and DRC supplies are ruled out
Drilling completed on queue - Domestic supplies have never been more in demand
We ended the week with an update on our uranium exploration investment GTI Resources (ASX:GTR) which has announced that maiden drilling at its Wyoming ISR Uranium project had been completed.
With the 100 hole, ~15,000m drilling program completed on time and within budget, we now turn our focus to the drilling results which GTR expect to receive by ~ mid April.
The news of its drilling program being completed couldn't have come at a better time. On Friday morning, a bill was introduced in the US that, if passed, could see all Russian imports of enriched uranium to the US banned (Russia supplies ~20% of US nuclear reactor demand).
As a result of the geopolitical tensions and potential disruptions to the uranium supply chain, the uranium price was trading up near ~11 year highs at US$56/lb.
With the ultimate aim of the program being to put together either a maiden JORC resource or an exploration target that will require further drilling, GTR could not have timed the completion of their drilling program any better.
📰 Read the full breakdown: Drilling completed on queue - Domestic supplies have never been more in demand
In our other portfolios 🧬 🦉 🏹

🏹 Catalyst Hunter
GGE gets helium offtake BEFORE drilling
On Wednesday, our Catalyst Hunter 2021 Pick of the Year, Grand Gulf Energy (ASX:GGE) announced it had signed an offtake agreement well BEFORE the drilling of its maiden well at its US helium project.
This doesn't happen very often. Rarely do we see oil and gas companies sign offtake agreements before a discovery is made. But that's exactly what GGE has managed to do.
Before it invaded Ukraine, Russia was on track to become one of the top 3 producers of helium (expected to supply ~26% of all global supply by 2025), but has had crippling sanctions placed on it.
The rush to secure an offtake agreement on a well that hasn't yet been drilled shows clear indication that urgency is building in the US to secure any domestic helium supply that becomes available.
Our key takeaways from the offtake agreement are as follows:
The owner of the Lisbon helium plant 20 miles (~32km) to the north has signed a "Gas Sales & Processing Agreement" with GGE.
The Lisbon plant is currently selling helium for up to US$605 per thousand cubic feet.
The agreement is an industry standard 80/20 revenue split in favour of the producer (GGE).
Assuming GGE's maiden well "Jesse-1" is a success (it's being drilled in a matter of weeks), GGE can monetise it almost immediately with minimal CAPEX.
Potential sales volumes will be based on what GGE discovers at the Jesse-1 well.
📰 Read the full breakdown: GGE gets helium offtake BEFORE drilling
Large fresh green crystals everywhere - is this a new lithium discovery?
On Wednesday, our investment Latin Resources (ASX:LRS) announced another batch of spodumene bearing pegmatite intercepts from its lithium project in Brazil.
The latest batch came with visuals of large, fresh green crystals inside the drill cores. With intercepts now confirming the pegmatite structure extends over a ~500m strike zone, LRS is expecting to receive the assays from the first two drill holes. This will determine whether or not LRS have in fact made a new lithium discovery.
With drilling now moving up to the north of the ~1.5km prospective strike zone, we will be looking forward to seeing if the structure also extends to the north. Coupled with the pending assays, we will soon know whether or not LRS has managed to delineate a new lithium discovery.
📰 Read the full breakdown: Large fresh green crystals everywhere - is this a new lithium discovery?
🗣️ Quick takes
NEW: We are now releasing our Quicktake opinions as they happen so you don't have to wait until the weekend to see them.
Below is a list of all of this week's Quicktakes:
88E: Drilling program going to plan on Alaskan North Slope
VUL:Project Update
FNT:Trading halt pending assay results
FNT:Critical mineral processing nabs $243M in government grants
ALA:Share Purchase Plan completed, shares now trading
GGE:Helium offtake agreement locked in early
GGE: Trading halt "significant commercial agreement announcement"
LRS:More spodumene intercepts at its Brazilian lithium project
BPM: Heritage surveys ongoing at the Hawkins zinc/lead project
KNI:Drilling permit granted for Skuterud Cobalt project
GAL: Fraser Range Nickel exploration update
RAS: Lithium projects applied for in the Northern Territory
FYI:High purity alumina added to government's critical mineral list
ARN:More assays from WA nickel project
ARN:Drilling completed at WA rubidium/lithium project
TMZ:Major shareholder Silver Mines sells $206k in shares on market
Gold portfolio: Fed to take "aggressive" stance on inflation, gold to move up?
Have a great weekend,
Next Investors
---