Two high impact drills to watch out for
Published 22-JUL-2023 14:00 P.M.
Long time readers will know that we love a big drilling event.
...and the share price runs that usually happen in the lead up to drilling and drill results.
IVZ (gas in Zimbabwe) and NHE (helium in Tanzania) are both drilling high impact wells this quarter.
IVZ's share price has started moving from its long term range of ~12c to finish the week at ~16c.
NHE finally looks like it wants to move, after bouncing around the low 20's for ages it finished the week at a twelve month high of 27.5c.
We are looking forward to an exciting couple of months as both these frontier African drill campaigns unfold.
Over a decade ago we Invested in Africa Oil Corp which went on to discover oil in Kenya.
Africa Oil opened up a whole new oil and gas basin and started a rush of exploration activity in the East African Rift System (EARS).
Africa Oil ended up being our best investment of the previous decade after they made a discovery on their first drill (share price rose from ~$1.50 to over $11) - so naturally we are very keen on (read: biased towards) frontier drilling in East Africa.
Especially in and around the East African Rift System.
Now ~11 years later we are Invested in two companies that are drilling across East Africa with similar prospects to the ones drilled by Africa Oil
Both of these companies are funded for their upcoming wells, and over the last week or so it looks like both stocks are looking like they might want to make moves upwards (based on last week's trading)...
Probably because both are planning to start drilling before the end of this quarter.
IVZ will be drilling its Mukuyu-2 appraisal well in one of the last untouched basins across the East African Rift System.
If IVZ is able to officially declare a new discovery, then it could open up a whole new oil and gas basin in Zimbabwe.
NHE will be drilling the first of its "string of pearls" at its pure play helium project in Tanzania.
NHE's CEO and co-founder Justyn Wood knows the EARS very well.
He was the exploration geophysicist and Key Project Proponent for (previously ASX listed) oil and gas junior Hardman Resources.
Justyn designed and interpreted the first ever seismic survey over Lake Albert in Uganda, designed a two well drill program and led the Hardman team to the company's first two wells in the basin back in 2006.
We are hoping NHE and Justyn can do the same again with NHE this year.
Here is how each program is tracking:

Invictus Energy (ASX:IVZ)
About the project: IVZ has a prospective resource of ~5.5 billion barrels of oil equivalent and is following up its drill program from last year where the company successfully defined a working conventional hydrocarbon system.
Drilling Expected: Q3 2023
Location: Zimbabwe
Goal of Drilling: Last year IVZ identified a working hydrocarbon system but fell just short of being able to declare a new discovery.
The goal this year is to try and get a fluid sample to surface and officially declare a new discovery.
In the event the company officially declares a discovery, any major company looking for exposure to the basin will need to negotiate a deal with IVZ.
Noble Helium (ASX:NHE)
About the project: NHE has a prospective helium resource of ~176.6 billion cubic feet - large enough to be the world's largest helium reserve behind the national reserves of USA and Qatar.
Drilling Expected: Q3 2023
Location: Tanzania
Goal of Drilling: If NHE is able to declare a discovery it could have one of the largest proven helium resources owned by a single company. For NHE it is all about working out whether or not the helium is where the company thinks it is.
Always remember that oil and gas exploration is very high risk, share prices can go up but also (and more likely) go down if the drilling results don't match market expectations.
Other big drilling events coming up soon
Elixir Energy (ASX: EXR)
About the project: EXR's project has a prospective resource of ~3.3 trillion cubic feet inside which the company already has a defined 395 bcf contingent resource.
Drilling Expected: Q4 2023
Location: Queensland, Australia
Goal of Drilling: EXR's drill program is an appraisal well meaning EXR is trying to prove that the contingent resource can be converted into reserves. To do this EXR needs to prove that the oil and gas can commercially flow to surface.
88 Energy (ASX: 88E)
About the project: 88E's project has a 647 million barrel prospective mean unrisked resource (net to 88E).
Drilling Expected: Q3 2023
Location: North Slope of Alaska, in the USA.
Goal of Drilling: 88E has already completed the first phase of its drill program with drill results far exceeding any of the pre-drilling expectations the company had. The aim of the second phase of drilling is to production test the well and see if it can produce a commercially viable flow rate.
Our Oil and Gas exploration Investment Strategy
Going into a busy quarter across our African-based oil and gas explorers it's important to remember we have a well defined, tried and tested Investment approach to high impact drilling events.
We recognise that different types of wells can have different outcomes and those outcomes are often binary — either the company finds something or it finds nothing.
Binary results naturally result in large share price moves... up and down.
However, in the lead up to a big drilling event we often see that share prices of these companies slowly edge higher as investors speculate on what drilling "success" might look like.
Many years of observing these trends has lead to us developing our Investment approach to big drilling events:
Invest early when the market isn't interested yet. We like to take a position well before a company lays out its drilling plan (happy for a 1 to 2 year wait). Generally this is when it has just picked up an acreage or when geophysics/seismic work is being planned for a "potential drill program", the drill event is so far away that most people aren't interested, and the share price is relatively low.
Hold our position as the company identifies a drill target. We like to hold onto our Positions while the company completes geophysics/2D and 3D seismic work. This process can often take longer than expected, leading to share prices trading sideways/lower, throwing up opportunities to increase our Investment in the company.
Top Slice our position. Typically, a company will outline its upcoming drill event months before drilling happens. Here the company sets out what it is targeting and often lays out a drilling timeline. This is often when the market first starts to take an interest in the company. This can present an opportunity to trim and help de-risk our position very slightly, sometimes it doesn't.
Free Carry and hold the remainder of our position. In the lead up to, and during the drilling of a well, is when we tend to see the most market interest in an oil & gas explorer. This typically leads to share prices spiking higher as investors speculate on exploration success. We often look to Free Carry our positions here and sometimes even Take Profit. In the event the company is successful, we still hold a meaningful position. If it isn't successful, we are protected against large losses as the share price falls.
It doesn't always play out as we expected and market conditions can play a big factor in how well we are able to execute this strategy.
We are also using this approach as part of a diversified Portfolio, so any losses we do have on these big drilling events is mitigated by our other Portfolio positions.
Importantly, while this Investment approach works for us, it may not be suitable for everyone. Only invest what you can afford to lose when it comes to speculative small cap stocks, and always seek financial advice before investing.
Noosa Mining Conference
At the start of the year we set a goal to attend more conferences.
Conferences give us a great opportunity to meet management teams of our portfolio companies, scout potential new investment opportunities, meet brokers, investors, fund managers and CEOs.
This year some of the team attended the Noosa Mining Conference hosted by Equity Events.
See more photos from the Noosa conference here
There is another Noosa conference happening in November.
Typically, our due diligence process starts at a computer screen and the ASX announcements portal.
We usually start by understanding the company's core assets, the macro theme behind the company, what the company has achieved, the cap table and the cash balance.
Then we start to form an investment thesis (or "Big Bet") and formulate our investment memo.
After we have formed a view on a company and we like what we are seeing, we will look to hear a presentation from the company and schedule a call with management.
We almost always go into these meetings with a relatively informed view on the company.
This oftentimes works in our favour BUT can mean some of the key details get missed.
This is why we think meeting management is so important and sometimes it's worth hearing the pitch from the company BEFORE doing all of the due diligence work.
That way personal biases are thrown out the window.
We have added a number of our favourite prospects from the conference to our watchlist and will track the companies in the future.
We also got the chance to put in some face time with two of our portfolio companies, Noble Helium (ASX:NHE) and LCL Resources (ASX:LCL).
LCL Resources (ASX:LCL)
It was a big week for Jason Stirbinskis and LCL Resources with the company putting out news from its PNG nickel project.
At its Veri Veri nickel project LCL found what could be the source rock of a series of high grade nickel boulders and outcrops at surface at its PNG project.
The news is important because up until today, LCL was finding these nickel boulders in creeks running through its projects - however the source for the boulders was unclear...
Now LCL has both outcropping nickel sulphide grading ~13.4% and a 200m wide shear zone that could be the source.
It was hard to wipe the smile off Stirbinskis' face on the morning of the announcement.
Here is a photo of Stirbinskis showing off the high grade nickel samples at the conference:
Read our full coverage on the news here: Has LCL found the source rock of its nickel boulders at surface?
Noble Helium (ASX:NHE)
As mentioned earlier, It's an exciting time for NHE as the company prepares to drill its helium project in Tanzania later this quarter.
We caught up with NHE MD Justyn Wood at the conference.
We chatted about the 7 year journey it's been to get to NHE's first drilling event that is just about to start.
Now that most of the pre-drilling milestones have been achieved, the market is finally starting to take notice of NHE with the stock finishing at 27.5 cents on Friday.
Last week, we also noticed that NHE's Tanzanian peer Helium One started moving up the charts as they approach their drilling event too
Helium One's market cap has almost doubled this month to now sit at ~$145M.
NHE on the other hand is capped at $73.5M.
Helium One is also looking to drill a well at its helium project in Tanzania in the coming months.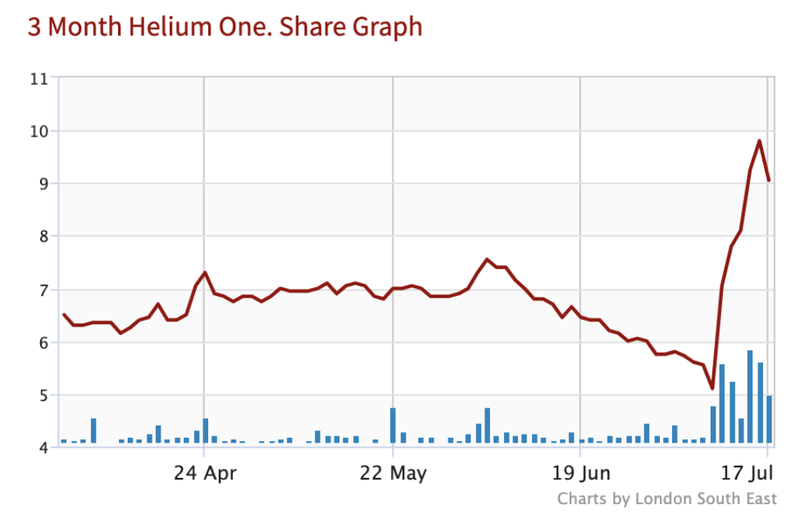 We see the next few months as critical to the NHE story and it was good to see Justyn in action meeting potential investors and sharing the story first hand.
Big thanks to the Equity Events team for putting on a great conference (at such a great location).
What we wrote about this week 🧬 🦉 🏹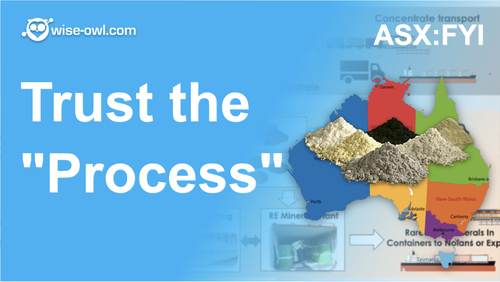 $31M FYI's HPA Peer Pushes Past $1BN Market Cap
This week, our late stage mineral processing investment FYI Resources (ASX:FYI), received a conditional $3M government grant to support its High Purity Alumina project in WA.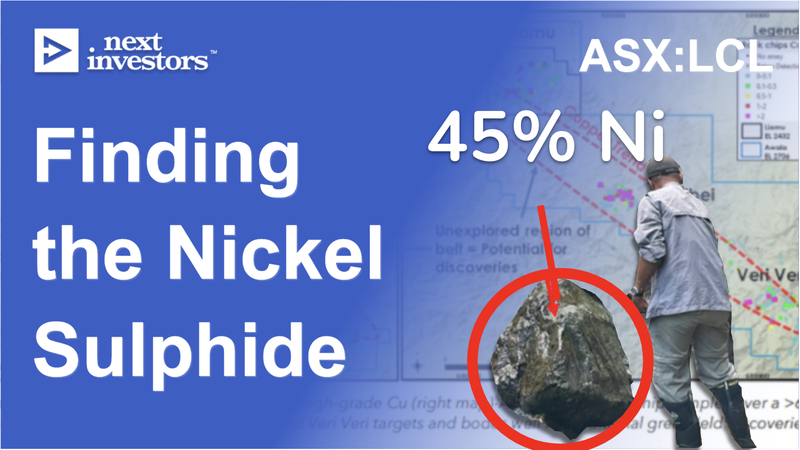 Has LCL found the source rock of its nickel boulders at surface?
LCL Resources (ASX:LCL) looks to be getting closer to what could be the source rock of a series of high grade nickel boulders and outcrops at surface at its PNG project.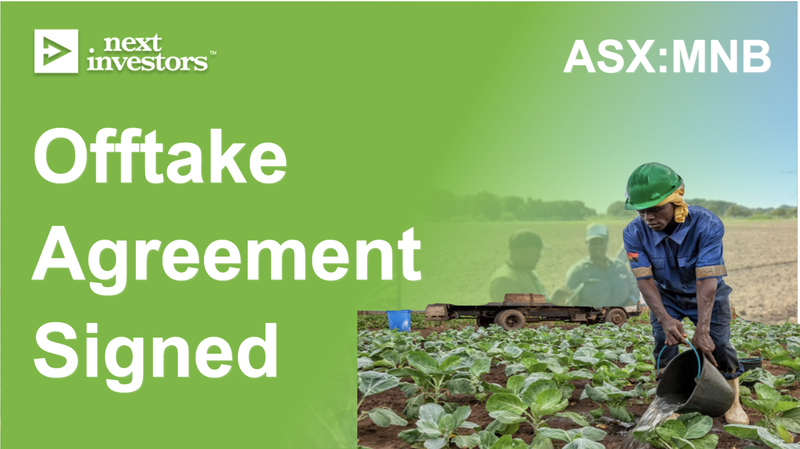 MNB Signs Offtake MoU for 66% of Stage 1 Phosphate Production
On Wednesday, Minbos Resources (ASX:MNB) delivered an offtake MoU for 66% of the stage-1 production of its phosphate project in Angola. The buyer is Angola's largest food aggregator.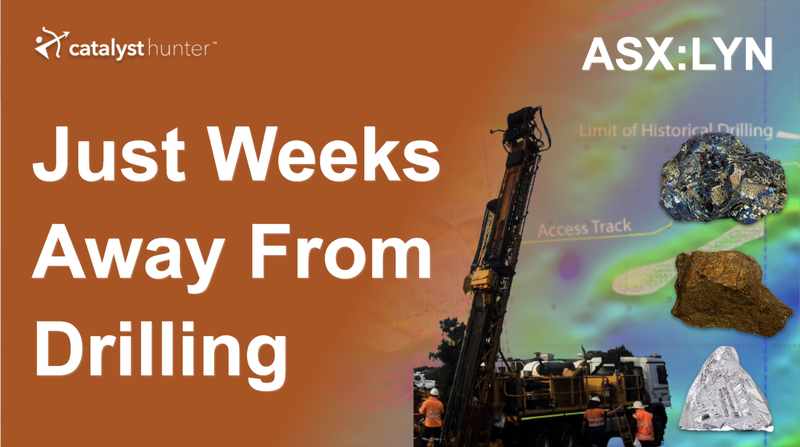 LYN drill testing WA nickel-copper target next month
Lycaon Resources (ASX:LYN) is currently capped at $9.2M, and will be drilling its Bow River nickel-copper-nickel target in the Kimberly region in mid-late August. Deep drill, big target.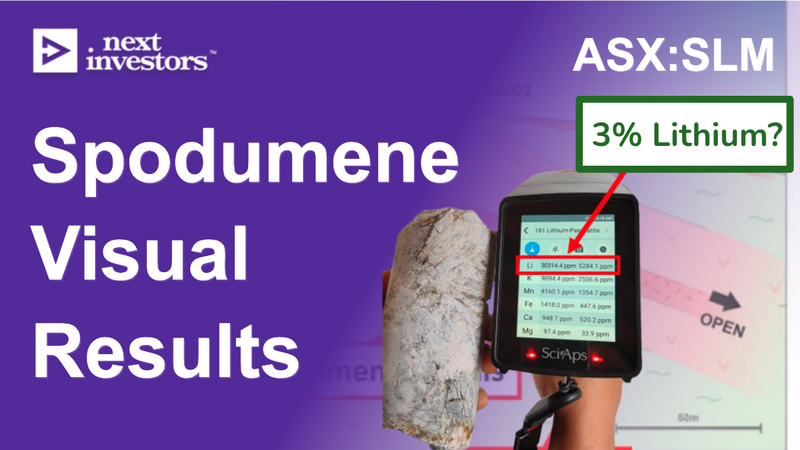 What happened to the SLM share price today?
We got our first look at SLM's drill cores on Monday, the market wasn't thrilled with the results, perhaps already pricing in a major discovery. We think that's fine, SLM will have a second rig on site - plenty of spodumene in cores.
Quick Takes 🗣️
KNI: More promising Cobalt assays released at Skuterud
MAN: MAN firms up drill targets at its US lithium project
PUR: PUR successfully completes a $3M placement
NHE: NHE drilling of first well on track for Q3 2023
SGA: SGA now drilling its second graphite project
FYI: FYI to secure up to $3M from WA government
EXR: Update on EXR's Mongolian gas project
IVZ: IVZ's 2D seismic program now underway
Macro News - What we are reading 📰
Lithium
MinRes pulls plug on lithium megadeal (AFR)
Graphite
Syrah Resources sheds $100m market cap on production pause (AFR)
Hydrogen
Limitless 'white' hydrogen could soon shatter all energy assumptions
Bosch teams with Nikola in $2.8B hydrogen deal By Investing.com (Investing.com)
Nickel
ASX: IGO shares dive, wipe $1 billion from market capitalisation (AFR)
Biotech
Apogee, Sagimet overshoot IPO expectation as both biotechs land on Nasdaq (Fierce Biotech)
⏲️ Upcoming potential share price catalysts
Updates this week:
MNB: Offtake agreement for its phosphate fertiliser project.

MNB secured a 66% Stage 1 production offtake MoU with Angola's largest food aggregator. Read our full note here.

SLM: Maiden drill program at its Brazilian lithium project

SLM got spodumene in drill cores, second rig arriving on site shortly. Read our full note here.

LCL: Drilling at its primary PNG copper-gold target.

No results from its copper-gold target but LCL had some material news out from its nickel project in the PNG. See our note on the news here.

KNI: Drilling 3/3 of its Norwegian battery metals projects in Europe.

KNI put out more assays from its cobalt project in Norway. See our Quick Take on the news here.

IVZ: Drilling oil & gas target in Zimbabwe, Myuku-2 (Q3, 2023).

IVZ kicked off its 2D seismic acquisition program on the eastern portion of its project area. See our Quick Take on the news here.

NHE: Scheduled to drill two targets at its helium project in Tanzania (Q3 2023).

NHE re-affirmed its drilling timeline and put out an update on the status of its contracted drill rig. See our Quick Take on the news here.

GAL: Drilling at its Jimberlana & Mission Sill prospects at its PGE project in WA.

No drilling newsflow from GAL but the company did release its quarterly report. GAL showed it still had $14.4M in cash in the bank at 30 June 2023.
No material news this week:
BOD: Phase III clinical trial for CBD insomnia treatment.
TG1: Drilling at its NSW gold project in May.
DXB: Interim Analysis of Phase III Clinical Trial on FSGS (Q4 2023).
LNR: >10,000m drill program at rare earth's project in WA.
TMR: Maiden JORC resource estimate for its Canadian gold project.
Have a great weekend,
Next Investors
---